Lee and Simon Grounds-White - Accidental adventurers
Lee and Simon discovered caravanning pretty much accidentally. A family member gave them a caravan five years ago and they have been upgrading it ever since until they found their Unicorn Series 2 Barcelona. Both keyworkers, being able to get away in their Unicorn and spend quality time with family and friends has meant the world to them in what has been an extremely difficult year.
Caravanning also allows them to go away with their two dogs Lola and Staffi. Unfortunately Staffi is no longer with them, but Lola is becoming a true Instagram star.
You can follow Lola, Lee and Simon's staycation adventures at @the_touring_boys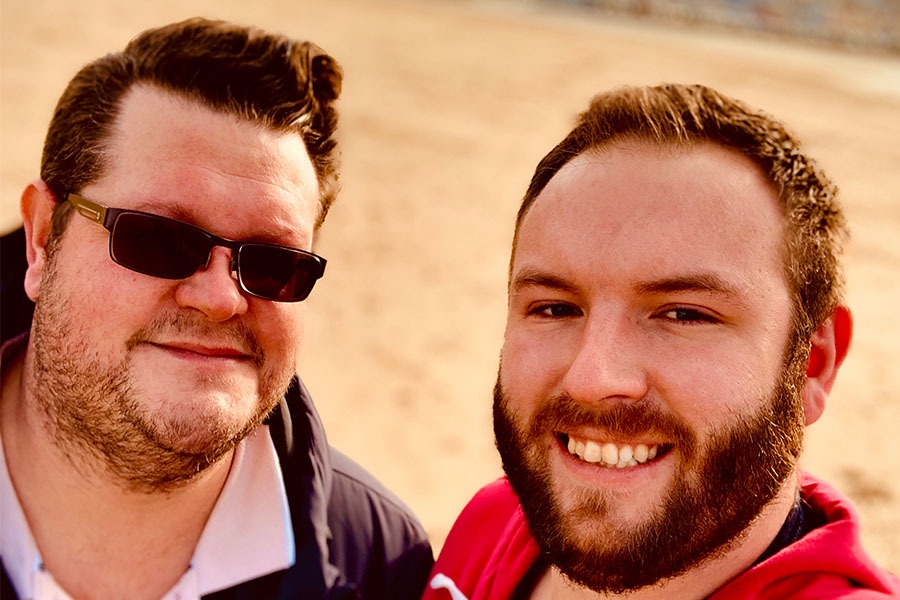 Simon and Lee at Perranporth Beach, Cornwall
---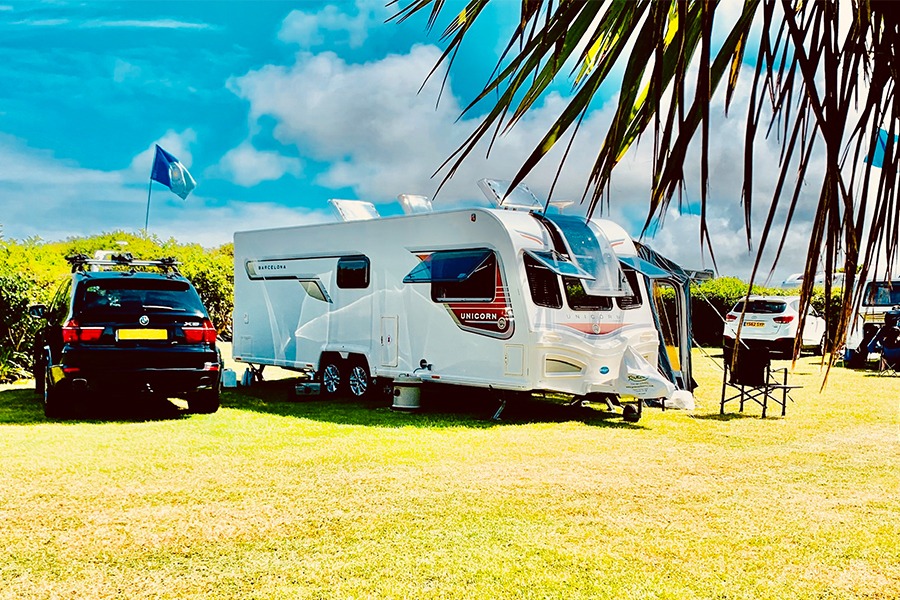 Godrevy CAMC remembered Lee of the sub tropics
---
Have you had a caravan before?
Yes. Within the last 5 years we have had several caravans of varying ages, sizes and layouts.
Why did you decide to get one?
Initially, we fell into caravanning unintentionally. We were given our very first caravan by a family member having never considered it would be something for us! We soon fell in love with the concept of it and it snow balled from there. A huge influence was that we were able to holiday with our 2 dogs, Staffi and Lola.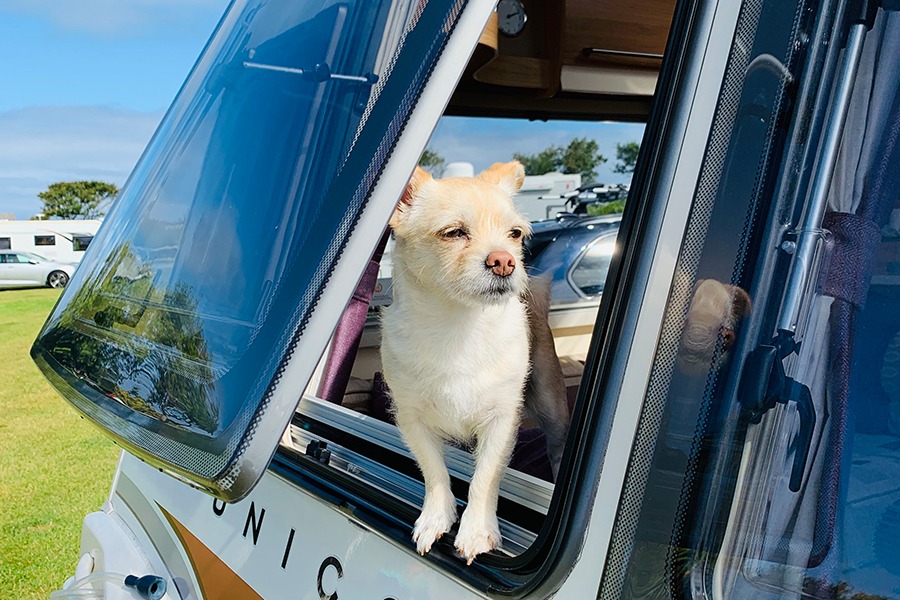 Lee and Simon's dog Lola enjoying her caravan vacation at Godrevy CAMC site
---
Who do you go caravanning with?
We thoroughly enjoy caravanning on our own as a couple. We also enjoy arranging trips with various friends and family members (when able). Obviously the Coronavirus pandemic has had a big effect on this. However, some of our family members have their own vans and so we have still been able to enjoy time away in a socially distanced fashion.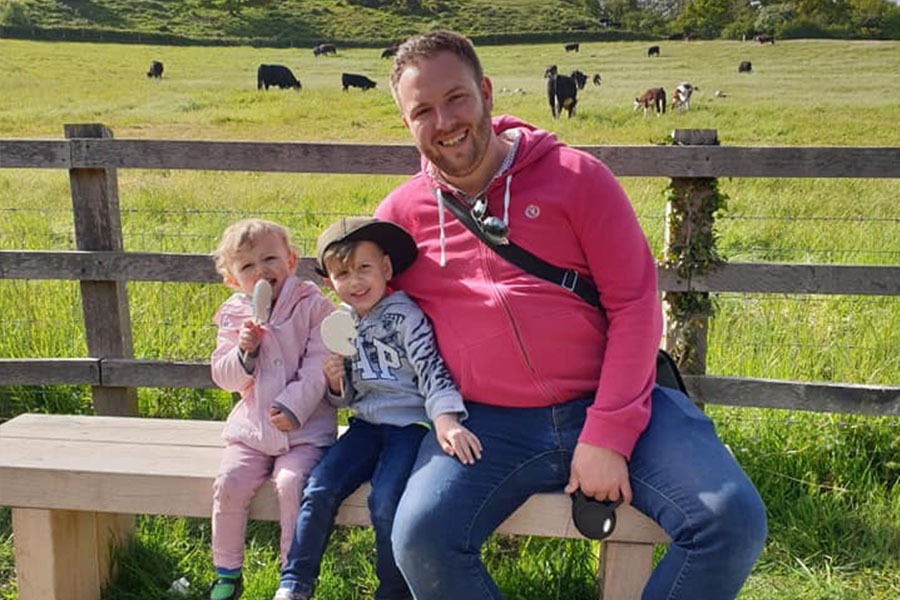 Lee and Simon's god-children Ethan and Isla occasionally join them in their caravanning adventures
---
Where did you go on holidays for the first time in your Unicorn last year? What did you do?
Our very first trip in our Unicorn was to Exmoor House Caravan and Motorhome Club site, which is absolutely beautiful. The weather was unpredictable. We experienced all seasons in the week we were there. We spent plenty of time out walking with the dogs and visited "Tarr steps" which is an old river crossing and lovely woodland walk. We carved pumpkins to put outside the awning (with battery operated candles in them). The site is situated right in the midst of a pretty little village called Dulverton, which we walked around several times and made use of its offerings of bakeries, butchers and pubs!
Where else did you go last year?
Last year, due to the pandemic, our trips were vastly reduced from normal as I am sure is the case for everyone. We had one full week away at Looe Caravan and Motorhome Club site. We did manage to squeeze in a few long weekends away, which were predominantly local to home in light of the situation. We had one weekend with several family members all in their own vans at one of our parents houses for a big family birthday. Not a holiday in the traditional sense but a lot of fun and quality time with friends and family during lower restriction times.
Early morning stroll around Looe CAMC site
---
What was your favourite trip?
We loved them all for different reasons. We are both key workers so any "down time" was hugely valued. I think our favourite trip was our week at Looe Caravan and Motorhome Club site. Mainly because it was our longest trip. Some family members joined us in their own van and we have some fond memories. It was during this week that we were approached by the Caravan and Motorhome Club in response to our Instagram blog photos. We gladly engaged with them and have since enjoyed "press trips" with them for more photography and promotions, which we thoroughly enjoyed doing.
What do you like the most about caravanning?
Several aspects combined really. The ability to take the dogs. The peace and tranquillity. The ability to travel to different locations with our own familiar belongings and all at our own pace. Generally speaking, the friendly nature of fellow caravanners. Its nice to meet new people and chat.
What's your favourite thing in your Unicorn?
The jury's out!!!! For one of us without a doubt it is the vertical front skylight window, giving the almost skyline view from the comfort of the sofa. The other of us is smitten with the general layout. The fixed bed, the full bathroom and the enormous fridge! Previous caravans we have found the smaller fridges a struggle, especially when holidaying with more than just the two of us.
What has caravanning meant to you during the pandemic?
Seeing as we are both frontline/keyworkers, as for many, it has been a particularly busy year. Adapting to new and uncertain ways of living and working. Albeit far reduced from our usual plans, being able to get away and spend some time with some friends and family has meant a huge amount to us. Without our caravan, this may not have been so easily possible.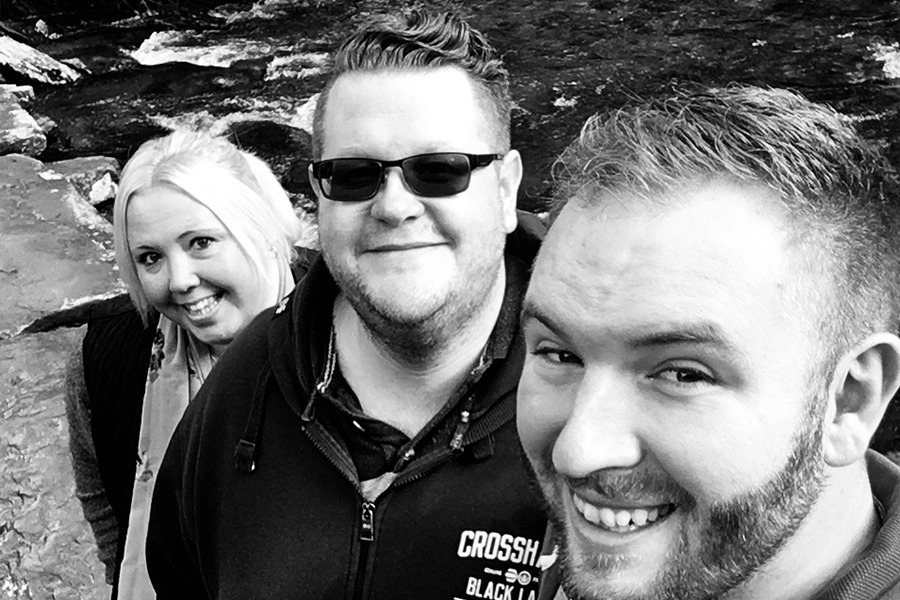 Lee and Simon with their friend Becky at Tarr Steps near Dulverton. For them, being able to spend some quality time with some friends and family has meant a lot during the pandemic
---
Have you been using your caravan during the lockdown at home?
We are fortunate to be able to store our caravan at a family member's house, so it is a lot easier to access it than if it was at a storage site. But equally, we don't have access to it on our own driveway. We have had some use out of the van and have stayed in it at our family's property, as restrictions have allowed.
What are your plans for next year? Where would you like to go?
We have many big plans and ideas of things we want to do. For 2021, we have a few weeks booked off work and for these times we have already booked some sites with the Caravan and Motorhome Club. However, due to a lot of uncertainty we have only booked sites within our own county. We hope these will be able to go ahead but are braced for the possibility they may not.
Some of our bigger plans are likely to have to take a back seat for now… we desperately want to go to the Lake District. We would love to do a bit of a tour around Scotland and we have also discussed a trip to France or Spain.
Thank you to Lee and Simon for sharing their experience with Bailey. You can follow their adventures on Instagram at @the_touring_boys