What goes into The Nation's Favourite?
It all started with a simple question: "Is there a better way?" Leisure vehicle design and construction hadn't moved on very much for over 30 years, until Alu-Tech came along and changed everything.
Alu-Tech is a completely new approach to bodyshell construction. Using a unique interlocking aluminium framework to clamp the body panels together, Bailey created a shell that was so much more robust and durable than anything else.
Greater protection against the elements comes from a significant reduction in the number of external joints and fixing points, along with using timber-free components in the upper bodyshell panels. Thicker, better-insulated panels, cloaked in impact resistant GRP (Glass Reinforced Plastic), hugely improve the thermal performance of the bodyshell, for genuine four-season performance. All this, with no increase in weight or cost.
Turns out, there is a better way.
---
What is Alu-Tech?
Providing genuine design innovation Alu-Tech is a construction system so advanced that it has five new patents registered and one which provides real and tangible benefits of ownership to our customers.
As a result Bailey leisure vehicles are now some of the best engineered and most technically advanced products on the market, offering greater protection against the elements to keep customers comfortable safe and secure all year round.
We've tested and then we've tested again
Two years in the making Alu-Tech leisure vehicles have been subjected to a continuous series of accelerated life and structural crash tests (motorhomes only) as cold chamber examination to ensure that every aspect of the design has been thoroughly evaluated.
To date over 75,000 Bailey leisure vehicles have been built using this ground-breaking technology and are currently being used and enjoyed around the world.
One of our most spectacular tests was the Trial of Strength involving both the test team and the test vehicle. Watch the video to see a demonstration of the superior performance of the Alu-Tech body shell.
Please note: Health and Safety requirements were strictly adhered to while conducting this test. It is not recommended that consumers climb on top of their caravans or walk on the roof in any circumstances.
Thermal Performance
The use of thicker fully laminated bodyshell panels, featuring superior grade polystyrene plus additional localized insulation in traditional cold spots, has greatly enhanced the thermal properties of our leisure vehicle.
As a result all caravans and motorhomes built using our Alu-Tech construction system have achieved the highest classification (Grade III for EN1645-I & EN1646-I) of thermal insulation, in industry-leading times, to keep you warm in the winter and cool in the summer, as well as making your vehicle more economical to own.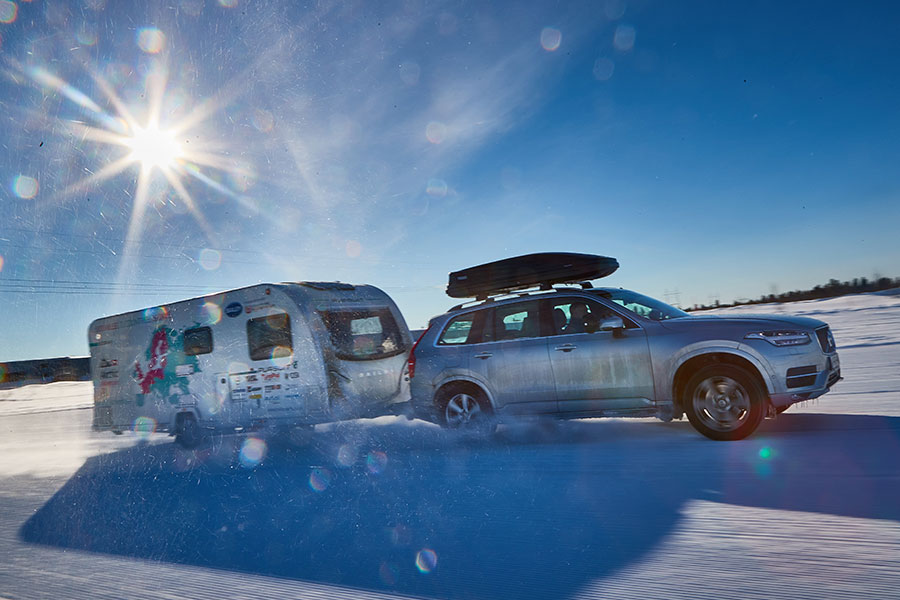 Bailey caravans on the Arctic Adventure
---
Structural Integrity
 Engineered to ensure it remains weatherproof and structurally sound, the Alu-Tech body shell sets new standards in durability.
Starting with an interlocking aluminium framework that cuts the number of external joints and fixing points by 90%, every conceivable effort has been made to reduce the number of potential water access points and thus improve the overall integrity of the protective shell.
While the replacement of the timber elements in the side and roof panels with a composite plastic internal skeleton and interior and exterior GRP wall linings enhances the longevity of the vehicle.
The sole use of fully laminated body shell panels, in conjunction not only improves thermal performance but also enhances strength and durability of the overall structure to make our caravans and motorhomes some of the toughest leisure vehicles available today.
Bailey caravans driving across the Australian Outback
---
Features & Benefits of Alu-Tech
---
Sole use of thicker fully laminated bodyshell panels covered in an impact resistant GRP skin
Increased strength and durability providing greater protection against the elements
Enhanced thermal insulation capabilities to enable holidaying all year round
Interlocking aluminium extrusion framework with internal fixings
Increased strength and durability providing greater protection against the elements
Minimises the number of potential water access points to improve the overall integrity of the shell
Timber free upper bodyshell panels featuring a composite plastic internal skeleton and GRP wall linings
Improved durability by limiting the impact any possible ingress water may cause
Lighter bodyshell with a more balanced weight distribution
Lighter caravans and motorhomes accessible to a wider range of owners in terms of tow vehicles and licence restrictions
Increased stability and improved road handling for safer driving and towing
Cost neutral design technology
Advanced technology universally available at no extra cost
A Complete Package
When you consider that these benefits of ownership are achieved without either a cost or weight penalty you can begin to see why the Alu-Tech construction system is so unique
{{tooltipsMethod}}