Sustainable Manufacturing
Caravans and motorhomes have long provided environmentally friendly holidays for people who have an appreciation for the great outdoors and who want to see it remain protected.
By way of example, research by The National Caravan Council suggests that emissions for a 1,000+ mile journey from London to the North of Scotland with a family of four in a small saloon car towing an appropriate caravan produces only 38% (0.36 tonnes) of the C0² output of a similar distanced flight, which would produce emissions of nearly a ton (0.96 tonnes).
In order to sustain our industry going forward therefore, it is important that we work in harmony with nature to ensure that it can continue to be enjoyed by future generations
At Bailey, we remain committed to playing our part in this process by reducing the environmental footprint of our operations and striving to make our leisure vehicle products as sustainable as possible.
Over recent years we have undertaken a range of initiatives designed to reduce our impact on the environment, covering our products, our sites and our culture.
We currently manufacture leisure vehicles that are 75% recyclable at end-of-life*. As much as possible we use renewable materials, including FSC certified timber sourced from sustainable forests, water based solvent-free adhesives in our body shell panel construction process, recycled composite plastic bodyshell panel framework extrusions and recyclable paper coated plywood furniture board in our manufacturing process.
In addition to being built to be sustainable our leisure vehicles are also specified to enhance the enjoyment of the great outdoors whilst reducing their impact upon it. Market-leading thermal insulation levels, courtesy of the Alu-Tech bodyshell, combine with efficient modern heating systems to allow people to use their vehicles all-year round but minimizing the amount of power required to do so. All of our motorhomes & most of our caravans come with a solar panel fitted as standard, while motorhomes also have their own premium brand leisure battery to provide greater capacity for off-grid adventures.
Commercially it makes sense to manufacture products that are as light as possible to ensure they are available to widest potential audience based upon the driving licence they hold and, in the case of caravans, the tow vehicle they own. The less a vehicle weighs the better too it is for the environment through the resulting reduction in engine emissions. At Bailey we have led the way in this area with a weight reduction programme that makes our products some of the lightest currently available, thus optimizing fuel efficiency to make them more environmentally friendly as well as more economical to own.
*this figure is for the habitation box manufactured by Bailey only and excludes either the caravan chassis or motorhome base vehicle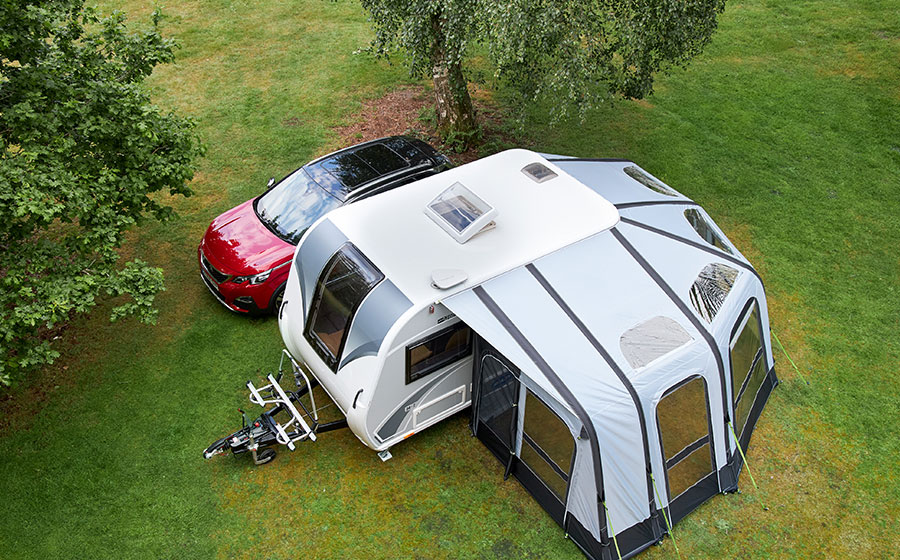 Our leisure vehicles are built to be sustainable and specified to enhance enjoyment of the great outdoors
---
Our main manufacturing plant has been located at our current 'brownfield' site on South Liberty Lane in South Bristol since 1960 where we are now a well-established part of the local community. As a result the majority of our employees live a short commute away from the premises which, in conjunction with pre-COVID car share and cycle to work initiatives, helps reduce the volume of traffic in and out of our site cutting carbon emissions considerably in the process.
Over the past sixty years the site here has undergone a number of major re-developments as the company has expanded its operations ten-fold. The original buildings have all now been upgraded with better quality insulation and enhanced natural lighting to make them more energy efficient, whilst the newer parts of the plant are also now sustainably powered in part at least by roof mounted solar panels. Our satellite large panel laminating plant located at Clevedon, in North Somerset, is housed in a modern industrial unit which complies with all current environmental building standards.
In order to help reduce our carbon footprint still further we also have recently switched to a 100% renewable energy power supply tariff on all three of our sites. Whilst more expensive than the standard tariff we believe this sends an important message on the desire to reduce our dependence upon the burning of fossil fuels for electricity generation.
Inside investment in state of the art manufacturing equipment such as CNC timber panel machinery, complete with a full extraction system, and bead application bodyshell panel bonding equipment has not only enhanced production efficiency and reduced waste, but has also created a cleaner, safer working environment for our employees.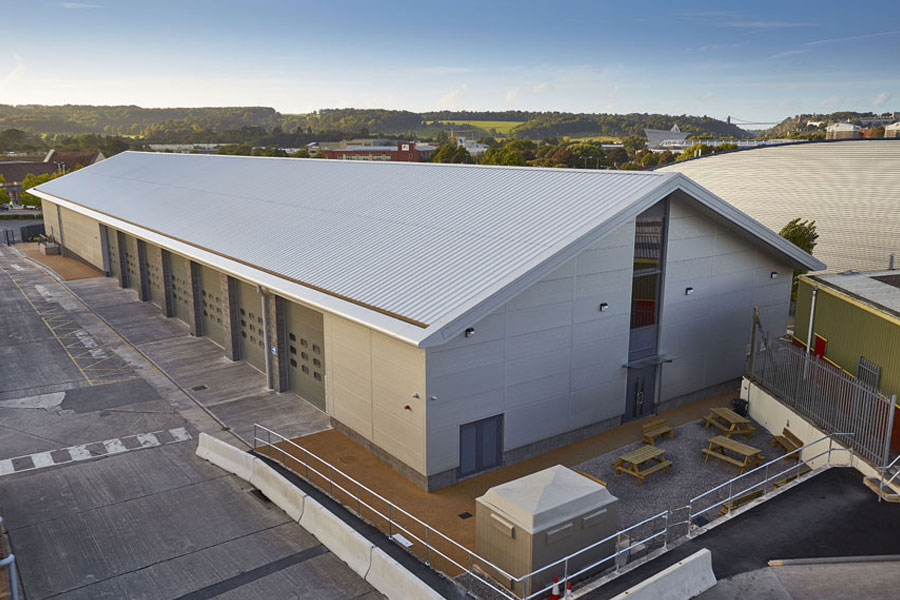 Our Replenishment Centre at South Liberty Lane
---
Waste reduction has always been a central part of our thinking as what is good for the planet is also good for business. Bailey was the first company in our industry to implement a waste recycling scheme and in doing so we have been able to halve the amount sent to landfill sites. We are currently partnered with a leading waste management company working on the segregation and recycling of commodities such as timber (all forms), aluminum, ferrous metal, polystyrene, vinyl, paper, cardboard, plastic film and foodstuffs. Annually this equates to 720 tons of waste products which is the equivalent in weight to 480 caravans or 205 motorhomes.
We are also working closely with our leading suppliers to help reduce the amount of packaging they use when delivering the components required to manufacture our leisure vehicles. Where possible we are encouraging the use of reusable returnable packaging to minimize waste and as a result components such as exterior doors, windows, wheels and tyres are now delivered without any disposable packing materials at all.
The recycling culture remains prevalent throughout all areas of the business to the extent that every employee is issued with their own reusable hot drink cup and cold water bottle meaning that the use of disposable containers has been all but eliminated on site.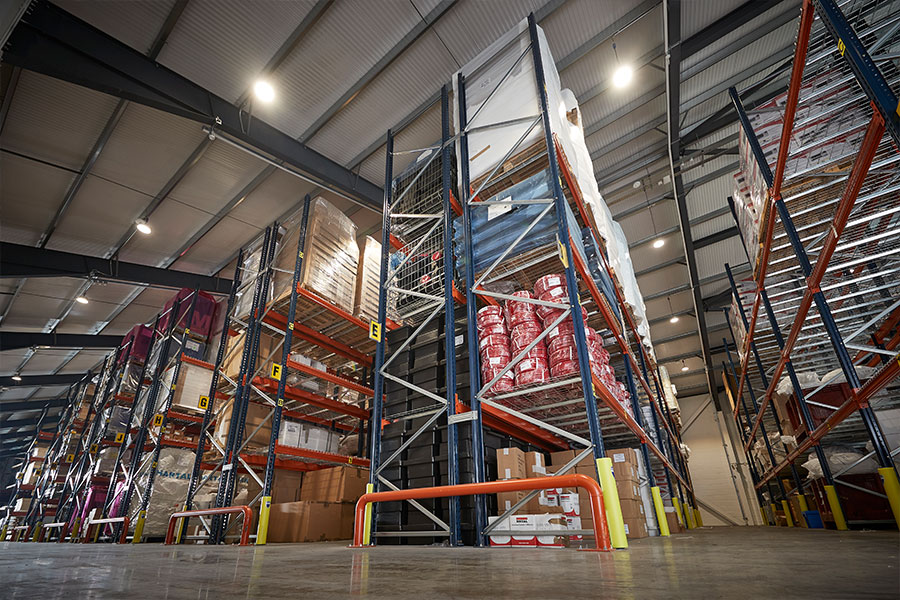 Our material stock inside our Replenishment Centre at South Liberty Lane
---
The Woodland Trust Woodland Carbon Scheme
This year we have signed up to the Woodland Trust Woodland Carbon Scheme to help reduce the environmental impact of our operations and at the same time boost biodiversity through the planting of trees.
The Woodland Trust is the country's largest woodland conservation charity with five decades of experience in protecting, restoring and creating UK woodland. In order to assist with the funding of their work they have established their own Woodland Carbon Scheme to enable companies in the UK to capture greenhouse gas emissions by helping it to create new native woodland in the UK, which in time will absorb carbon dioxide from the atmosphere.
They plant millions of trees across the UK, on their own estate and other private land, selecting the most appropriate species at the correct densities in the areas where they will make the most significant impact to deliver the best possible outcomes for both climate and biodiversity. As a result, they are able to help businesses go above and beyond the usual climate commitments, taking into account whole ecosystems, landscapes and catchments for the long term, locking up carbon and creating habitats for wildlife.
We have committed to donating to this scheme on on-going basis to offset our annual volume of greenhouse gas emissions. In 2022 this equated to the planting of over 2,000 native trees in the UK which have the potential to absorb in excess of 500 tonnes of carbon dioxide throughout their lifetime.
For further information on the work of the Woodland Trust and their nature-based Woodland Carbon scheme click here