Leading the way in manufacturing...
At Bailey, we are one big family. We have been building Bailey leisure vehicles here in South Bristol since 1948 and are now very much part of the local community. The majority of our employees live nearby and been with us for a long time (average length of service is actually 10 years). As result, our workforce possesses the necessary skill and experience to successfully manufacture a complex range of caravans and motorhomes in the same plant.
Unlike many of our competitors all of our full-time technicians are salaried to ensure everybody working here is focused on quality as well as quantity. This way, we encourage our employees to take 'ownership' of the production process, work closely as a team and participate in the development of our products.
In return, we see strong staff satisfaction, morale and motivation, which is why our productivity levels are the highest in the industry.
Whilst a product is only as good as the people behind it, it is important that they have the tools to do the work required. Consequently, over the past two decades in particular Bailey has invested heavily in its South Liberty Lane production facility, to the extent that it is now widely regarded as one of the most advanced in Europe. Central to this was the installation of the UK's first and to-date only mechanised assembly line, which means our technicians can devote all of their time to actually building our leisure vehicle improves both the speed and accuracy of the production process.
Not wishing to rest on our laurels however, we have recently taken the bold decision to completely re-develop our existing 14.5-acre site over the next five years to push UK leisure vehicle manufacturing to the next level. The relocation of our Parts Direct operation to North Bristol and our Large Panel Laminating Plant (where we produce the caravan sides, ceilings and floors) to North Somerset we have cleared the space for building work to begin. In 2016 Phase One of the programme was completed with the construction of a purpose-built Replenishment Centre which allows us to house the thousands of components required to create our caravans and motorhomes under one roof.
We are confident that with this investment, along with the continued support of our loyal workforce, Bailey caravans and motorhomes will remain a familiar sight throughout the country for seventy-five more years.
Large Panel Laminating Plant
The Large Panel Laminating Plant in Clevedon is where we make the floors, sides and ceilings for Bailey caravans and motorhomes. This fully automated plant is capable of manufacturing up to 1,500 bodyshell panels a week, or one fully machined panel every 12 minutes.
The manufacturing process begins with the assembly of the panel components on a laser-guided jig for improved accuracy and consistency. This assembly is then bonded together using a bead application system. A water-based agent is used to provide a superior bond before individually loaded into separate tiers on a 4-tier vacuum press. Once the lamination process is complete, the resulting panels are machined on a fully automated CNC machine.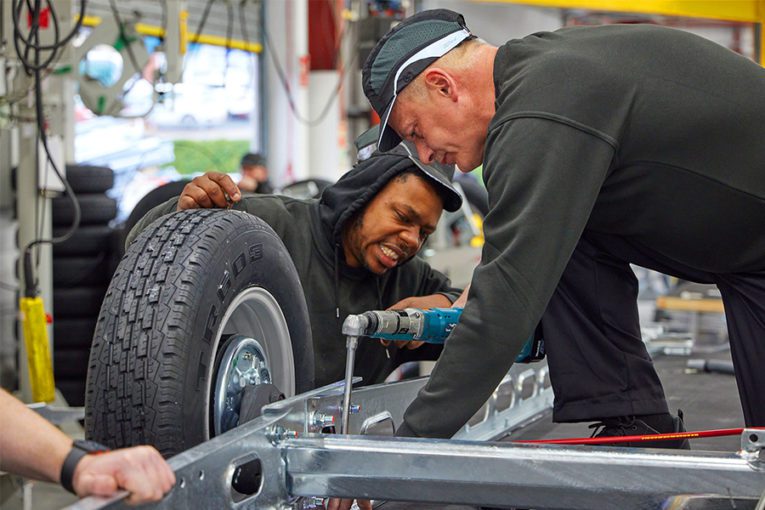 For more on what life is really like working at Bailey, find out how our brand ambassador Lee Davey got on as an 'apprentice for a day' on the caravan assembly line.