On Wednesday 2nd March, we kick off our 'Arctic Adventure', where we are taking two of our new 530-4 and 550-4 Pursuit caravans, as well as a top of the range Autograph motorhome 75-2, on an epic 5,000-mile journey through Europe, across the Arctic Circle, and back.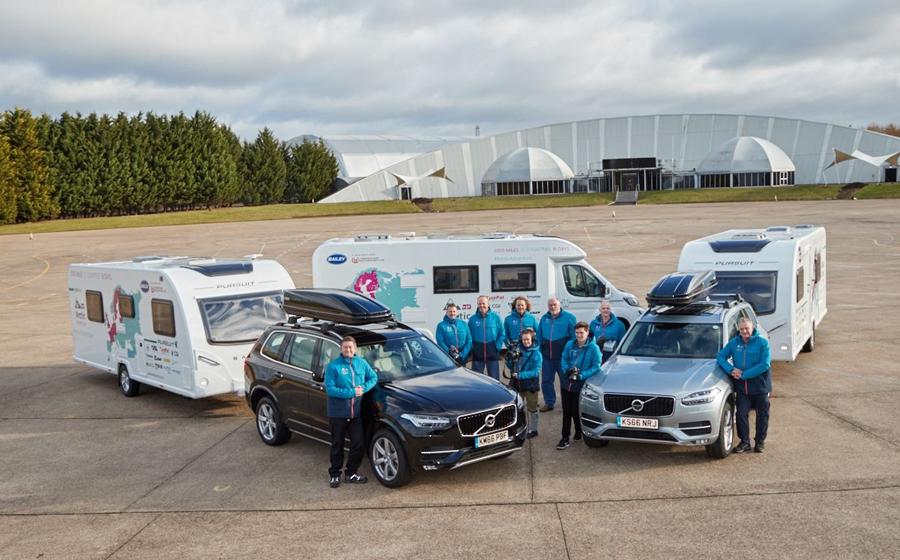 ---
The trip will not only be a test of durability and endurance of our caravans and motorhome, but also for the team taking part. The journey will take them through 12 countries in 16 days, whilst experiencing extreme weather conditions, with temperatures potentially dropping as low as minus 30 degrees!
It's not all bad. In the process they do get to take in some of Europe's most iconic locations, including the Brandenburg Gate in Berlin, the official home town of Santa Claus at Rovaniemi in Finland, and the Oresund Bridge linking Sweden to Denmark.
As you watch our vehicles perform on this mammoth journey, you can see how capable they are of taking you on your own adventure. Whether it's to the highlands of Scotland, or the English Riviera, you can enjoy the moment and create your own Bailey memory.
The plan below sets out our trips' itinerary but as any of you who have been on adventures of your own will know, things do not always go to plan. If we encounter a hiccup, or get distracted by a beautiful sight, then things may change, but either way we will make it to the Arctic… and back!
To follow the team through this epic adventure, remember to follow us on our social media channels.
Day 0 – Wednesday 1st March – Millbrook, Bedfordshire
Packing and preparing the vehicles for the trip ahead.
Day 1 – Thursday 2nd March – Millbrook to Brugge, Belgium – 226 miles
Crossing the Channel via the Eurotunnel and staying overnight at Camping Klein Strand, on the outskirts of Brugge.
Day 2 – Friday 3rd March – Brugge to Berlin, Germany – 522 miles
An estimated 12 hours of driving! Spending the evening at City Camp in Berlin.
Day 3 – Saturday 4th March – Berlin to Torun, Poland – 263 miles
A morning sightseeing in Berlin, including the Brandenburg Gate. Making our way to Poland, staying the night at a campsite in Torun.
Day 4 – Sunday 5th March – Torun to Vilnius, Lithuania – 352 miles
Visiting the old medieval city of Vilnius and spending the night at Downtown Forest Hostel & Camping, Vilnius.
Day 5 – Monday 6th March – Vilnius to Helsinki, Finland – 381 miles
Four capital cities in one day (Vilnius, Riga, Tallin and Helsinki), before settling for the night at Rastila Camping, Helsinki.
Day 6 – Tuesday 7th March – Helsinki to Kuopio, Finland – 236 miles
A full day of driving surrounded by the snow. Staying at the Rauhalahti Holiday Centre, Kuopio.
Day 7 – Wednesday 8th March – Kuopio to Ranua, Finland – 279 miles
Travelling to Ranua via an ice road in Oulu (weather/ice permitting). Overnight at Ranua Zoo Camp, part of the Ranua Wildlife Park.
Day 8 – Thursday 9th March – Ranua to Ivalo, Finland – 225 miles
Entering the Arctic Circle, and visiting the official home of Santa Claus. After meeting the big man himself, stay at the Ivalo River Camping resort for the next three evenings.
Day 9 – Friday 10th March – IVALO, Finland
Enjoying a tour of Test World (cold weather proving ground, sister site to Millbrook where we started ten days ago), with safety demonstration, tyre/braking tests, driver training, and driver experience on the ice field. Maybe even a toboggan run! Finally, a well-earned feast in a traditional Kota Lappish hut.
Day 10 – Saturday 11th March – IVALO, Finland
A snowmobile safari and a meal prepared by celebrity chef, Martin Dorey, in our Autograph 75-2 motorhome.
Day 11 – Sunday 12th March – Ivalo to Kukkola, Sweden – 262 miles
Making our way to Kukkola (the Swedish Lapland), and settling for the night at Kukkolaforsen Camp.
Day 12 – Monday 13th March – Kukkola to Sundsvall, Sweden – 413 miles
A long day on the road, travelling another 413 miles, and still not leaving Sweden. We'll finally rest our heads at Sundsvall Camping, Norrstigen 15, Sundsvall.
Day 13 – Tuesday 14th March – Sundsvall to Gothenburg, Sweden – 445 miles
A visit to the Volvo HQ in Gothenburg, who lent us the powerful XC90s that have been towing our Bailey Pursuit caravans. Staying the evening at Camp Lisebergsbyn, Gothenburg.
Day 14 – Wednesday 15th March – Gothenburg to Copenhagen, Denmark – 231 miles
Making our way in to Denmark over the famous Oresund bridge, and spending the night at Frigard Camping, in Copenhagen.
Day 15 – Thursday 16th March – Copenhagen to Holland (Overnight ferry) 533 miles
Today marks the longest driving day of the trip. Travelling to Holland, before boarding the overnight ferry at the Hook of Holland at 10pm.
Day 16 – Friday 17th March – Harwich to Millbrook, UK – 94 miles
The ferry arrives at 6.30am and then a short trip back to Bedfordshire to round off our trip.