In March 2023, we successfully reached the Sahara Desert, on our most extreme and daring Bailey Big Adventure to date.
Inspired to follow our route across Morocco? Here's the route that we travelled from Sagres to the Sahara Desert, and back to Bristol in the UK.
Follow our Sahara Challenge highlights through Morocco, proving that you're only limited by your imagination when it comes to caravanning and motorhoming.
View full screen gallery
i
Day 1: We began our expedition at the Worlds End in Sagres Portugal, the destination our first attempt was halted in 2020.
i
Day 7: We journeyed from Marrakesh to Aït Benhaddou, braving the rugged terrain and taking in the breathtaking beauty of the Atlas Mountains along the way
i
Day 3: Our first taste of Morocco began in the vibrant city of Tangier, and continued down to Rabat, the capital city of Morocco.
i
Day 7: A UNESCO World Heritage Site located in central Morocco, Aït Benhaddou is the location of several popular films, including Lawrence of Arabia and Gladiator. As we explored the ancient mud-brick city and its striking kasbahs, we couldn't help but be awed by its rich history and enduring beauty.
i
Day 9 and 10: During our time in the Sahara Desert, we had the incredible opportunity to ride camels through the dunes
i
Day 9 and 10: And marvel at the stunning night sky as we stargazed in the midst of the desert wilderness.marvel at the stunning night sky as we stargazed in the midst of the desert wilderness.
View full screen gallery
i
Day 11: Our caravans and motorhomes were put to the test as we braved the winding roads of the stunning Dades Gorge, taking in the breathtaking views and pushing our vehicles to their limits.
i
Day 12: The spectacular drive back from the Sahara took us through the rugged roads of the High Atlas
i
Day 13: The journey through the mountains to the city of Fez didn't disappoint. Morocco is a country of contrasts
i
Day 14: A visit to the ancient Fez Medina was a must before returning to Europe.
i
Day 14: With its blue building and unique charm, Chefchaouen was the last Moroccan stop of the Sahara Challenge
i
Day 15: Spectacular view of the Rif mountains as we said goodbye to Chefchaouen and Morocco.
The Team used two Bailey Phoenix+ 642 models pulled by Ford MS-RT Ranger tow vehicles, one Ford-based Bailey motorhome, the Adamo 75-4T, and a prototype of Bailey's first ever panel van Endeavour B62 to function as their home from homes throughout their travels.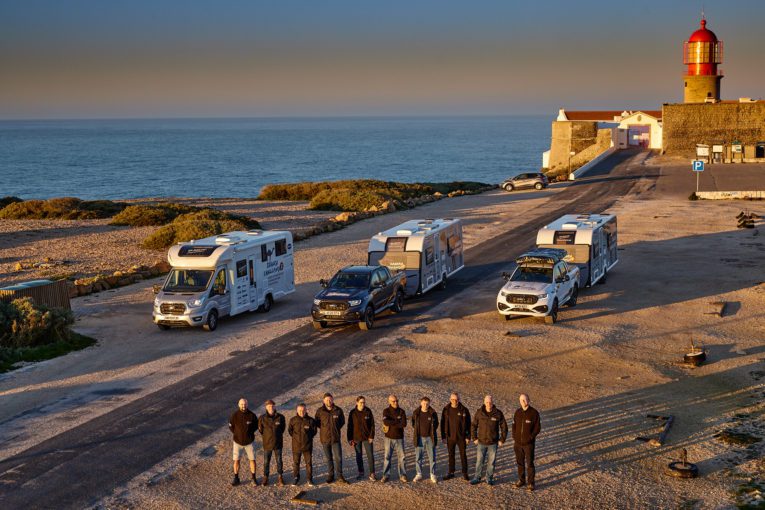 A combination of Bailey staff members, media and influencers joined the adventure of a lifetime to the Sahara Desert and back.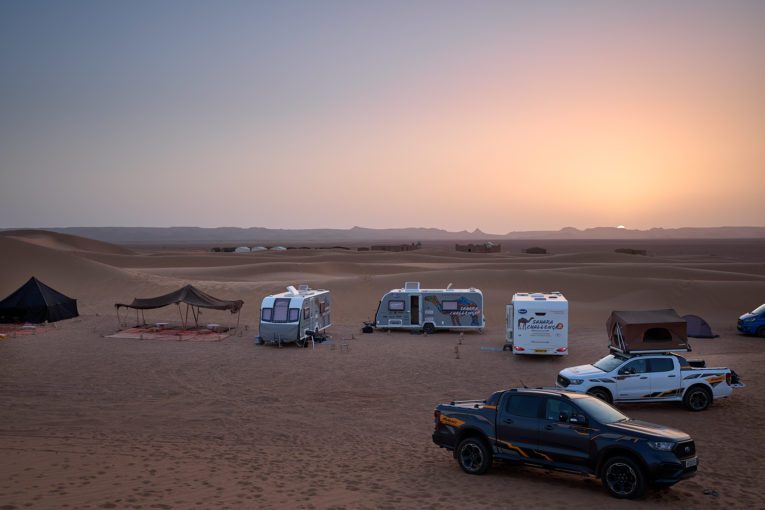 For the Sahara Challenge, we partnered with a variety of suppliers, organisations and businesses. Click below to find out more.
{{tooltipsMethod}}