Before Christmas, I like so many other people in the caravan family started to think about the potential of getting away again and with that came the excitement of booking up the following year's holidays.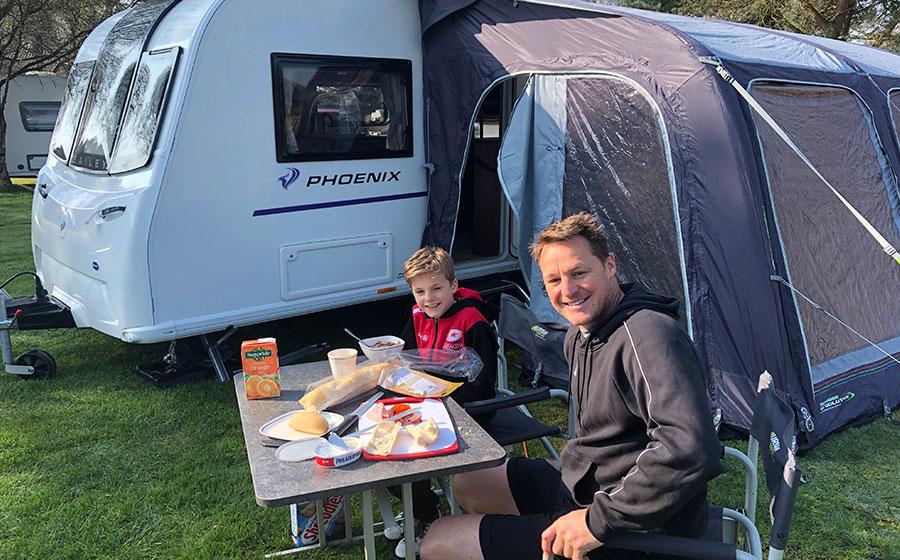 Danny and his son enjoy breakfast outside the Phoenix 650
---
For us, this excitement was fuelled by the countless driveway conversations with our neighbours during lockdown – who are also keen caravaners and we are planning and hoping to go away together again this year in our new Bailey Phoenix 650.
Like many we had planned on traveling abroad last year but due to the restrictions were forced to change to a British holiday.  But if you have read any of my previous blogs you will understand this would not have been seen as too much of a disappointment, I am a huge fan of holidaying in the UK.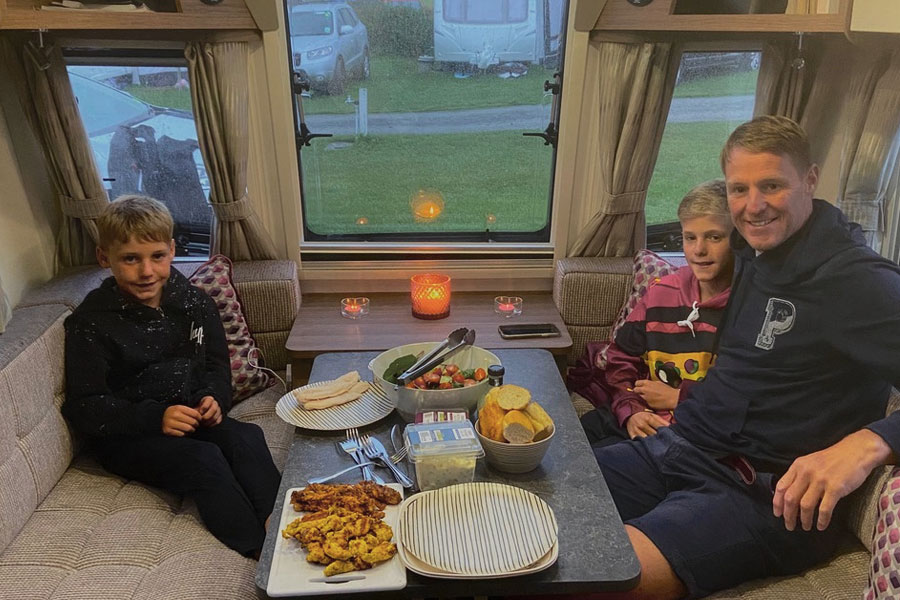 The Crates family enjoy dinner inside their Bailey Phoenix
---
For us this year was a no brainer, it's all about the staycation and supporting the campsites and tourist locations in the UK.  They like so many businesses have suffered over the past year and really need our support to get back on their feet.  For some of our trips, we have switched our focus to visiting sites, which are local to where we live, and for our main holiday in the summer, it is about avoiding the big tourist destinations that may struggle to cope with the increased numbers.  If we holiday smart there is a greater chance that things will return back to normality much quicker.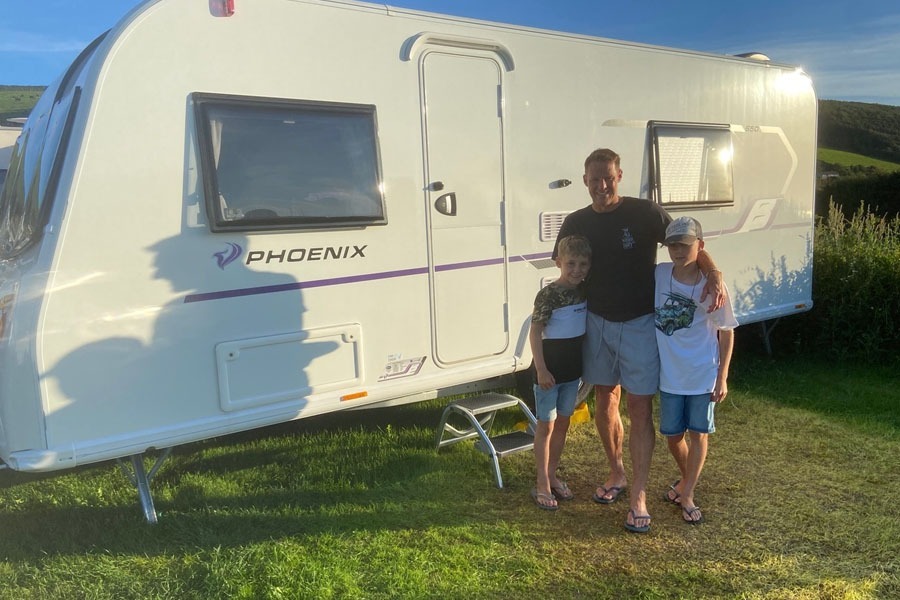 The Crates family enjoy a holiday in the summer of 2020
---
Sadly, our first booked trip at Easter was a non-starter before the caravan was packed due to the current restrictions, but we still have half term, a cheeky weekend away and the summer holiday trip to look forward to.
Through the many caravanning conversations, I have had over the years and most recently on my driveway with the neighbours, it became apparent that while we all have a love for the caravan lifestyle, there are often differences in what attracted us to it and what we love about our vans and holidays.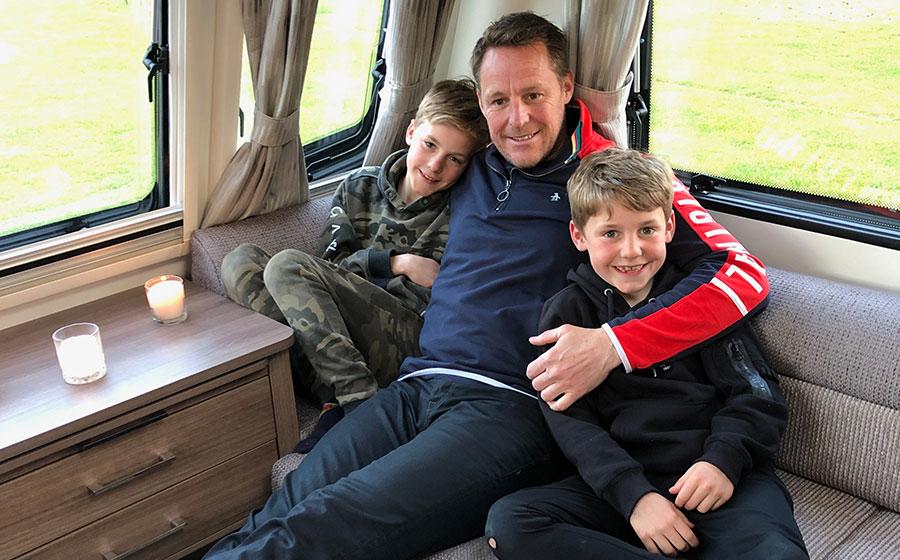 Danny and his sons in their Bailey Phoenix 650
---
So, this got me to thinking, what is it that I love about being away in the caravan.  So here are my top 5 reasons.
I love the fact that there are always little tasks to be done. Caravan holidays are not for just about sitting around all day, the very essence of being in the caravan promotes activity. Fetching and emptying the water – this is something my two boys Henry and Albert have always embraced.  From a very young age they loved getting involved.  I have to say for my eldest Henry, the novelty of pulling the water tank has worn off at the age of 13, he has now moved his attention onto cooking on the BBQ, which if you know me well enough you will appreciate, handing over the tongs has been a difficult time for me.  We now have a new arrival to the family; Isla was born on the 8th December and we can't wait to introduce her to this great way of holidaying, although I may have to wait a while before we assign her tasks!
For me the caravan is the perfect holiday when you have babies and little ones. I have tried all varieties of holidays.  Whilst staying in a rental home offers space, the downside is you either take two cars or travel with the car loaded to the hilt, why do babies take up so much room!
We have tried the package holiday but for me, sitting quietly in a single room looking longingly at the pool while the little one naps is no fun.  Then we found the perfect answer.  The caravan.  Plenty of space to carry everything, but most importantly it is the least disruptive to your little ones all important routines, and when they do sleep you have all the space outside or in the awning to enjoy your holiday or do your caravan chores.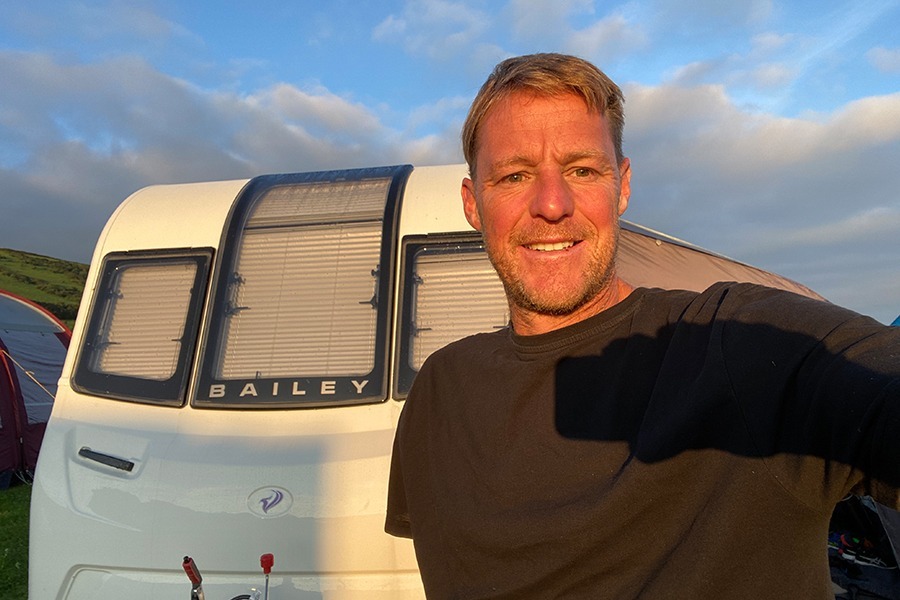 Danny outside his Phoenix 650 on a holiday last year
---
Snuggling up on the sofa in the evening or on those occasional rainy days that a British holiday guarantees is always a highlight for me. There is something very warming about sitting in the caravan. I must admit that when the boys were younger and still enjoyed their afternoon naps, I did become rather partial to a cheeky 40 winks on the sofa with the sun beaming through the windows. A caravan nap is the best!
The caravan family are a friendly bunch, a walk to fill up the water container can quickly turn into an hour round trip as you stop for a chat with other holiday makers.
Also, people are always ready and willing to help each other, be it pushing a caravan into position, helping put up an awning or simply offering some friendly advice.
The excitement my children have for our caravan holidays has not dwindled from being toddlers to teenagers. The excitement starts to build as I bring the caravan home for loading.  Working out what they are going to take and of course the yearly argument over who gets top bunk first.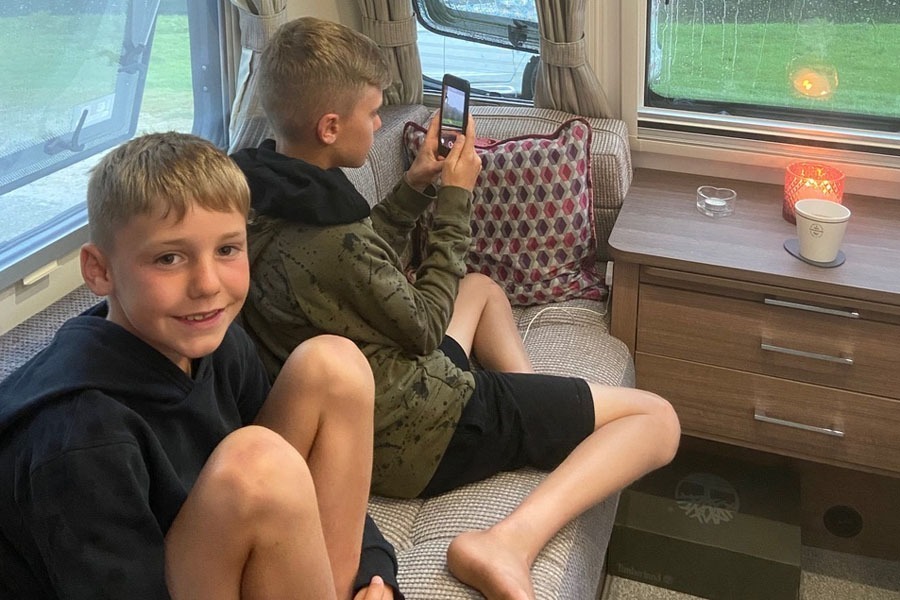 Danny's sons enjoy some time inside the Phoenix 650
---
I don't think it matters who you talk to about their WHY for loving the caravan. It doesn't matter if they have a brand-new state of the art caravan or a much loved and used older van, we all have our special reasons for loving a trip away in our caravan, I think that is the word actually, 'our caravan'. They hold so many memories and when you change your caravan it's as though the memories get transferred into the new one alongside all of your equipment.
So here is my question to you "what are your 5 WHY's for loving your caravan?"