The Crates Bailey Adventure 2020
If ever there was a year that we needed to get away and enjoy the space and freedom a caravan offers it was certainly this year. Just like everyone who had holidays booked, March to July was an anxious wait to see if we would actually be able to get away, and if so, what would it look like.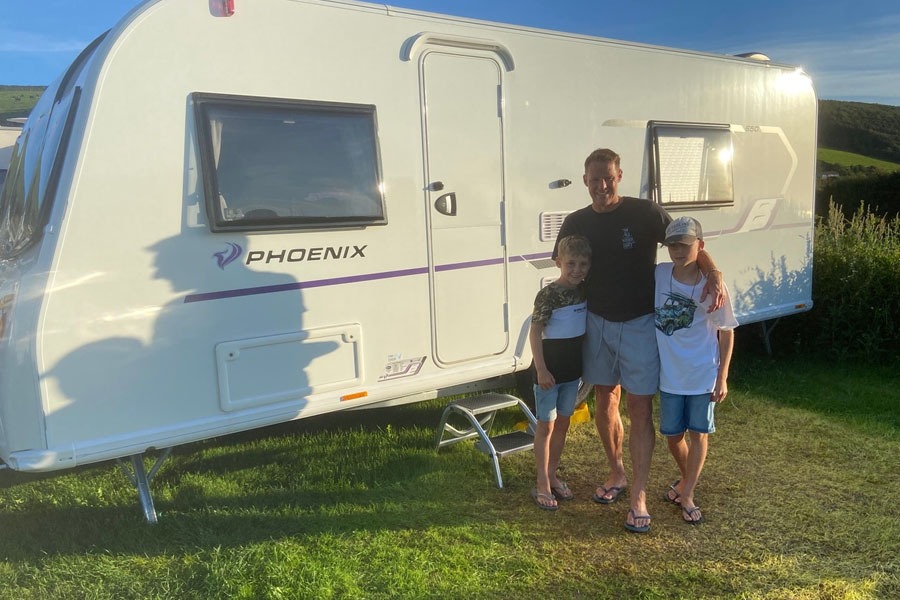 We had already seen our annual Easter trip to Kelling Heath cancelled and the prospect of a May half term trip never materialised.  Initially our summer plans involved towing a Bailey Phoenix 650 to Salou in Spain for 10 days with friends. From there we would work our way back through France, stopping for 4 nights in the Mid Pyrenees and finally 4 nights in the Loire Valley.  Sadly, due to the current situation and the fact that my partner Gemma is 5 months pregnant we decided to switch our trip to a UK holiday.  To be honest we were not too disappointed by the decision. Yes, we were very excited about our initial plans and most importantly the guaranteed sun, but I am a big advocate of the British holiday and the beauty that our coastline offers, even if you have to endure a bit of rain thrown in for good measure.
What made the prospect of a UK holiday even more appealing was that two sets of our neighbours, (well they are more friends than just neighbours) had also switched overseas travel to UK holidays and during one of our many social distancing afternoon-driveway-drinks-and-BBQ sessions we formulated a plan.  Ours was to visit a site down in Cornwall, just a short walk from the stunning Gwithian Beach in St Ives Bay for 4 nights. From there we would travel to Devon to spend 4 nights with one set of neighbours, and then finally off to Croyde Bay for our final week with another set of neighbours.  It was set to be an exciting adventure of beach days, surfing, paddle boarding, BBQ's and drinks around the fire pit.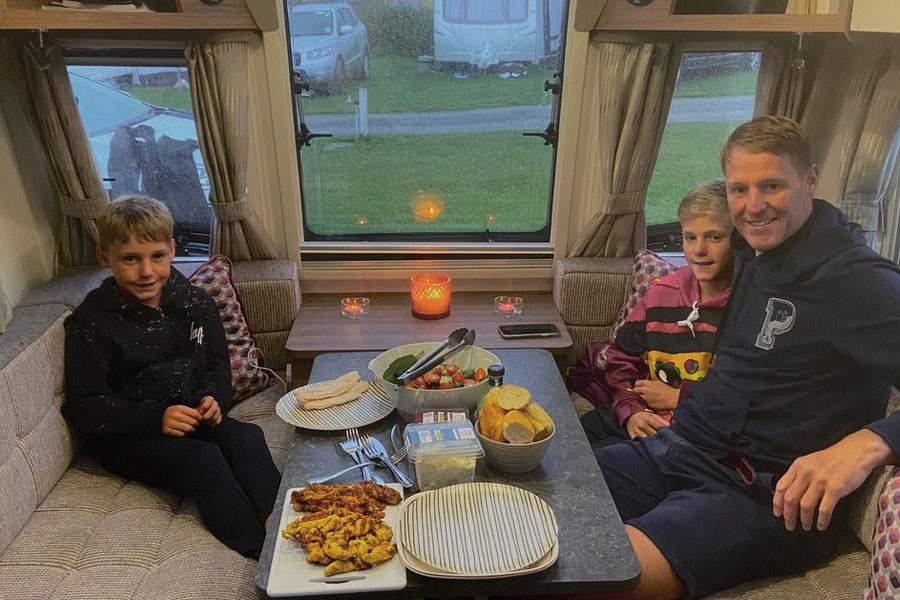 What made the trip even more exciting was this year we had switched our 10-year-old Sprite Major 6 for a new Bailey Phoenix 650.  A van we fell in love with the first time we stepped inside.  It just had something about it – it is light, airy and spacious.  I still cannot work out how they have fitted so much storage space within a caravan.
So, the trip was planned. Now all we could do was wait for the green light to allow us to travel and the sites to open.
Finally, the decision was announced and the realisation that our holiday could go ahead filled us with excitement and the memories of trying to home school a 12-year-old and a 10-year-old started to fade.  There was still the slight anxiety around social distancing and the use of amenities on site, especially with Gemma being pregnant, but that's the beauty of a caravan – you can be self-sufficient. Especially with the Phoenix 650.  It comes complete with a proper shower cubical as opposed to the wet room in our old van and as long as my hosepipe reached the water tap, there would be long hot showers all round.
We took delivery of the new caravan a few days prior to our trip and I set about packing and finding a home for all of our gizmos, gadgets and toys.  Always first to be packed is the BBQ, closely followed by body boards, wetsuits and paddle board. Any spare space can be allocated to non-essential items like clothes and food.  Whilst I busied myself with packing Gemma set about accessorising the caravan with matching cushions and throws and the boys did what children generally do – ask to help then moan when you actually ask them to do anything that takes more than 30 seconds.
Before we could leave, we did have one very important appointment though, our 20-week scan.  The van was packed and ready and off we went for the scan. Thankfully everything was OK, baby and Gemma doing well. So we returned from the hospital at 6pm, hitched up and were on the road by 7pm.  The plan was to drive until around midnight then pull into the services and sleep overnight ready for a fresh start the following morning.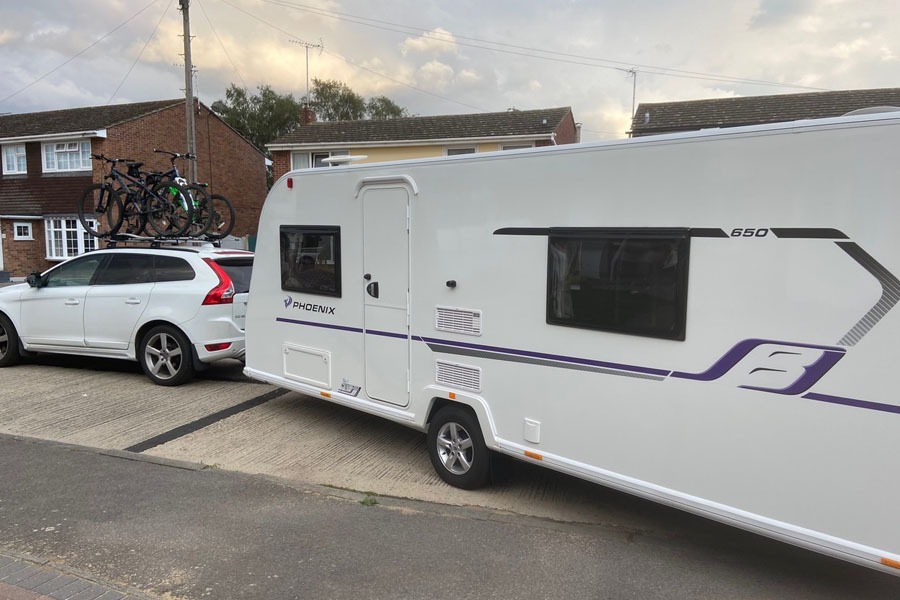 I have to say as journeys to Devon or Cornwall go this was one of the easiest to date, helped by the excitement of the 20-week scan going well.  We arrived on site in Gwithian too early to pitch so parked up and went for a leg stretch on the beach.  What a way to start our holiday, walking along the beach taking in the fresh air and dreaming of our next two weeks away.
We spent a fantastic 4 nights there and can honestly say we enjoyed most of our time in the water body boarding, although this year Gemma was not able to join in the activities, I think she rather enjoyed the peace and quiet relaxing in the caravan.
As much as we love to visit the beautiful towns whilst we are away, this year we decided to limit this and respect the social distancing rules and local communities.  We did take an early morning trip to St Ives for a wander around the town and harbour. In the rain of course, but a trip to Cornwall would not be complete without the occasional downpour.  As destinations go this could not have been a more perfect destination for us. The walk across The Towens to the beach was picturesque, the beach was stunning, and the surf was perfect for body boarding. We will 100% be visiting this part of the country again.
From there we moved on to our second site, a small CL caravan and motorhome site near Bideford in Devon to spend 4 nights with our neighbours and their 3 children.  Packing up and moving was one concern I had about this trip.  Visiting 3 sites meant 3 set ups and 3 pack downs, but that is the beauty of this caravan, it has so much storage space that is accessible from both inside and outside, everything stowed away easily, and the van was never piled high.  Of course, dry weather always aides this process.
I don't know if it is just me and my slightly competitive nature, but set up is never a slow relaxed affair, it's a high speed race to unload and get the awning set up before the kettle has boiled, and soon we were set up, fed and off for the first of 3 trips to Westward Ho! beach. Yep, more surfing and the odd game of beach cricket and football, oh and the obligatory bury-someone-in-the-sand.  I often wonder if children all over the world do this or is it just a UK thing!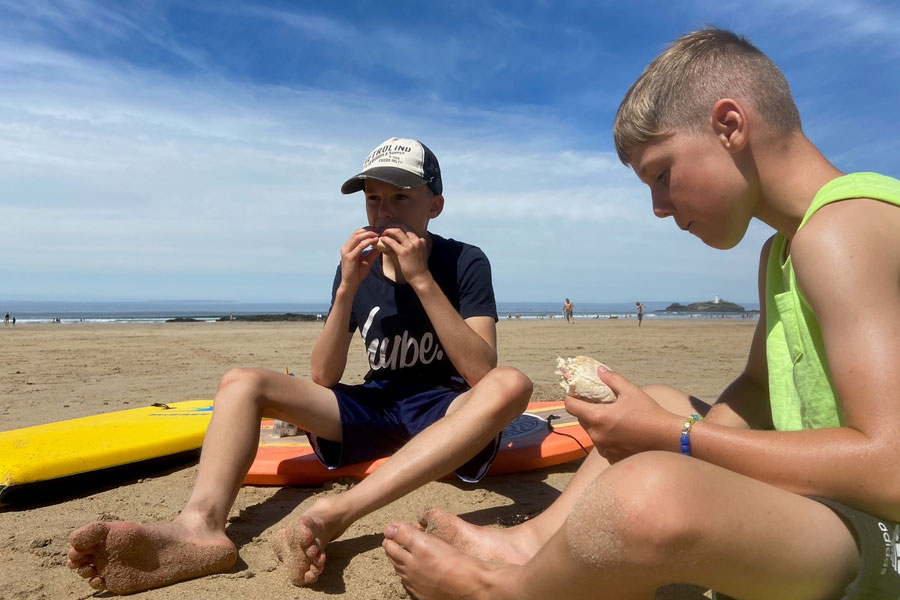 One of my favourite aspects of caravanning is sitting outside enjoying a BBQ and a glass of wine, and this is always made better when you can share these moments with friends.  Sadly, the following morning the weather was not playing ball and a storm of biblical proportion descended on Devon. 4 hrs of torrential rain hammered the site, whilst the awning had its own river running through it. I can safely guarantee the caravan is waterproof!  Yes, we prefer the sunshine, but there is also something very cosy about sitting snuggled up inside a caravan while it's raining, as long as it doesn't last too long.
As fast as the storm arrived it was gone and the sun once again shone through, although sadly now the contents of my awning was outside drying, as was everyone else's on the site.  Only one thing for it – hit the beach.  Off we went for another session of surfing.  I have to be honest; I will often be heard saying I am taking the boys to the beach for a surf, but it is me that spends most of the time in the water.  The 4 days came and went as fast as the storm and soon it was time to pack up again.  Once again blessed with a dry day to pack down and get ready for the next move onto Croyde Bay.
Next morning, we pulled off and headed towards our next site.  I do not know what was going on with the traffic on this holiday, but all of our travel had been traffic free – that's unheard of on a Devon and Cornwall holiday – so we arrived at the next site with smiles on our faces and ready to start the next leg of our holiday, Sadly as I tried to check in and after a search through their records it became apparent that I had put the wrong postcode into the satnav and arrived at the wrong site! After an embarrassed apology off we set again to the correct site.  I would like to say it was the first time I have made such an error.
30 minutes later as we headed over the hill into Croyde Bay the view was breath taking, and the sight of the waves crashing left Gemma with one thought only – she knew I would once again set up at supersonic speed and be off down the beach.  At this site we had another set of our neighbours camping with their 3 children and we were looking forward to spending some quality time with them.  Once again some of the highlights were sitting outside while the children played. This is what I remember from my childhood – the freedom you feel as a child on campsites and how children of mixed ages all play together and look out for one another.
A couple of days in and the waves started to flatten out. Only one thing for it, time to pump up the paddle board.  This was another new toy this year, Whilst my idea of paddle boarding is a tranquil paddle, exploring the inlets along the coast, for the boys it's a floating diving board and falling in is not an option, it's essential. So myself and my neighbour decided that some early morning dads paddle boarding was a must.  For me the days could not be any better, paddle boarding in the morning then either back down the beach with the family or off to visit somewhere in the afternoon.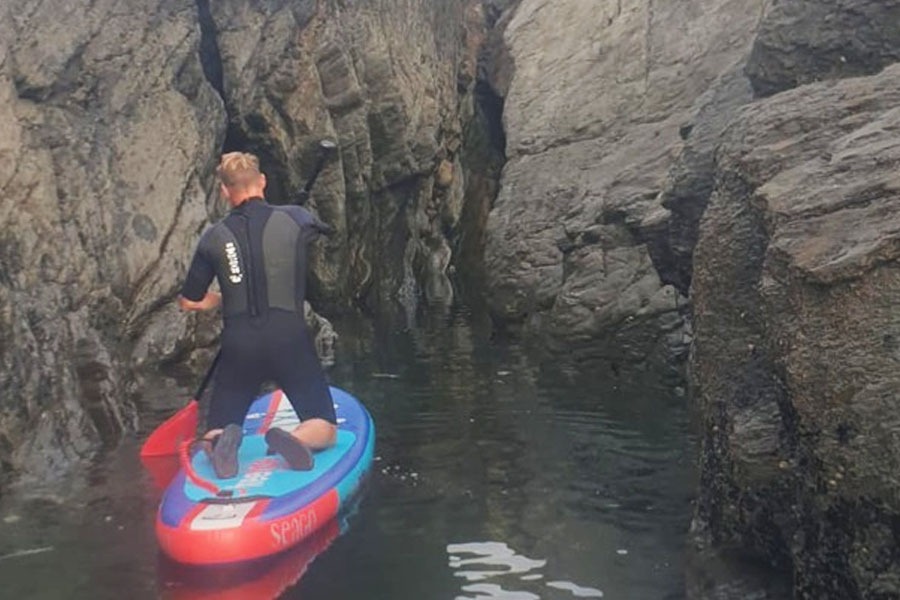 Just like Cornwall, we decided that we would not venture out sightseeing too often, and instead opted for the space that the beaches offer.  We did take a trip to Woolacombe Beach one afternoon. It would be criminal not to visit one of the UK's best beaches, although for me it was a little overcrowded and we preferred the fact that we could walk to Croyde Bay from our site.
Our final day out was a visit to Lynton & Lynmouth with our friends.  Now I don't know how this happened, but after almost two and half weeks away I had yet to indulge in takeaway fish and chips, although I may have had my fair share of pasties and ice creams.  So, I decided that today was the day. Why does it always taste nicer when the sun is out, and you are by the sea?
It was also while in Lynton & Lynmouth that my son learnt a valuable lesson – don't film rivers through railings! If you knock the phone whilst pulling your hand back through, it can easily slip out of your hands and fall into the water. The cry of "Oh noooooooo…" told us this is exactly what had happened.  The next 30 minutes were spent wading through the water trying to locate the phone – much the amusement of anyone watching myself and my neighbour conducting the search. I am sure there was many cameras poised ready to catch the moment one of us fell in! Luckily we stayed dry but sadly the phone was long gone.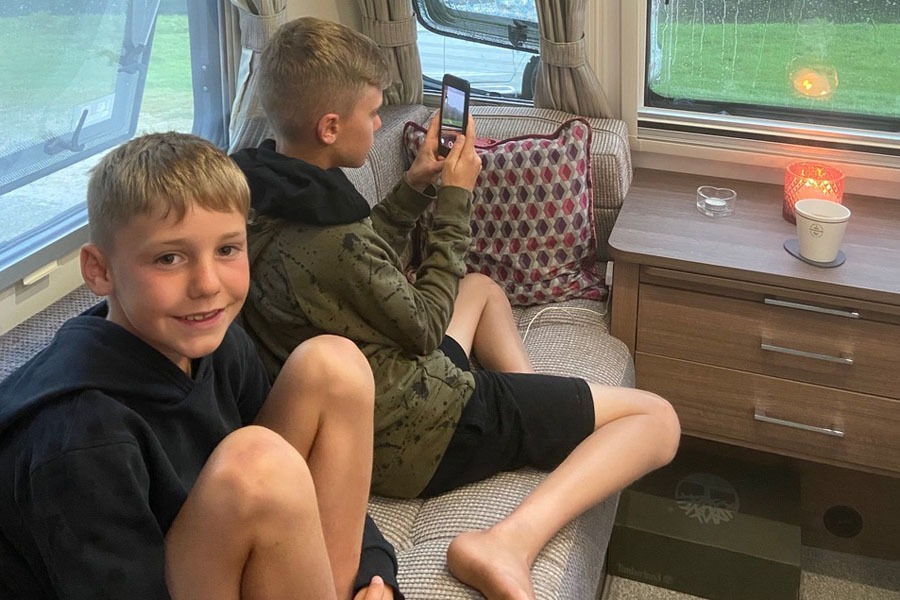 I have to say as trips go – considering we went from thinking we would not get away, to changing plans from a European holiday to a UK one – it was one of our best ever holidays in a caravan. Partly because I think after months of lockdown we were determined to make the most of our time, partly because in general the weather was kind to us (we even avoided the uncomfortable heatwave that hit the east of England), partly because we got to spend time with friends and partly because we had a new caravan this year.
With a new addition to the family due in December we are really looking forward to our future Bailey adventures. Although next summer with an 8 month old baby in the caravan I reckon the two boys, Henry and Albert (who by then will be 13 and 11) will be arguing not about who gets top bunk, but rather who gets to sleep in the awning.