Not all change is bad or shrouded in uncertainty. Yes 2020 has certainly been a very tough year for many, including myself and my family, but there is one big change in our lives that we are very excited about. 4 will become 5. Gemma and I are expecting a new addition to family on the 19th December.

So, with a growing family we decided it was the perfect time to upgrade our caravan.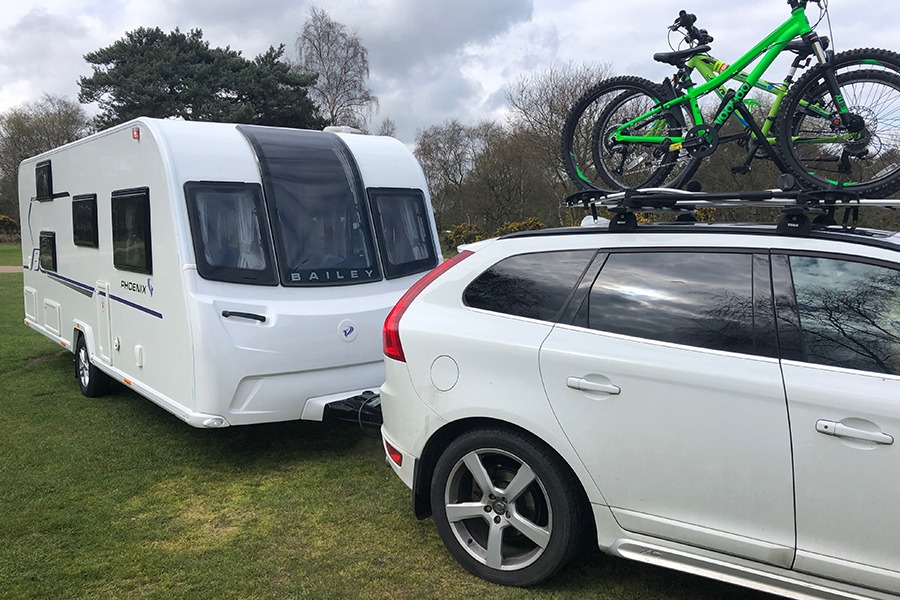 Bailey Phoenix 650
---
Before I get to our choice of caravan, I thought I would share when my caravan journey started.  I got my first caravan in 2010, a Sprite Major 6, at the same time a very good friend bought his first caravan, a Bailey Ranger.  Now whilst I was proud of my caravan, there was always an element of envy in there.  His caravan just seemed to be more modern and had those little additional touches.
So fast forward to 2019 and a trip to the Caravan and Motorhome show at the NEC, myself and Gemma went there with one thing on our minds, it's time to upgrade the caravan, well I say both, I went with one thing on my mind, Gemma came along to make sure I was focused on the caravan and didn't come home with a boot full of things I never knew I needed!!!
Having looked around the entire NEC, we drew up our wish list.  Sitting in the no1 spot was the Bailey Phoenix 650.  It fitted all of our criteria.  We wanted to switch from a triple bunk, to a double bunk layout.  We also wanted a proper shower unit as opposed to the wet room we currently had, and we wanted something that looked and felt more modern.
That Easter we were very fortunate to have the use of a 650 to try out for our annual trip to the Holt Rugby Festival, unfortunately, the weather was not playing ball and there was little opportunity to sit outside and enjoy the outdoor life.  Although on a brighter note, I now knew first-hand that the heating system was more than adequate.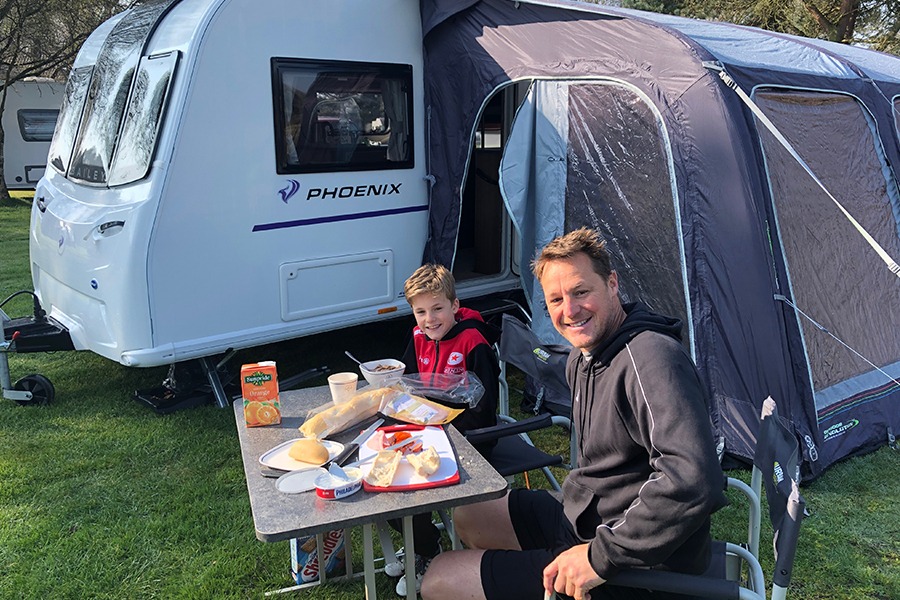 Danny Crates and his son on the annual trip to Holt Rugby Festival in 2019
---
2020 arrived and we once again we had a 650 lined up.  This time the plan was to take it to Spain for 10 days, then spend the next week working our way back through France.  Sadly, due to Covid it became apparent this trip would be a non-starter, so we switched our plans to two-weeks in the UK, to be more specific, Cornwall for 4 nights, then 11 nights in Devon.
What made this trip even more exciting was we joined our friends and neighbours in Devon for 4 nights, from there we moved onto another site for a week with another set of neighbours and friends.  That was the beauty of being away in the caravan, especially in these uncertain times.  We had our own space and could be completely self-sufficient, no need to rely on the caravan site facilities.  The holiday was filled with, surfing, beach days, BBQ's and laughter.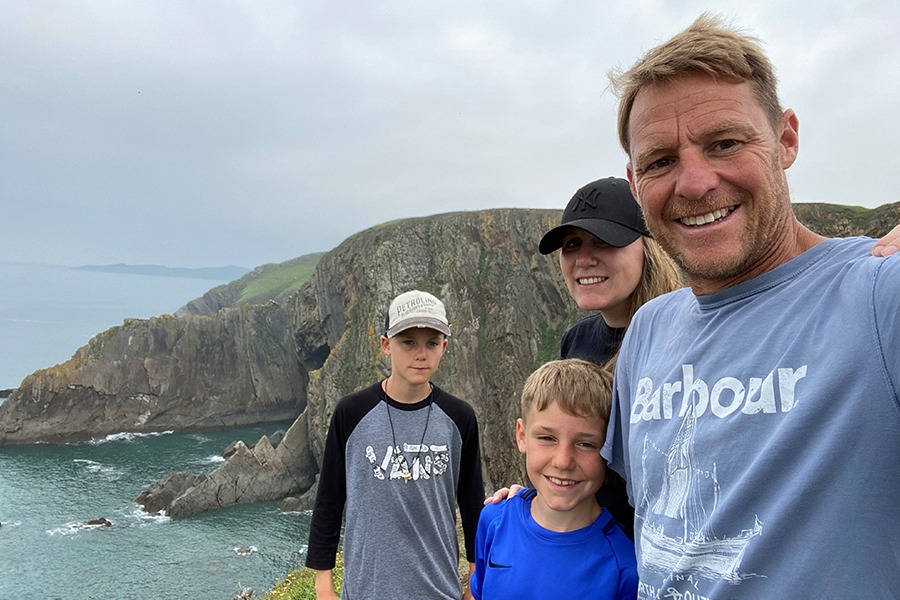 The Crates family on a two-week staycation to Cornwall and Devon
---
This summer was in my children's words "the best holiday ever" filled with amazing memories, made all the more special because after months of lockdown we were reminded that it's the simple things in life that give the best rewards, friends, family and the great outdoors.  Luckily that's what caravan holidays offer in abundance.
After our summer holiday we decided to finally trade in our caravan and make the switch to a 650 of our own.  We knew that there was an upgrade on the Phoenix range due, but we decided that we loved the style of the one we had used.  Firstly, because this was the model we first fell in love with at the NEC in 2019 and secondly and most importantly, we had already created family memories in this model and for me caravan holidays are about creating memories.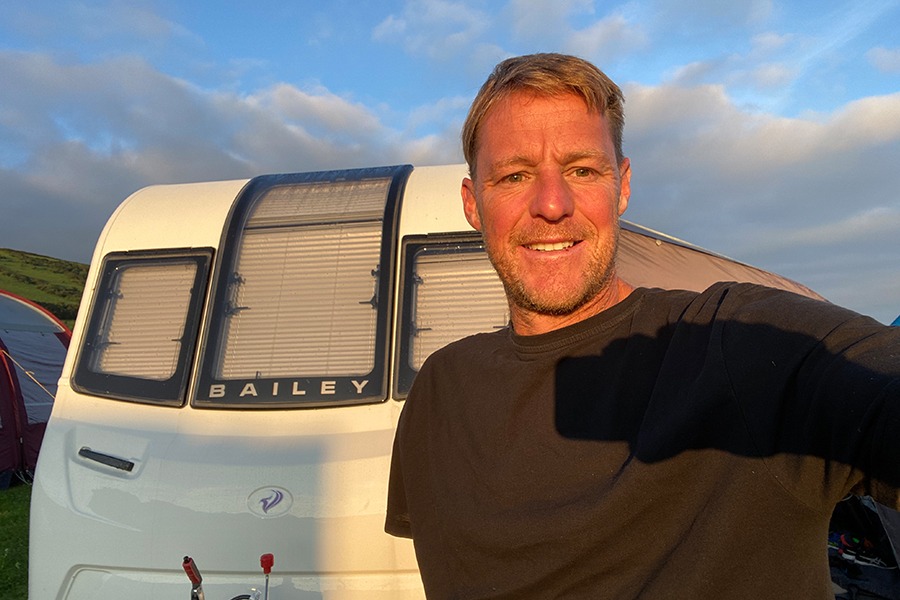 Danny Crates enjoys the sunshine on a trip this summer
---
So finally, on the 9th October at 10.30am I arrived at Farnham Leisure in Saxmundon to collect my Bailey 650, 10 years since first stepping inside my friends Bailey I finally owned one.  So why do we love the 650 above the rest, yes there are plenty of 5 berth caravans out there that would suit our needs and at varying costs.  For us it's the style and the layout.  It has a modern look with the grey upholstery and light curtains, a big step forward from the dated brown interior of the previous caravan.  We like caravans that feel open and spacious and this one is very bright and airy.  So, as I write this I am half way through loading the caravan with all of my equipment.  It's amazing how much stuff you can convince yourself you need when you have a caravan, luckily this one has masses of storage and Gemma didn't notice everything I bought from the NEC last time we visited.
I would like to take this opportunity to acknowledge the team at the Bailey dealership, Farnham Leisure.  Nothing was too much trouble and they went over and above to make sure all of our needs were met.  From the initial conversations, trading in my old caravan to the handover of my new one.  Getting a new caravan is an exciting time and they certainly helped make it a seamless and enjoyable journey.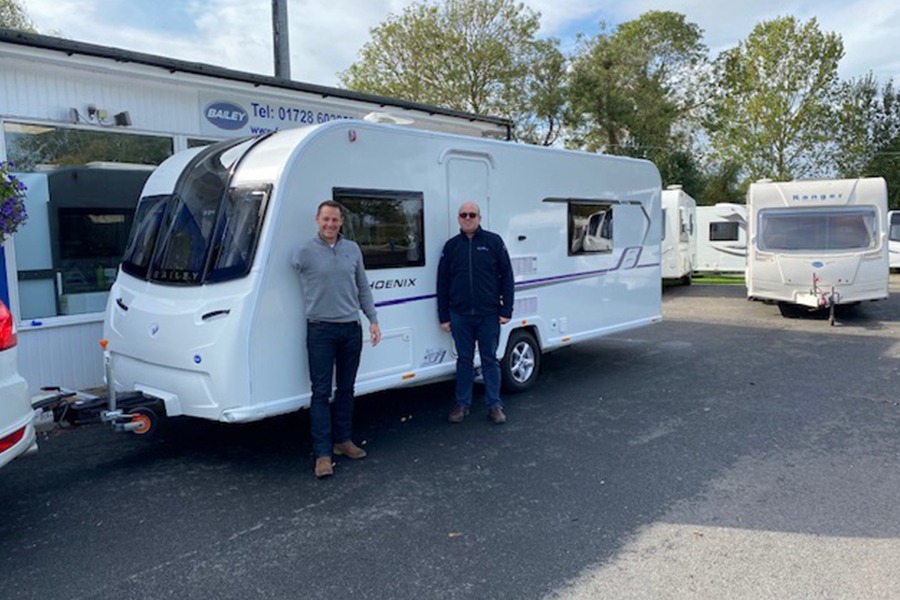 Picking up his new Phoenix 650 from Farnham Leisure
---
If the weather is kind to us over October half-term we are hoping to get away for a few days to enjoy the caravan and continue making fantastic family memories.
Here's to many more years of happy caravanning.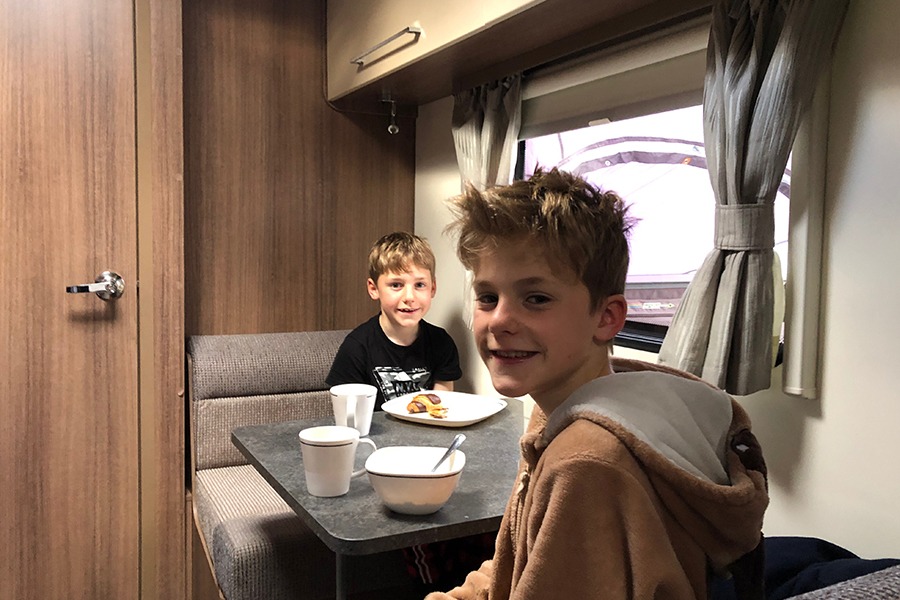 Enjoying some time in the Phoenix 650
---