The Guide to Cycling in Cornwall
You might think that planning an outdoor activity-focused trip to Cornwall in November is ambitious, especially given how temperamental the weather can be on our fair shores at this time of year. But then again, I was brought up scampering over all manner of landscapes as a little boy. No matter the weather. So, when the Caravan and Motorhome Club asked if I'd be willing to organise a trip with their Director-General Nick Lomas, I was only too happy to oblige.
Caravan and Motorhome Club's Nick Lomas and Marcus Leach in Cornwall
---
Nick and I are no strangers to adventuring together, having first met back on the Bailey Bristanbul trip in 2018, followed by a series of smaller, more localised adventures in 2019. As with everyone else, our plans for a trip together in 2020 fell afoul of 'you know what'. So it was with much anticipation that we prepared to meet up in Cornwall for four days of cycling and hiking, even if Nick did have his concerns about just how long the rides would be, which, given my love of ultra-distance cycling, was not without reason. 
There was no need for Nick to worry, though. This trip was not about setting any distance records but showcasing the joys of cycling in Cornwall, a place that will forever hold a special place in my heart. After our epic family adventure that saw me cycle a scenic route from John O'Groats to Land's End, while Kim and the kids supported and followed behind in an Autograph 74-4. Given the nature of that ride, that is to say extremely long, it was a pleasure to be able to take in some shorter and more leisurely rides this time around. 
Nick Lomas and Marcus Leach Cycling Country Lanes Near Truro
---
Our enjoyment of the trip was helped massively by the wonderful weather we had, with each day bringing sustained periods of blue skies and a warming autumnal sun. Basing ourselves at the Caravan and Motorhome Club's newest site, Carnon Downs, the first two rides explored the east coast of Cornwall and the smaller country lanes inland behind Truro. Where, incidentally, there is a wonderful local produce market every Wednesday and Saturday. Even if you're not in the area to cycle, the market is well worth a visit. Showcasing some of the region's best local producers, of which our favourite was Food of the Gods, who make raw chocolate, and Cornish Chillies who, as the name suggests, grow, and sell a wide range of chillies. 
A walk around the Lizard Peninsula, or at least partly, made for the perfect interlude to our cycling escapades. It's not that you can't take in many of the peninsula's best parts on two wheels, only that the absolute best part, the walk along the coastal path from Lizard Point to Kynance Cove is best on foot. Again, we were blessed with the perfect weather, opting to break up what was a glorious walk with a cliff-top picnic, watching birds surf the thermals above and surfers ride the waves down in the bay below. 
That's what I love about Cornwall. There is something for everyone here, no matter what level of activity you want. Whether you are drinking a cup of tea in your motorhome and enjoying a scenic lookout or cycling and surfing through the winter months. If you're looking for your next UK-based destination for a winter getaway, look no further than Cornwall. Although I can't guarantee you will be as fortunate with the weather as we were. 
These routes have been designed to highlight a variety of different areas of Cornwall. Being accessible from the sites we were staying at and, most importantly, being suitable for those riding e-bikes, making them achievable for any level of fitness.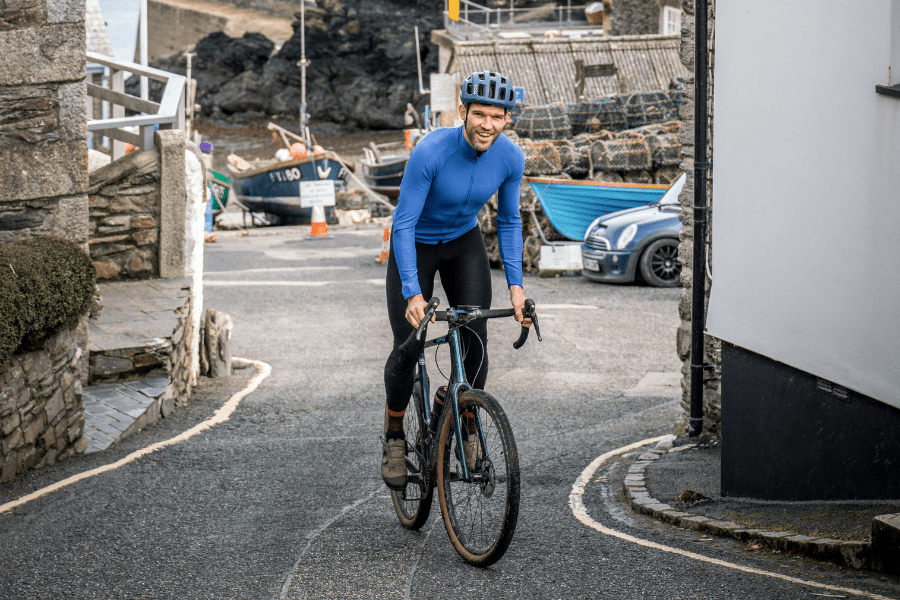 Marcus Leach Cycling in Portloe
---
Route One: 61km with 980m ascent and two crossings of the River Fal on King Harry Ferry. This route explores the many little coves that nestle between the folds of the cliffs on the eastern coast of Cornwall, the highlight being the little hamlet of Portloe where there's a wonderful little restaurant and coffee stop looking across the harbour. 
Route Two: 46km with 590m ascent and around 10km riding off-road on gravel tracks and paths. Cornwall's beauty is multi-faceted, and away from the obvious appeal of the coast, there is any number of quiet lanes and old farm tracks that wend their way through the rugged countryside, among for a rather peaceful escape from the busier coastal villages. 
Route Three: 56km with 640m ascent, a route that could easily be extended to take in Land's End for those interested. No trip to Cornwall would be complete without a jaunt around the southern tip, leading to 'the end of the island'. By taking in both sides of the peninsula, you get to see not only St Michael's Mount but enjoy the solitude the west side offers. 
Bonus Lizard Peninsula Ride: 51km with 540m ascent and a minor detour down to Lizard Point. Undoubtedly one of my favourite corners of Cornwall is the Lizard Peninsula, and this ride takes you in and around all the nooks and crannies of this little outcrop, including down to Lizard Point, the most southerly point of the British Isles, and a great place to sit and watch seals on the rocks. 
We had three different sites for our trip, all of which are on the Caravana and Motorhome Club network, albeit mixing main sites with much smaller, but equally as enjoyable, certified locations and a long-standing affiliate site that is a firm family favourite of ours.
The Adamo 75-4I Parked at Caravan and Motorhome Club's Newest Site, Carnon Downs
---