See the world differently with a new Bailey Unicorn
It's time to believe again with the arrival of the fifth generation of Bailey Unicorn this autumn.
Available from early-September onwards in a line-up which includes a choice of the five most popular layouts from the current Unicorn range as well as the return of two former favourites – the two berth end-washroom Seville and four berth end-washroom Madrid. All four of the existing fixed island beds layouts now have wider double beds for extra comfort whilst the two end bedroom models also feature a practical new through boot exterior access storage locker.
Unicorn Series 5 Model Line Up
---
The Unicorn Merida and Valencia models from the previous series have been discontinued for the 2022 model year
The new Unicorn Vigo at sunset
---
As with all Bailey leisure vehicles models are built using our patented Alu-Tech construction technology, cloaked in a GRP outer skin, making them more robust, more durable and yet lighter than those manufactured using conventional methods to offer greater protection against the elements to keep you comfortable, safe and secure all year round. To date over 70,000 Bailey leisure vehicles have been built with this ground-breaking technology and are currently being used around the world.
This high performance body shell has been enhanced visually through the introduction of a new aerodynamic front profile, new front and rear mouldings and a bold new graphics scheme, to make the next-generation Unicorn the best-looking Alu-Tech caravan yet.
To ensure that this eye-catching investment remains safe on the road and secure on site it is fitted with the latest safety and security equipment, including the AL-KO ATC Trailer Control System, AL-KO Secure wheel lock (two on twin axle models), a TRACKER Monitor Stolen Vehicle Recovery System with an integral intruder alarm plus a new high security exterior door lock as standard specification.
Unicorn's four-season touring credentials are guaranteed with a fully specified Alde programmable central heating system, featuring a user-friendly digital control panel with battery back-up for uninterrupted programming, that has been thoroughly cold chamber tested to ensure optimum performance (achieving Grade III Classification of EN1656-I in the process). This combined with the standard fit Truma 80 watt solar panel provides you the freedom to adventure wherever and whenever you desire.
The Unicorn infinity window seen from above
---
Inside the new Unicorn is totally transformed with the introduction of a new vertical front infinity window. Half as big again as the previous incarnation this signature Bailey design feature floods the caravan with natural light indoors and provides a view like no other outdoors.
Interior décor has been expertly refined with the introduction of new Bailey 'Light Oak' furniture which combines with contrasting 'cashmere' decorative finishes, 'Nebula Silver' worktops and a choice of standard 'Chiswick' or optional 'Temple' fully sprung soft furnishing schemes to provide the new Bailey Unicorn with that unmistakable touch of class. Meanwhile elegant design touches such as dual finish curved overhead locker doors, stylish new kitchen and washroom splashbacks, full width fixed bed fabric headboards plus enhanced 12v LED ambient, task and mood lighting give these fifth-generation models that all-important wow factor.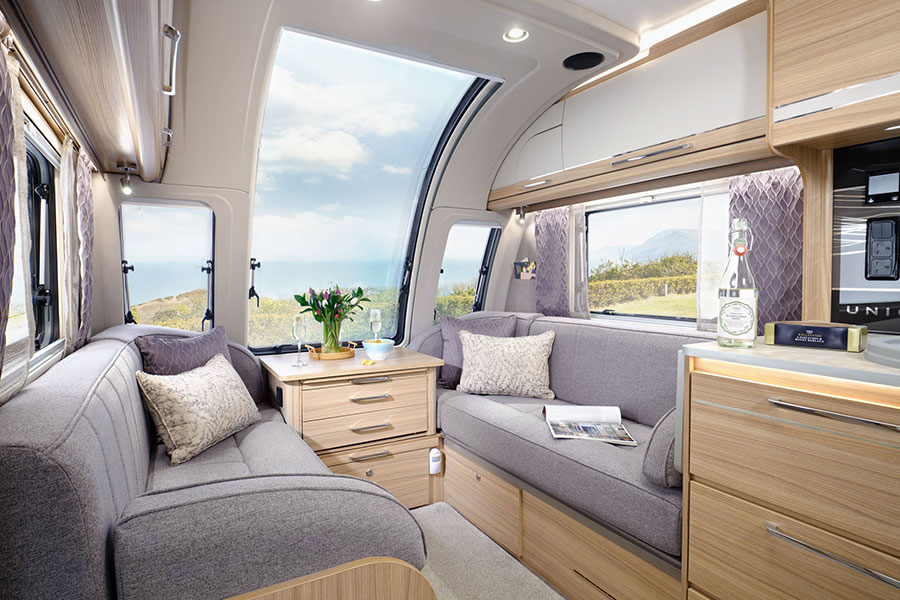 The new Unicorn interior with an inside view of the infinity window
---
Effortless and elegant, the new Unicorns include a host of clever features designed to make your life easier. For example, in addition to being pre-wired for an optional motormover, vehicles are also now pre-wired for WiFi installation to ensure you can remain connected with on-the-go internet access. Inside models feature up to 6 230v and 4 USB sockets to ensure everybody in the family can remain powered up, whilst the inclusion of a roof mounted Status 570 digital television aerial, an external satellite connection point and new wall mounted television bracket (model specific) ensures everything is set up ready for your evening entertainment.*
Commenting on the arrival of the latest series of Unicorn models Bailey of Bristol Managing Director Nick Howard said, "The introduction of the fifth series Unicorn heralds the arrival of the next-generation of Alu-Tech construction caravans"
"A striking new appearance both inside and out makes this the best-looking Unicorn yet and this combined with enhanced specifications, accessible unladen weights plus a competitive retail price means there is every reason to believe in Unicorns again" he added.
*Neither the motormover, the WiFi router nor the television themselves are included in the standard caravan specification and need to be purchased as optional extras.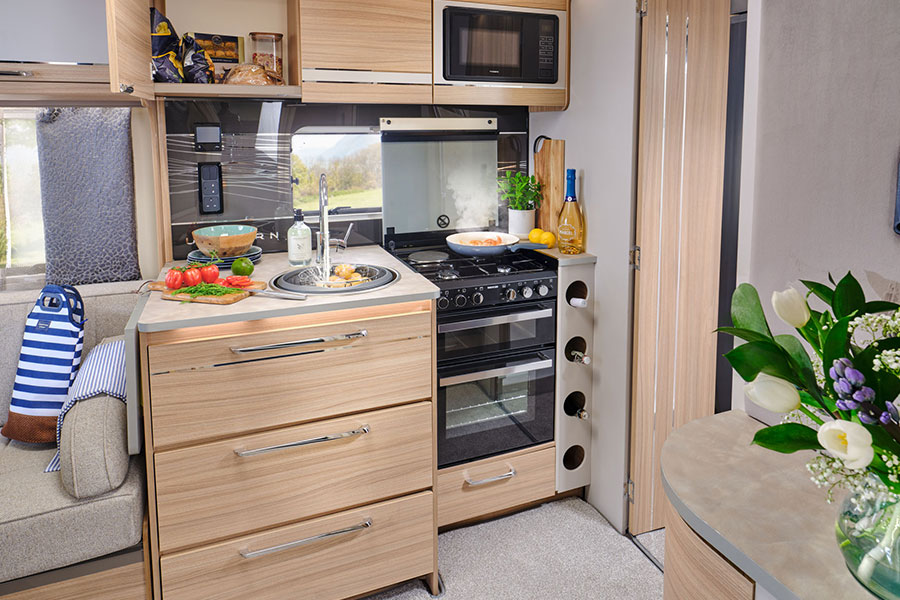 The Unicorn kitchen with Thetford 'K-Series' combined oven, grill and hob, splashback and drop down hob cover
---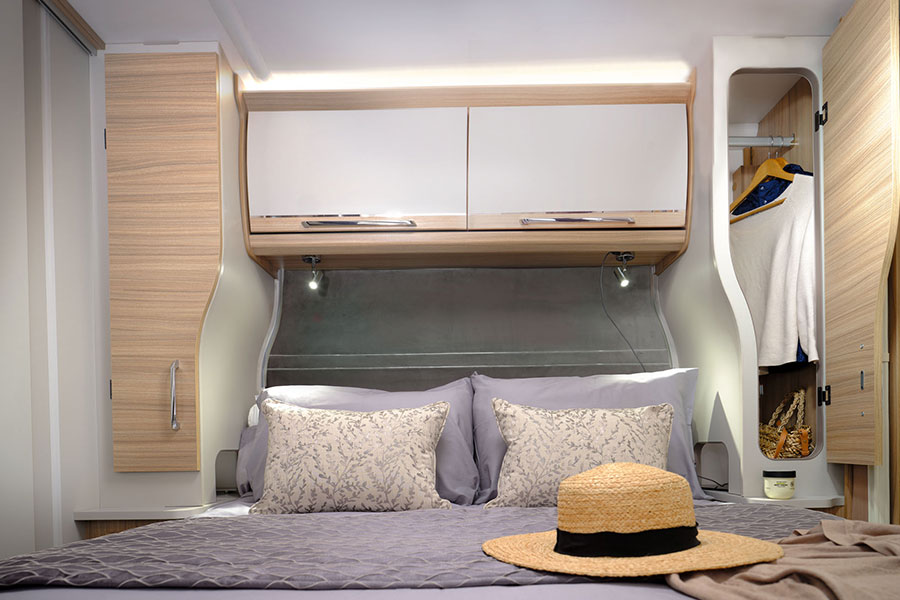 Island bed layout Unicorn have new dual shaped wardrobes
---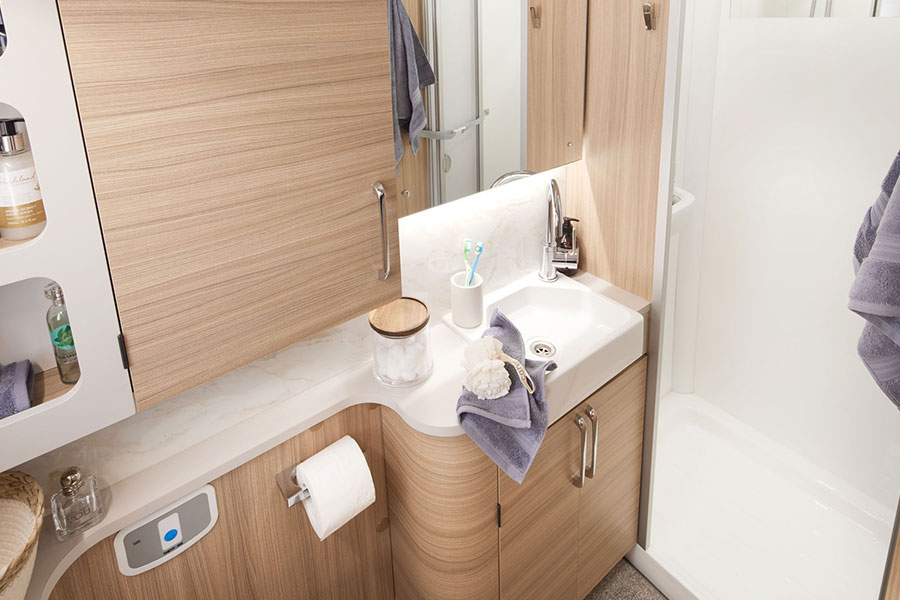 The Unicorn bathroom with new Belfast style hand basin
---
New flush-fit single piece rear impact resistant bumper with integral light cluster
---
With the new fifth generation range, there's every reason to believe in Unicorns again
---