Scott and Elaine Janaway - Life is an adventure with the Janaways
Scott and Elaine Janaway are heavy users of their Autograph motorhome. Since they bought it in 2018, they have toured all around Europe and the UK, adding more and more locations to their list of favourite places. For them, it is all about the freedom and flexibility of a motorhome holiday, allowing them to just pack and go wherever and whenever they want to.
Last year it was a lot harder to do what they like the most, but they still managed to escape to Scotland in September and remain positive about all the adventures they have ahead.
You can follow their journey on  their website www.janawaysontour.co.uk, Twitter (@janaways) and Instagram (@janawaysontour).
Scott and Elaine bought their Autograph motorhome in 2018
---
When did you get your motorhome?
We bought our Autograph Motorhome in August 2018 from our local dealer Choose Leisure in Canterbury.
Have you had a motorhome before?
No, we have never owned one. A few years before buying one, we hired one twice for two holidays in the UK, one year in Cornwall and the second time in Wales. We did this to see if we liked motorhomes and everything that goes with it and we can say we had a great time on both trips.
Why did you decide to get one?
I guess it was like one of our long dreams, something we always talked about at some point. However, we love the freedom motorhomes offer and it's a fantastic way to tour places.
We were always reviewing magazines, the internet and shows. We found that deciding to buy one and actually finding the right one takes a lot of work and research. You have to take a lot into consideration.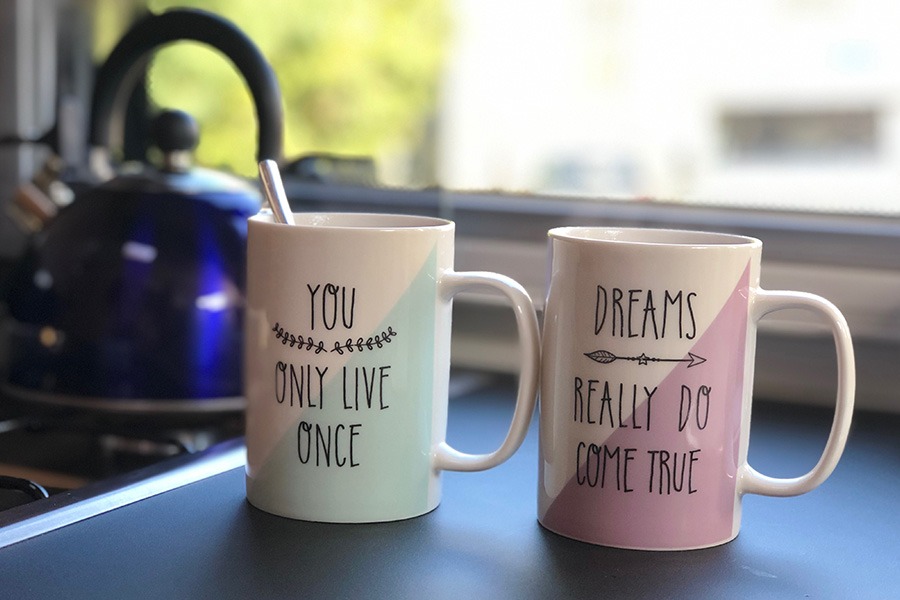 The Janaways have dreamt about owning a motorhome for years before they finally decided to buy their Bailey
---
Who do you go motorhoming with?
Our children are all grown up so it's just us two (Husband & Wife) and for that it's great (in a nice way of course). It just means we have plenty of room to live in our motorhome when touring.
Where did you go on your holidays for the first time in your Autograph last year? What did you do?
Last February we decided to go for a small drive looking for some snow, we are both skiers and we normally go skiing for a week and book an apartment but this time we wanted to do something different. So we packed up the Autograph and headed down to the Port of Dover which is handy for us as it is only 4 miles away.
Now I must point out that, whenever we go away now in the motorhome, we never book anything or really plan too much detail as we love just doing it on the way to wherever we are going.
So, after getting to Calais in France, we knew we wanted snow and the best place for that was the Alps. We only had a week and we just wanted a few days of skiing, so we took a leisurely drive towards the Alps not knowing really where we would end up.
We drove through Belgium with an overnight stay in Cerfontaine in a parking area just for motorhomes. We then headed for Luxembourg as this is somewhere we have never been. The fuel was around 90p per litre so well worth getting there on an empty tank if you like to save some pennies. We also came across a free parking area for motorhomes just outside the city centre, so we parked up for the night and went exploring. The parking area was free for Motorhomes and just 4 Euros for electric vehicles.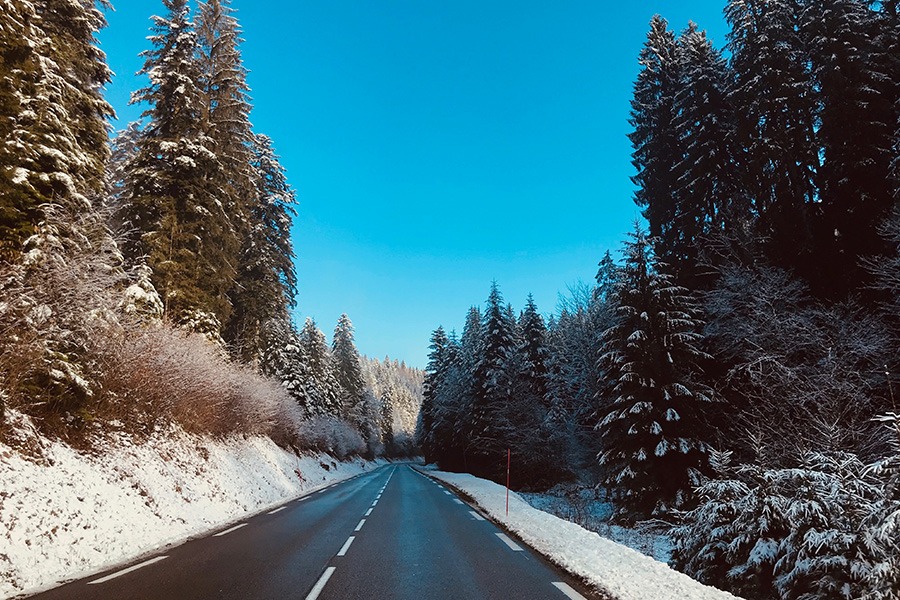 Early last year, the Janaways embarked themselves in an epic trip to the mountains looking for snow
---
We then headed further south to the French-Swiss border when we stayed in a free parking area again for motorhome at the bottom of a ski lift. We spent a couple of days skiing in some amazing snow high up in the Alps, off grid so no hook up. We had a great time as always and then made a slow drive back to the UK with a few stops on the way.
On this trip we used an app called Polarsteps where you can track our trip.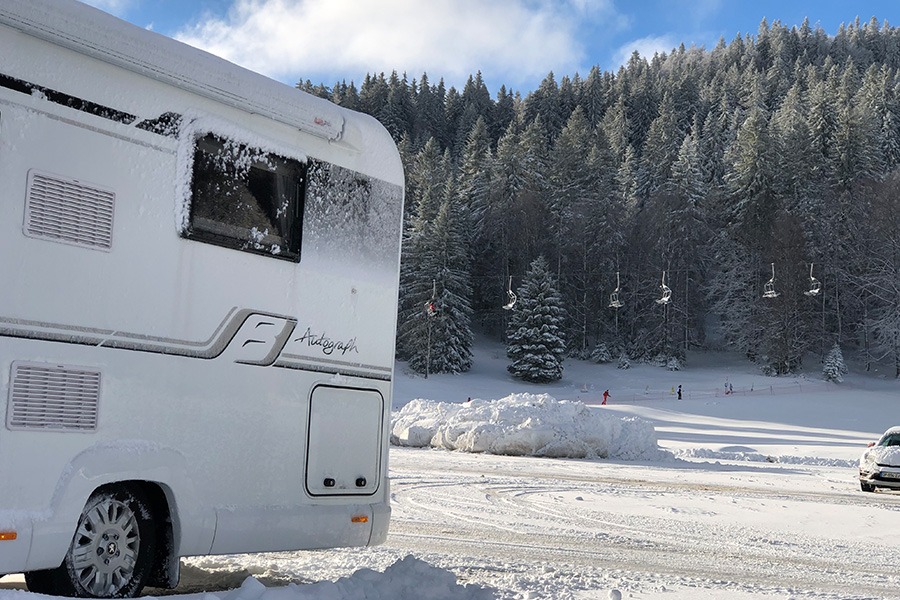 Skiing at the Alps at the French Swiss border
---
Where else did you go last year? 
During September we spent two weeks touring Scotland and the NC500 route with friends in their motorhome, we had an amazing trip and even better with friends driving in convoy. Scotland is just amazing, and we came across some amazing places to just park up and stay the night.
Again this involved no planning at all, we just knew our starting point and end point. What made this trip more fun was our friends followed us and we decided to use CB radios instead of mobile phones to talk to each other during the drive. This is something I think all motorhomers should do!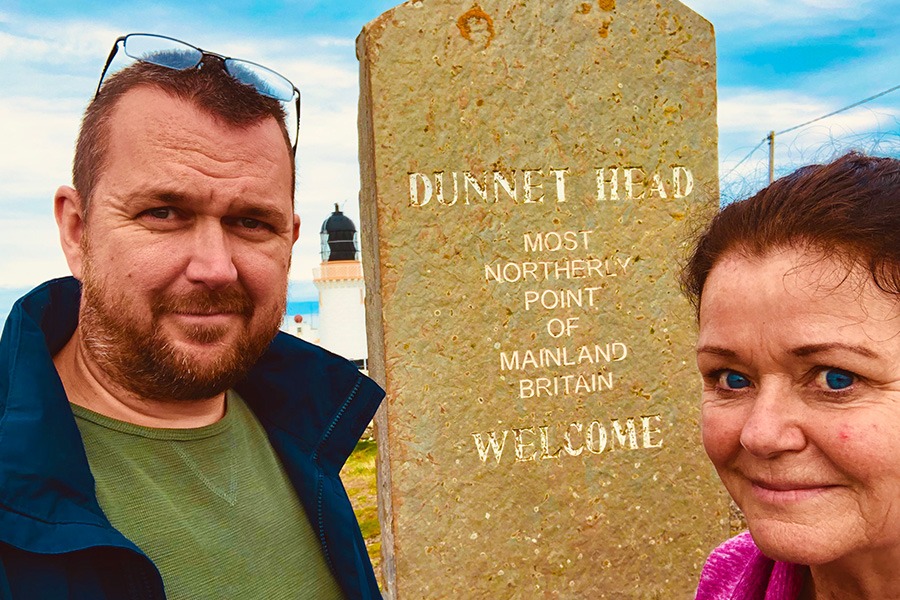 Scott and Elaine spent two weeks touring Scotland in September
---
What was your favourite trip?
Every trip adds to the list of favourites as they get better every time we go somewhere new, however our most favourite trip so far in our Autograph was in September 2019. We spent 2 months touring as much of Europe as we could, covering 11 countries, 9 Cities, 32 sites (most free) and around 7,600 miles to include: Belgium, Germany, Austria, Slovenia, Croatia, Italy, San Marino, France, Spain, Gibraltar and Portugal. This was a trip of a lifetime and by far the best adventure we could have had and the best bit once again is we never planned any of it. We just went for a drive.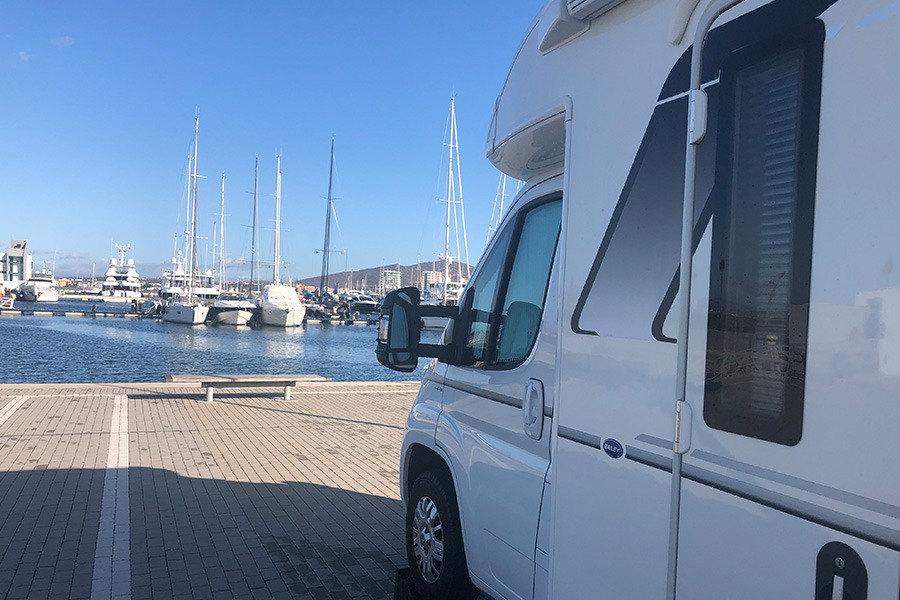 The Janaways Autograph motorhome in La Linea, Spain, during their European tour in October 2019
---
What do you like the most about motorhoming? 
Being in the motorhome gives us so much freedom to go anywhere we want, and to stop when we want. The fun we have on our trips are just the best and with us, we never really know where we will end up or stop for the night and that's the best bit about touring. It's just pure joy and a great way to escape from the norm. Opening the kitchen blind at the new morning view is sometimes breathtaking.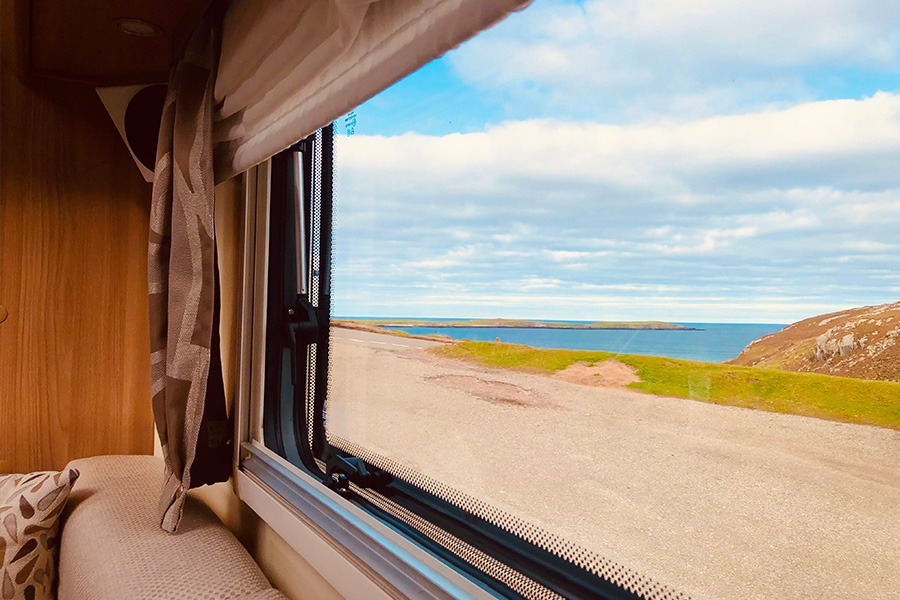 Morning view in Durness, Scotland, last September. For the Janaways, the best part of motorhoming is to have the freedom to go and stop anywhere they want
---
What's your favourite thing or feature in your Autograph?
Can we say everything? We spent a good few years looking for the right motorhome for us, I couldn't tell you how many we saw and went in when looking for one that was right for us.
We love the layout, the rear bedroom and fixed bed. This model also gives you the rear garage which was key for us for that extra storage. It will be hard to upgrade her, that's for sure.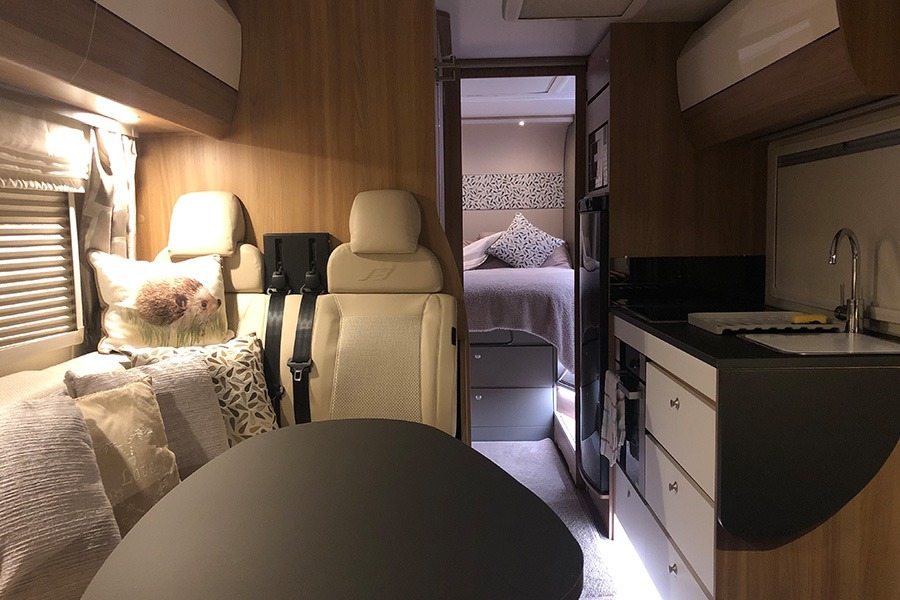 They spent years looking for the perfect motorhome for them until they found their Autograph 79-4
---
What has motorhoming meant to you during the pandemic?
Other than our great escape last September to Scotland when we were allowed to go on our holiday it has been a difficult time for all. During the pandemic we all now have to really think about what we do and when, so I must say it has been harder to just pack up the motorhome and go. It has certainly been very challenging for all and we have missed out on a few trips. However, we remain positive and ready to go anytime we can.
Have you been using your motorhome during the lockdown at home?
We have been in and out when we can. We are lucky to keep our motorhome on the drive at home. We have done Zoom calls with friends, VE Day celebrations and even went all out with Christmas decorations. We've also spent many Sunday afternoons watching a film and just chilling out.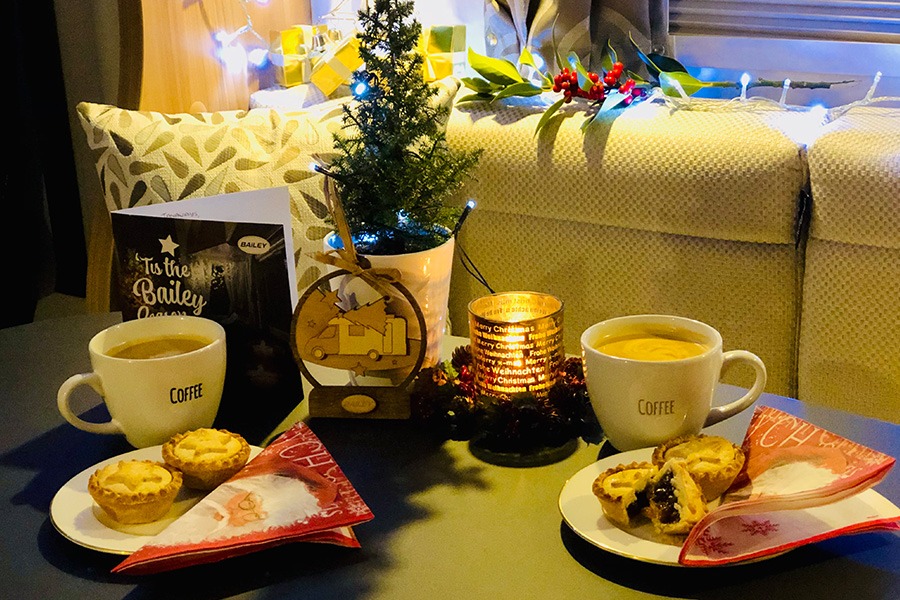 Scott and Elaine went all out with Christmas decorations in the motorhome last year
---
What are your plans for this year? Where would you like to go?
Well, this will be our biggest trip yet: Back to Europe in September if we can. We plan to head on a road trip down to Greece. Depending on restrictions, we have 4 to 5 weeks to complete a round trip with a nice stay in Greece. Again, our friends are following us down and if anyone else wants to follow, we could make it a large road trip!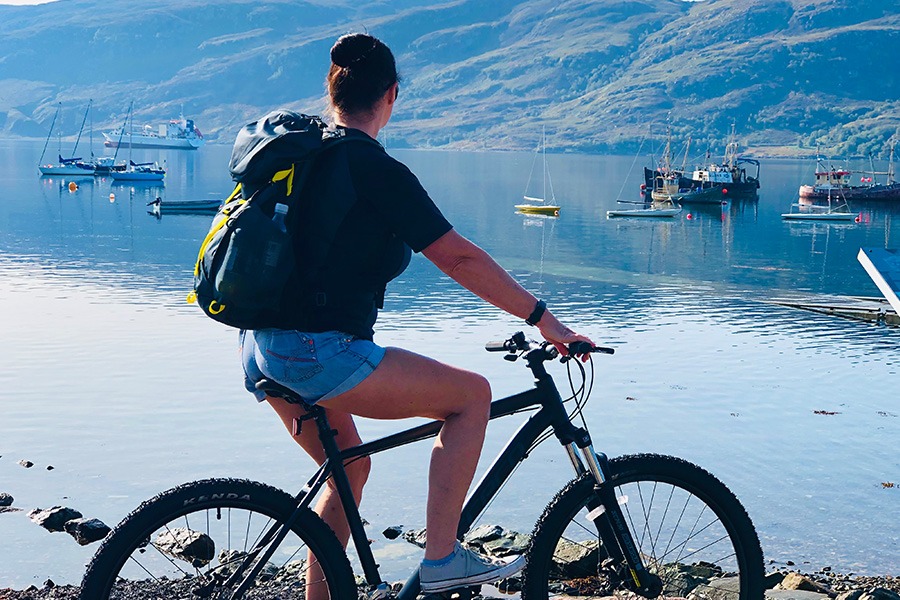 Cycle ride in Ullapool, Scotland, last September
---