Louise and Euan Harvey - Happy honeymooners
Louise and Euan Harvey were supposed to be going to California for their honeymoon in April last year. But once their wedding was postponed until October, and international travel was looking less and less feasible, they decided to take the plunge and buy a Discovery D4-4. They went on their honeymoon in it and now feel like it was the best decision they could have ever made.  They have already spent 30 nights in their Bailey, and will always have the memory of their honeymoon each time they use the caravan throughout their marriage.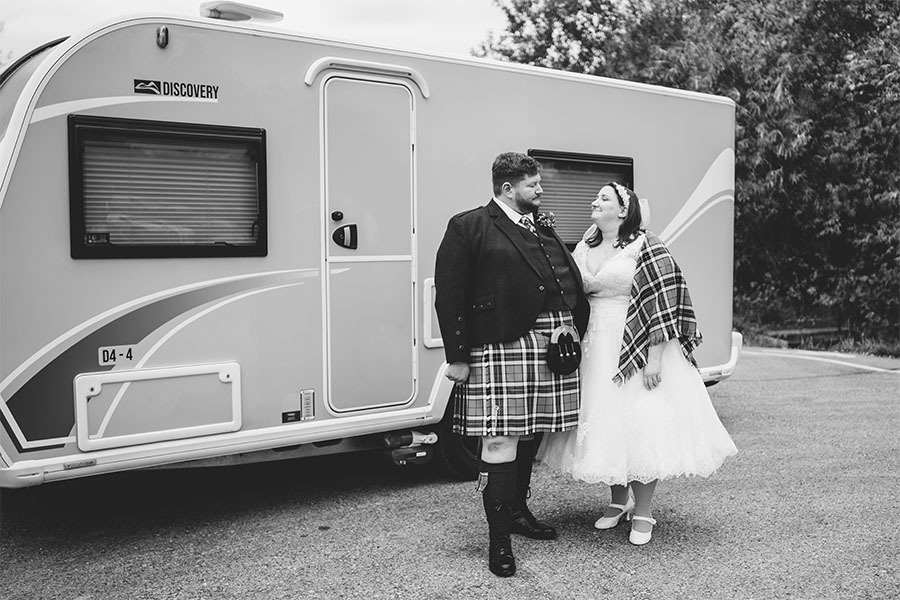 Louise and Euan on their wedding day with their new Discovery D4-4
---
When did you get your Discovery? 
We bought our Bailey on the 6th June, it was the last D4-4 Lady Bailey had left at the time, so we felt very lucky! We were able to collect it on the 31st July and spent three nights at Wareham Forest for 'sea-trials' before our first bigger trip.
Have you had a caravan before?
Not one of our own.  When Louise was small her parents had a caravan, so she has lots of memories of going on adventures in it.  Her parents still have a caravan, and it will be great to meet up with them when we are allowed to.
Why did you decide to get one? 
We had a tent initially, but we were starting to find that it didn't quite match the style of the trips we wanted to take.  We like to go away for weekends or take longer trips, visiting a few sites in that time.  Having the quick setup time of a caravan means we get the most out of our time away.
We were supposed to be going to California for our honeymoon in April 2020.  After our wedding was postponed until October and it looked like international travel wasn't going to be feasible for some time, we decided to pull the trigger and buy a caravan and do the NC500.  We now feel like it was the best decision we could have made.  We have the memory of our honeymoon each time we use the caravan and will be able to continue using it throughout our marriage.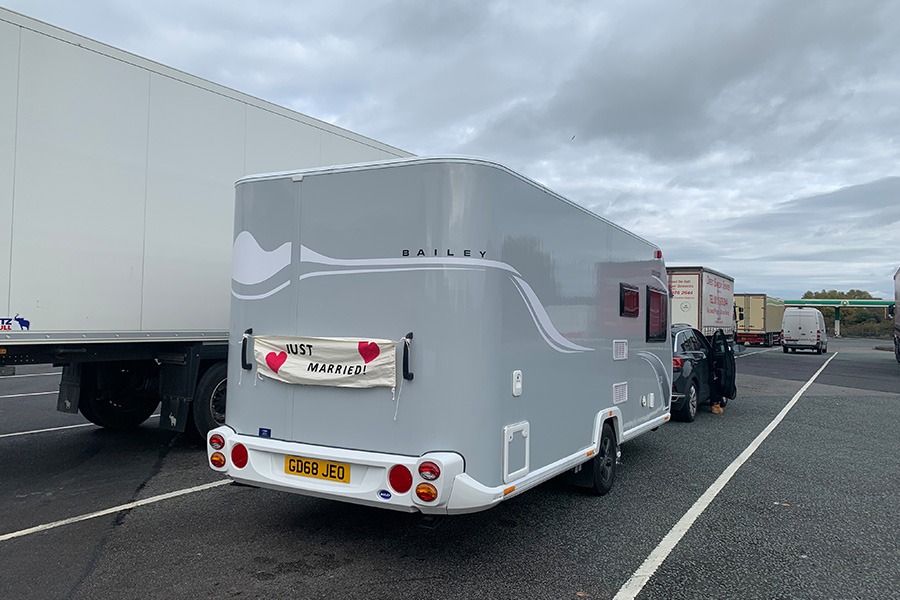 International travel didn't seem a feasible option when they got married last year, so they decided to buy a Bailey and go on their honeymoon in it
---
Who do you go caravanning with?
So far just the two of us.  We are looking forward to being able to go away on trips with friends and family when possible.
Where did you go on your holidays for the first time in your Discovery last year? What did you do?
We had a long trip to The Ranch Holiday Park in Ayrshire, where Euan is from, to see his family. Then came back via Liverpool to see Louise's, staying at Fluker's Brook Farm Caravan and Motorhome Club Site.  We live in Essex, away from our families, so we see it was a great way to take a home base with us when we go visiting.
For our honeymoon we spent fourteen nights, across four sites in the Highlands that would allow us to drive the North Coast 500. The locations were all beautiful and we got to explore so much of Scotland that we hadn't seen before. The Discovery was a fantastic base for our adventures on the lovely autumn days and kept us warm and dry on the wet and stormy ones!
There were so many activities but doing archery at Rothiemurchus in the Cairngorms, visiting Dunrobin Castle and seeing the birds of prey display, and driving the Bealach na Bà in the fog were just a few of the highlights!
To cover the East Coast, we stayed at Loch Ness Shores C&CCS, we had a stunning view of the Loch Ness out of the Discovery's giant front window.  For the North Coast we stayed at Dunnet Bay Caravan and Motorhome Club Site, which is a lovely spot right on the beach. To do the West Coast we stayed at Ardmair Point Caravan & Camping Park, which was by far the most scenic site.  Our final three nights were spent sheltering from a storm in the shadow of Ben Nevis at Glen Nevis Caravan & Camping Park.  The Discovery really stood up to the dramatic weather and was the perfect size to tow around some of the smaller roads.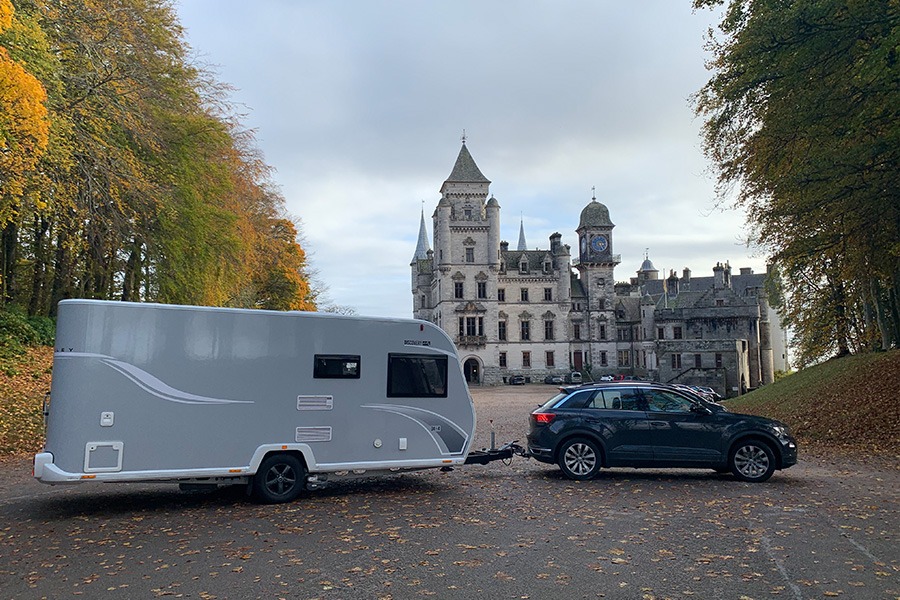 The newly married couple visited Dunrobin Castle during their honeymoon. The Discovery really stood up to all weathers and was the perfect size to tow around the smaller roads
---
Where else did you go last year? 
We have only had these three trips so far, but we did manage to get 30 days away altogether before this latest lockdown, so we feel very fortunate.
What was your favourite trip?
By far our honeymoon, however there is a lot to be said for the excitement we felt on that first long weekend in Wareham Forest.
What do you like the most about caravanning? 
The ability to bring everything you might need with you and have a home base when you are away.
What's your favourite thing or feature in your Discovery?
The fact that as a smaller caravan it has all the features a bigger caravan would give you – a full bathroom, fixed bed and good size kitchen, all whilst fitting into a MTPLM we can tow without a B+E license.
That and the front window!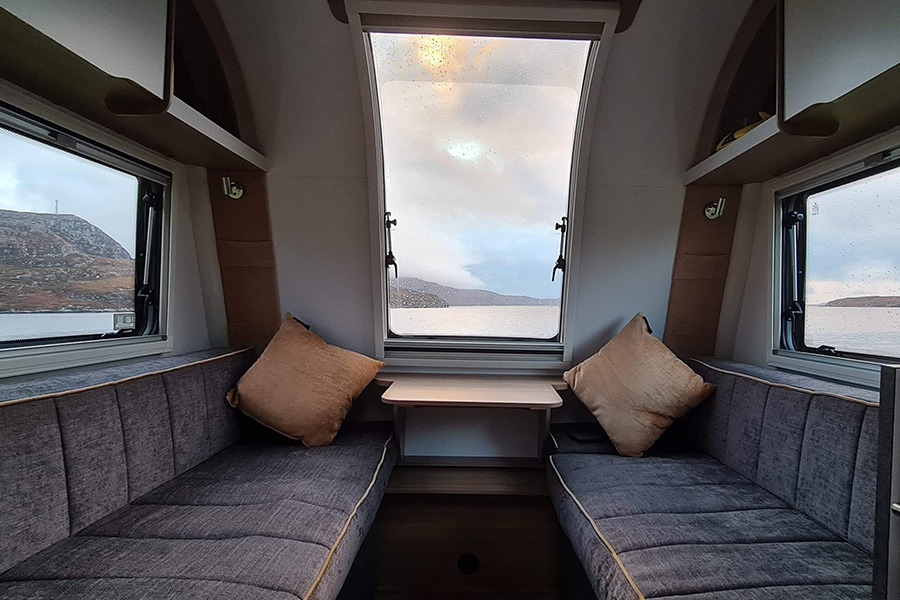 View through the window at Atmair Point. The big front window in the Discovery is one of Louise's favourite features
---
What has caravanning meant to you during the pandemic?
It was a great way to spend a longer time away visiting family after the first lockdown.  It actually meant we were able to have a honeymoon that we will always remember despite all the restrictions in place at the time.
What are your plans for next year? Where would you like to go?
We are, hopefully, going back to the Cairngorms for nine days this time.  We found that there was so much to do there that we wanted to go again.  We will be staying at Glenmore Campsite which is one of the Camping in the Forest sites.
We went to John o' Groats on our Honeymoon so we would like to get to Lands' End before our first anniversary meaning a trip to Cornwall will be on the agenda when we can go away again.
Past that, we have a dream trip list for the future which includes Germany, Wales, Croatia and the Wild Atlantic Way.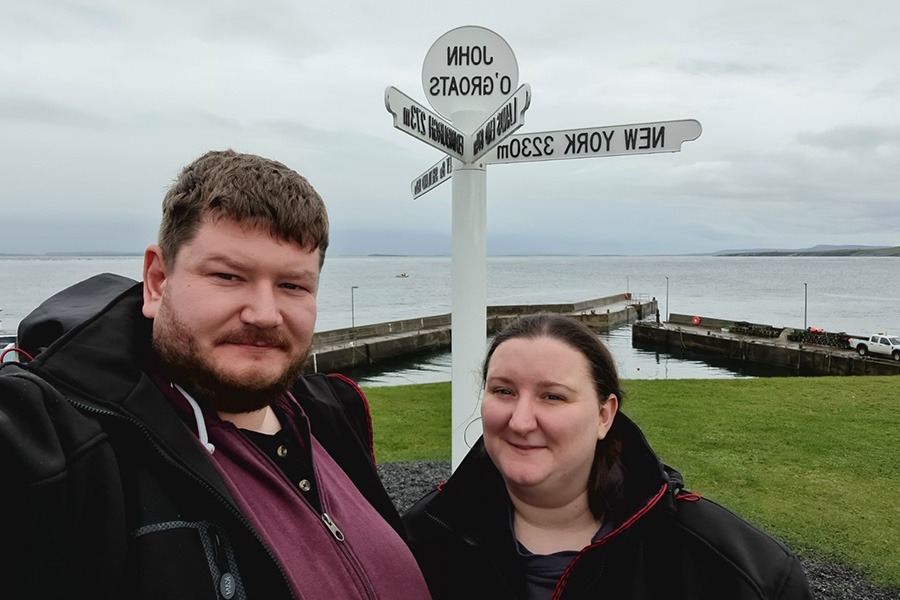 Louise and Euan at John o' Groats during their honeymoon last year
---