Gemma and Tom Calvert - A journey into Discovery
Gemma and Tom Calvert and their two sons Stanley (14) and Harry (8) were one of the hundreds of families that rediscovered the joys of caravanning last year. Their new Discovery D4-3 has been a life saver for them, a place of hope and sanity during the pandemic.
They collected their caravan in July, and since then, they have been documenting their adventures on their Instagram page, @the_calvy_van_
With many more trips ahead, they can't wait to get back out again, and they are already dreaming of an European tour when it is safe to do so. With their Discovery, the possibilities are endless.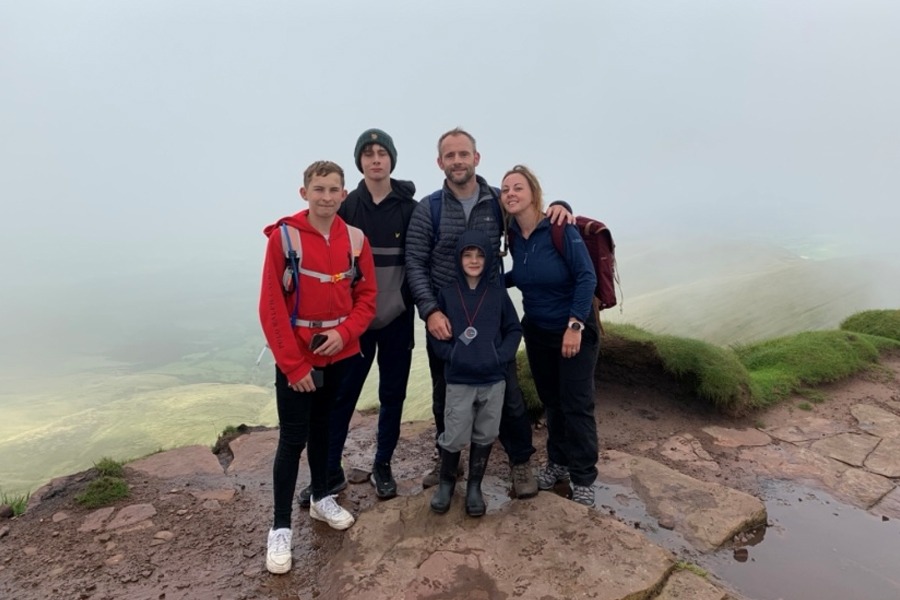 Gemma and Tom with their sons Stanley and Harry and their nephew Lee
---
When did you get your caravan?
We collected our new Bailey Discovery D4-3 on the 25th July 2020 from Lee Davey Caravans in Maidstone.
Have you had a caravan before?
No. We both used to go on caravan holidays when we were children with our own families. As a couple, we had not been in the position to purchase our own van, until last year.
Why did you decide to get one?
We decided to purchase a caravan to make childhood memories with our boys. We both remember the great times and adventures we had as children, and they were our favourite memories. We wanted our boys to have the same nostalgic feelings as we do!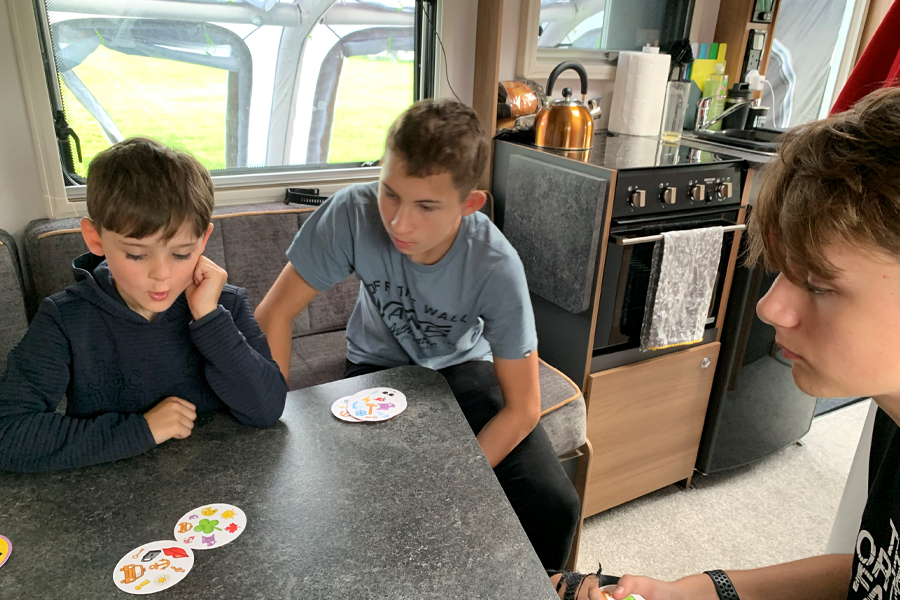 Gemma and Tom wanted their boys to have the same great caravanning memories that they had as children
---
Who do you go caravanning with?
We go as a family of four, and sometimes our nephews (before lockdown) joined us on the adventures too. So, we have slept up to 2 adults 2 teenagers and 2 children.
We purchased the caravan with the PRIMA wrap around awning, so our son Harry (8) sleep in the front bed of the caravan, we sleep at the back and our son Stanley (14) and (nephew Lee (15) when he is with us) sleep in the awning.
Where did you go on holidays for the first time in your Discovery? What did you do?
Our first holiday in our brand-new Discovery was near the Beacon Beacons in South Wales. We took a visit to the market town of Llandovery and walked by the River Tywi. During our stay, we ventured out to Pen-Y-Fan, 23 miles from our caravan site, and climbed 886 metres. We were proud of the boys for this achievement. On leaving the west, heading back to south, we did an overnight stop at Oxford Oak Camping site in Farringdon and took advantage of some scenic family bike rides. We had purchased the bike rack that attaches on to the front of our Discovery so we could spend more time bike riding as a family in all different locations.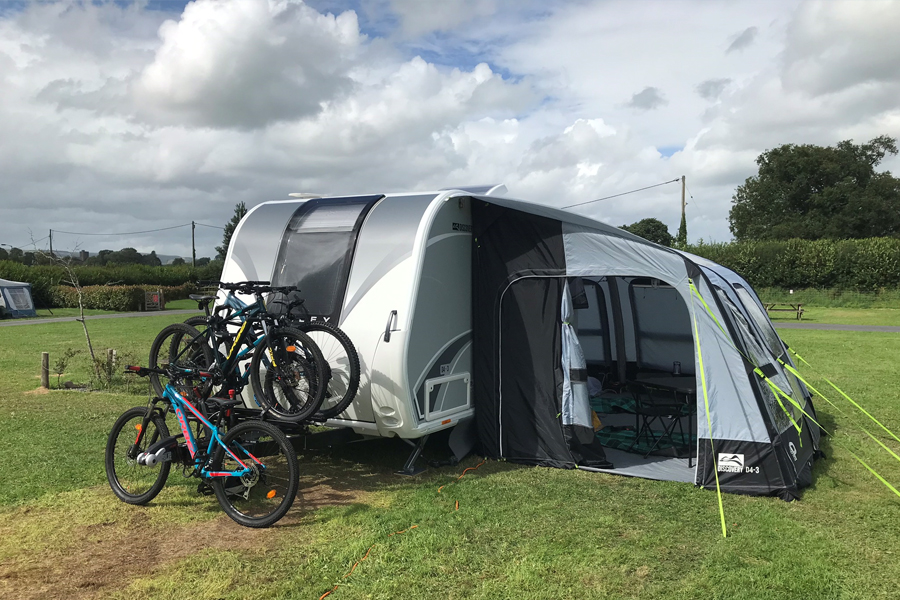 They ordered their Discovery with the wrap around awning and bike rack
---
Where else did you go last year?
We were lucky last year to fit in trips to Rookesbury Caravan Park, Portsmouth and Pendine Sand in West Wales all before we were in lockdown.
What was your favourite trip?
Our favourite trip last year was Rookesbury in Hampshire. We loved visiting the picturesque South Downs. We cannot wait to be able to book to go back again. We spent time within the Forest of Bere building dens with the boys and long country walks amongst the gorgeous views. The caravan park was lovely, clean, and welcoming and was situated in within a valley surrounded by woodland and trees from the Forest of Bere.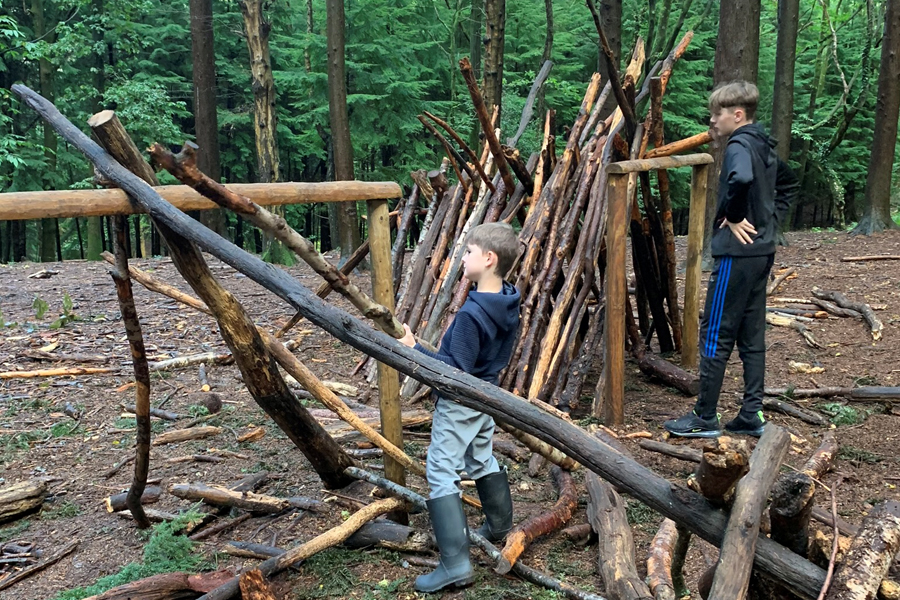 Harry and Stanley building dens in the Forest of Bere, one of their favourite memories from last year
---
What do you like the most of caravanning?
The escapism of the normal routine of life. We like that we can take it anywhere yet still surrounded by our all-familiar bits and pieces. I love the precious stripped back family time it gives without the everyday interruptions of life. It is our little tin home of family fun time!
What has caravanning meant to you during the pandemic?
It has been a life saver. A place of hope and sanity. To be able to explore the great outdoors in between lockdowns last year has played such an important role on all our mental health as a family. Our Discovery has given us happiness amongst really hard times and normality in between unprecedented worrying times. We feel extremely lucky to be owners of something we have been able to escape to and gave us something to be able to enjoy life outside of a pandemic.
Have you been using your caravan during the lockdown at home?
Unfortunately, not as it is in storage. But we are missing it very much.
What are your plans for next year? Where would you like to go?
We have a trip to Sandringham booked in April and we are all fingers crossed that it will still be going ahead. The rest of this year, we are waiting to see what the pandemic brings regarding booking more trips. Next year, we hope lockdowns and face masks might be a thing of the past (wishing thinking) and hope to do what we originally wanted to do when we bought the caravan and take it on a trip in Europe. We are hoping to visit France, Belgium, and Sweden. Our boys have never been out of the country yet, so this is something we are really looking forward to one day.
Thank you to Tom and Gemma for sharing their experience with us. You can follow their adventures on Instagram at @the_calvy_van_