Loading a caravan for the first time can seem daunting but it's a straightforward process and boils down to two things - how much extra weight the caravan can carry and where you put it.
Calculating this weight carrying capacity, or payload, is as simple as subtracting one figure from another – the Mass in Running Order MRO (lower figure) from the Maximum Technically Permissable Laden Mass MTPLM (higher figure).
Both of these figures can be found in the handbook or on the data sticker on the side of the caravan. The difference between the figures will tell you, in kilos, how much you can pack.  For definitions of what the MRO and MTPLM are, see the glossary.
For example, if the MTPLM for a caravan is 1493kg and the MRO is 1339kg, you have 154kg of payload left for everything you want to carry in the caravan.
Current regulations state that a caravan's MRO (unladen) includes 1x gas bottle (approx. 10kg), the mains hook-up lead (3kg), loo chemicals (4kg) and a full hot water tank.
Personally, I rarely travel with a full hot water tank and this gives me another 10kg or so to play with.
If you've had any equipment fitted to the caravan since it left the factory, such as a motor mover or solar panel, the weight of these items will need to be deducted from your payload figure, as will the weight of your leisure battery or spare gas bottle. For example, a motor mover could be 30kg, a large roof-mounted solar panel 10kg, Leisure Battery 25kg, Aquaroll 4.5kg etc.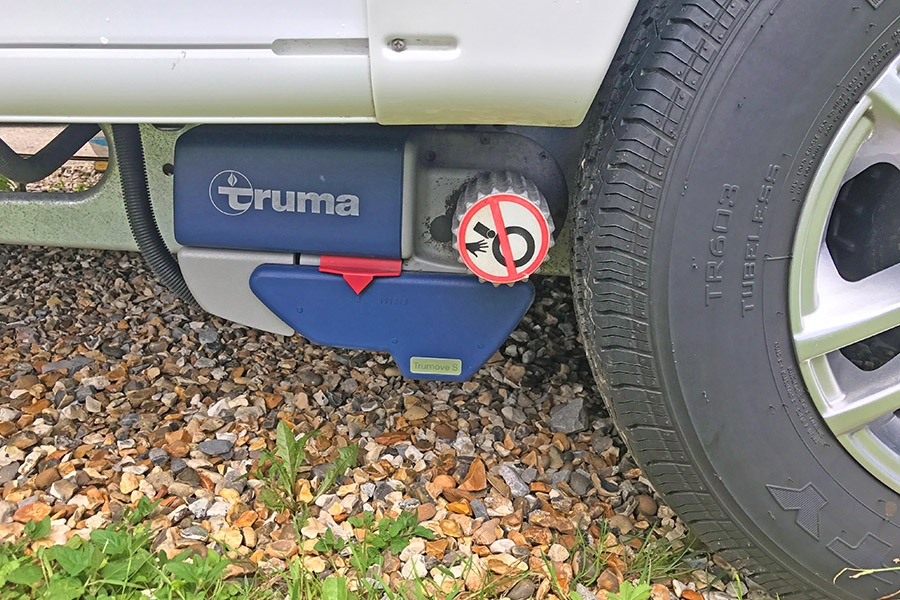 Example of a motor mover
---
So now you know how much extra weight the caravan can safely carry. If it's your first time or you're packing something new, it's worth weighing each box or bag on a set of bathroom scales to make sure you stay within this weight limit.
Example:
MTPLM = 1493kg
MRO = 1339kg
1493kg – 1339kg = Payload of 154kg
What you might put in the caravan with a payload limit of 154kg
| Item | Weight |
| --- | --- |
| Battery | 25kg |
| Motor Mover | 30kg |
| Clothes & toiletries | 20kg |
| Food | 10kg |
| Pots & Pans | 5kg |
| Crockery etc. | 5kg |
| Total | 95kg |
In this example you've used 95kg of your 154kg payload and have 59kg left if you want to put more in the caravan.
Packing your caravanning essentials in the correct place makes it more stable, safer and easier to tow. Personally, I load the boot of the car first with the remainder going into the caravan but don't forget the car has a load limit too (you can find this in the handbook).
When loading the caravan, try to remember this diagram: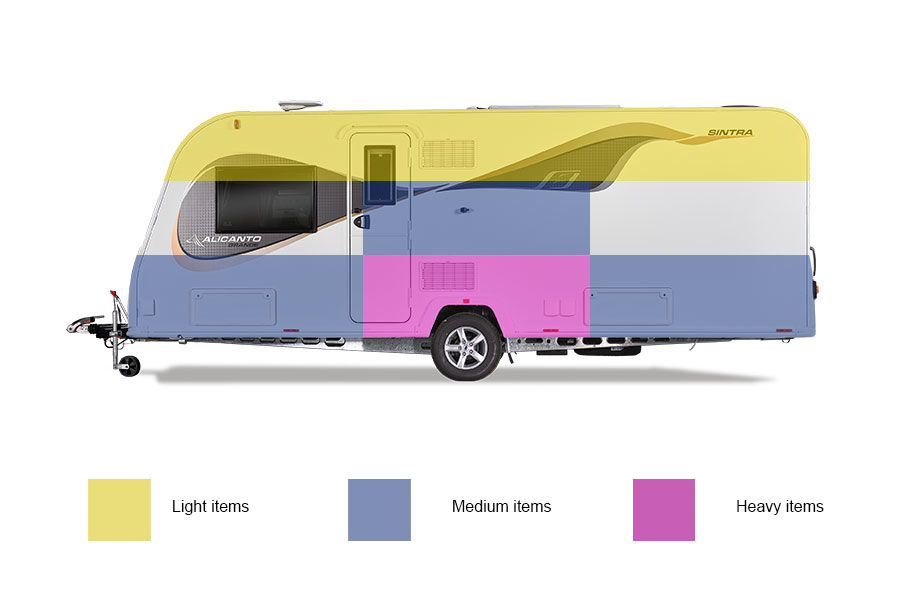 How to pack a caravan
---
Useful tips for loading a caravan
---
The heaviest items (awning, heavy pots and pans etc) should be loaded low down and over the axle
The medium weight items (bags etc) should also be loaded low down, possibly under the seats, but keep heavier items as close to the axle as possible
Light items (clothing etc) can be loaded higher up in the roof lockers or wardrobe. Just be aware that the higher the weight, the more it affects the caravan's centre of gravity
Avoid putting too much weight at either end of the caravan, especially if you have a fixed bed towards the rear with oodles of space, as it can act as a pendulum
Keeping things in position when on the floor can seem like mission impossible but there are items such as cargo bars and nets available which are great for keeping things where they should be and can be purchased through the PRIMA Leisure website.
With the caravan loaded it's now important that we check the nose-weight. We'll be showing you how on the next page…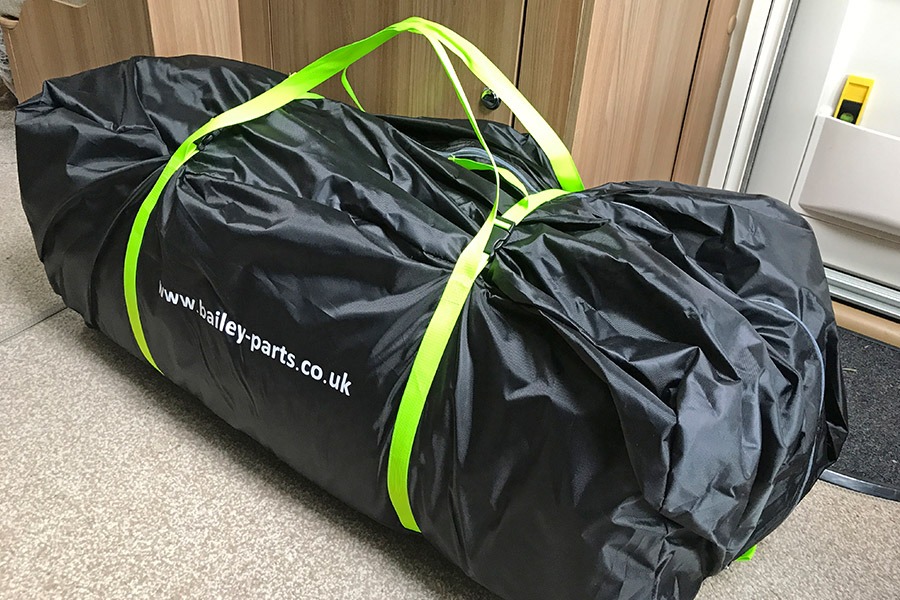 Awning loaded over the axle
---