The Davey's Guide to Dorset
Dorset has been welcoming visitors for millennia; from European Mesolithic hunters who crossed into Ancient Britain via land bridge, to the Hovis advertising team who filmed the famous boy-on-a-bike scene on Shaftesbury's Gold Hill.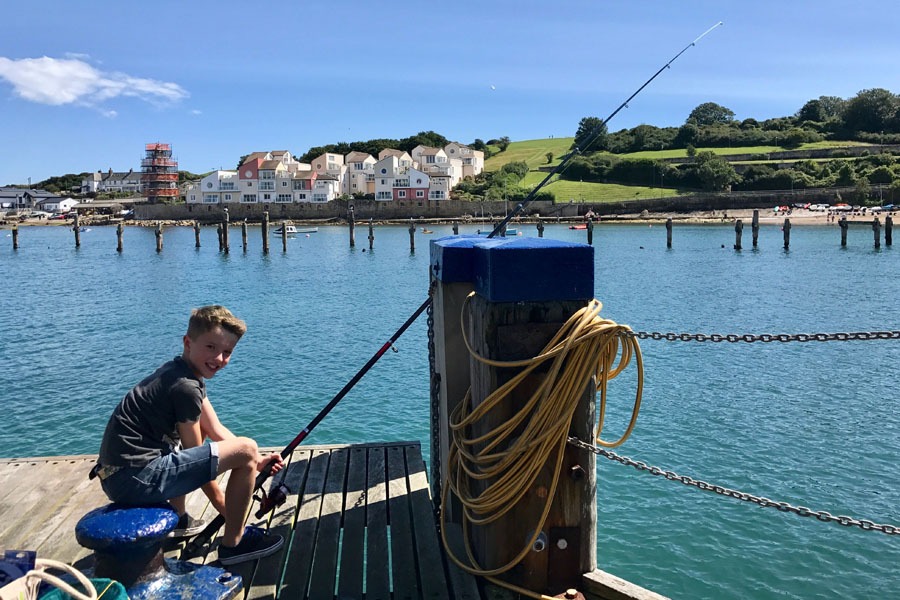 Fishing at Swanage
---
Thanks to quintessentially English scenery, Dorset has been the backdrop for many films & TV programmes and the coastline boats some of the best locations in Europe, if not further.
It is home to the Jurassic Coast, England's oldest post-box, one of the world's hottest chilli peppers, and me. Here's my guide to Dorset's best-kept secrets, including beaches, Second World War history, film locations, walking routes, scenery, and dog-friendly establishments.
---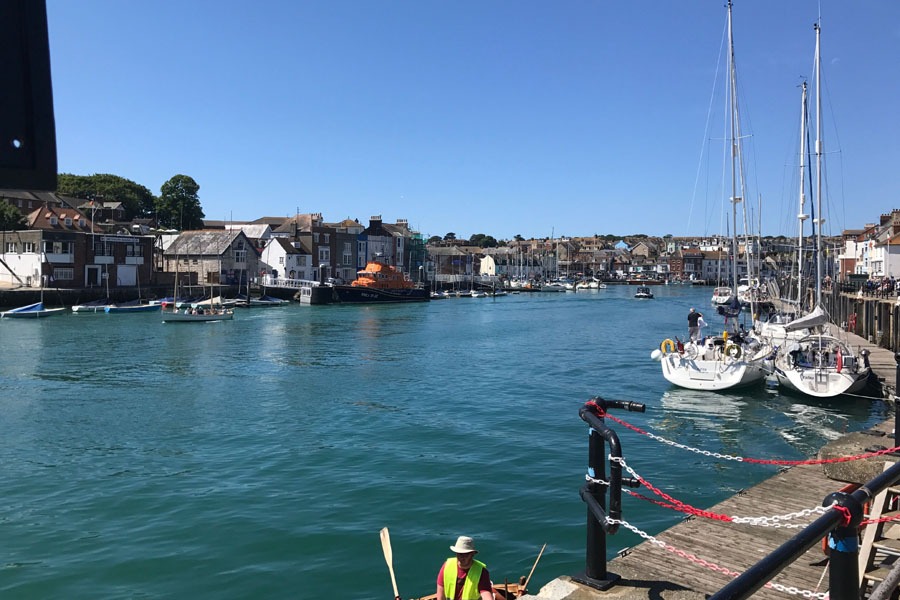 Weymouth Harbour
---
Every tourism organisation from John O-Groats to Land's End advertise their beaches as being the UK's best. Several regions lay claim to the top spot, but few have as wide a variety as Dorset with the Jurassic Coast being our crowning glory.
With help from MMM and Caravan Magazine, Bailey published the 50 Best Beaches Guide and included the following gems:
Bournemouth
Durdle Door
Chesil Beach
Studland
Charmouth Beach
I'll add to that list with a few of my personal favourites:
Weymouth
A seaside town with all the attractions and facilities you'd expect. There's a dog-friendly area next to the pier and the beach tends to become quieter as you head west. Rossi's Ice Cream is a must and is conveniently located near the iconic Jubilee Clock Tower
Kimmeridge Bay
Not the stereotypical oasis of sand, but a relatively craggy part of the Jurassic Coast. Many fossils have been discovered here, but we go for the rock pooling which never disappoints. It's also a popular destination for snorkelling, surfing, and windsurfing
Swanage
Compared to Weymouth, Swanage is a much smaller seaside town with regular boat trips leaving the harbour. The pier is a popular spot to fish from and licences can be bought on the day. Swanage can also be accessed via a steam train service from Swanage Railway.
---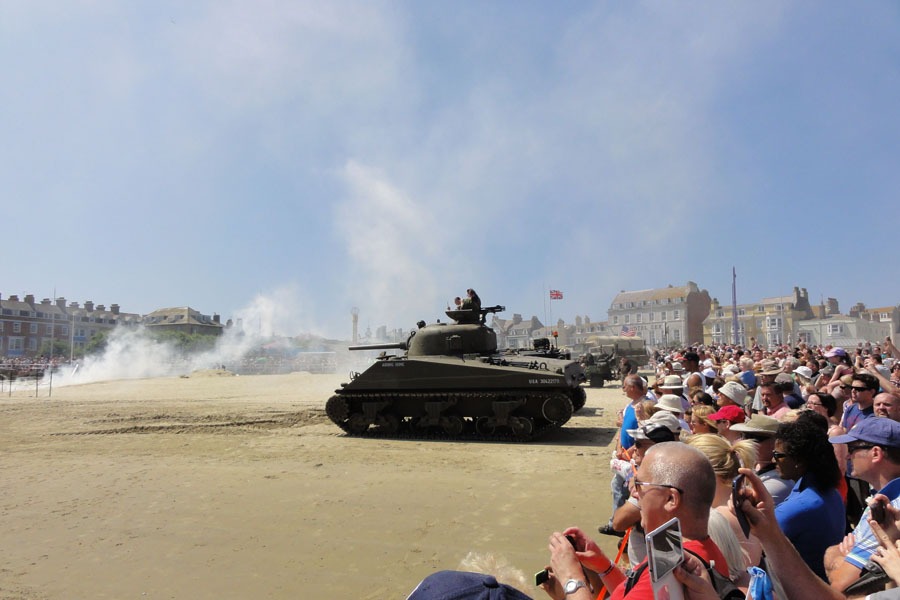 Tank display at Weymouth
---
We pieced together our WW2 family history during a previous caravanning trip, part of which wound its way through Dorset. Here's what we discovered:
Tarrant Rushton Airfield
Formerly RAF Tarrant Rushton, it was an Airborne hub during the Second World War and launchpad for the famous glider assault at Pegasus Bridge, Normandy. An original hangar remains and sits alongside the memorial. There's a public right of way around the 3-mile perimeter road which makes for the perfect evening walk.
Tyneham
In 1943, the War Office placed a requisition order upon the entire village and the area was subsequently used to train troops. Originally a temporary measure, a Compulsory Purchase Order was placed on the village after the war and it has remained a ghostly reminder ever since.
Weymouth & Portland
During the D-Day build-up, the area was awash with troops and equipment. Weymouth was an embarkation point for Omaha Beach and the harbour was filled with ships of varying sizes. Mulberry Harbours can still be seen from Portland's shore and Nothe Forth and Portland's D-Day Museum are worthy attractions.
Chesil Beach
617 Squadron is best known for the part played in the Dam Buster raids, but did you know that Sir Barnes Wallis used Chesil Beach to conduct Bouncing Bomb tests? This location also features in the 1955 Dam Buster film.
---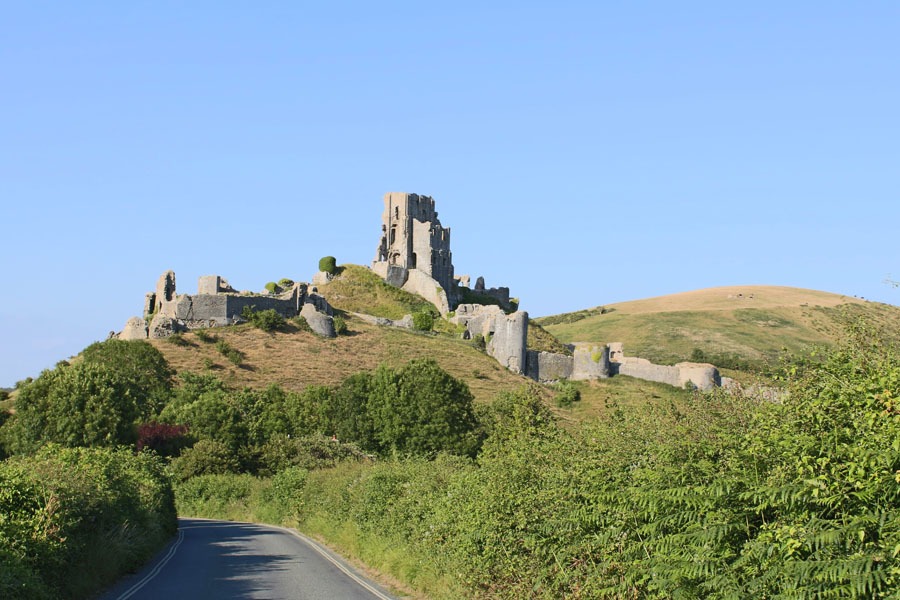 Corfe Castle
---
With mile-after-mile of stunning backdrops, it's little wonder that Dorset has hosted so many film and TV productions. Here's a small selection of locations that you may, or may not, have spotted.
Dunkirk (2017) – Weymouth Harbour and Swanage Railway
Far from the Madding Crowd (1967) – Gold Hill, Shaftesbury (also known for the Hovis 'boy on a bike' advert that was directed by Ridley Scott)
Nanny McPhee – Durdle Door
Bedknobs and Brooksticks – Corfe Castle
The Boat That Rocked – Portland Harbour
Broadchurch – West Bay and East Cliff, Eype and Freshwater
---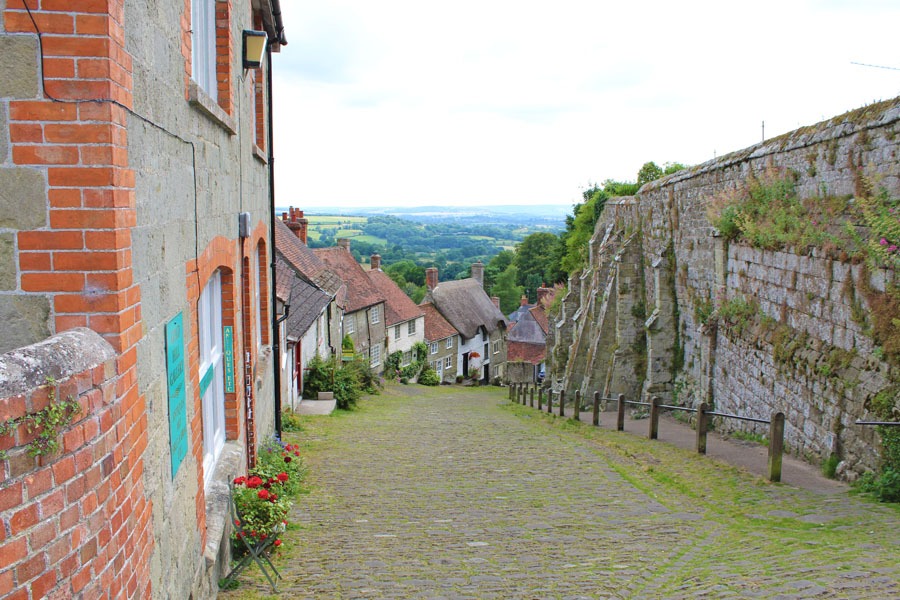 Shaftesbury's Gold Hill - the location for the Hovis advert
---
The South West Coast Path needs no introduction, especially as the Dorset section weaves its way through the Jurassic Coast. However, should you wish to follow inland routes that are largely unspoilt, these four won't disappoint:
Wessex Ridgeway
Stretching from Ashmore to Lyme Regis, the majority of this trail straddles a long chalk ridge but is interspersed with hills and valleys.
Fontmell & Melbury Downs
Many circular walking routes cross the downs, with the car park at the top of Spread Eagle Hill, Shaftesbury, providing easy access. This Area of Outstanding Natural Beauty (AONB) is also rich in wildlife.
Eye Bridge, Kinston Lacy
Want to enjoy a walk without following a route of marathon-like proportions? This 2-mile route follows the River Stour and includes unspoilt areas of Pamphill and Cowgrove. Further details can be found on The National Trust website. PS. Eye Bridge is also a great spot for wild swimming
Shaftesbury, including Gold Hill
Want to feel the burn? Treat your calf muscles to a hilly workout around this ancient hilltop town. Walking routes can be found at shaftesburytourism.co.uk
---
Dorset regularly features in 'must-see' compilation lists, but if you'd like to enjoy the view away from the madding crowd, where can you go?
Win Green Hill
The highest point in an already hilly area is always going to reward the visitor with spectacular views. As a child, we'd regularly visit Win Green on a clear day, so we could see the Isle of Wight…from North Dorset!
Brownsea Island
Ferry services regularly run from Poole Quay with the trip being almost as scenic as the destination. Colonies of red squirrels thrive on the island and free trails help you and your family explore the island. Further details can be found on The National Trust website.
Bullbarrow Hill
Approximately 10-miles north of Dorchester, Dorset's second-highest hill offers commanding views of the surrounding countryside. Bullbarrow also played its part in WW2 and was the site of a Gee Station.
Abbotsbury
A picture-postcard village by which all other picture-postcard villages are judged. Many of the buildings date back to the 16th century, including tea rooms and olde worlde pubs. The Swannery and Sub-Tropical Gardens can entertain members of your party who may not appreciate historical architecture.
---