Out in the wilderness on the Big Outdoor Adventure
I'm woken by the soft vibration of my watch. A quick glance confirms it's time to get up. 5am and in less than an hour we will be setting off on a 90km bike ride that will take us through the heart of the Lake District on a mixture of bridleways, gravel tracks and minor roads, showcasing the very best of a region that is made for two-wheeled adventures.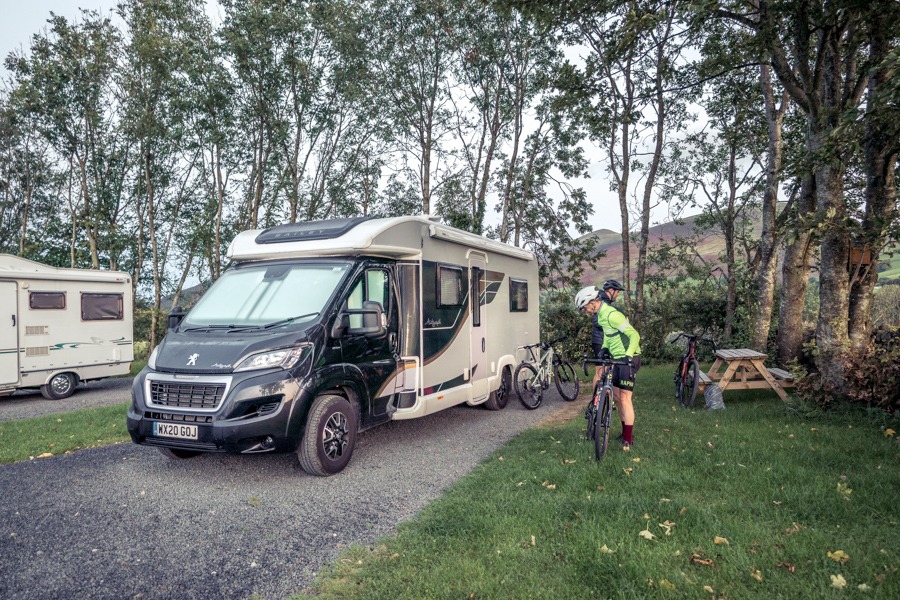 Getting set for their ride outside the Bailey Autograph 74-4
---
Gravel riding has witnessed a rapid rise in popularity during recent months, having started life as a niche sector of an industry that has, thanks to COVID, gone from strength-to-strength this year. With an ever-increasing number of people turning to cycling, and not always wanting to be on the road, there is suddenly a spotlight on the huge number of off-road routes available.
Not that I ever need an excuse to load my bike onto our Autograph 74-4 and head away for a few days riding, but now seemed like the perfect time to set out and explore the Lakes. Keen to share the experience with someone, after all, the shared journey is so much more rewarding; I called Nick (Bailey's very own Managing Director, Nick Howard), whose bags were packed before I could even finish asking him to join me.
The buzz of the gas stove fills the motorhome as we slowly ready ourselves for the day ahead. It doesn't take long for the caffeine to kick in, and with it bleary eyes fade and a child-like excitement begins to build. Even at 37, the simple joy of being able to go out to ride my bike and explore the world never ceases to fill me with the same excitement I experienced as a little boy. Nick assures me it continues into your 50s.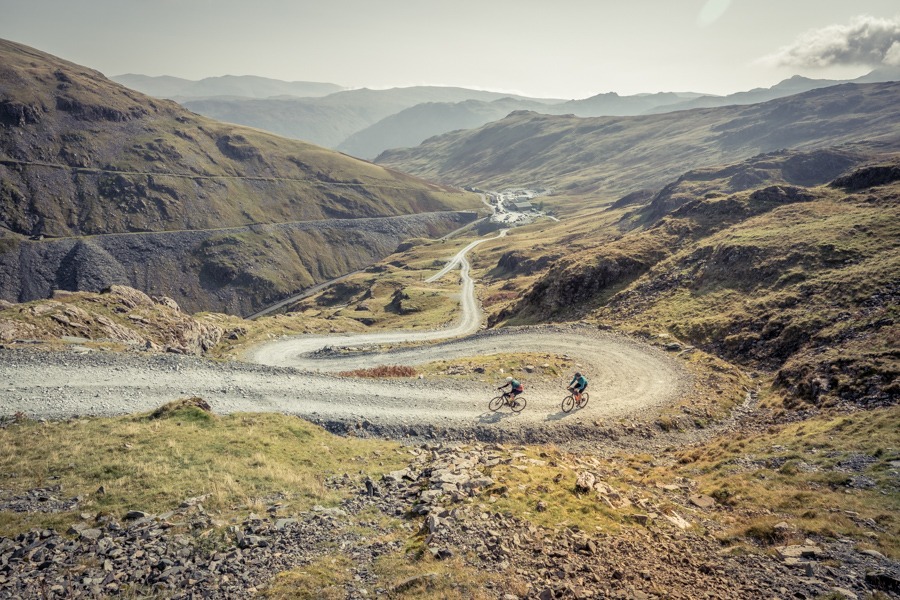 Nick and Marcus take on a big climb
---
Our ride begins under a veil of darkness, although it doesn't take long for light to begin to pool on the horizon, giving life to the day. There's something very magical about being out in the wilderness at this time of day, be it on a bike or even walking, as the world around you wakes from its slumber. It's not always easy getting up so early, but it's always worth it, something I am reminded of as we pause to watch the sun slowly emerge from behind the craggy peaks that fill our view.
The view back down into the valley, great waves of pure white cloud slowly sliding down to fill it, is simply mesmerising. I'm brought back to the present moment when I realise my feet are wet. I look down to see a thick brown sludge covering them, a sign of things to come with sections of riding and hiking over the top of moor. Despite the terrain being hard going, it's difficult to feel anything but joy at being surrounded by some of the best scenery the UK has to offer.  In fact, on more than one occasion throughout the day we are forced to stop to savour the views in front of us.
It's easy to forget that the UK is so beautiful when we are always looking further afield, but if lockdown has taught me anything it is that we have all we need on our fair shores when it comes to the great outdoors and adventure. What's more, with the relative safety of a motorhome, we can travel and explore the place we call home with a great sense of security and peace of mind. Of course we still need to be responsible, but I have found it to be the perfect means of getting back out and about post-lockdown, be it on my own or with my family.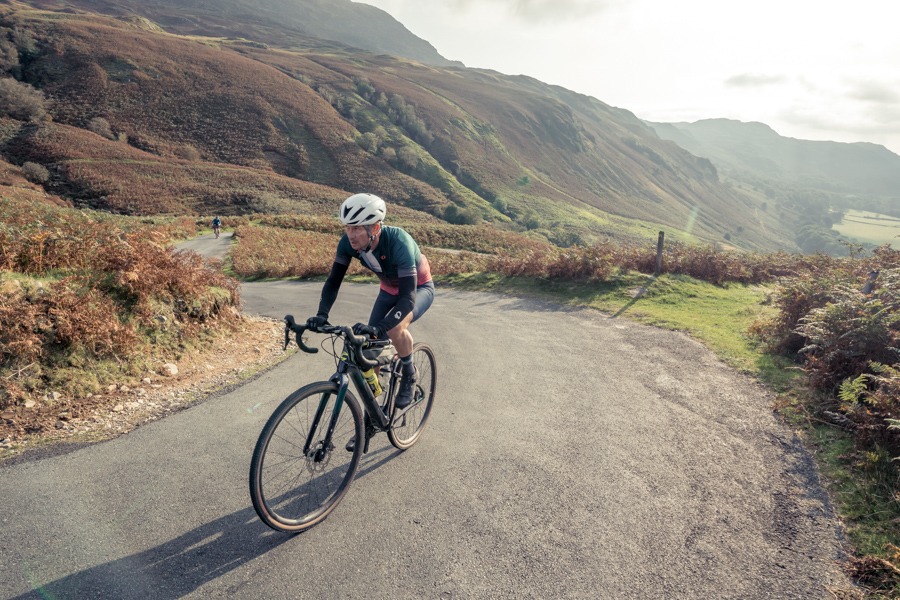 Nick cycling in the Lake District
---
The final challenge of the day sees us take on both Hardknott Pass and Wrynose Pass, two of the most revered climbs in the UK, but also one of the most spectacular corners. Several people shout words of encouragement from their cars as they grind past us in first gear, the road rearing up to a 30% incline in places. Over Hardknott, just, we freewheel down into the valley, forced to stop by the river that runs through the bottom to watch a flock of sheep cross. As we stand there, the early evening sun warming our backs and the Lake District resplendent with an autumnal glow, Nick and I are in agreement that there is nowhere in the world we'd rather be, even with soggy feet and aching legs.
Twelve hours after setting off there's a sense of relief at making it back to the motorhome, and the prospect of a hot shower, a hearty meal and a cold beer, the very thoughts of which kept us going in the final few hours. Equally, there's a sense of immense happiness at having experienced something so special, a day that will live long in the memory. The Lakes are home to some of the best cycling in the UK, both on and off road, and there are routes and rides suitable to everyone, no matter what your level of fitness or ability.
It's not, as I have discovered, always about going that far when it comes to outdoor adventure, as we found out at the start of our trip when a 20km ride provided us with a magical view of Lake Thirlmere as day broke. What matters is simply getting outside in the first place, in making the effort to explore our amazing island and discovering what makes Great Britain so great, and enjoying the motorhome lifestyle.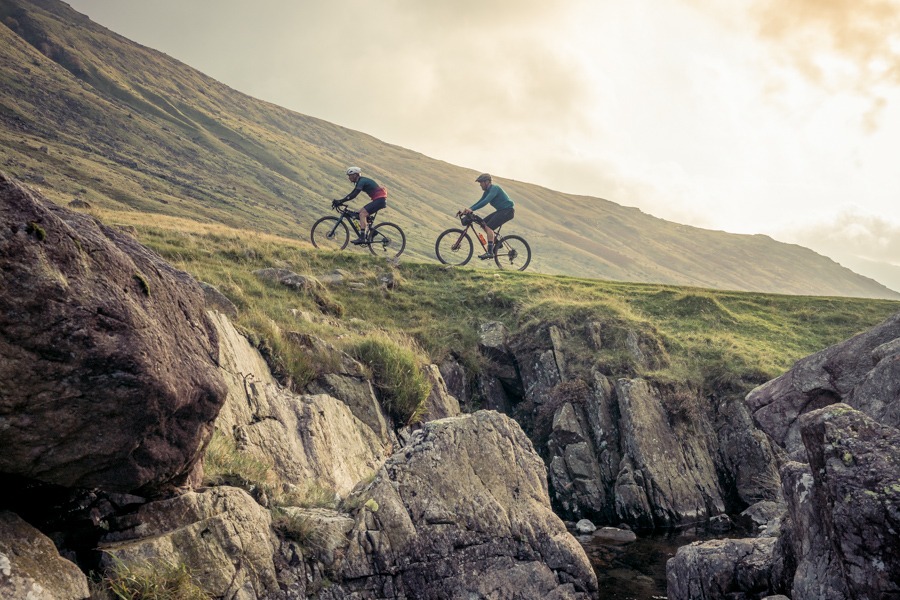 Cycling on the Big outdoor Adventure
---