In open water on the 'Big Outdoor Adventure'
I tentatively inch closer to the water's edge convinced that it will be far too cold to put my feet in, let alone actually go swimming in, even with the warmth of a thick wetsuit to insulate my body. Before taking the final step needed to take me into the water I stop and pause to take in the vista in front of me, a great stretch of silvery water leading to the foot of a jumble of peaks that provide the most perfect backdrop, all bathed in glorious autumnal sunshine.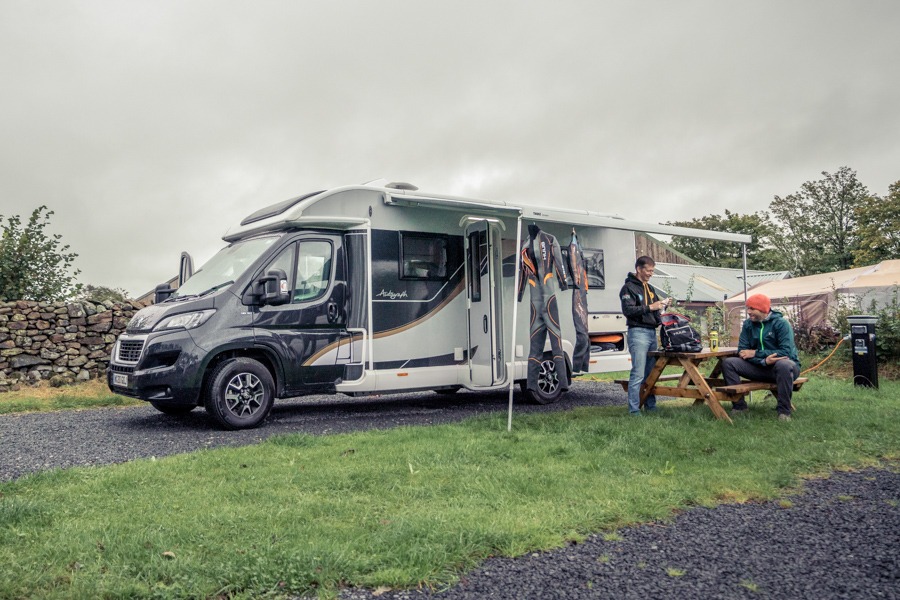 Marcus and Nick outside the Autograph 74-4 after some wild swimming
---
It's easy to see why so many people fall in love with wild swimming, opting for the multitude of picturesque lakes, tarns and rivers over their local pools. Before we left for the Lake District I knew that, given Nick's (Bailey's very own Managing Director. Nick Howard) love for swimming, it was inevitable that we would end up in a lake at some stage, hence why I had packed my wetsuit for when the moment came. Despite my misgivings, the water was not as cold as I was expecting, even so, I wasn't prepared for the first trickles of fresh lake water seeping under my wetsuit and down my back.
With Nick little more than a dot on the horizon, in the time it had taken me to get in he had all but disappeared from view, I was finally in and feeling relatively warm. It took me a little while to adjust to the fact that in a lake, you don't really know what's beneath you, and you don't have the safety of the edge to grab hold of any time you get tired. But, once I had settled into my surroundings, I began to revel in the feeling of swimming somewhere so beautiful and tranquil, the air free from all noise other than the occasional bird tweeting.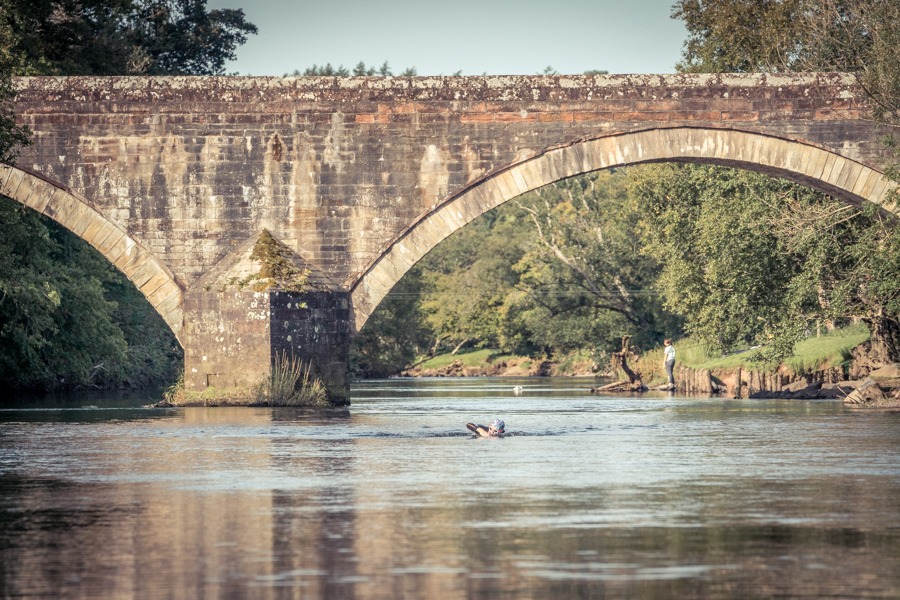 Open water swim in the Lake District
---
I'm nowhere near the same level of swimmer as Nick, and instead spend my time swimming back and forth along the banks of Bassenthwaite Lake, content to just be in the water and at one with nature. Half an hour later and I am a total convert to wild swimming, loving the sense of freedom that I have found to be lacking when doing lengths in a warm, chlorinated pool along with however many other people.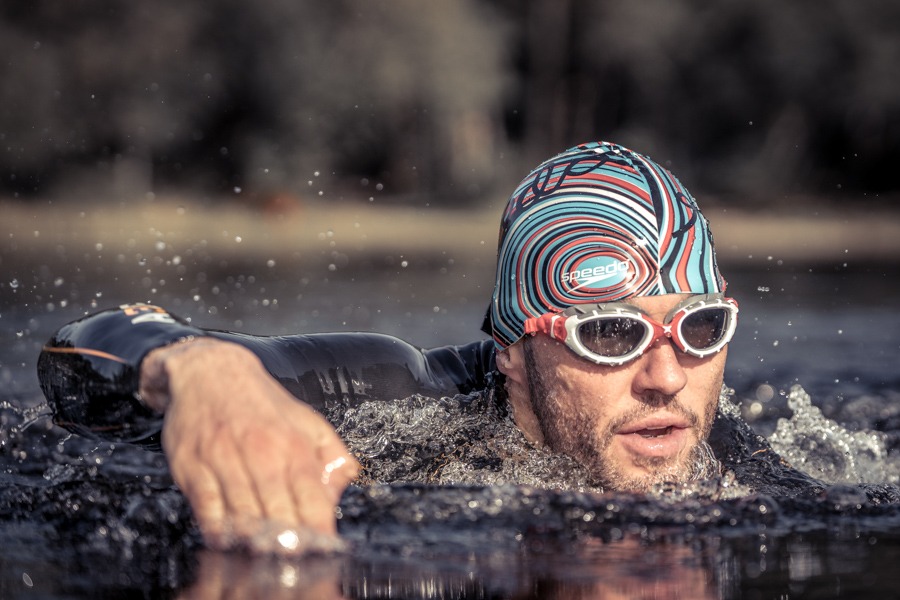 Marcus wild swimming on the Big Outdoor Adventure
---
For as long as the Lake District has been there people have been swimming in the many bodies of open water nestled in and amongst the peaks, the region is famed for. And, given that it is something of a Mecca for walkers, hikers and climbers, we often forget that it's also home to some of the best wild swimming in the UK. With fewer pools open due to the ongoing COVID restrictions there are an increasing number of people turning to the wild to stay active in the water, and with the promise of a hot cup of tea back in the motorhome after to warm up I am already looking forward to my next swim.
We spent the morning at Bassenthwaite Lake, but there are so many other great places to go in the Lakes, including a few we have selected here. However, it is important to stress that only those confident in their swimming ability should head into the open waters.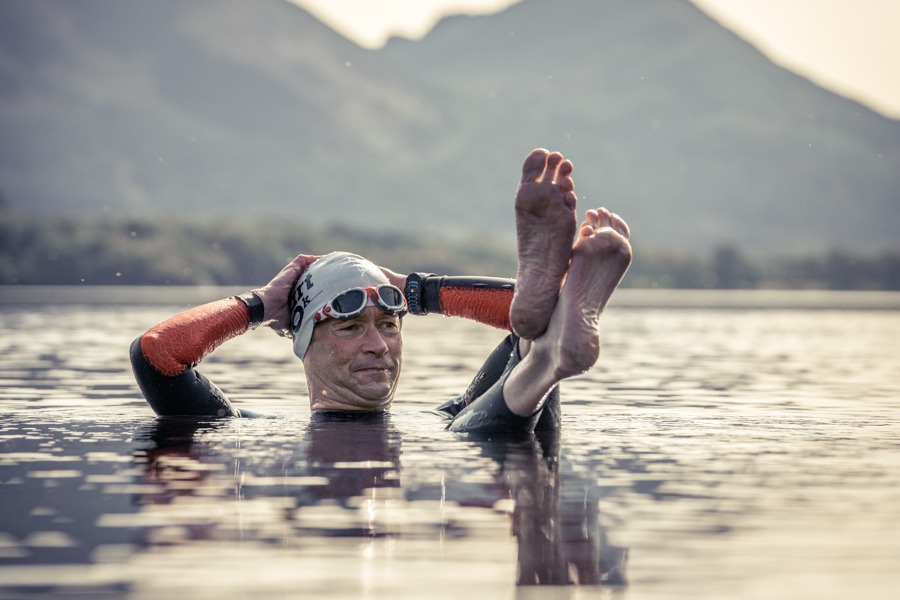 Nick in relax mode after his swim
---
Wastwater: Under the shadow of some of the Lake's biggest peaks lies Wastwater, which is arguably the most picturesque spot in the region to go swimming. The great scree slopes that flank the water's edge are striking to say the least, and it's easy to see why it was voted as 'Britain's Favourite View'.
Crummock Water: This is an ideal location for those looking for a long swim, its vast waters stretching far from the shore. Even during the busier (read warmer) months this is a relatively quiet location, and can easily be combined with a hike before taking a dip to cool off.
Black Moss Pot: If you're keen to play around in the water rather than head out for a long swim then this is a great spot with various places to take the plunge and jump in. It can get busy, which is hardly surprising given how beautiful it is with a waterfall at one end to cap it all off.
Tongue Pot: Aside from having a magical name this is a wonderful place for whiling away the hours on a hot sunny afternoon. Deep emerald waters beneath a waterfall with pebble beaches and great oak trees make this one of the most visually perfect places for a swim, or even just a paddle around.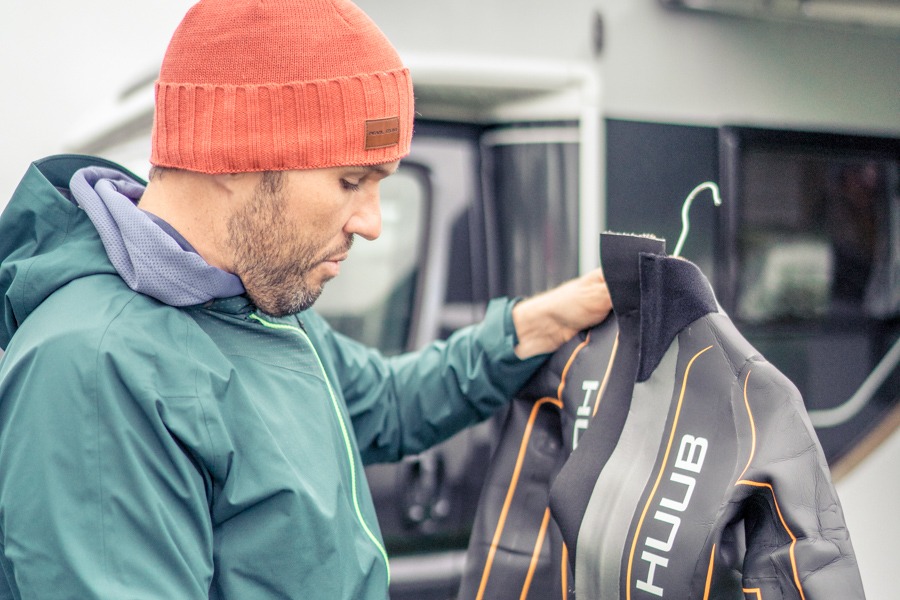 Marcus prepares for his wild swim outside the Autograph 74-4
---