Our Grande journey to the SE
Having come to the end of the first lockdown we were eagerly looking to escape in our caravan. A favourite Caravan and Motorhome certified location 5-unit site was booked for two weeks in August. The weeks were getting ever closer to our time away and then out of the blue we had a phone call from Bailey of Bristol. "You guys love your CL sites, do you know any within easy reach of our factory for a 2021 photoshoot?" Funny they should ask as the CL we had booked on to, in our opinion, is the epitome of a family friendly site on a dairy farm in the countryside.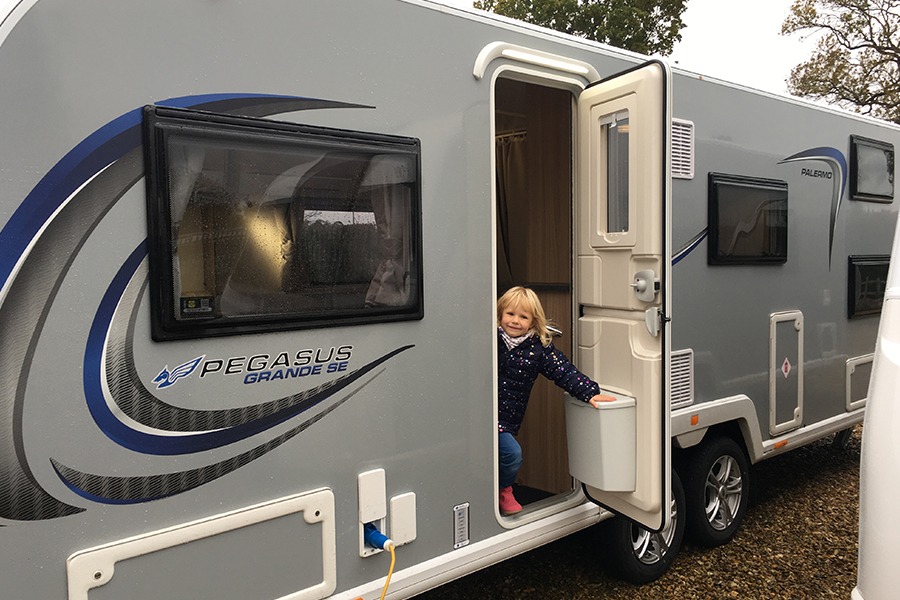 We mentioned the site to Bailey, they went and viewed it, loved it and told us the date they would be there. Perfect timing as it was one of the days we were going to be at the site on holiday. They then asked "would your daughter like to be in the photos?" I'm guessing my balding head didn't quite make the cut this time around but our 3 year-old daughter was very much up for the photos, especially involving caravans or motorhomes!
A few weeks went by wondering what Bailey would turn up with. Would it be a caravan? Would it be a motorhome? Our guess of a new Unicorn range was totally blown out the water as we saw a grey sided caravan arriving along the farm track. As it got ever closer through the heavy rain we saw it was a Pegasus Grande SE. Having a Grande Pegasus it immediately caught our attention.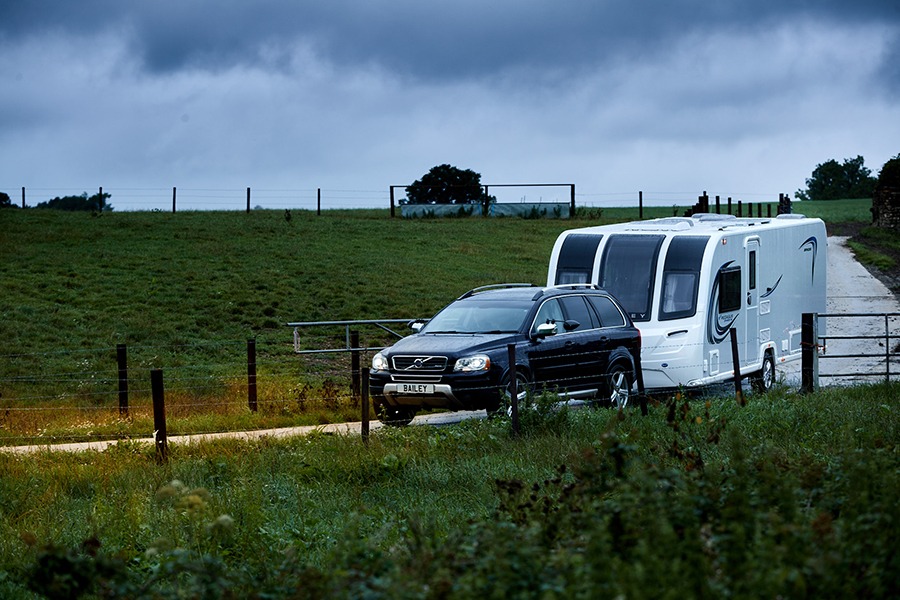 During the day whilst social distancing under many umbrellas, and our daughter puddle jumping in front of the camera, we were able to have a look inside the Brindisi. The light oak interior on a wet day felt so bright and (excuse the pun) Brindisi! A few other changes like the splashback and the double opening fridge freezer, from the Alicanto Grande range has added a taste of luxury in the mid range caravans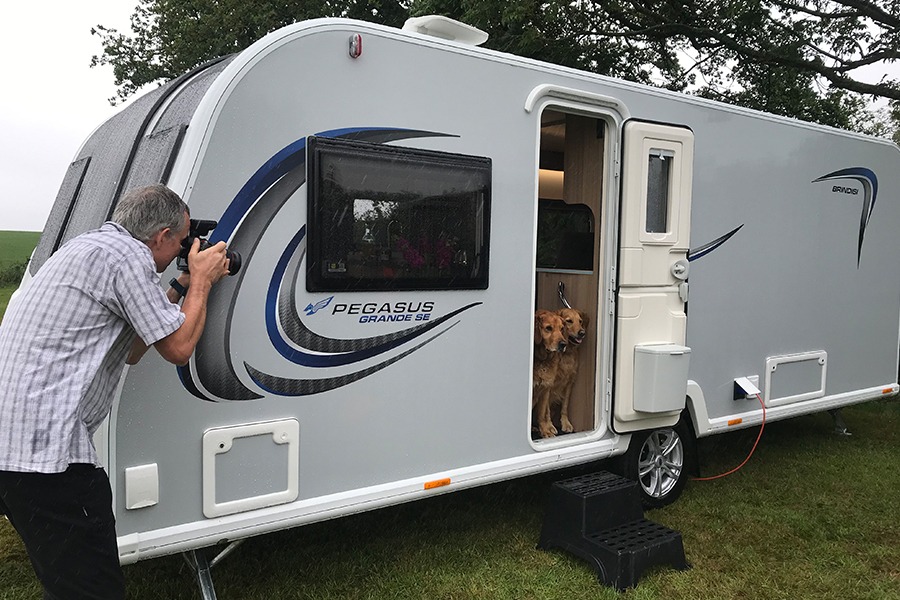 For the remainder of the holiday and afterwards, many discussions were had. As the launch date got ever closer, we booked a slot with our local dealer we have dealt with for the last 10 years, to go and have "a chat" behind screens and masks. By then, Venture Caravans and Motorhomes knew the details of the range and Dave Webb, the sales manager guessed why we fancied a chat! We went away with a smile as we always do after seeing the folks at Venture but no deal was done as we wanted to see the Palermo layout in person as our current Palermo works so well for us as a young family.
Fast forward until a week before Lockdown 2.0 and we hear from Dave that a Palermo was due in as part of their display range. Then a few days later we had an email from Dave whilst he was on annual leave that the Pegasus (sorry about the pun again) had landed! Before the tyres had a chance to cool down, my wife was straight up there to view it. The following weekend on our way home from a weekend away we swung in to see the caravan in order for me to see it for myself. Dave was busy so we exchanged waves and thumbs up. The powers of persuasion let us buy the Palermo and a deal was done via email.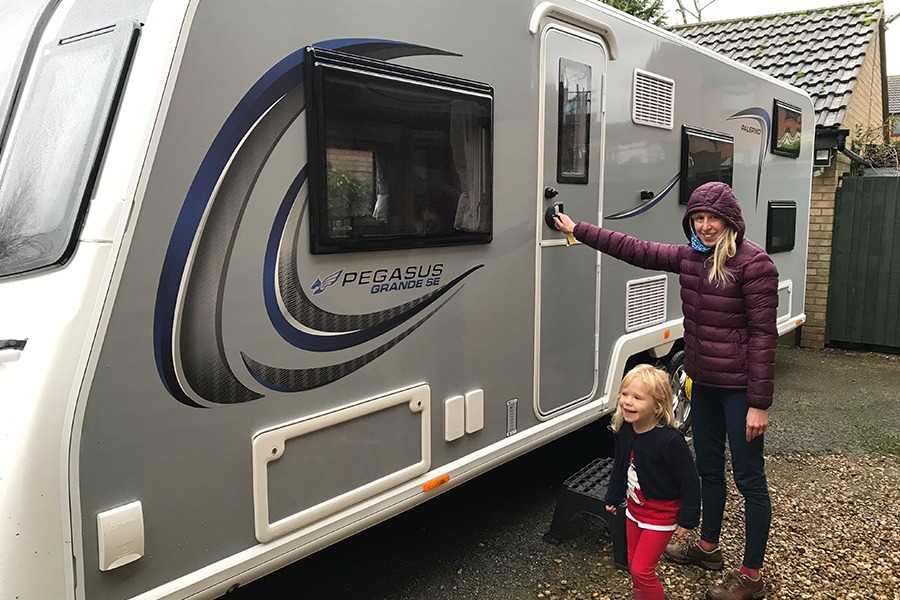 By now we had entered the second lockdown period so all non-essential journeys were no longer possible. Companies can do "click and collect" but we thought collecting a caravan was bending the rules a bit too much. But, home delivery seems to have really taken off and Venture offered to deliver the caravan. A Covid-secure walkthrough of our new caravan was done via YouTube a few days before delivery.
As we waved a fond and emotional goodbye to our Grande that we had taken to the Arctic Circle, less than 2 hours later Dave arrived with our new caravan. A social distance hand over of the keys on the end of a corner steady winding handle was done.
The next challenge was to get the 8ft wide twin axle caravan up our S-shaped 9ft wide driveway with no motormover! We safely made it and the weekend continued with a Drivecation and to reload our belongings and refit the motormover.
As part of our drivecation we neared completion of the jigsaw of the Brindisi and our daughter at the photoshoot, very fitting we thought given the homely surroundings of our Grande SE.