When we were planning the Big European Odyssey, we did so with one phrase in mind; expand your horizons. These three words have positively influenced our lives over the years, three words that are now opening our eyes to an incredible array of new destinations on our travels.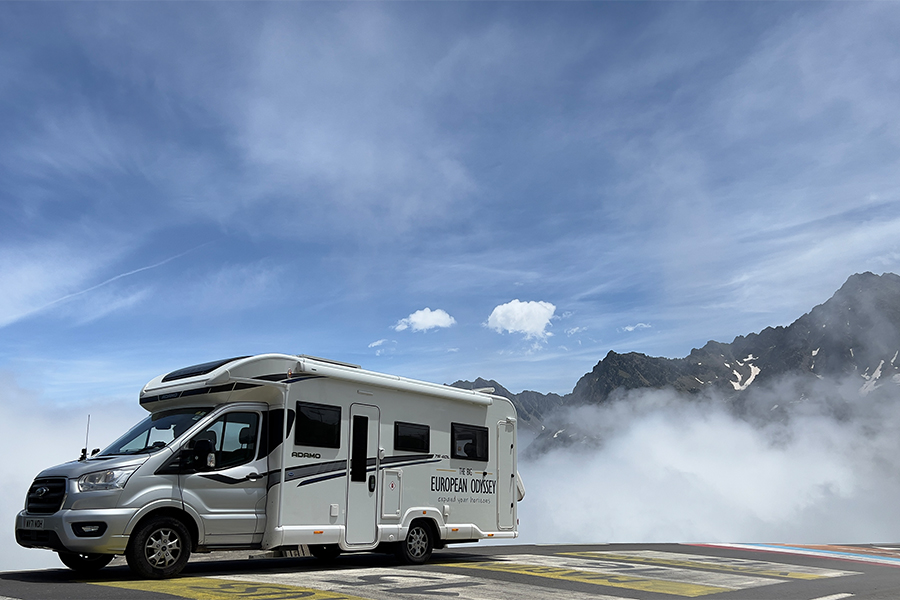 Even though Kim and I have spent a lot of time in France before, we were keen to explore new corners of a country where we both feel at home- a feeling helped by the fact Kim speaks fluent French. And so, rather than make a beeline through the middle of the country, and deeper into Europe, a route that would have taken us through several places we'd been before, we opted for a more scenic route, eager to expand our horizons and discover new places together.
Leaving Northern France behind, we picked our way down the West Coast, staying in places we knew nothing about other than what we had seen on the internet, often deciding on a whim based on a few pictures we had seen. As humans, we are often drawn towards familiarity, opting to re-visit places we already know for fear of not having such a good time by risking a new, unknown destination. Yet, for us, the unknown has such a great appeal. Sure, we might have a few bad experiences along the way, but that's a risk we're prepared to take to discover new gems.
It's this attitude that led us to Quiberon and Noirmoutier- two little coastal villages that made us wish we had more time to explore in greater detail than we did. Of the two, it was Noirmoutier that stole the show, with its lead back, easy-going island vibes fitting perfectly with our newfound pace of life. Our campsite, Huttopia Noirmoutier, one of several we have used on the Caravan and Motorhome Club's European network, was set amongst a forest of pine trees on the water's edge, offering easy access to the quaint village of Noirmoutier and a plethora of fresh produce from their exceptional bi-weekly market.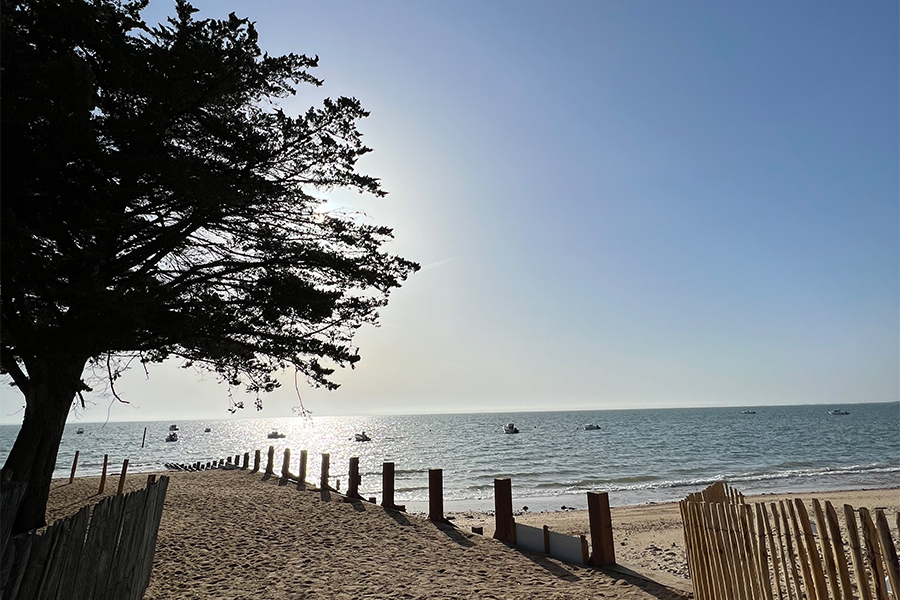 Here's an sense of what it was like at Caravan and Motorhome Club site, Huttopia Noirmoutier. Imagine waking up to this each morning!
---
Before leaving Wales behind, I had always planned to cycle from one side of the Pyrenees to the other, meeting up with Kim and the kids at the end of each day's riding. However, I quickly realised that such an undertaking was not in keeping with our slow travel philosophy, one where we prefer to stay at campsites for three of four nights, allowing us plenty of time to explore before moving on. As such, we opted to base ourselves close to Lac d'Estaing at another CAMC site, Camping Pyrenees Natura, for eight days, a decision we would not regret. Our time here not only allowed us to explore but quickly fall in love with the Hautes Pyrenees, with every bike ride, walk and adventure further endearing this corner of the world.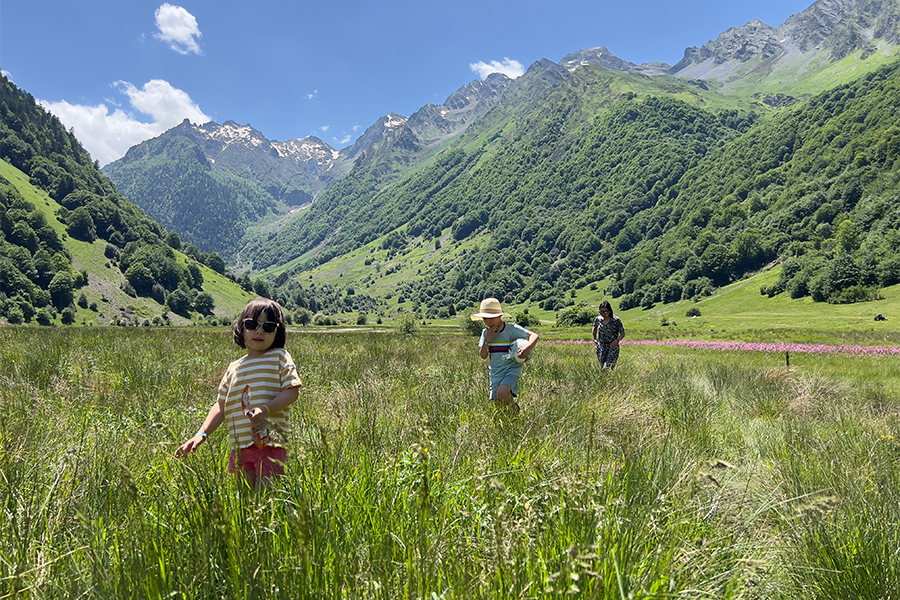 It's safe to say we fell in love with the Hautes-Pyrenees!
---
If there's a downside to the slow travel approach, it's that you can spend long enough in one location to not want to move on, which was the case for us in the Pyrenees, somewhere we both said we good actually live. Finally, back on the road, our route took us across to the coast, up towards the Provence and into the midst of the heatwave that was sweeping across Europe. The temperature was 38 degrees as we arrived at Bedoin, from where I planned to ride to the summit of Mont Ventoux, the Giant of the Provence that is the main appeal to those visiting the region.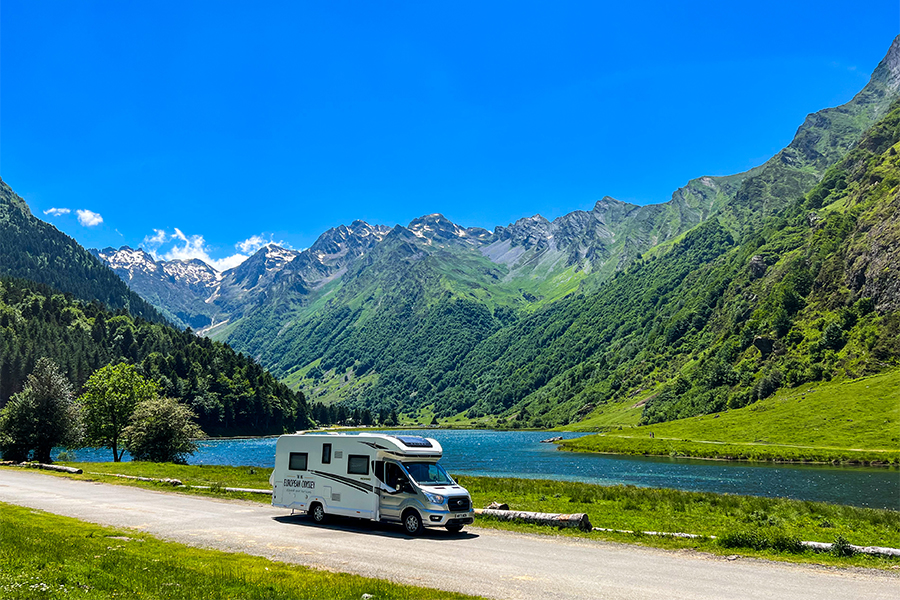 For anyone interested in travelling, we'd 100% recommend touring through the Pyrenees mountains!
---
Any thoughts that being by a pool at Camping La Garenne would help combat the heat were quickly banished, each of us craving cooler temperatures and a breeze that didn't feel like you had just opened the oven door. The solution? Altitude. Upon reaching the summit of Mont Ventoux on my bike I noticed how much cooler it was, as well as spotting a car park with a handful of motorhomes in, giving me an idea. And so later that day we set out for the summit of one of cycling's most iconic climbs in search of cooler temperatures and a refreshing breeze, both of which we mercifully found. Never has 27 degrees felt so good, aided by some truly spectacular views watching paragliders drift off into the sunset whilst we enjoyed an al fresco dinner.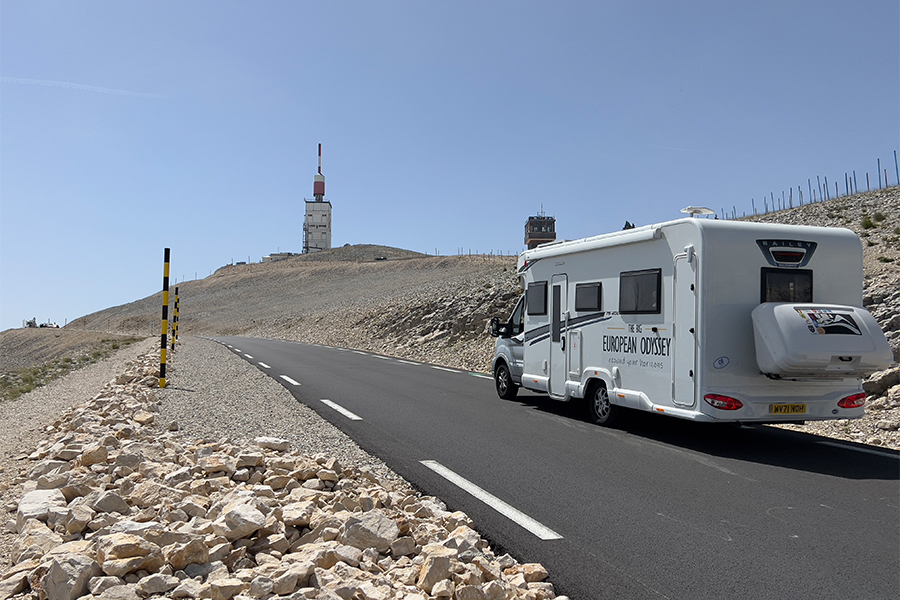 A quick look at the summit of Mont Ventoux.
---
With our time in France nearing an end, and the border of Switzerland drawing ever closer, there was time for one more stop to explore somewhere we have all wanted to visit ever since seeing pictures of the mountains that form a large part of one of France's lesser-known areas of natural beauty. Top of our list for the Ecrin National Parc was a walk to see Glacier Blanc, an icon of the Pays des Écrins. Sadly, the day we set out to reach the glacier heavy rains had fallen, turning the paths leading to higher ground into literal rivers. As it was, we had to settle for views of the glacier from lower down in the valley, which was still spectacular, vowing to return to complete the walk one day.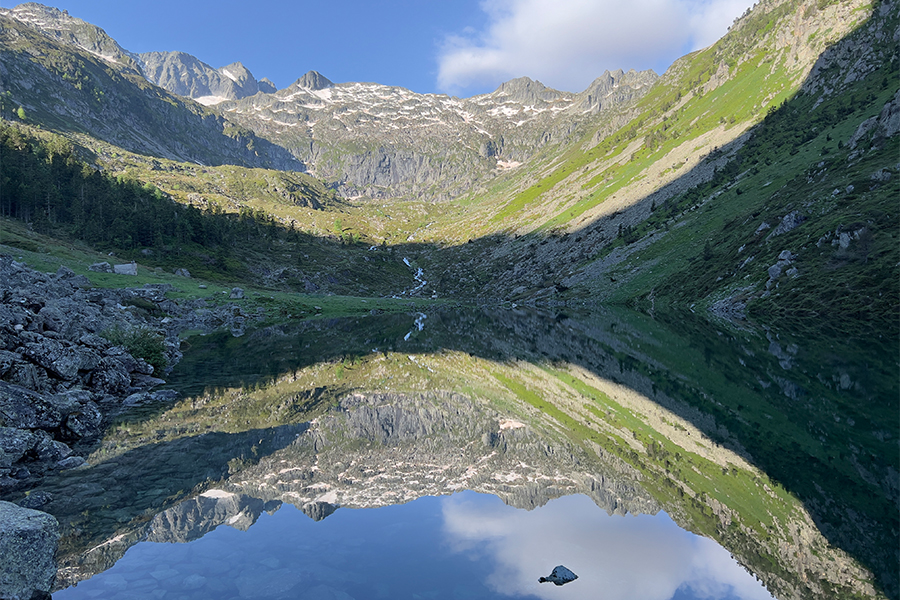 If you're ever travelling around the south-eastern part of France, the Ecrin National Parc is a must!
---
The truth is we could return everywhere we have been so far, knowing that despite our slow travel approach, there's always something we haven't been able to do. However, it's the appeal of the road ahead that continues to pull us forward, eager to see what's around the next corner, always wanting to expand our horizons.
You can follow Marcus and Kim's ongoing adventures over on Instagram (@marcusleachglobal and @our.roaming.odyssey) and on Twitter (@MarcusGLeach).