Caravan DIY - part two: windows and panels
With most of the UK in lockdown 2.0 and travel restrictions in place, now is the perfect time to take on those little jobs on your caravan. In part two of our caravan DIY series, Lee Davey takes a look at removing scratches from windows and how to make panels shine again.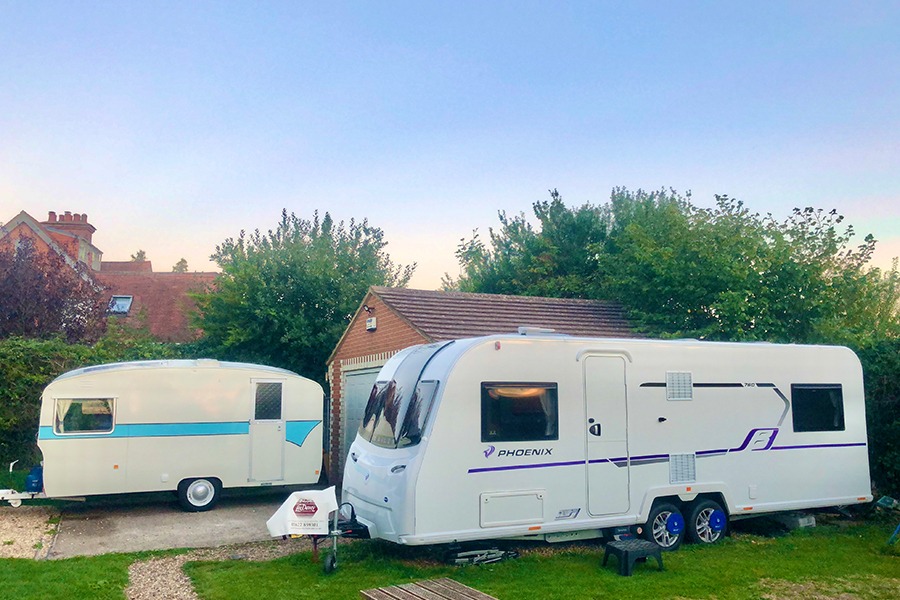 Removing scratches from windows
It's all too easy to brush passing hedges when towing a caravan, something which can scratch the plastic windows. Thankfully, these marks are relatively easy to remove with a few well-chosen products.
Tools required: rotary buffer/polisher with variable speed control (from £30 on eBay or Amazon), 3M Fast Cut Plus (approx. £17 on eBay or Amazon for 250g), clean cloth (microfibre cloths are ideal), 1200 and 2000 Wet & Dry sandpaper for deeper scratches.
Fine scratches:
Apply Fast Cut Plus compound to the buffing pad.
Set the speed control to the slowest setting
Press the pad against the window until the pad compresses slightly. If the window flexes inwards, that's too hard.
Turn the polisher on while keeping a firm grip
Move the polisher in slow, overlapping strokes while paying attention to the scratches.
Add more compound if necessary
After a few passes, clean with a cloth to see progress made. Repeat if necessary
Heavier scratches:
Deeper scratches can't be removed with compound alone and courser abrasives will be required. The following steps need to be taken carefully, keeping a close eye on progress at all times.
Dip the 1200 Wet & Dry sandpaper into a cup of water and rub across the length of the scratch in a side-to-side motion until most of the scratch has been removed.
Do the same as above with 2000 Wet & Dry until 99% of the scratch has gone
Steps 1 & 2 will leave a dull patch. Machine polish this dull patch as if dealing with a fine scratch in steps 1 to 6 above.
Wipe clean and admire your handiwork.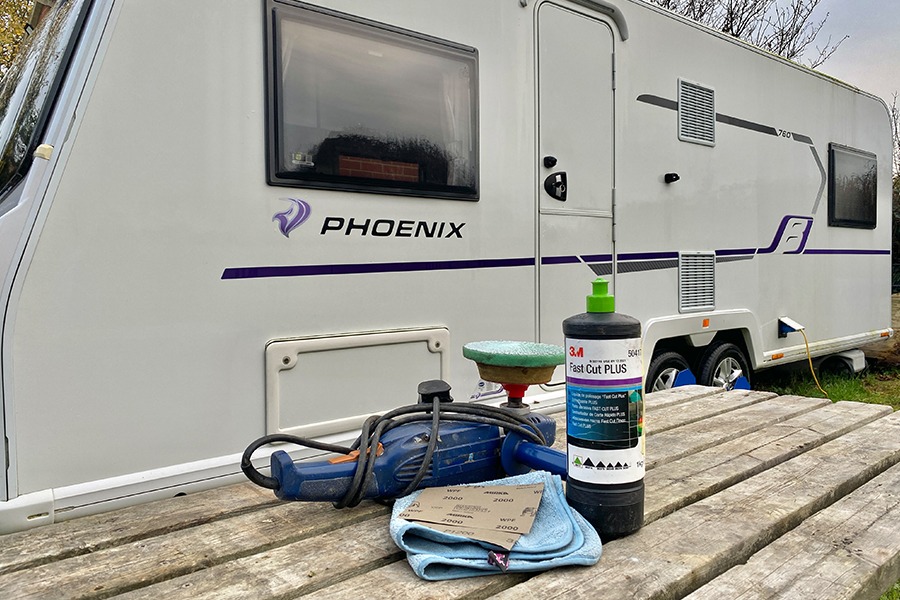 Making panels shine again
Just like us, caravans need a little TLC from time-to-time to keep that rosy glow. Older caravans can lose their glossy sheen, especially if an aggressive cleaning agent has been used. The front and rear panels tend to suffer more than the sides. Various valeting companies can deal with such issues, but for a modest outlay, these cosmetic enhancements can be tackled at home.
Tools required: rotary buffer/polisher with variable speed control (from £30 on eBay or Amazon), 3M Fast Cut Plus (approx. £17 on eBay or Amazon for 250g), clean cloth (microfibre cloths are ideal)
Apply Fast Cut Plus compound to the buffing pad.
Set the speed control to the slowest setting
Press the pad against the panel until the foam polishing pad compresses slightly
Turn the polisher on while keeping a firm grip
Move the polisher in slow, overlapping strokes
Dividing the panel into 2ft square (ish) chunks makes larger panels easier to deal with
Be careful of edges and bodylines as it's easy to 'polish though' on certain types of finishes
After a few passes, clean with a cloth to see progress made
Look across the panel to check the shine. Uneven polishing may result in swirls or dull patches. If so, add another dab of polishing compound to the pad and polish again.
Don't over polish the panel as this can wear through the exterior finish. Take your time and keep checking. A shiny, swirl-free finish comes with practice
Clogged pad? Remove from the machine and wash under a warm tap. Dry by wringing the pad inside an absorbent cloth or strong tissue
Wipe clean and admire your handiwork