Bristanbul campsites review – part 1
Our Bristanbul crew knew we were staying at a diverse variety of campsites during the trip. Each site was chosen because of its location, availability (ahead of the peak season) and needed to have other accommodation available, as there were more crew than spaces available in the caravans or motorhome.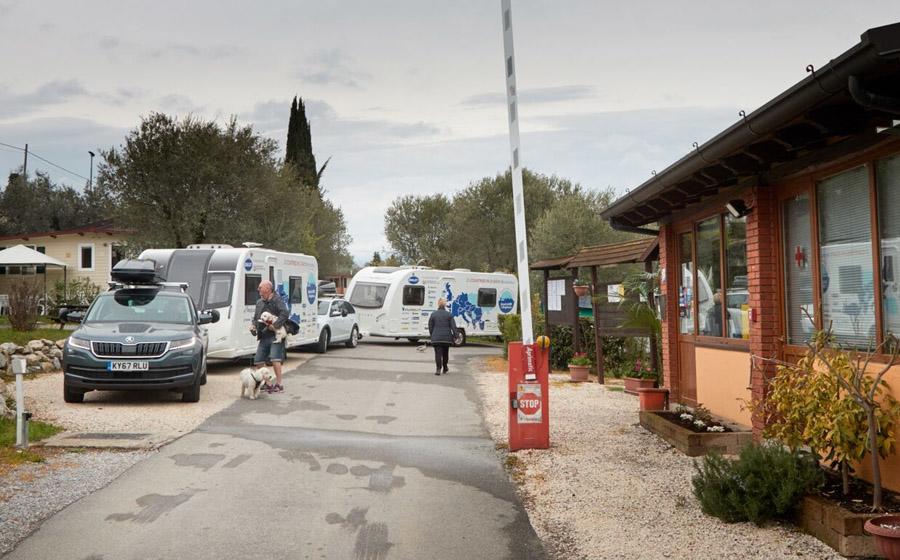 ---
Starting off in France, here's part 1 to our accommodation guide from Bristol all the way to Dubrovnik.
Site 1: Castels Chateau de l'Eperviere – France
What a great start to our trip: Spending our first night in the caravans and motorhome pitched beside a lake with a view of a picturesque Chateau will be hard to beat. It's a 5-star site, and part of the Castels chain, so good quality was guaranteed.
Generous pitches and an immaculately kept site with a great restaurant made this a very enjoyable place to stay. It's only 20 minutes from the Lyon/Paris motorway, yet in a quiet, pretty and peaceful village, make it a great stopover (but we'd love to stay longer).
Visit the Castels Chateau de l'Eperviere website
Site 2: Camping Fontanelle – Lake Garda, Italy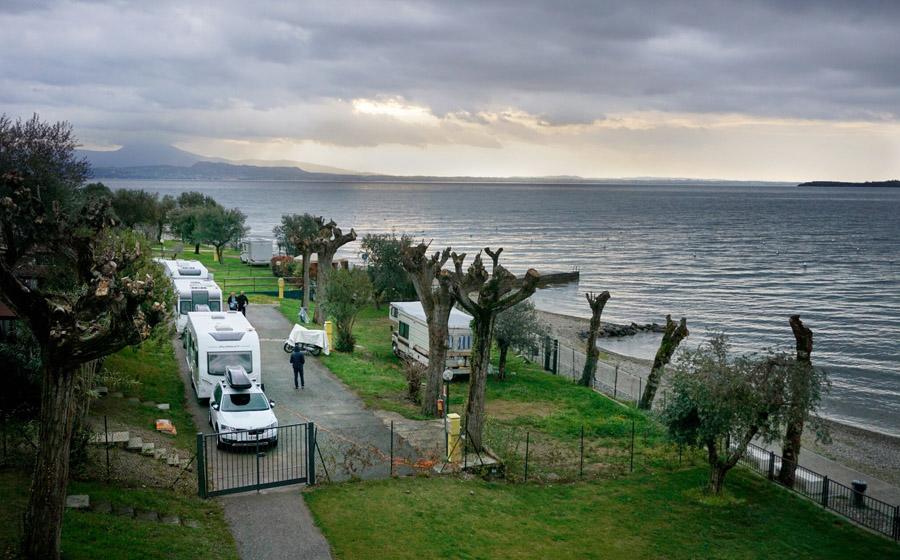 It was a shame that heavy traffic, rain and grey clouds prevented us getting enough time of the best experience from our lakeside stay at Camping Fontanelle. About half the site is on a slope giving views of Lake Garda for some pitches, plus there's a  mini-market and direct access to the pebbled beach.
The showers were nice and hot, and there's a swimming pool for the peak season. The town is within walking distance, but take care on the approach roads, as they are a bit narrow in places.
Visit Camping Fontanelle's Facebook page
Site 3: Camping Bled, Slovenia
Another campsite that immediately impressed us by its position set amongst a forest by Lake Bled.
Top quality facilities, new landscaping with hard standing pitches and a restaurant with food and wine that really wowed us, make this another campsite we'd highly recommend – and easily booked via the Caravan and Motorhome Club.
There are lots of activities on offer, too – from cycling 6km round the lake to archery, and a hefty discount at the local spa. What's not to like?
Visit the Camping Bled website
Site 4: Camping Galeb, Split, Croatia
Our first site by the sea, and as the site was almost empty; we enjoyed the front pitches with the best views and direct access to the beach.
A grand hotel-esque reception with plenty of cool marble welcomed us, and had details of lots of local attractions.
The staff spoke excellent English and were very helpful. The pitches were a tad scruffier than those on other sites so far, but we were ahead of the main season, so perhaps the level of maintenance wasn't at its peak.  The facilities were clean and tidy though.
Visit the Camping Galeb website
Site 5: Camping Solitudo, Dubrovnik, Croatia
With possibly the friendliest and most helpful reception staff ever, our arrival at Camping Solitudo started with a great impression.
It's a large campsite, which must get very busy in the peak season; there was just one section open during our early season stay.
The pitches were a generous size and lots were shaded. There's a good restaurant, access to a beach, walking and running routes along the coast and back in to town, plus a bus stop nearby with buses every 15 minutes in to the old town of Dubrovnik.
After nearly a week of travelling, we were grateful to use the laundry facilities.
Visit the Camping Solitudo website
With the roads of leg 2 now taking us all the way to Istanbul, stand by for part 2 of our reviews, with #Bristanbul in full swing.