Behind the scenes: Shooting the new Bailey Unicorn
The moment we set eyes on the location, we knew this was perfect in every way for a photoshoot to showcase our new Unicorn range. In the heart of Wales lies the Gower Peninsula, a beautiful spot with its winding roads and stunning landscape.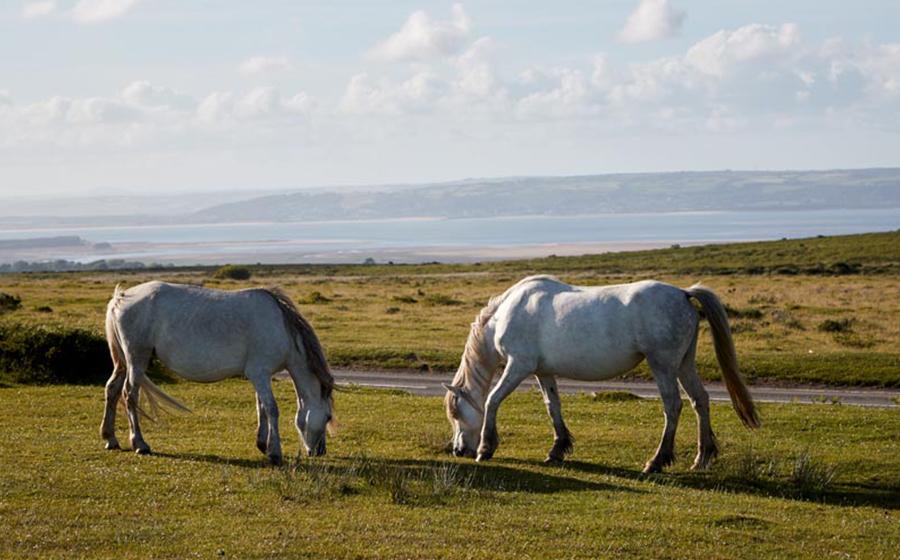 ---
Our Unicorn shoot in June this year was a full-scale production that included eleven behind the scenes staff, two models and one very important dog called Stan. We thought it would be interesting to share a glimpse of what the Unicorn shoot really looked like from behind-the-scenes.
We usually start organising the shoot many months in advance of it actually happening. Going on a recce of the chosen location area is a must to ensure we'll be able to get the shots we need for our promotional activates, and to check that the roads are accessible for a car and caravan. Food is also important for everyone to keep their focus and get the job done – luckily for us our favoured location for this shoot has fish and chip shops aplenty and the odd ice cream parlour to choose from for the day's refreshments.
Organisation is the key for our location shoots. This always includes, on top of agreeing the location, liaising with the photographer, film crew and models and making sure the star of the show, the caravan itself, is 'ready for its close up'. With the big things all sorted, it's vital to remember that the little things are just as important – such as making sure the towing mirrors fit the cars and supplying enough coffee and chocolate to keep everyone awake and happy.  With everything planned down to within an inch of its life, it's time to spend a few days in the Gower.
Setting up for the shoot…
On set we had two Bailey drivers, three of the Bailey marketing team, a photographer, three videographers, one assistant director and a director, and two models. This meant that coordination and communication for the shoot was vital to ensure everyone knew where they should be and what they should be doing. So as long as everyone arrives on time and in one piece all that is left is to hope for is some good weather…
5:00am
Shoot days start early for two reasons, firstly our photographer insists that some of the best lighting is first thing (although we are still unsure if he is just testing our commitment to the cause, creating this start time) and second the roads are nice and quiet. The added bonus if we are lucky is also a beautiful sunrise as a background to our shots, unfortunately the great British weather had other ideas for us this year, and rain was forecast for the whole shoot.
9:00am
Once the initial morning shots were taken, it was time for breakfast before re-cleaning the caravan again. Although the caravan arrived in pristine condition, it didn't take long for mud to splash everywhere, and as it had been raining, cleaning was going to be an ongoing chore for everyone.  The first day was allocated to driving shots so making the outside of the caravan spick and span was paramount.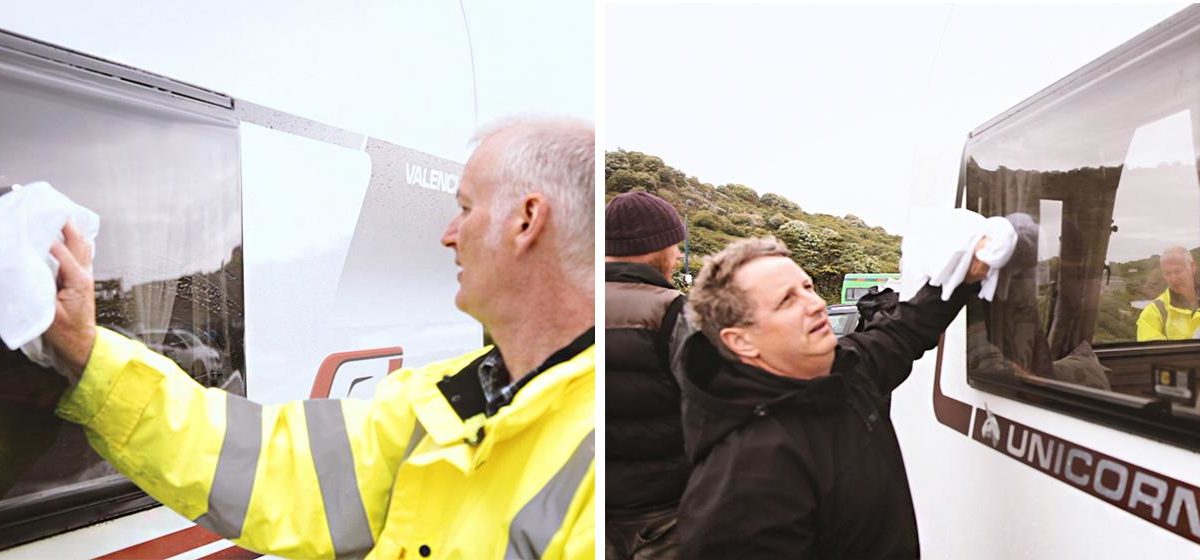 11:00am
When taking the driving shots, whether stills or video, you can never underestimate the importance, and potential annoyance, of equipment. You never want to under-pack just in case, and we can never be accused of  traveling light.  You also have to have faith that all equipment will work, not fall off when relied upon, take-off when needed and land when requested (but not before) during the shoot. It can be stressful, and as we're outside in not the most desirable of conditions it is multiplied.  But on this photoshoot, it all came together despite some very windy conditions which challenged the drone operator.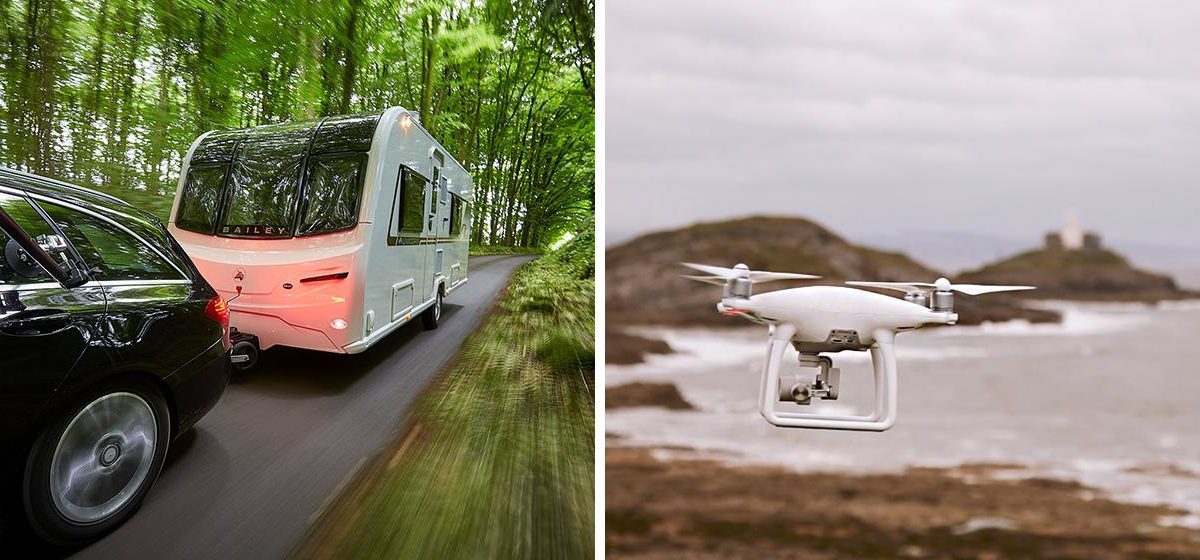 The introduction of drones in recent years has enabled us to get some amazing aerial shots when on a photoshoot, but it has also introduced a new problem for everyone working on the shoot – getting out of the shot when the camera is running. With the range of the shot being so great, we can spend a lot of time trying to get out of the way which more often than not involves hiding behind a car.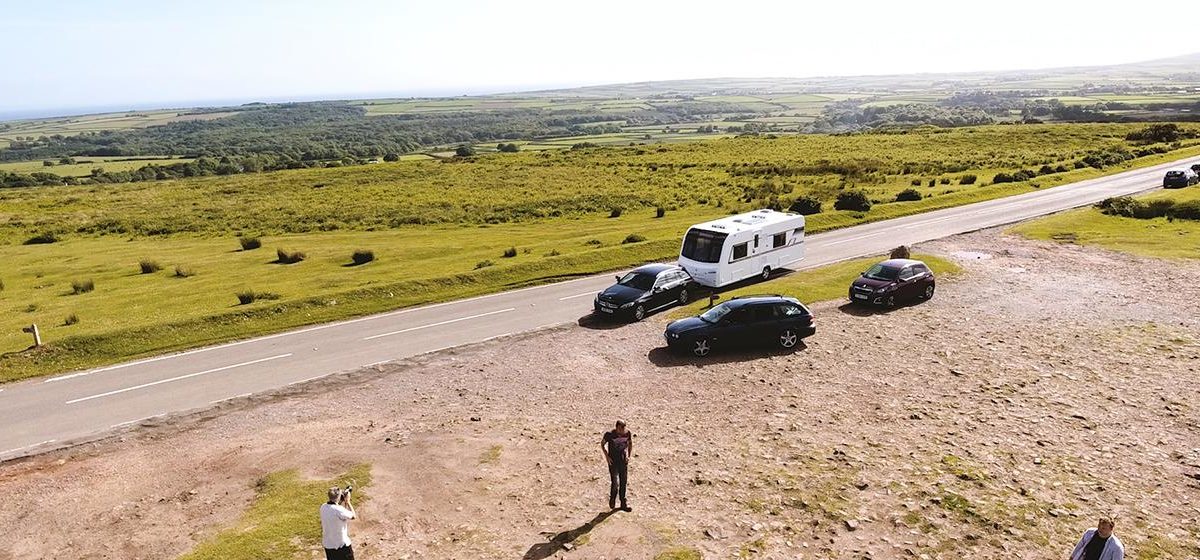 2:00pm
By now we all knew what was expected of us, what we should do when changing camera positions and generally how to get the best angles. But although we'd been working for nine hours, we'd only just begun…  To make sure we had the right shots and the perfect video footage the day was far from over.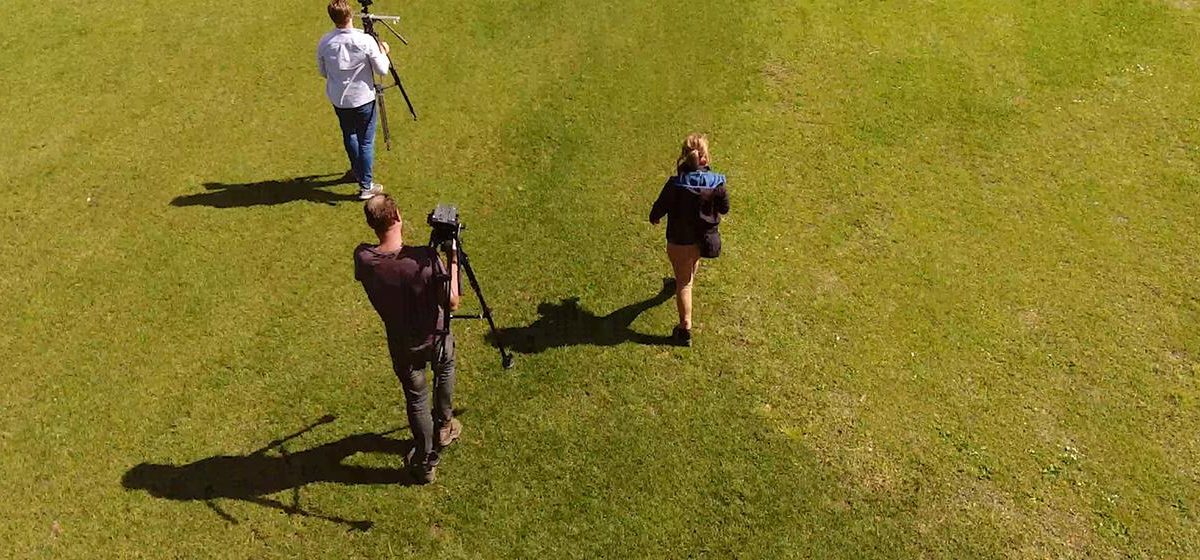 9.30pm
With the sun well and truly on its way to bed we encountered our first real catastrophic problem – it was a Sunday and the Indian restaurant we were depending upon for everyone's refuelling had stopped service at 9pm.  However, a quick chat with a friendly local soon put our minds at ease and we dispatch one of the cars to another curry house that was still serving.  Disaster avoided!
7:00am
Day 2 allowed for a bit of a lie-in (although looking back we're not sure 7am was actually much of a lie-in) and the models arrived at 9:00am to start the second day of shooting. Again, the weathermen had been predicting a day of rain in their forecast. It's amazing what some umbrellas, good additional lighting and the skill of some talented creative folk can do – turning a very wet ice cream shot into a hot summer's day…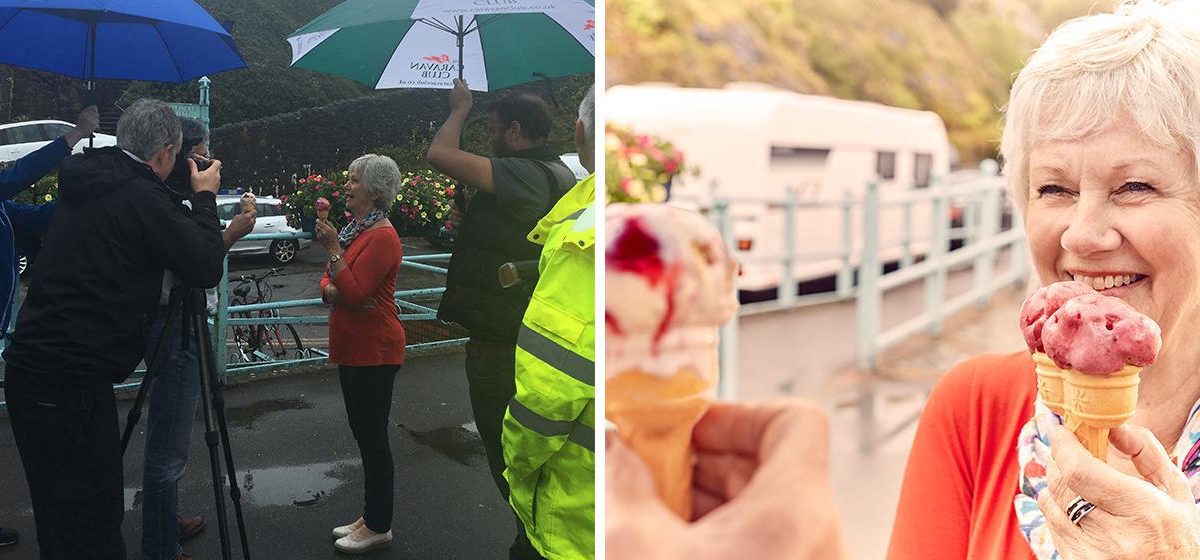 12:00pm
Having had a lovely and productive morning eating ice cream and having coffee and cake at Mumbles pier, it was now time to move location.  Setting up for model shots can take far longer than any of individual shots on the previous day as we needed to contend not only with the models themselves, but also props, members of the public and even a couple from the Bailey Owners Club who had noticed the new Unicorn and decided they'd offer their services as bona fide caravanners! And this time there was one more element that we'd not had experience of before. Stan.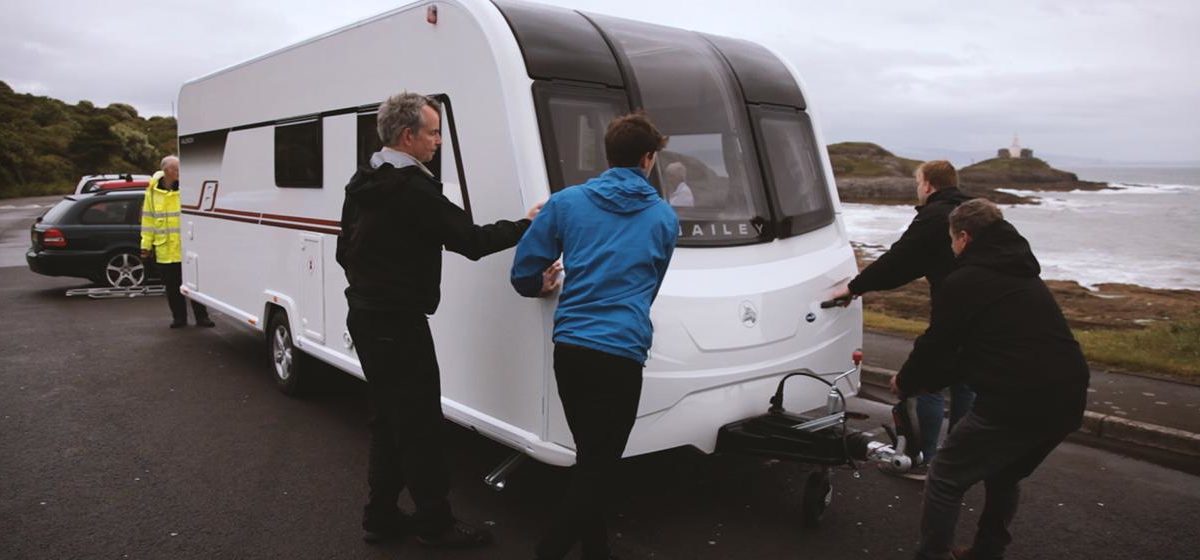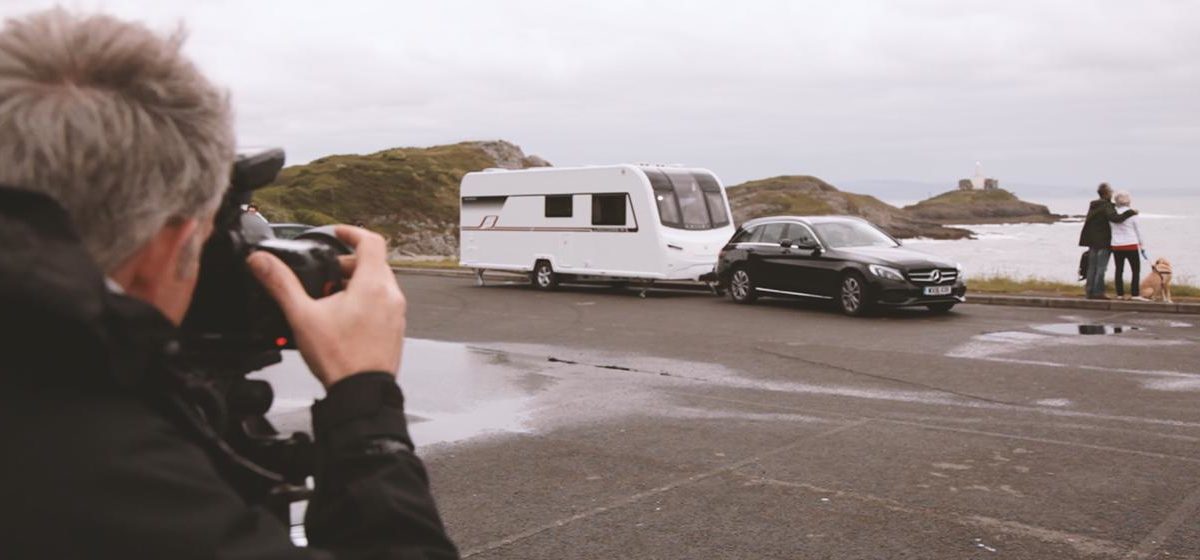 Working with animals on a photoshoot brings a completely new element of chaos into the mix. On this shoot in particular we were dealing with being upstaged by some beautiful wild horses, ducks that couldn't decide if they wanted to be in or out of the shot and Stan the dog. Who although beautifully obedient was getting close to retirement and could often be found having a little lie down.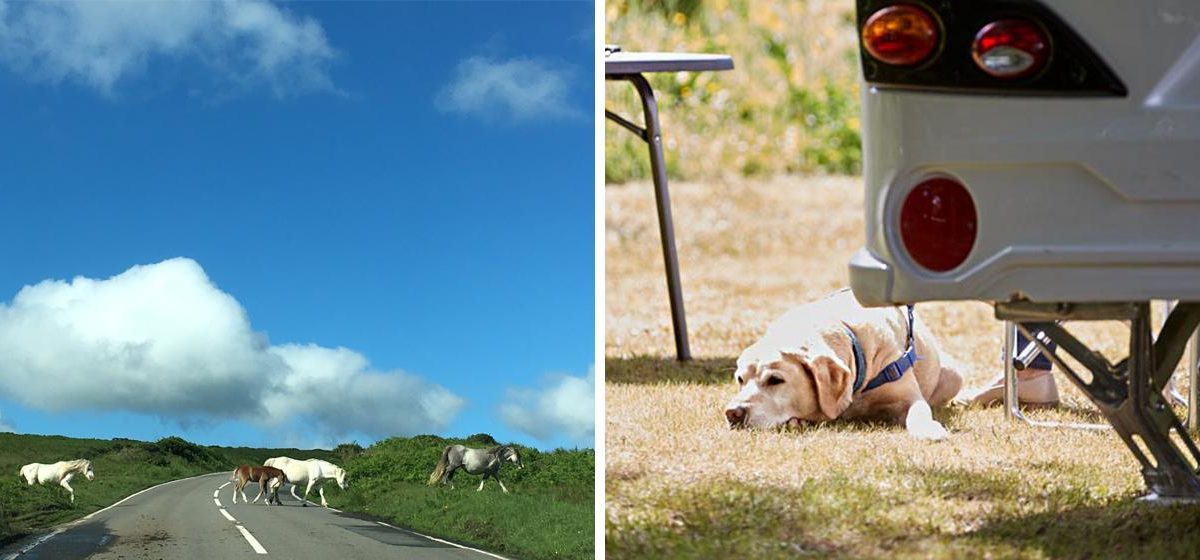 4:00pm
With the rain refusing to subside from mid-afternoon onwards, but luckily with all exterior shots completed, we headed inside the caravan to dry off and get warm.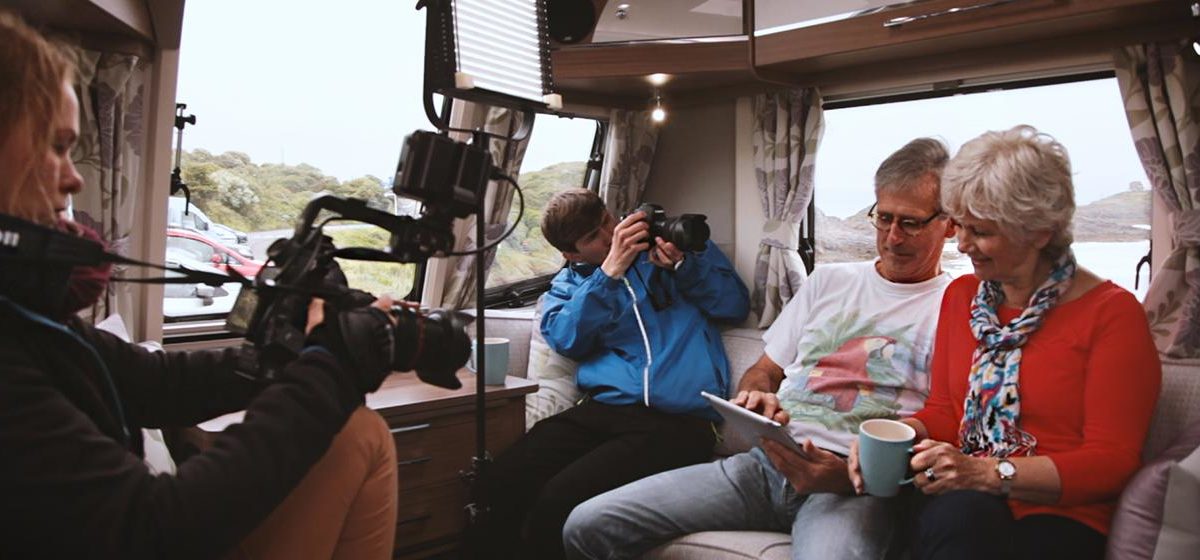 8.00pm
A relatively early night was rather forced upon us today as our accommodation had offered us a three course supper with the star of the show being, of course, the finest Welsh lamb and locally grown veg.  A wonderful end to a successful, if exhausting, photoshoot.  All we had to do now was take the caravans back to the factory…via the centre of Cardiff as the M4 was closed for repairs!
If you're interested in seeing us on our Bailey Unicorn photoshoot, why not watch the video to see for yourself?