Autograph 79-4T
OTR £72,999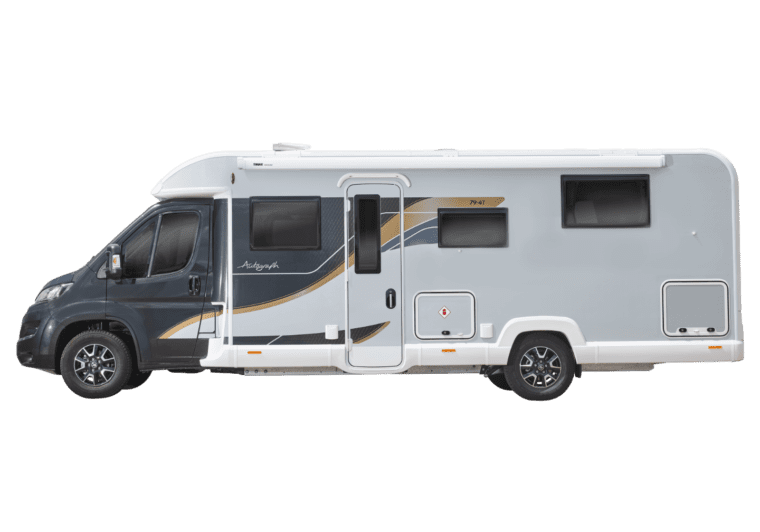 Autograph 79-4T
Designated Travelling Seats
4
Cab
Peugeot Cab (Graphite)
Overall Body Length
7.931m / 26′0″
All data is calculated using metric weights and measurements. The imperial figures quoted are conversions thereof.
Key Features
Peugeot Sat Nav system
NEW Dometic reversing camera
NEW diamond cut style 'Graphite' 16" alloy wheels
Through-boot easy access large exterior storage locker
Ergonomically shaped rear travel seats
NEW fully adjustable driver and passenger seats with twin upholstered armrests
NEW 'Cadet Grey' split section loose fit drop in carpets
NEW standard 'Farringdon' soft furnishings
NEW optional 'Portobello' soft furnishings
NEW dual finish ʻCashmere' gloss Italian design overhead curved locker doors
NEW high level storage pockets
Alde touch screen user-friendly control panel
NEW feature control panel with USB socket
NEW Dometic 10-series 153 litre electronic fridge freezer with universal handed door mechanism
NEW branded Perspex kitchen splashback with chrome detailing
Drop down kitchen worktop extension
NEW stainless steel round kitchen sink with concealed fixings
NEW Thetford K-Series combined oven, grill and hob
NEW 12v directional spotlights with integral USB sockets in rear bedroom
NEW full wall headboard
'Honeycore' foam fixed bed mattress construction with stylish fabric covering
Bespoke motorhome bedding sets (cost option)
Lined shower cubicle with bi-fold partition door and integral lighting
NEW pre-wired for WiFi (Retailer fit cost option 2022 season models only)
View full screen gallery
i
Autograph 79-4T front lounge in standard 'Farringdon' soft furnishings
i
Alde touch screen user-friendly control panel (all models)
i
Autograph 79-4T with ergonomically shaped rear travel seats
i
Autograph 79-4T drop down kitchen worktop extension
i
Autograph 79-4T bedroom with bespoke motorhome bedding sets to coordinate with motorhome soft furnishings (cost option)
i
Autograph 79-4T underbed storage
Reviews & Awards
Meet the all-new Bailey Autograph
Practical Motorhome
Since it first began building motorhomes less than a decade ago, Bailey of Bristol has become one of the UK's most prolific and popular manufacturers of coachbuilts.
Carrs & Caravans
With its striking new looks and exquisite interior styling let's take a look around the 79-4T.
Flagship Autograph Range
Out & About Live
Out & About Live reviews the Autograph III motorhome range
Details
Designated Travelling Seats
4
Cab
Peugeot Cab (Graphite)
Overall Body Length
7.931m / 26′0″
Overall Cab Width (mirrors folded)
2.489m / 8′2″
Overall Habitation Width (inc marker lights)
2.422m / 7′11″
Overall Height
2.710m / 8′11″
Fitted Awning Length
4.5m
Tyre Sizes
225 / 75R 16CP
Max Recommended Braked Trailer Weight
2000kg
Thermal Insulation Grade
3
Gross Train Weight
5500kg
Gas Locker Capacity
2 x 6kg
Fresh Water Tank
95 litres
Waste Water Tank
93.5 litres
Bed Sizes:
Front Double
2.17m x 1.32m (7'1" x 4'4")
Measured from the widest point
N/S Rear Single
1.95m x 0.72m (6'5" x 2'4")
Measured from the widest point
O/S Rear Single
1.86m x 0.72m (6'1" x 2'4")
Measured from the widest point
RECOMMENDED OTR PRICE £72,999
OTR as at 1st February 2022 (prices include VAT @20%) Please see below for important price information
On the road (OTR) price includes a cost of up to £280 for a 12-month road fund licence as well as an additional cost of £1,500 to cover delivery to a Retailer in Great Britain, number plates, first registration fee and VAT at 20%.
Price Guarantee: These prices are guaranteed subject to you ordering your motorhome from the earliest production availability and that you take delivery within 14 days of dispatch from the factory.
| Optional Extras | Weight Allowance | RRP |
| --- | --- | --- |
| 'Portobello' alternative upholstery option | Nil | £225 |
| Bespoke motorhome bedding set to co-ordinate with motorhome soft furnishings (model specific) | up to 7.3kg | £228 |
| AL-KO chassis mounted spare wheel carrier and spare wheel (steel spare wheel) | 29kg | £375 |
| 4-year extension to standard 6-year bodyshell integrity warranty (ten years in total)* inc IPT | Nil | £265 |
| 3-year extension to standard 3-year manufacturers warranty (six years in total)* inc IPT | Nil | £849 |
Optional Extras: Options pricing only applicable on new motorhome orders. Please note that where an option is identified as model specific this means that it is only available on selected models within a range. Please ask your supplying Retailer for more information.
*Terms & Conditions apply to the warranty extension schemes.