Your All-New Autograph, Your Inspiration
Designed to inspire, the third generation Bailey Autograph is available in a choice of eight popular layouts, including the all-new Autograph 79-2F and 79-4F, featuring a fixed double bed and transverse end washroom with a choice of either a parallel seat or L-shape front lounge and dedicated rear travel seats.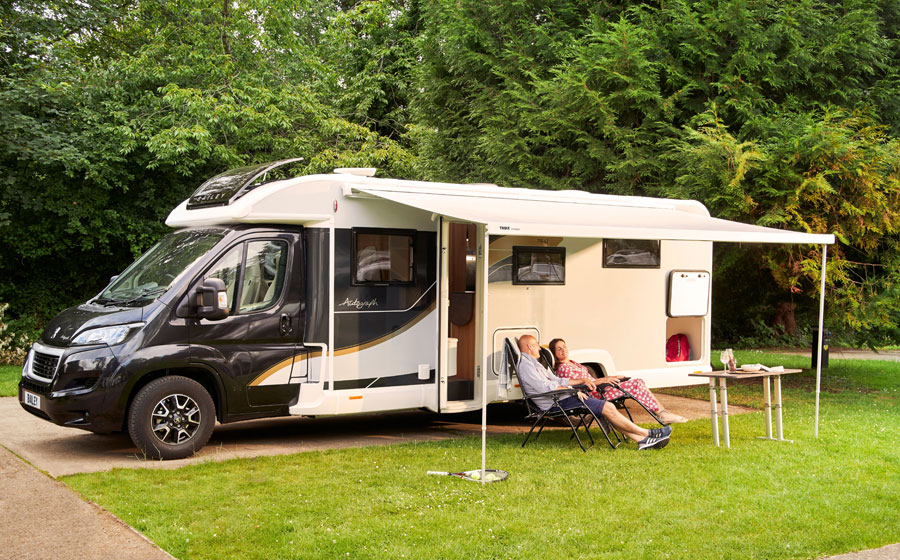 All models feature a 2.28m (7'6") internal body width, whilst the Autograph 69-2 and 81-6 also benefit from an increase in body length, which creates longer seats in their end lounges, capable of being used as either twin single or a double bed.
A host of practical storage solutions are factored into the design of every layout, including a rear throughboot in all end bedroom and end lounge layouts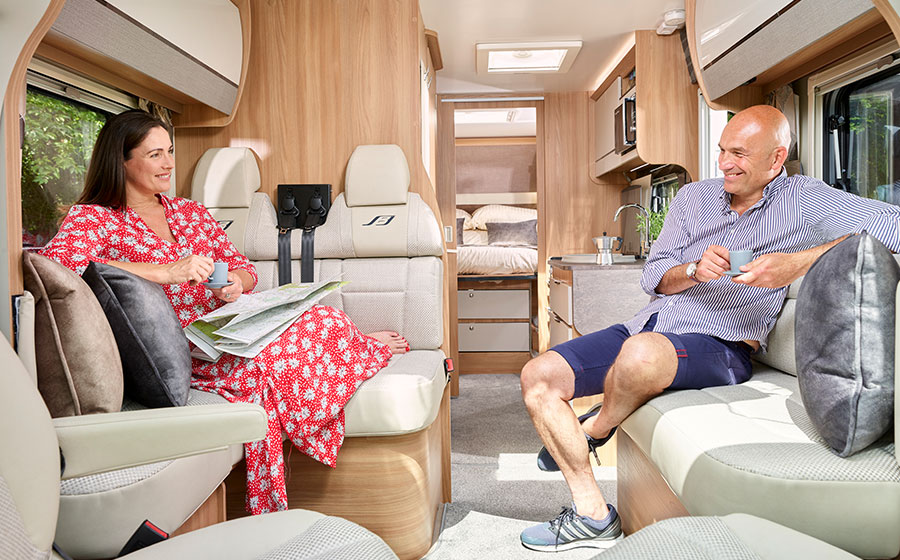 Relaxing in the Autograph 79-4I
---
Full model line-up is as follows:
Autograph 69-2 (formerly Autograph 68-2)
2-berth end lounge. MPTLM = 3,500kgs
Autograph 74-2 (formerly Autograph 75-2)
4-berth fixed double bed, corner washroom with parallel front lounge. MPTLM = 3,500kgs
Autograph 74-4 (formerly Autograph 75-4)
4-berth fixed double bed, corner washroom with L-shape lounge and dedicated rear travel seats. MPTLM = 3,500kgs
4-berth fixed double bed, transverse end washroom with parallel front lounge. MPTLM = 3,850kgs
4-berth fixed double bed, transverse end washroom with L-shape lounge and dedicated rear travel seats MPTLM = 3,850kgs
4-berth fixed twin single beds, centre washroom with L-shape lounge and dedicated rear travel seats. MPTLM = 3,850kgs
Autograph 79-4I (formerly Autograph 79-4)
4-berth fixed island double bed, centre washroom with L-shape lounge and dedicated rear travel seats. MPTLM = 3,850kgs
Autograph 81-6 (formerly Autograph 79-6)
6-berth end lounge, centre washroom and front lounge with drop down tranverse double bed above. MPTLM = 4,250kgs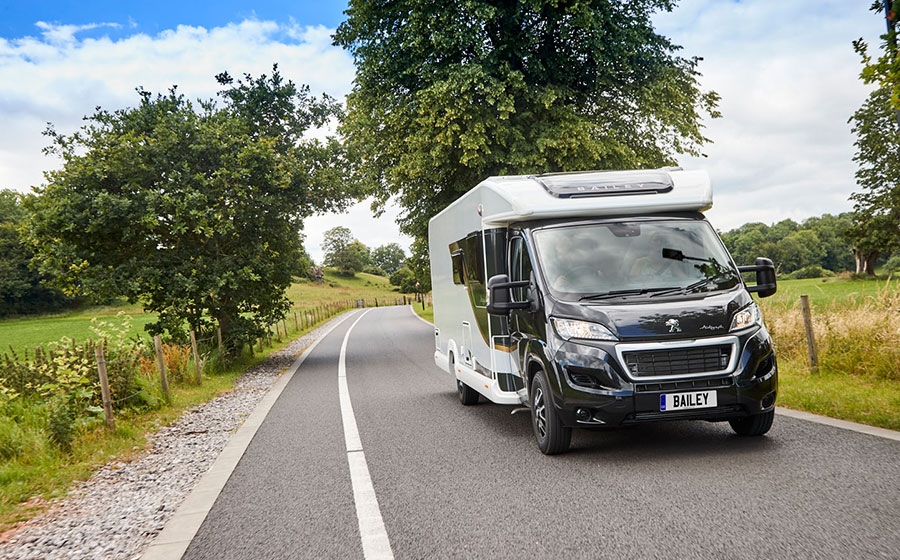 The all-new Autograph on the road
---
All models are powered by the latest Peugeot Boxer 2.0 Blue Hdi, 160 bhp engine with a six-speed manual gearbox. Inside driver and passenger comfort is catered for with a pair of fully adjustable front swivel captain's seats, with dual upholstered arm rests, cab air conditioning, engine cruise control and a Peugeot Sat Nav system, all included as standard. This fully specified cab is matched to a lightweight AL-KO AMC chassis, which thanks to its lower centre of gravity, improves both road holding and braking efficiency as well as providing larger user payloads.
Models are built using our patented Alu-Tech construction technology, cloaked in a GRP outer skin, making them more robust, more durable and yet lighter than those manufactured using conventional methods to offer greater protection against the elements to keep you comfortable, safe and secure all year round. To date approaching 60,000 Bailey leisure vehicles have been built with this groundbreaking technology and are currently being used around the world.
Bailey offers unique safety levels for all its motorhomes thanks to the results of a crash-testing programme to ensure that all travel seats withstand the force of a head-on impact. As a result, Bailey motorhomes have the extra support of chassis outriggers to strengthened floors, additional fastenings for items such as ovens and fridges, plus steel-framed seat base supports for all designated travel seats and a steel-framed structural bulkhead to support rear-facing designated travel seats. With ABS (Anti-lock braking system), ESP (Electronic Stability Program) and floor mounted carrier plus driver and passenger airbags also included as standard the new Autograph can now justifiably claim to be one of the safest vehicles available today.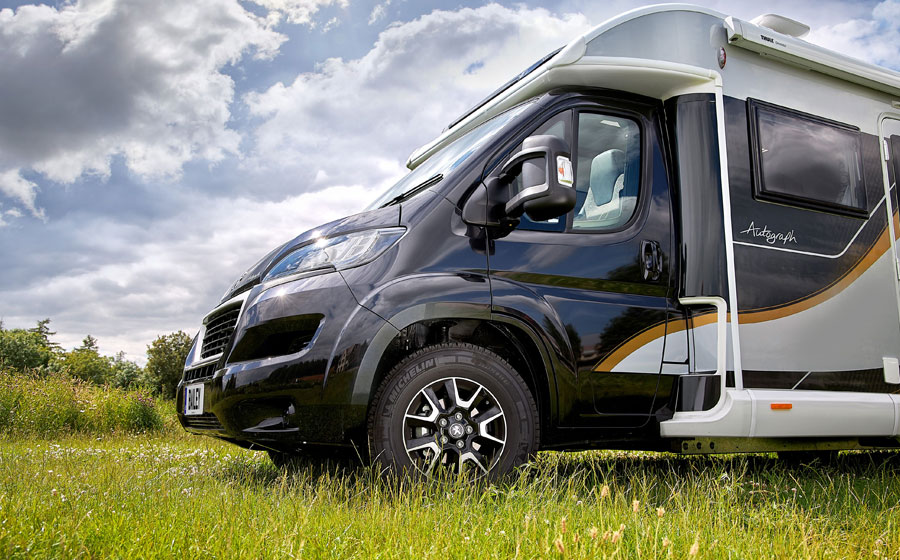 The new Autograph 'Graphite' cab and 'Diamond Cut' 16" alloy wheels
---
For the latest incarnation of the Bailey Autograph, there is the re-introduction of the signature 'Graphite' coloured Peugeot cab, which this time comes complete with LED daytime running lights and new 'Diamond Cut' style 16" alloy wheels (model specific). This is integrated to a 'Slate Grey' and 'Glacier White' bodyshell through a co-ordinating metallic graphics scheme to create a striking new look which announces that you travel and arrive in style.
Offering style and substance in equal measure, these well thought-out vehicles also include a variety of new features designed to make your life easier, notably a Thule Omnistor wind out awning and a Dometic reversing camera (linked to the cab screen display). Other essentials such as a Truma 100 watt solar panel, a Status 550 digital television, exterior 230v and BBQ points plus a spare wheel and tyre (steel wheel) are all included in the standard specification and not, as often is the case, as hidden extras.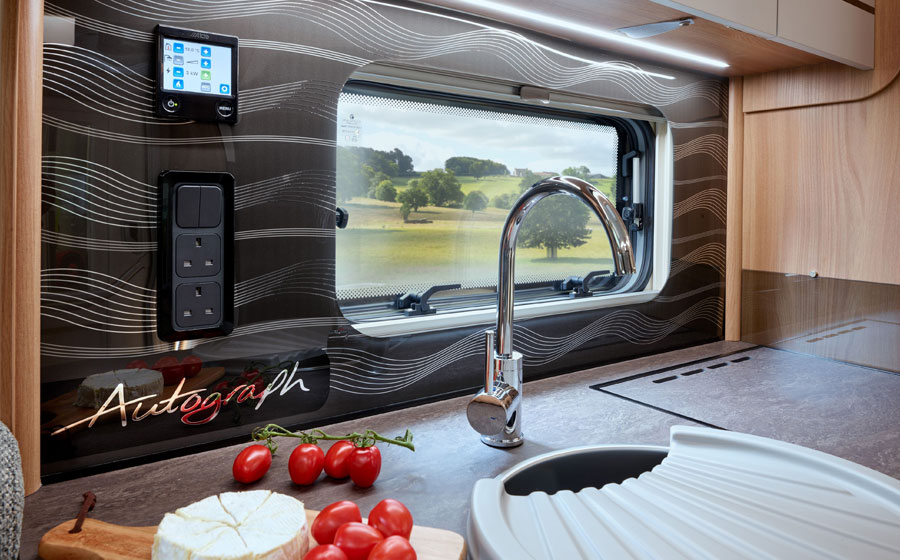 New styling in the kitchen of the all-new Autograph
---
Moving inside, interior décor, featuring the trademark Bailey 'Mendip Ash' finish, has been expertly refined with new cabinetry and furniture featuring elegant curved profiles, dual-finish Italian design overhead locker doors, 'Slate Grey' marble finish worktops and polished chrome fittings to enhance the feeling of quality and style. While new design elements such as the ergonomic kitchen units, with a contrasting overhead locker system and a Perspex splashback, plus the upgraded LED ambient and task lighting give the new Autograph range the all-important wow factor.
Every model also comes with a choice of either standard 'Farringdon' or optional 'Portobello' luxurious soft furnishing schemes, featuring sprung seat bases for enhanced comport, both of which come supplied with new curved corner back-rests and removable head rests (model specific).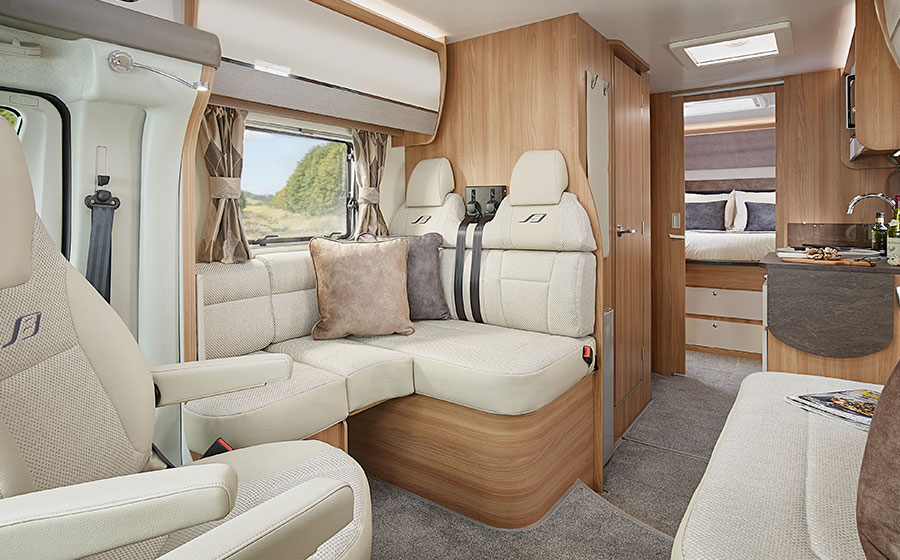 Standard 'Farringdon' upholstery in the Autograph 79-4I
---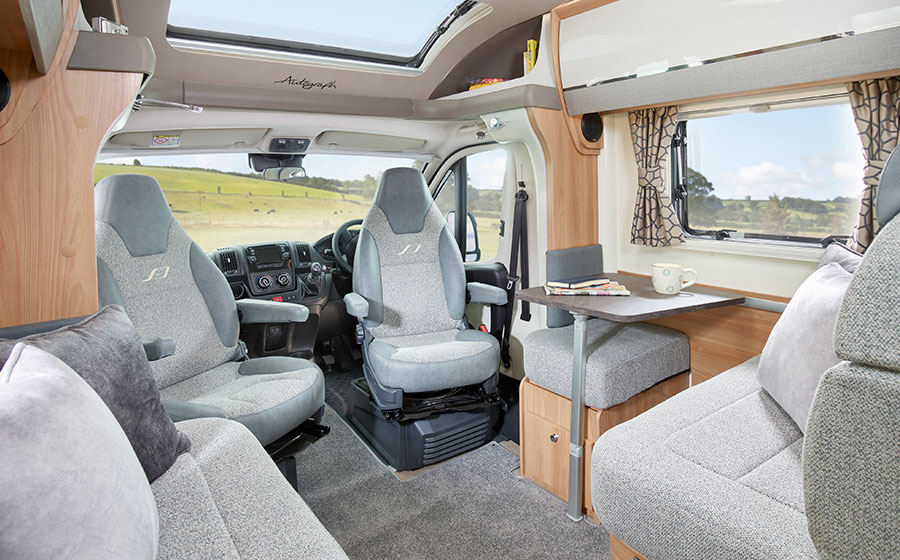 Optional 'Portobello' upholstery in the Autograph 74-4
---
Visually the Autograph cab interface has also received a complete re-design to ensure a seamless transition between the driving and living spaces. Where fitted, the full width over-cab skylight has a stylish new backlit surround, whilst there are also new front corner storage pockets and twin flexible reading lights with integral USB sockets.
All vehicles are fitted with a fully specified Alde programmable radiator heating system which allows you to holiday no matter the time of year. This combined with the market-leading thermal characteristics of the Alu-Tech body shell makes Autograph a genuine all-weather motorhome, a fact confirmed with the achievement of the highest rating for thermal performance (Grade III Classification of EN1645-I) in rigorous cold chamber testing.
Fully equipped kitchens now include the new Thetford Caprice combination oven and grill plus the dual-fuel hob with electric hotplate as standard, while the larger models* in the range also benefit from the introduction of the Dometic 10-Series 153-litre fridge freezer with universal handed door mechanism.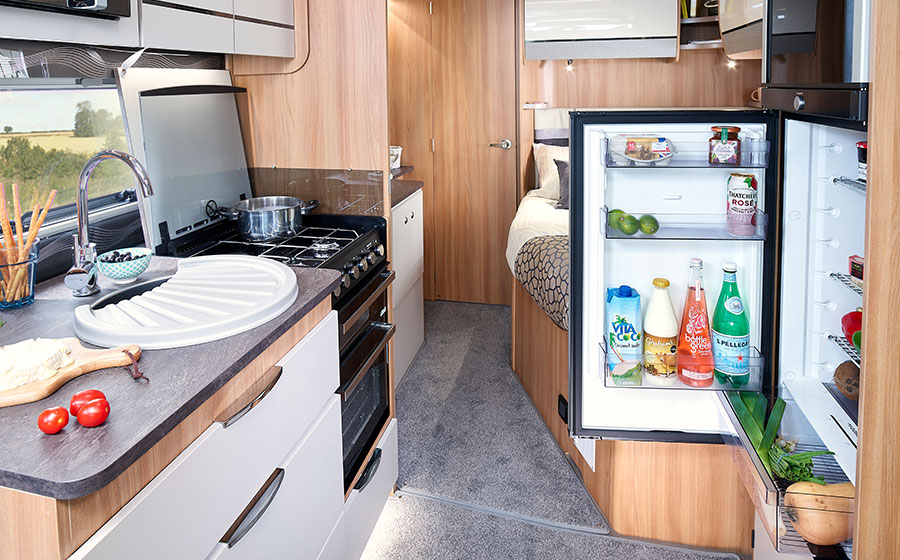 The new Autograph kitchen comes fully-equipped
---
Models from the new Autograph motorhome range will begin arriving on Approved Bailey Retailer forecourts from early October onwards. The full eight-model range will also be on display at the Motorhome & Caravan Show 2019 (Stand 25 Hall 19) from Tuesday 15th – Sunday 20th October.