Our sizzling summer holiday took us on a tour of Switzerland, via France, in scorching hot July, so the roll-out awning on the Autograph 75-4 was worth its weight in gold as we spent so much time outside and needed some shade.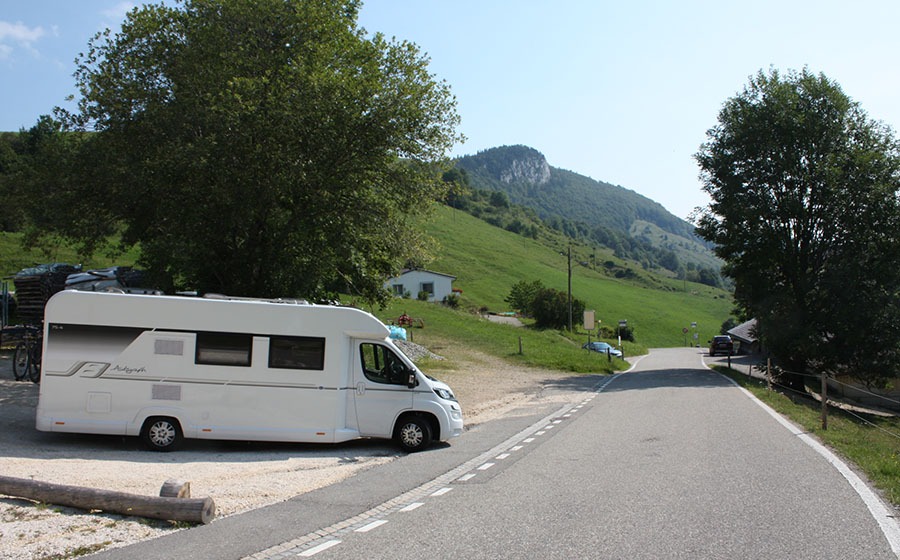 ---
Switzerland is one of our favourite places to go in a motorhome as we always know we can leave our home on wheels at the campsite and rely on its ultra clean and reliable public transport to get us out and about. We also took our bikes as Switzerland seems to have loads of bike routes, too.
Before crossing the channel, we stopped to spend a wonderful day at the Goodwood Festival of Speed looking at all sorts of old, exotic and new cars. Our highlights were the beautiful McLarens, closely followed by an imposing Rolls Royce (or two), including the first public debut of its rather grand Cullinan off-roader.
Back to reality, and after a hot and dusty day, we enjoyed a snack in the motorhome while watching everyone else queuing to leave. We weren't in any rush as we didn't have far to travel from Goodwood to Portsmouth to catch our overnight ferry to France.
The awning was out about two seconds after we arrived at Castel Camping Chateau de l'Epervière in the Burgundy region of France. It only takes minutes to pitch a motorhome, so as quickly as you can say "I've connected the electric hook-up", and the time it took to post a photo of our fabulous pitch on Instagram, we were changed and off to the swimming pool.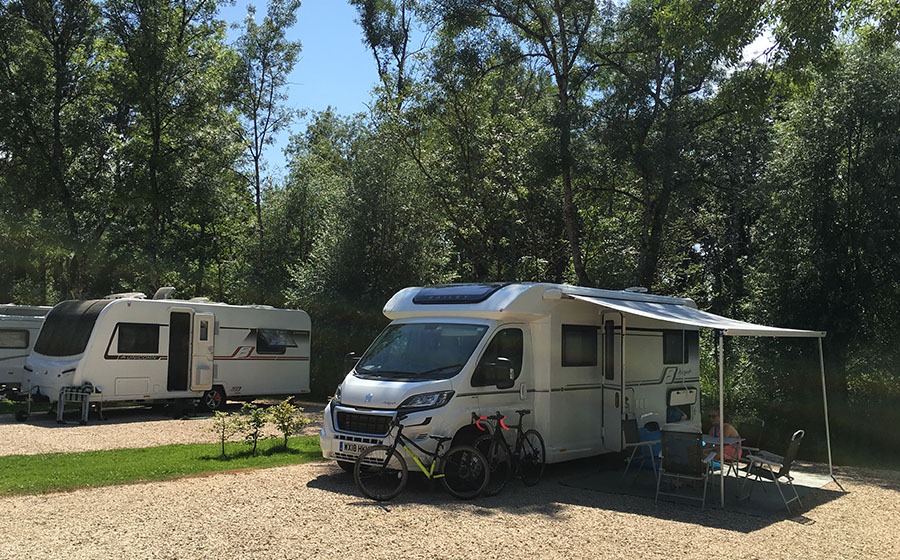 We have stayed here several times as we like its high standards, large pitches, picturesque setting and rural feel, despite being convenient for the motorway. In fact, I stayed here in 2018 with the Bristol to the Bosphorus team on the first stop of the Bristanbul adventure.
Switzerland beckoned, and we had booked two different sites. This time we stopped in the Alp-free central region around Solothurn (south of Basle), before dropping down to Lac Lausanne near Geneva.
The most popular part of our holiday was going to the outdoor swimming pool centre next to our campsite in Solothurn.
With three outdoor swimming pools, diving boards, tunnel slide, and the adjoining river, the children were so happy here that they wanted to go to the swimming complex every day – and did. It also had a restaurant, volleyball area, outdoor chess and large grass areas for relaxing or picnics.
On the day we left, we took the motorhome to a Swiss equivalent of Go Ape – the Balmberg Rope Park. We'd called to check they had plenty of parking for motorhomes, but they didn't mention that it was on the top of a hill, so the steep and twisty approach took us a bit by surprise. After going way out of our comfort zones on the challenging tree-top ropes and zip-wires, and getting soaked in a thunderstorm, we were glad to have dry clothes in the motorhome to change in to.
The weather wasn't so good by the time we reached our second site on the edge of Lac Léman (Lake Geneva) in Switzerland, so we left a day early and spent an extra night in France on our way home. Having that sort of freedom and flexibility is what makes a motorhome perfect for touring Europe.