With an ever increasing number of younger families turning to motorhoming Marcus and Kim, parents to two small children and regular travellers in their motorhome, share some of their top tips for making the most of your trips when travelling with young children when restrictions are eased and it is safe to do so.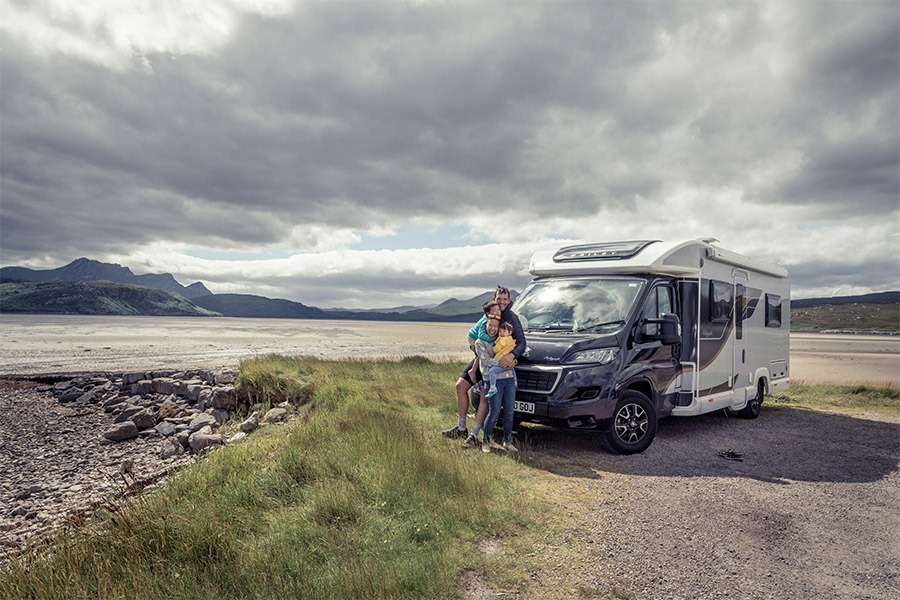 When we discovered we were going to be parents we knew that certain aspects of our life would change, although one area that we were determined to keep the same was travelling.
Both Kim and I have always loved seeing the world, immersing ourselves in different cultures and expanding our horizons. It's a passion that we wanted to share with our children, even if that means our motorhome trips are a little different to how they might be if it were just the two of us.
Not that we mind, as some of our happiest memories as a family have come when we've been away in the motorhome. However, it's not always been plain sailing, and we have had to learn and adapt as we have gone. With that in mind we wanted to share some of our learnings and advice that can hopefully ensure you have the best possible time away with your little ones.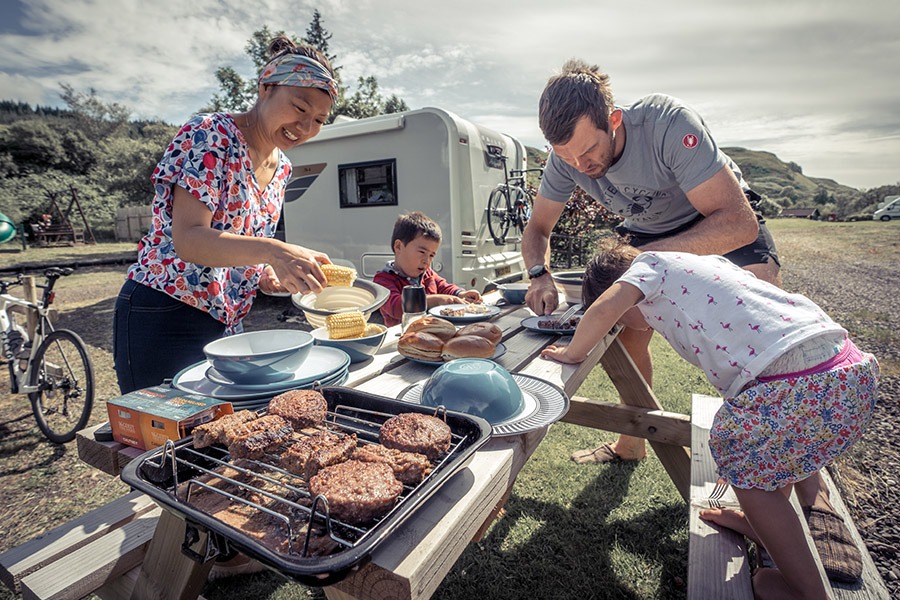 Marcus, Kim, Harrison and Dorothy enjoy a feast together
---
Be Prepared: This might sound pretty obvious, but we were anything but prepared in our first few trips away as parents. First of all, remember that with plenty of space there's no reason not to pack for all eventualities. From toys, books and games to clothing for all occasions, bikes and fishing rods, there's room for it all. The key for us is having everything we need to ensure the kids are entertained, especially on rainy days.
Car Seats. If you are travelling with babies and/or toddlers then you need to make sure you have the right car seats. Not all motorhomes come with Isofix attachments so you will need to ensure your car seats can be fitted using seatbelts. We use Britax Romer seats for Harrison and Dorothy. Some motorhomes only have lap belts at the back, in which case you can use the passenger seat but do remember to disengage the front air bags.
Don't be in a Rush: Remember that children experience the world at a different pace to us adults so don't try and fit too much in each day, and be prepared to go at their pace. We have found that we can drive a maximum of around three hours a day when on a longer road trip, and only aim for one main activity a day to ensure we really enjoy it.
Marcus and Dorothy take to the swings
---
Keep it Simple: For all of the grand activities it is often the simplest things that are the most rewarding and memorable for kids, so don't over-think it. Strolls along the beach, bike rides on family trails or hours spent crabbing in ports are more than enough fun for little kids. For our children the fact that we are in the motorhome is an adventure in itself, just being away together.
Change Your Perspective: If travelling with children has taught us anything then it is to see the world through their eyes, which is a very different view to the one we have. In doing so we rediscover the magic that can be found in the simplest of things, we spark our curiosity for the world around us and begin to live in the moment a lot more.
Involve Them: Children want to help and feel a part of things, which is why it is really good to give them responsibilities that they can take ownership of. Harrison loves doing the drying when we go to wash our dishes, and Dorothy likes to help put everything away, even if it takes a little longer this way. So long as you make it fun they are happy to get involved. It's also good to include them in the planning of trips, as after all the trips are as much their holidays as they are ours.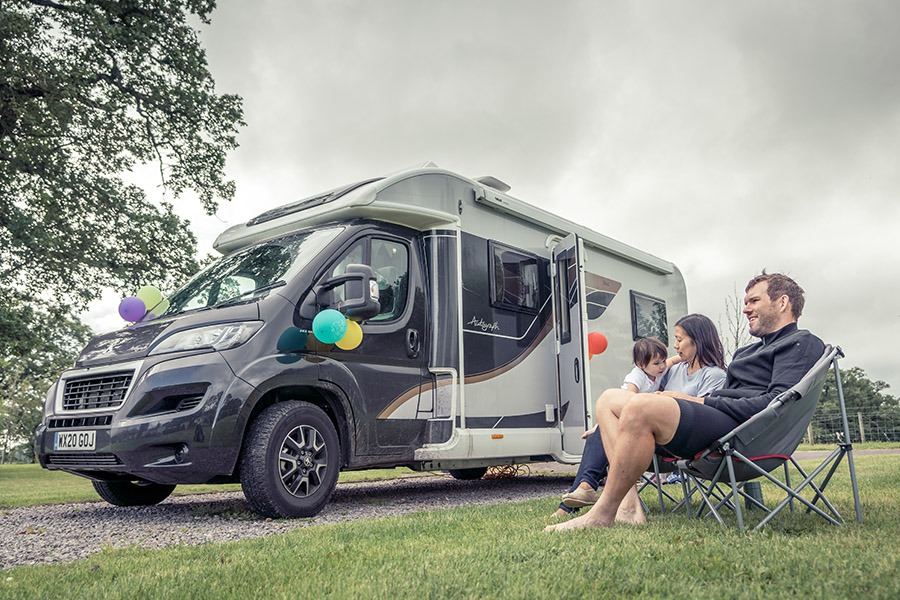 Marcus, Kim and Dorothy enjoy some downtime
---
Plan Ahead: No matter how long we are going away for, be it a few days or a few weeks, we always have a rough day-by-day plan to go by. It includes places to stay, visit and eat, as well as any fun stuff for the kids. That's not to say we are not flexible with the plan, as some of the best moments of trips are the impromptu ones, but it helps to have an idea of what is happening.
Make the Drive Fun: As adults we love the driving side of trips, pottering along and seeing the world from our higher vantage point. Journeys for kids are not so much fun, unless you make them fun for them. We always have a driving playlist of songs that we all love and can sing along to, a few fun and interesting facts about where we are going and little games with rewards; such as the first person to spot ten red cars gets an ice cream – they needn't know we are having ice cream anyway because we are on holiday!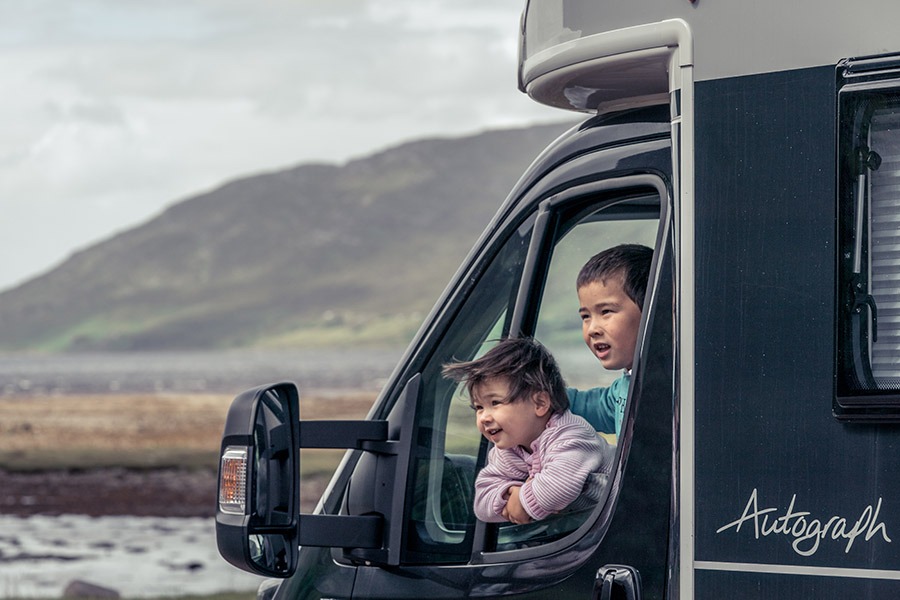 Harrison and Dorothy in their Autograph 74-4
---