The Wye Valley is a treasure trove for campers. Spanning two countries this Area of Outstanding Natural Beauty has a huge variety in activities to offer and plenty of camping options regardless of how you like to spend your time in the outdoors.
Designated as an AONB in 1971 due to its spectacular limestone gorges, native woodlands (forming part of the ancient Forest of Dean), interesting geology, rich wildlife (including nesting peregrine falcons and the densest population of Otters in Britain) and a long line of history including iron age hillforts, Norman castles, medieval dykes and Tintern Abbey, the first Cistercian Abbey in Wales. The landscape, with its hills, fields, forests, cliffs, caves and the River Wye mean that there is a huge variety to keep every one entertained.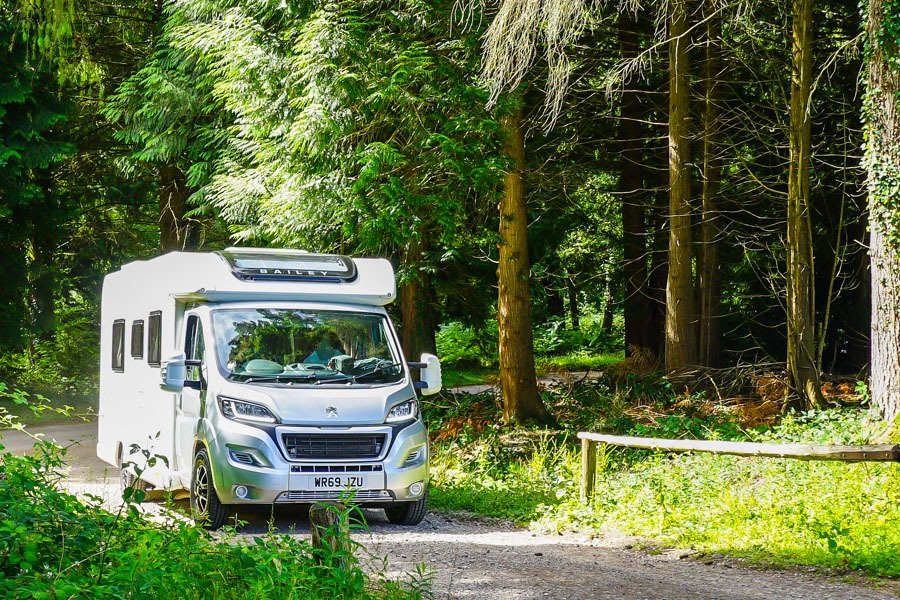 Outdoor activities 
Walking
As well as the Walkers are Welcome annual walking festival and 100s of forest paths and trails the Wye Valley is also is home to many longer, signed paths (which you can do short sections of) including:
The Wye Valley Way – Beginning in Chepstow this walk follows the river for 136 miles. See www.wyevalleywalk.org or more information.
Offa's Dyke Path – Following the ancient border of Anglo-Saxon territories this walk is one of the UK's official Long-Distance Paths and will take you from Beachley on the banks of the Severn Estuary 177 miles North. For more info see www.nationaltrail.co.uk/en_GB/trails/offas-dyke-path/
There's around 30 downloadable maps for shorter walks available here.
And, to help you decide which walks to complete, some of the best views (and in the Wye Valley competition is high) can be found here.
Climbing
Wintours Leap and Symonds Yat, as well as the many disused quarries, allow climbers, from beginner to expert, to have some vertical adventures. There are plenty of outdoor activity companies who can teach and guide you on the imposing limestone cliffs of the Valley.
Canoeing
The River Wye is the most paddled river in Britain. Owing to its sedate pace (in right conditions) and the lack of any technical or dangerous sections (e.g. no rapids, weirs, narrow gorges or waterfalls) means that it's easy to get started here. There is also many, many canoe hire companies on river especially around the highlight of Symonds Yat, Ross-on-Wye and Monmouth. Canoeing is a great way to get a different view of the valley – from the true centre of the landscape.
Cycling 
The forest that edge the river Wye provide mixed tracks from cyclist from casual trips to serious mountain bikers. You can hire bikes and get trail maps from various locations. See www.wyedeantourism.co.uk/cyc for more into.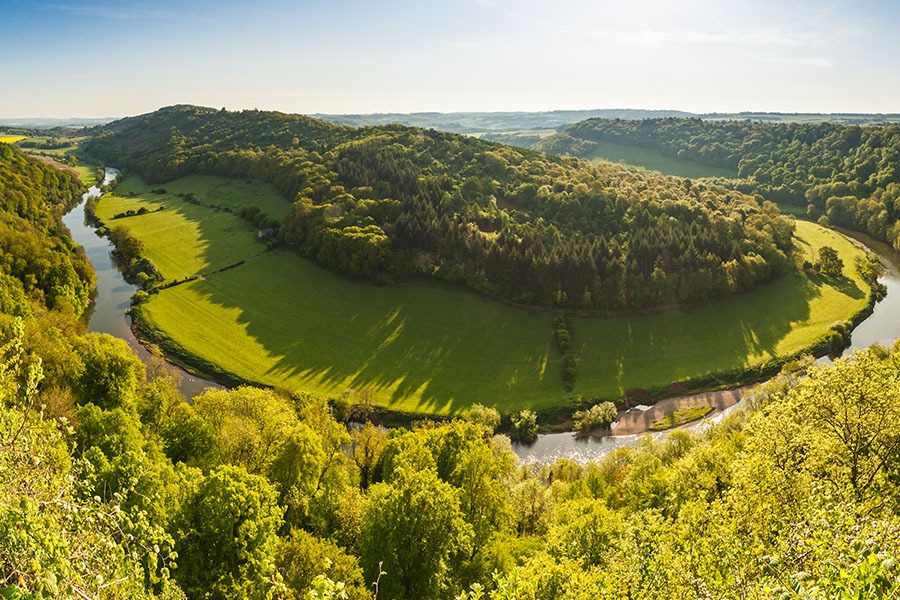 River Wye
---
Historical Places to visit
There is a great deal of history in this landscape from Iron Age forts, Roman ruins, Anglo-Saxon embankments, Norman Castles, Medieval Churches and workings from the Industrial Revolution. Below are some examples of the more popular attractions:
-Offa's Dyke – Parts of this Anglo-Saxon ditch and wall, which was meant to run the full length of what is now the Welsh-English border, can still be discerned in the landscape and it gives its name, and parts of the route follows the dyke, to the Offa's Dyke Path.
Tintern Abbey – A national icon this impressed Abbey was built in the 12th Century and, despite being subject to the Dissolution of the Monasteries in the 16tt Century, a great deal of it still stands today. The subject of many a painting and poem may have as much to do with its picturesque river-side setting as much as the extant ornate architecture.
Chepstow Castle – This Norman Castle, constructed in 1067, is the oldest post-roman structure still standing in Britain. And there is plenty of it still standing.
Hillforts – There are at least 9 pre-roman hill forts dotted above the Valley dating from about 700BC. In fact you can walk between two of the most impressive when you pass between Little Dowards and Symonds Yat Rock.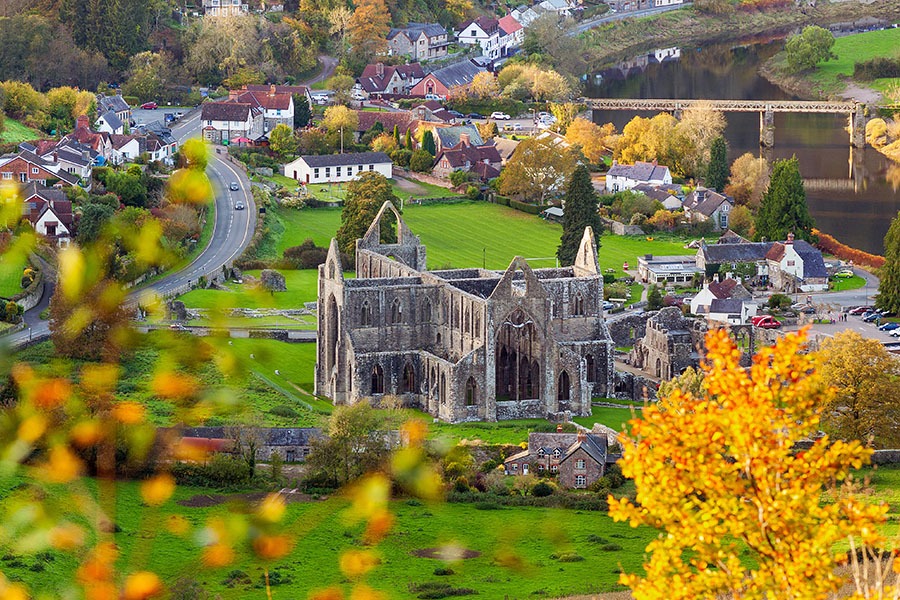 Tintern Abbey
---
Camping Options
Your choice is plentiful. In and around the AONB there is at least 40 different campsites. From small ones tucked away in dense forest to open fields, high on the tops of the valley slopes commanding view across the river and Tintern Abbey. Both the Camping and Caravanning Club and Caravan and Motorhome Club have a number of sites in the Wye Valley as well as plenty of independent dedicated campsites or extensions of farms. But the number means competition, and therefore standards, are usually high.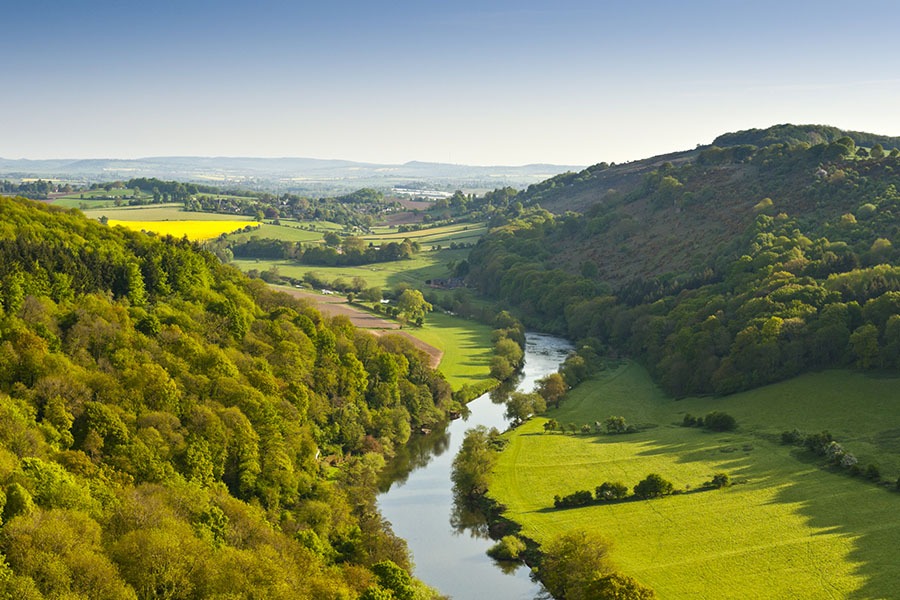 PLEASE NOTE 
Be aware that those parts of the Wye Valley in England and Wales are under different COVID 19 rules. However, the campsites in England will open up for self-sufficient campers  on the 4th of July and in Wales on 13th July. Some campsite say they may try to open public toilets but if you're travelling by caravan or motorhome you're self-sufficient so you'll be ok either way.
You can find further guidance here and here.
And find information about which Forestry England carparks and toilets are open here.