The freedom to roam far and wide with the 'Snowbirds'
One of the things about owning a motorhome is the freedom you just wouldn't get from a package holiday… it's about being able to go wherever (and whenever) you want.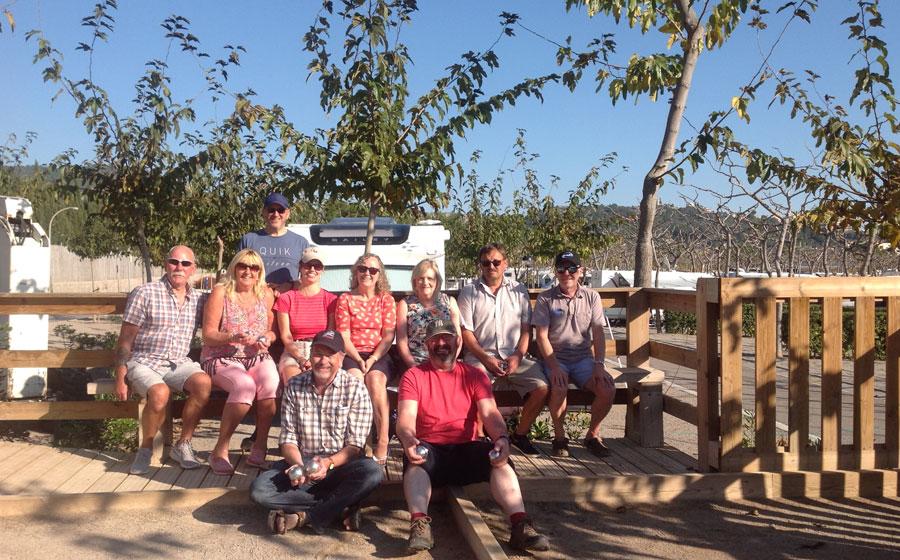 ---
This is why people venture south to the Mediterranean for some winter sun.
These travellers are commonly known in the motorhome world as 'snowbirds', people who travel south from the UK to escape the cold winter.
As Hazel and I were travelling through Portugal on our extended adventure, we noticed that the Bailey motorhome owners group (BMOG) were holding a meet-up on a campsite in Benicassim, Spain. So we decided to head there to meet like-minded people and share experiences with fellow Bailey owners.
Over three weeks, up to seventeen Bailey of Bristol motorhomes came and went. We had great fun socialising, playing pétanque, going on bike rides and having BBQs. To get a taste what life on the road is like, we got the thoughts of some of the people we met.
Here are a few of the motorhomers thoughts of life on the road.
Keith and Linda Matthews –Somerset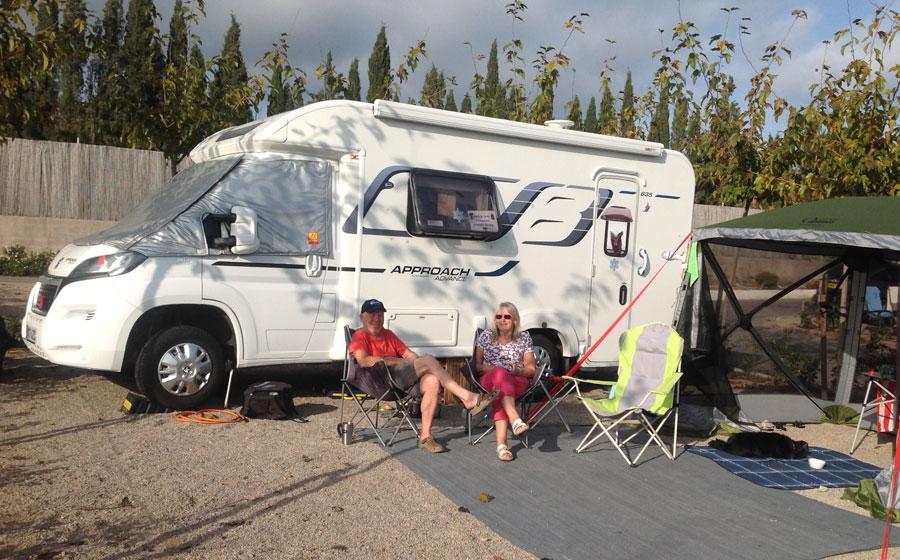 We are a retired couple in our late sixties and early 70s; we have found that for us, motorhoming is all about the freedom. With our home on wheels, we can go off whenever we want to wherever we want – be it in the UK or further afield. Our motorhome is our world and long may it continue!
We have met so many lovely people on our travels, which we would never have met had we not had a motorhome. So many of the people we know will be friends for life and we think, "How fortunate are we to have met these people."
William and Morag Mitchell - Aberdeenshire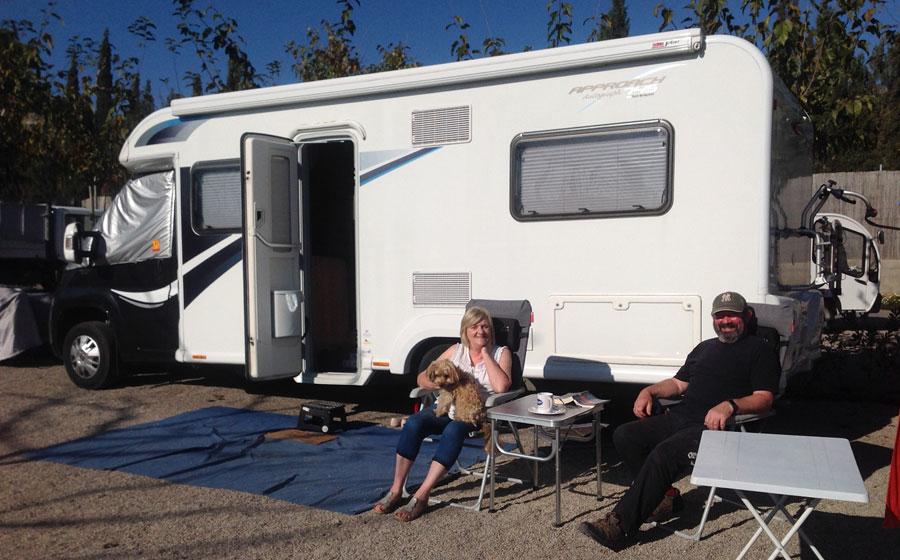 We decided to take up an invitation to attend a meeting with fellow Bailey Motorhome Owners at Bonterra Park in Benicassim, Spain. After all, who wouldn't want a winter break in sunny Spain?
We set off on November 23rd 2018 in our 2016 Bailey Autograph 745 along with our dog Jools, a cross Chihuahua Yorkshire Terrier (Chorky). We travelled almost 600 miles from our home near Peterhead in the North East of Scotland, with three stopovers en route, to board the Eurotunnel Shuttle to Calais in France on 26th November.
Our Bailey is no stranger to long trips in Europe as we have travelled to various destinations over the past few years – Holland, Germany, Italy, Croatia and Slovenia to name a few. However, this is our first visit to Spain in our motorhome.
We always feel confident driving far and wide, as we trust our Bailey and have had no issues so far on our travels.
After a smooth journey across the channel to Calais, we disembarked and set off on our road trip down through France to Somport Tunnel and into Spain. Crossing the Channel into France, we noticed how level the roads were, it made our journey smooth.
Having met up with fellow Bailey Owners, we decided to extend our stay. We subsequently made new friends and exchanged advice and tips on travelling Europe.
After leaving Bonterra Park, we parked up in Castellon on an aire next to the beach. Having travelled in the motorhome many times, we have always found it to be well equipped for 'wild camping'.
At the time of writing, we have clocked up 2,274 miles since leaving our home on 23rd November and we have calculated that we are doing approximately 29 miles to the gallon.
In a few days, we should be heading off further down to the South Coast of Spain.
Candy and Mark Hales – Cheshire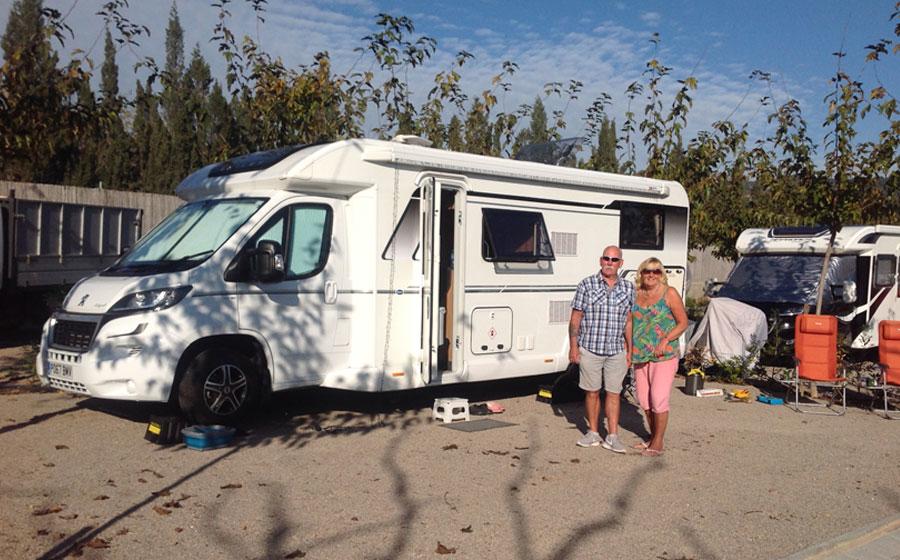 Candy and I got the bug for travelling and exploring Europe many years ago.
We started our adventure on a motorcycle – using a tent for accommodation. As we aged, we progressed to staying in hotels.
We always enjoyed the freedom of camping but wanted the luxury and comfort that a hotel room provided. Subsequently we decided to buy an old caravan to identify the pros and cons of caravanning before splashing out on our perfect second home.
After visiting many caravan and motorhome shows, we ironed out almost all the pros and cons and purchased a Bailey Autograph 79-4T as the layout met all of our requirements.
We have owned the Bailey for 15 months and in that time, we have toured France, The Czech Republic and Spain. In Spain, we met up with the BMOG in Benicassim and all had a fantastic time!
The motorhome works perfectly throughout our travels and we are looking forward to many more years exploring and meeting like-minded people!