The desire to hit the open road: Our first trip of 2021
I believe I wrote, at least twice last year that "the campsites were open". But after three separate lockdowns it looks like this will be the final time. And as much as my trips and adventures over 2020 in our Bailey Alliance SE Motorhome were a fantastic release from the confines and frustrations of restrictions and isolation, this time it felt more needed than ever.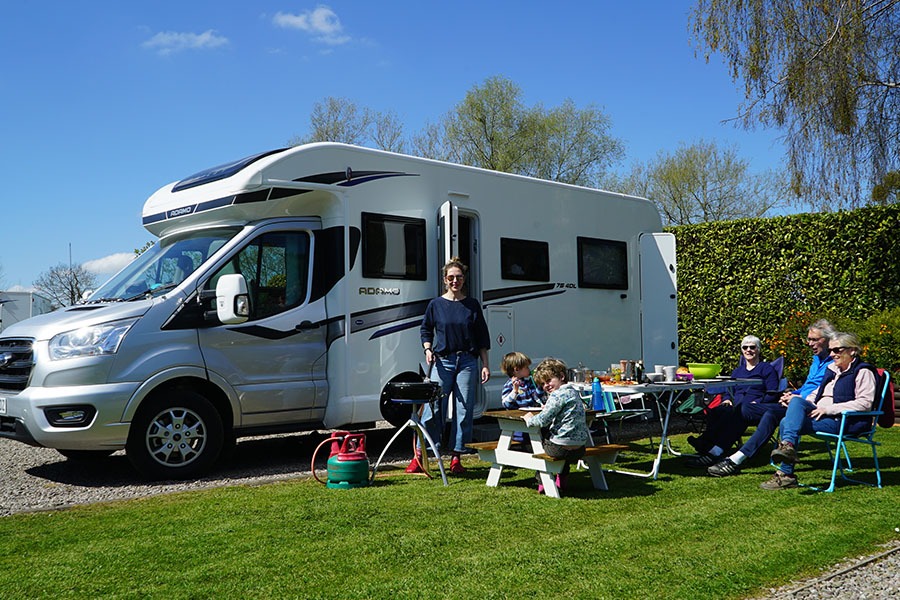 Enjoying the sunny weather on their first trip of 2021
---
I think resilience is a finite resource. And by this last, the third, lockdown coming as it did during a long, cold and dark winter on top of a challenging twelve months, I had had enough. The desire to hit the open road was overwhelming so when the first campsites in the UK opened their gates on April 12th, I was already packed and booked in for a week. Initially most sites could not open toilet or shower blocks so only truly self-sufficient units like motorhomes and caravans were allowed entry. I was thankful I'd upgraded my old campervan to a motorhome over a year ago.
It was as much a family reunion as it was a camping holiday. In the Lucksall Park site near Hereford we met with Bex's parents and their caravan. My Mum was down from Scotland and this week was to be her 70th Birthday. With the restrictions still a fair way from being totally lifted it was not the extravaganza we had hoped for but she spent it with us and her grandchildren, as with many families across the country neither set of grandparents have seen much of us or the kids in the last year.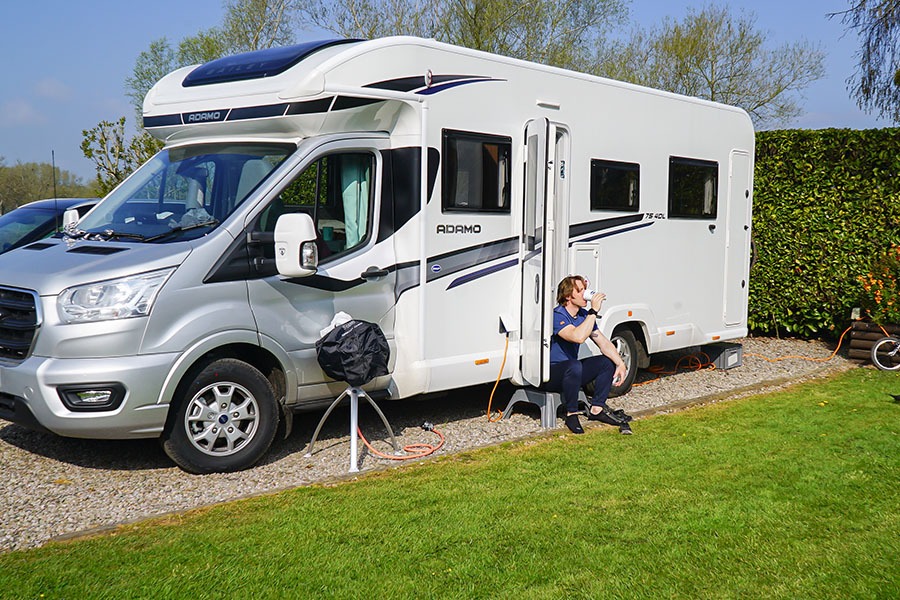 Andy enjoys the morning sun at the Lucksall Park site
---
Fortunately, just before the trip we'd picked up our brand new Adamo 75-4DL motorhome. With the potential to have four double beds, it had plenty of sleeping space for three adults and two children. The Adamo also offers two separate lounging spaces. I had my eye on the horseshoe shaped sofa at the rear as the adult 'VIP' area but it seems the kids had other plans and they naturally migrated to this spot.
However, this left us with the area up front and its electric table which can be raised to become a dining table and dropped to become a coffee table. I should also add that two of the double beds magically descend from the ceiling and return there when no longer required (it may be electrical… but it seems like wizardry to me). This made switching from bed to lounging mode extraordinarily fast and simple. Something much appreciated at sunrise when I just wanted the beds to disappear so I could sit with my coffee and wake up.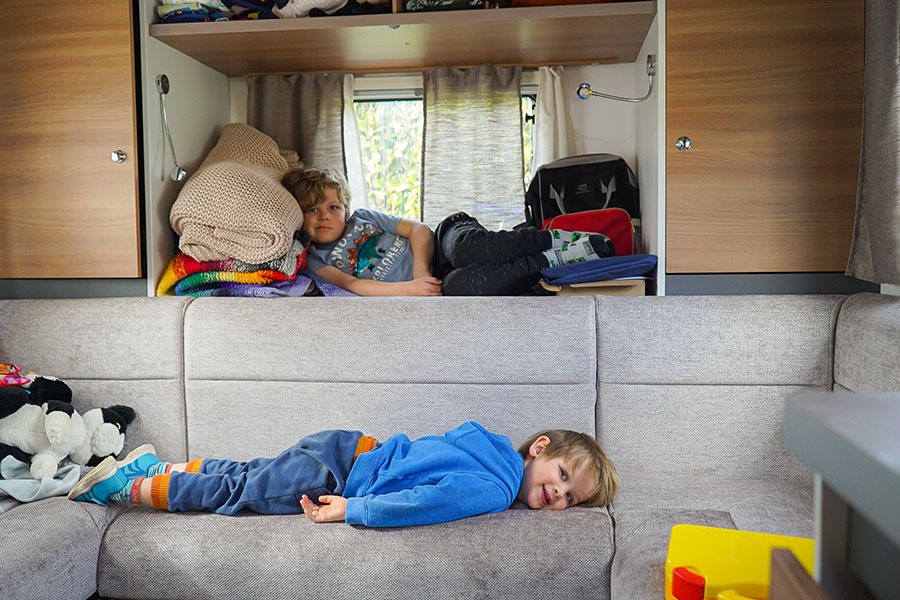 Andy and Bex's two sons lay claim to the rear lounge of the Adamo75-4DL
---
We played by the river and went for walks in the woods. But we live by a river and woods at home and yet it felt like a new and exiting adventure. There's something about being away in the motorhome, at least for us, that makes everything more exciting and relaxing. Cakes were baked on the cooker in the motorhome, dinners were cooked on our Cadac barbeque in the sunshine, everyone surrounding us were friendly and shared our happiness at finally being allowed to get out camping again. It was a great reminder or why we camp. Myself, Bex and the two boys have spent almost every day for the last year locked up together and yet spending the week with those same three people, but in our motorhome, felt like a different world and allowed us to reconnect with ourselves and each other.
The Adamo feels like a boutique hotel to me. It proved perfect for three generations. Now I am looking forward to taking it away next week on a solo trip for some freediving filming work… and finally being able to use the 'VIP Room' for the purpose I had intended.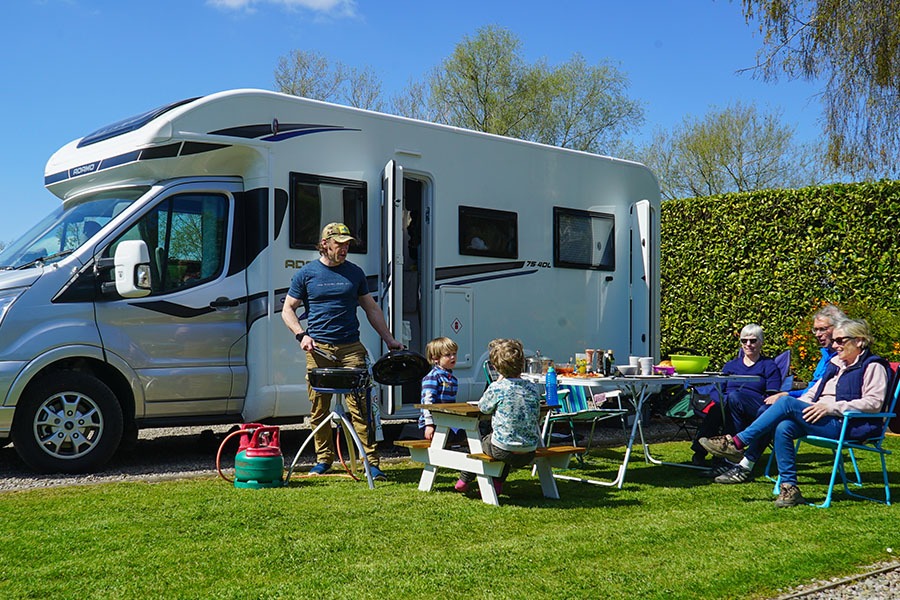 Andy cooks up a feast on the Cadac barbecue
---