Testing Times, Part 2: Simulating Six Years of Touring
Before its July launch, the new Bailey Unicorn 5 underwent a rigorous testing schedule. Last month's blog instalment covered the extreme temperatures encountered during the Grade 3 heating and insulation test, where the Alu-Tech bodyshell and ALDE heating system were put to the test at -24°C. This month we delve into the structural challenges a new model can create and the accelerated six-year life test conducted before a new range of caravans can be delivered to your local retailer.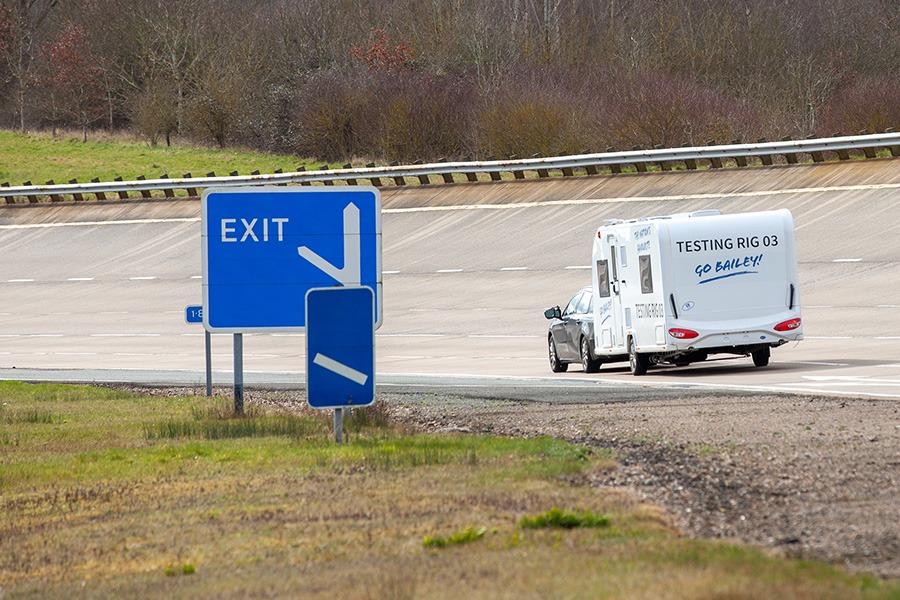 The new Unicorn at Millbrook testing grounds
---
As we know, Bailey Unicorn owners are a hardy bunch, many of whom enjoy extended tours across Europe (and beyond) as well as the UK, so testing structural integrity is paramount. The most obvious Unicorn 5 feature – the all-new infinity window – requires a larger aperture, something which, taking a belt and braces approach, needs to be tested under extreme conditions. Bailey's design department ran numerous calculations based on strength and rigidity, but nothing beats a real-life towing test, one so intense it simulates many years of touring.
Condensing six years of caravanning into a workable testing schedule requires a course like no other, and that's why the world-famous Millbrook Proving Ground is used. Home to The Caravan and Motorhome Club's Towcar Competition, as well as the Aston Martin stunt scene in Casino Royale, many miles of ribbon-like tarmac wind their way around the Bedfordshire circuit. Camo-clad prototypes dart here and there, accompanied by a wide range of vehicles, each more bizarre than the last.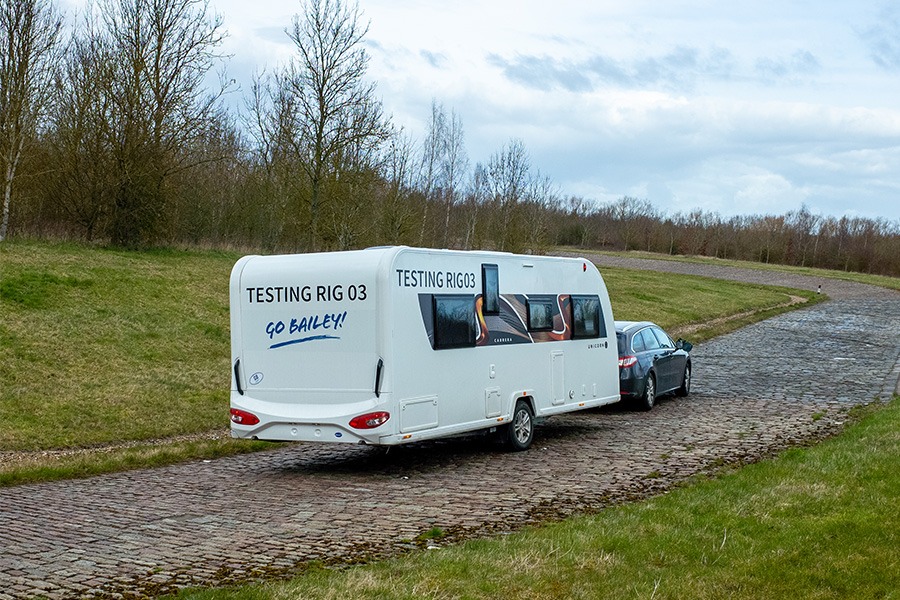 The Millbrook course includes all types of roads that simulates the various conditions a caravanners could encounter in real live
---
Understandably, the exact nature of the test is a closely guarded secret. Still, the route includes Belgian Pave, kerb strikes, Alpine hill routes, twist humps, pothole strikes, a handling circuit, and the intimidating high speed 'bowl', with sides so steep, it appears to be a caravan-sized Wall of Death. A few years ago, I was (un)lucky enough to join one of the teams for a course tour. One lap is uncomfortable, two prompts an appointment with a chiropractor, while a third detects any loose fillings that have been 'flagged' by your dentist. The exact number of laps is confidential, probably due to said regime taking many years to perfect, but suffice to say that combined circuits would need to be counted on the fingers of many football teams.
To make the test as realistic as possible, the Unicorn 5 is ballasted to represent the holiday essentials we all pack, meaning a 'holiday ready' Unicorn is shaken and stirred along each and every mile of the Millbrook course. Unsurprisingly, the testing timetable is split into shifts, with visual inspections being conducted during each shift period.
Paperwork is critical during such a test, and in addition to the visual checks, critical test inspections are carried out at the beginning and end of the schedule, key fasteners are indexed and checked for movement, and once the test is complete, a final report is used. Should certain aspects need to be monitored throughout, support is on hand from a test engineer.
What began as a significant redesign of a caravanning favourite ended with the 2022 Unicorn 5 successfully standing up to everything that the six-year accelerated life test threw at it. So, the next time you're enjoying the scenery through the Unicorn 5's all-new infinity window, spare a thought for the design and testing teams who made sure that Bailey's newest addition to the range will allow you to tour in comfort for many years to come.