Store or Tour? 30 Tips to Winterize a Caravan or Motorhome, or Enjoy Winter Touring
Chilly conditions needn't halt exploration plans as leisure vehicles are incredibly adaptable and more than capable of winter touring. However, should storage beckon, preparing your caravan or motorhome for winter hibernation is a vital thing to do. The following guide shows you how to drain, prepare and store a caravan or motorhome, or, for those who enjoy four-season touring, we'll include a few tips that make wintry trips a breeze.
Caravanning in Winter.
---
Storing a caravan during winter: Here's how
• Drain the hot and cold water systems. Turn off the pump and open the drain valve (usually a yellow toggle switch next to the heater). Open all of the taps inside your caravan or motorhome, including the shower. Position the tap in the middle, allowing both hot and cold to remain open simultaneously. Draining the system before returning home, or reaching the storage yard, will aid the emptying process. However, it's illegal to discharge water onto the carriageway, so don't open the drain valve before joining the M5.
• Fresh water tank. If your caravan or motorhome has an inboard fresh water tank, turn off the water pump and open the taps. Open the water tank drain valve.
• Motorhome waste water tank. Open the drain valve.
• Aquaroll. Empty and unscrew the top before storing. Ours live in the shower when not in use.
• Emptying the toilet flush – reservoir inside toilet unit. Open the external toilet door and find the black pipe that's usually located inside the upper edge of the door frame. Unhook the pipe and remove the stopper. Drain until empty.
• Emptying the toilet flush – fresh water. Once the main water system and tank have been drained, operate the flush until empty.
• Emptying the toilet cassette. Empty in the usual way, making sure to clean it thoroughly. Some folks leave the toilet 'blade' open, while others close it. If closing, lubricate the doughnut-shaped seal with Thetford Seal Lubricant or olive oil.
• If you have an inboard water filter, moisture can sit next to the threads, cracking the housing if it freezes. Either remove the filter or change before using again.
• Alde heating? This is a wet system that contains antifreeze and should be checked/serviced at the specified intervals. If necessary, DIY checks can be made from the expansion tank with a hydrometer. Alde antifreeze can be purchased separately.
How to Drain Caravan Flush.
---
• Batteries dislike cold weather and unless a solar panel is providing a trickle charge, or your security precautions require a permanent 12-volt supply, it may be prudent to remove it and store within a warm(er) part of the garage. Keep it topped up by charging every few weeks. Milenco make a handy charger/maintainer.
• Turn gas bottles off.
• Keep the fridge and freezer doors ajar. The fridge may have a storage catch that secures the door and provides sufficient airflow.
• Tyres. Inflate to the correct pressure and check overall condition. It's also a good opportunity to check the tyre's date of manufacture, which can be found on the sidewall in a four-digit (week/year) format. It's good practice to change the tyres every 5-years.
• Leaving the blinds down for extended periods can weaken the internal springs. If you'd like to screen the inside of your caravan, it may be better to close the curtains.
• Moisture traps that use dehumidifying crystals can be extremely effective and remove surprising amounts of water from the air inside your caravan. Some may need regular checking and maintenance.
• Lubricate external locks, hinges, and catches with WD40 or similar.
• Motorhome. Check antifreeze and oil levels in the engine bay.
When Do Caravan Tyres Need Changing?
---
Leave Caravan Fridge Door Ajar During Storage.
---
• Give the inside a thorough clean. Forgotten crumbs or unseen spillages can become mouldy if left unattended.
• Seats. Airflow is your friend, so pull the seating/bedding cushions an inch or so away from the wall.
• Clean the exterior of your caravan or motorhome, especially if you plan to fit a cover. Various cleaning products are available, but Prima Leisure offers an exclusive bundled deal.
• To cover or not to cover. Breathable covers keep out the elements surprisingly well but make sure it has a soft inner layer to prevent scratches. Only fit if your caravan or motorhome is clean as road grime is an effective abrasive. Don't forget to cover your caravan hitch as well.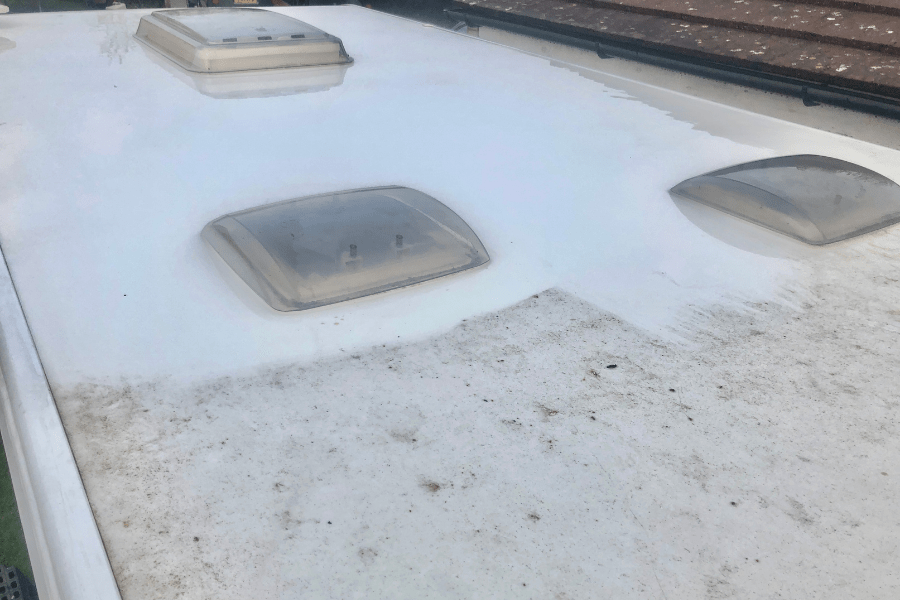 Clean Caravan Roof.
---
• As well as being a likely insurance requirement, Security products will help your caravan or motorhome stay put.
Caravan Wheel Lock.
---
Four-Season Touring? Tips for using your caravan during winter
Every Bailey caravan or motorhome benefits from a rigorous development programme that includes a punishing regime of extreme temperature testing. The insulating properties of the outer Alu-Tech shell, coupled with a carefully designed heating system, ensure that the Grade 3 classification is exceeded. Having tested this cold weather performance inside Truma's cold chamber at -30'C, as well as during a trip 300km inside the Arctic Circle, the following tips will help maximise your winter trip potential.
• Booking a site. Many sites remain open during winter, and these can be found with a simple online search. Both UK clubs – The Caravan & Motorhome Club and The Camping & Caravanning Club – allow folks to search sites with a specific range of dates, as well as location.
• Gas. Propane (red Calor bottle) is a great winter gas as butane (blue Calor bottles) struggles to work efficiently below -2'C. Should you be using refillable gas bottles such as Gaslow or Safefill, most LPG gas is propane, or a mix with a high propane percentage.
• Water. As we all know, water freezes at sub-zero temperatures, affecting external water systems such as Aquarolls and Wastemasters. However, insulating jackets are available which can prolong your Aquaroll's touring season. If you haven't got an insulating jacket, a 'heavy coat' zipped around the Aquaroll can suffice, especially when the water pipe is passed through one of the arms.
• The loo. Thetford state that correctly diluted loo chemicals can prevent toilet cassettes from freezing at temperatures as low as -20'C!
• Attend to any outside jobs (filling the Aquaroll, emptying the Wastemaster, etc) before it gets dark. Or, as I often forget to do this, pack a torch or head torch.
• Tyres. During the Bailey of Bristol Arctic Adventure, we fitted winter tyres to car, caravan and motorhome. These made a huge difference when the going got tough.
• Destinations. Many beaches lift restrictions for dogs during the chillier months, meaning you can enjoy many miles of relatively empty beaches with Fido. Should the weather prove 'challenging', underground attractions such as Wookey Hole maintain an even temperature all year round.
• Don't forget, should temperatures fall between trips, you'll need to drain the water system and toilet flush. This procedure can be found in the section above.