Chrissie Wellington OBE, four times Ironman World Champion and Global Lead for Health and Wellbeing for parkrun took a Bailey Autograph 74-4 on a three-week tour of Scotland with her husband Tom and daughter Esme.
Last year my husband Tom and I, together with our daughter Esme, spent a wonderful week visiting the west coast of Scotland. Vicious midges aside, it was blissful and we vowed to return for a longer adventure when COVID restrictions allowed. Having spent the half term holiday travelling around Wales in a motorhome, we knew that there was no better way to experience a country than in a home on wheels.
I love maps. I love looking at maps. I love looking at maps for hours on end. It was therefore the ideal opportunity to open up Ordnance Survey maps of Scotland and, with the help of our good friend Google and a few useful travel blogs, to plan a three-week motorhoming adventure in the four berth Bailey Autograph 74-4 which had served us so well on our Welsh trip.
We decided on a mix of camp and caravan sites, wild camping (which is permitted north of the border) and a few nights with friends. Given the bountiful storage space, we decided to pack bikes, which proved to be a fantastic decision given the ample opportunities we had to enjoy exploring on two wheels, Esme included.
Walking in the lanes of the Lake District
---
Our first stop was the Lake District, where our friend Steph lives with her husband Colin and daughter right on the shores of Ullswater. If you are every in the vicinity and love open water swimming, or want to fall in love with it, make sure you check out Colin's company Ullswater Swim Place.
Under the bluest of skies, we then crossed into Scotland, and onto Luss caravan and campsite on the scenic shores of beautiful Loch Lomond. Here we had the first of countless holiday BBQs, with the first of many gin and tonics.
As a former triathlete I have swum in all kinds of water, including that which is better suited to polar bears. However, since my retirement from the sport a decade ago my preference is for warmer, even tropical aquatic environments and have de-sensitised myself to arctic conditions. The same cannot be said of our daughter who seems to revel in every opportunity to paddle, dip or swim in rivers, oceans and lakes regardless of how blue she goes. Loch Lomond was a case in point. No sooner had we said "loch" than Esme had removed every item of clothing and proceeded to immerse herself in the clear blue, albeit shiver-inducing water. Her mum wasn't so brave.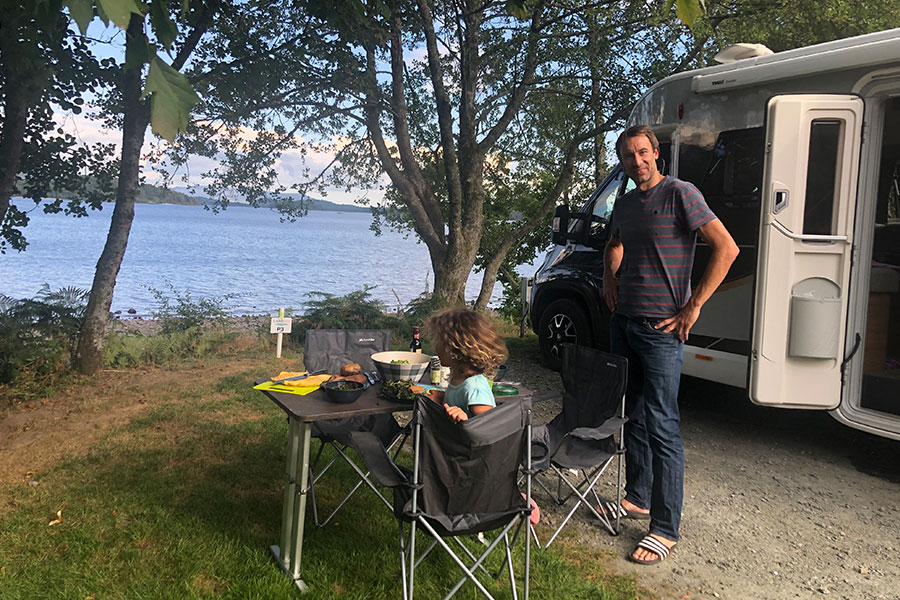 BBQ on the shore of Loch Lomond
---
We all squeezed in a bike ride; Esme doing 100 laps around the campsite and Tom and I exploring the surrounding hills before we drove a few hours, via Glencoe to Fort William and the superbly equipped Glen Nevis Caravan and Camping Park and campsite ideally positioned at the foot of Scotland's highest mountain, Ben Nevis. I was last there in 2014 when I, and three friends, decided to run up Snowdon, Scafell and Ben Nevis and cycle the 450miles between Wales', England's and Scotland's highest peaks, all in under 48 hours, to raise money for charity.
This time around, Tom, Esme and I walked, biked and BBQed, at a slightly more sedate pace. That said, I couldn't leave without squeezing a little run (= fast walk) up "The Ben", getting to enjoy the stunning scenery on the way up before being plunged into the cotton wool clouds closer to the summit and demolishing my quads on the way down.
From Fort William, we drove to the island of Skye, separated from the mainland by a short bridge. If you're ever travelling in that area make sure you stop at the fairy tale-esque Eilean Donan Castle, as well as the café just over the bridge which serves the best cinnamon buns were have ever tasted … and we have tasted lots of cinnamon buns.
We pitched at the Camping Skye site just outside of Broadford, set against the stunning mountain backdrop. We spent the next day exploring the Fairy Pools, a series of cascading blue and green waterfalls and swimming holes in the foothills of the Black Cuillins.
Tom and Esme walking in the foothills of the Black Cuillins
---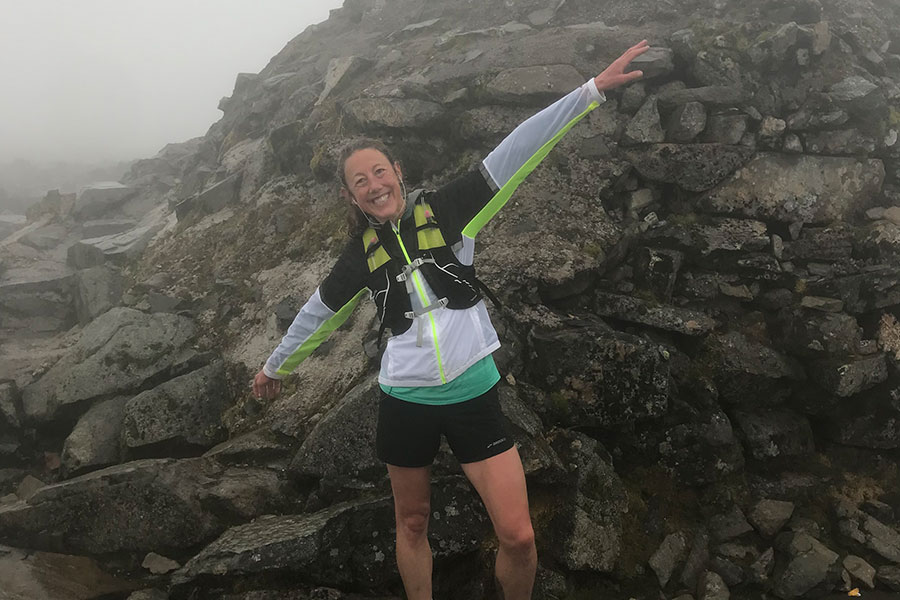 Chrissie on her trip up Ben Nevis
---
For dinner we had an impromptu BBQ on the shores of Loch Airnort- the beauty of travelling in a motorhome being that we had everything we needed at our finger tips without having to think about packing each day and could be so much more spontaneous.
We stayed in two more campsites on the Isle of Skye; Torvaig near Portree and Staffin on the north east coast. It was in Portree that we made a bee-line for the well-known Wee Ice Cream Shop, where the ice creams were anything but wee. We also hiked the trails around the Old Man of Storr – a pinnacle of rock on the Trotternish Ridge which reaches like a finger into the clouds – and the lovely Lealt falls.
Another highlight was An Corran beach, where we found the Jurassic dinosaur footprints, and had yet another impromptu BBQ / gin and tonic.
From the Isle of Skye we drove the motorhome onto the ferry and journeyed 90 minutes to the Outer Hebrides, and the islands of Harris and Lewis which is actually, rather confusingly, one land mass, divided into two. Harris and southern Lewis are hiller, and have (in our opinion) some of the best beaches we have ever ever seen, and – like cinnamon buns – we have been fortunate to have visited a lot of beaches on our travels.
The unspoilt white sand is flanked by clear blue sea, against a heather covered mountainous backdrops. Anywhere else you wouldn't have room to move, but this is the Outer Hebrides, and we were only forced to share the epic scenery with a handful of others. The picks of the bunch were Luskentyre and Cliff … Just promise not to tell anyone else about them OK?!
Oh, and while we are talking "best in the world", like the said buns, the Harris Gin has to be one of the tastiest spirits we have ever tasted. But don't take my word for it. You can get home delivery. Just don't blame me for any addiction/hangover. The Callanish Standing Stones, erected around 5000 years ago, were another highlight and a place well worth visiting if you are ever fortunate enough to be exploring these beautiful islands.
Ice creams from the Wee Ice Cream Shop
---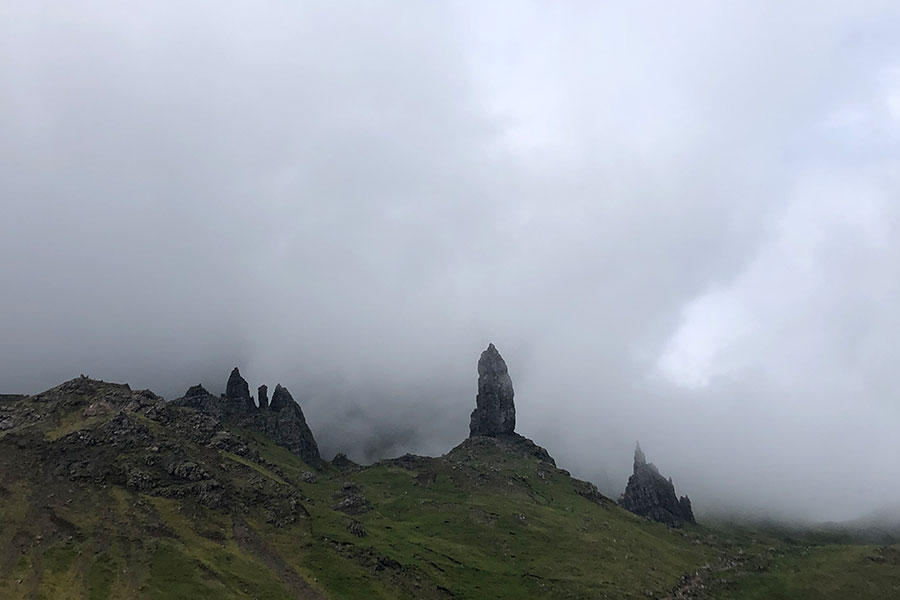 The Old Man of Storr
---
From Lewis, we caught another ferry from Stornaway to Ullapool on the mainland and drove straight to Achiltibuie. Well, more accurately Tom drove with Esme and half way along the road, threw me out and I ran alongside Lochs Lurgairnn, Bad a Ghaill and Osgaig, meeting them at the awesome Achnahaird Bay. In addition to her love for cold water Esme has a penchant for shells, stones, rocks, dried seaweed and the odd dead crab, or parts thereof. Her passion for collecting natural objects has resulted in us designating a whole cupboard in the motorhome just for these supposed "treasures". We still have them. Aside from the body parts of dead crustaceans.
We stayed at Port a Bhaigh campsite for two nights, and ideal spot right on the beach overlooking the Summer Isles. It was here that Esme found her love for performing "tricks" on her bike. Blessed with her mother's bike handling ability, these tricks resulted in more than a few wipe outs. Unlike me, she chose to ride in bare feet and a unicorn onesie, the latter not being known for its aerodynamic or wicking properties but great for reducing the impact of the countless falls.
The next step of the journey was an obligatory pie at the famous, and rightly deserving of all the accolades, Lochinver Larder. Best pies we have ever had. My only regret was that we didn't follow the steak and veg pie with a sweet, apple and cinnamon version – if only to be able to advise on whether apple and cinnamon is better in a pie or a bun. That said, they do send pies in the post, so I'm tempted to put in a regular order.
We spent the day exploring the beaches and trails of Achmelvich Beach followed by an overnight stop in Lairg. From there we headed to another of our favourite places in the world…the Cairngorms National Park. Having been told about Landmark Forest Adventure Park, we decided to make that our first stop and spent a whole day climbing, jumping, swinging but most of all going up and down, and up and down and up and down the three water slides. I think Tom and I loved it as much as Esme.
That night we wild camped overlooking Loch Morlich, close to the base of Cairngorm Mountain. And what a view it was. The skies were blue, the subsequent sunset sublime and we woke to see three majestic reindeer, minus Father Christmas much to Esme's disappointment, walking meters away from our motorhome.
Reindeers spotted just outside the motorhome
---
It would have been remiss of me not to head for the hills, and I squeezed in a beautiful run/rock hopping adventure up the slopes of Cairngorm Mountain, and then we cooled off in the less than tropical waters of Loch Morlich. A shout out here for the delicious lunch we had at The Pinemarten Café, including a supersized plate of cheese and guacamole laden nachos. I wish they, like the gin and pies, did home delivery.
With our holiday drawing to a close, we parked the Bailey for two days at our friend's – Cat and Rich's – house in Kingussie. I used to train and race with Cat when we were both much younger, much fitter professional athletes. Despite being older and slower, it was still just as much fun exploring the hills with her, and even overcoming my aversion to cold water and both leaping into a river in the middle of a bike ride.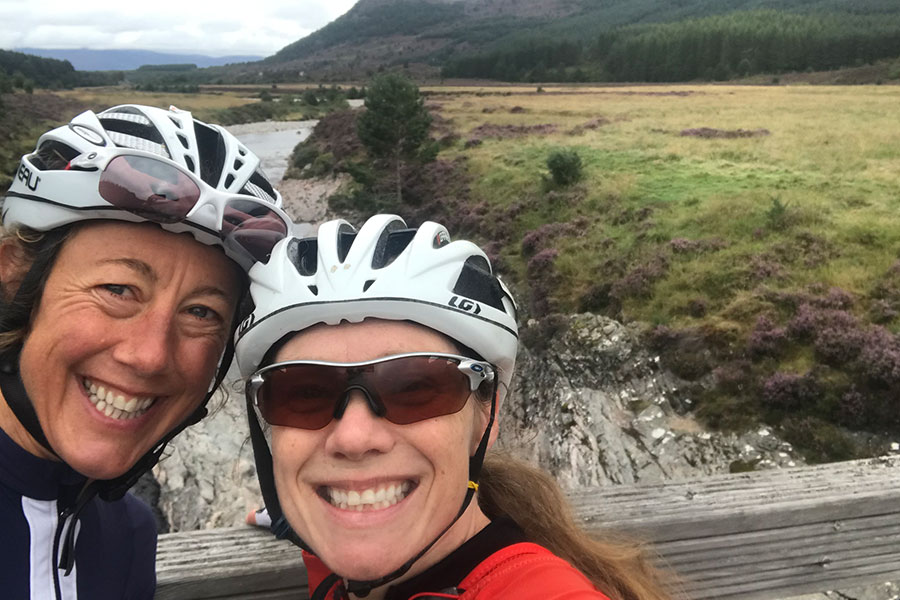 Chrissie and Cat exploring the hills
---
Chrissie braving the river during their bike ride
---
From Kingussie we headed south to Dunkeld, a beautiful town right on the banks of the River Tay where we stayed with my best friend Tammy, who happened to be on holiday there with her husband Patrick and their three kids. Cue yet more wild swimming, BBQs and gin. Do you sense a theme here?
We could have travelled like this for weeks, if not month on end. It really is the perfect way to explore, see some amazing new sights, be together as a family – and incorporate visits to friends – whilst having everything you need in this motorhome from home. But sadly, our three-week trip had come to an end eventually.
We just hope that it won't be too long until we have the chance to open up a map and start planning the next four wheeled cinnamon bun – or pie – eating adventure!