Packed and ready to go. Five words that convey so much meaning beyond the obvious statement. They are words that mark the culmination of months of planning, countless hours spent packing first our house and then our motorhome, the moments of worry and doubt contrasted by those of excitement and anticipation for what lies ahead. But, more than anything, these five words represent the start of the next chapter of our lives and a new way of living...in our motorhome.
When we decided that this was what we wanted to do, to live full-time in our motorhome and travel the world, the very thought of being packed and ready for what we hope to be the journey of a lifetime seemed unimaginable. Such was the scale of work needing to be completed to turn our dream into a reality, that neither myself nor Kim could begin to imagine the moment in time when we could close the motorhome door knowing we were finally all set for the off. And yet here we are, packed and finally ready.
The past months have been a labour of love, the research, the planning, the multitude of emails to all manner of people, organisations, tourists boards and officials, the packing of a house and the meticulous organisation of a motorhome that will become our new home. It's all been done fuelled by the constant desire to create an experience for our family that will live with us for the rest of our lives. Every short-term sacrifice we have made, and there have been many, has been done so knowing that the pay-off will come once we are on the road.
In the days and weeks leading up to this point, one question we have both asked on numerous occasions is 'how long do we think it will take to settle into life on the road?' The honest answer is we don't know. We have had several month-long trips in our motorhome before, but those have all been taken on knowing that there is an endpoint, whereas this time when we set off we don't actually know when we will get back. So we have promised ourselves to simply live in the moment, take each day as it comes and not be so concerned about the future as not to enjoy the present.
The enormous through-boot in the Adamo will provide lots of storage for Marcus and his family throughout their travels.
---
There will come a point when it sinks in that rather than being a long holiday, this is our life, one we have chosen to live. We are not naive enough to think that it will all be plain sailing either, but then life never is, regardless of where you are in the world, or indeed how you are living, be it in a house or a motorhome. We know there will be challenges along the way, but it's these challenges and testing times that add deeper meaning to life, as well as enable us to appreciate the good times so much more for having endured the not so good.
Several of the many discussions we have had on the various practicalities and considerations of the trip have centred around the need to be aware of each member of the family's emotions and individual needs. This is, we believe, paramount to maintaining a happy and harmonious 'home', a key factor being the acknowledgement that it would not be healthy to be with each other 24/7. At home we all have our own interests and opportunities to be away from the rest of the family, to have that all-important 'me time', something we need to maintain on the road.
Ultimately though this trip is about being together, sharing life experiences as a family and taking time to properly explore the world around us. To do this we must slow down and learn to see things through a different lens. There's a saying in Swahili, 'Pole Pole', which simply translates to 'slowly', and that is exactly what we plan to do, travel slowly, love deeply and live in the moment. The rest will take care of itself.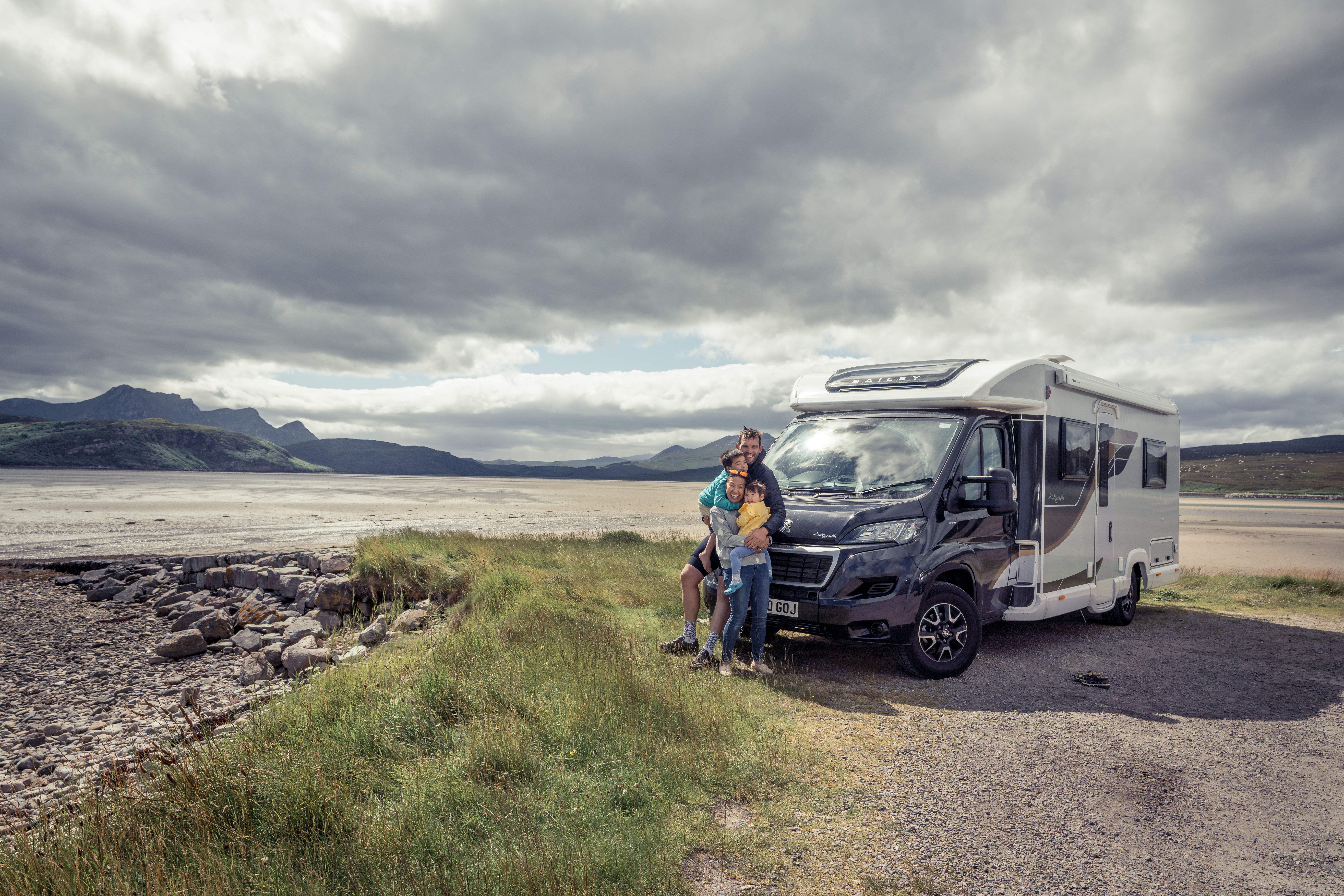 Marcus, Kim and their two children with their previous Autograph motorhome, of which they have now swapped for an Adamo 75-4DL.
---