Looking back at the Arctic
I have been feeling very restless since we got back from the awesome experience of the Arctic Adventure. The planning and preparations have been a big part of my life over the last few months, so it's a bit strange now it is all over.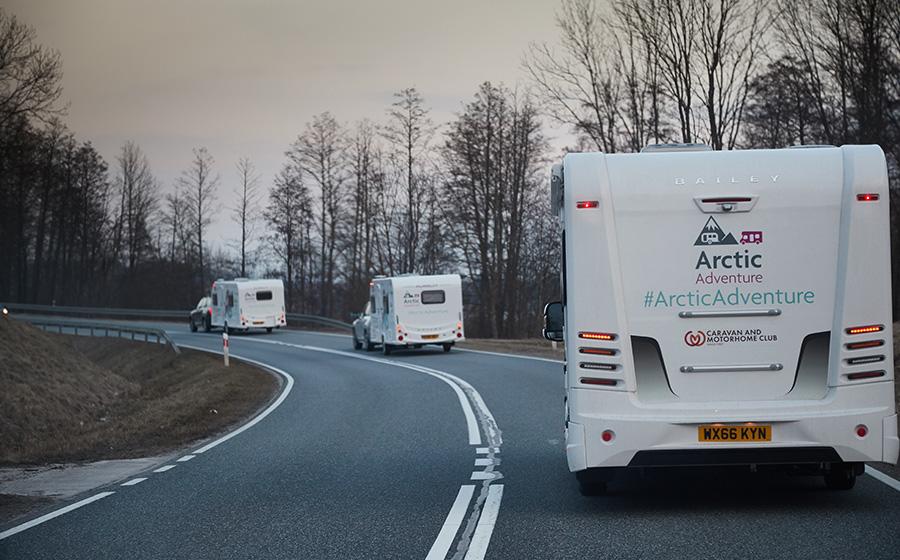 ---
Travelling nearly 5,000 miles in less than 16 days was full on and, to be honest, tough at times, but I absolutely loved it and would do it all again tomorrow.
I'm still missing life on the road, seeing all the different countries, campsites and winter landscapes, and even all the snow, plus all the team spirit and comradery from the great group of people on the trip.
I'm not the only one who is a bit sad it's all over. Lots of people enjoyed watching the daily updates from the Arctic Adventure on social media and were disappointed when it came to an end.
Yes, some people thought we were a bit crazy to take a caravan beyond the Arctic Circle in winter, but that's one of the reasons we did it – to change perceptions that a caravan or motorhome can only be used in summer, and to show the wonderful memories we created.
Highlights? For me, I will always remember the snow-covered campsites, and how easy it was to use them despite the cold conditions. The fact that they were open proves that a bit of snow (OK, a lot of snow) doesn't stop people touring in this part of the world. People live in these cold and icy conditions for months on end, but life seems to carry on as normal. We could learn a lot from that.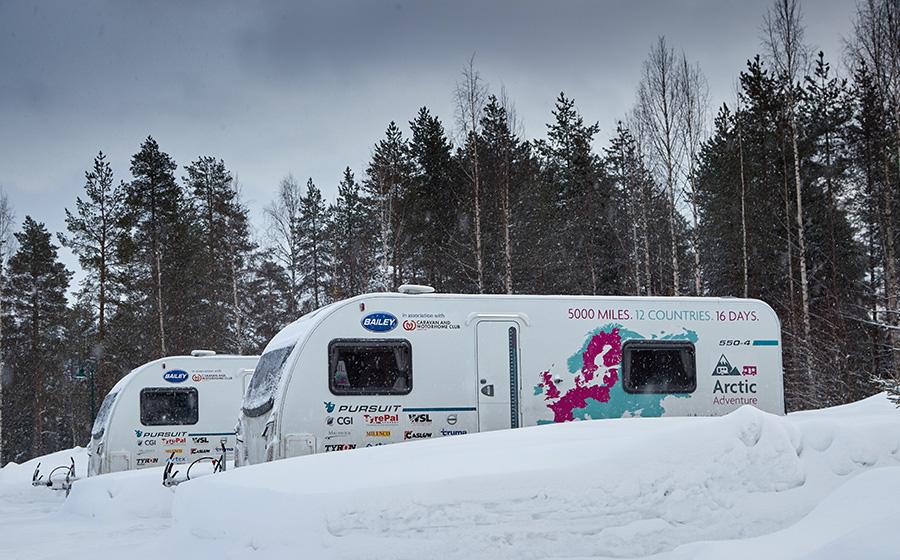 Two other highlights were meeting the real Santa at Rovaniemi, where we also crossed the Arctic Circle, and towing a caravan on the ice road across frozen sea to the island of Hailuoto. That was an awesome and beautiful sight which I will never forget.
The biggest surprise of the trip was Poland. As we crossed the border (from Berlin), we travelled on the smoothest and emptiest motorways of the trip, and nobody was expecting our destination, the town of Torun (between Warsaw and Gdansk) to be so stunning (and cheap).
Lowlights? Well, it was a shame we didn't have more time to stop at all the interesting countries and places we passed.
We were blessed with having Martin Dorey, the author of The Camper Van Cookbook, with us. After topping up our provisions along the way, Martin spoilt us with some fantastic breakfast, lunch and evening meals cooked in the motorhome. And the real benefit of touring with a caravan or motorhome was that we could just find a nice place to park and create our own lunch or coffee stop and have tasty, fresh food, without having to find a restaurant or pay restaurant prices. Thanks again, Martin!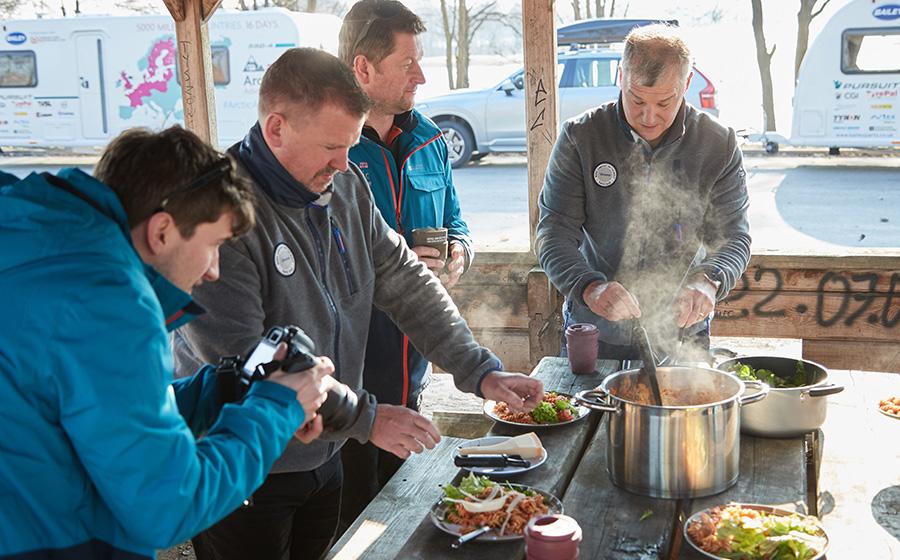 We didn't want to risk running out of gas for our heating or cooking, so as UK gas cylinders can't be exchanged abroad, we'd installed Gaslow refillable gas tanks, which were brilliant.
In reality, we only topped-up the gas tanks once as we didn't use as much as we thought we would. The electric heating mode for the Truma and Alde heating systems in the Pursuit and Autograph, respectively, combined with the thermal insulation of the Alu-Tech construction, was so efficient we could run the heating just on electric nearly all the time.
An unusual feature for us at the sites in Finland was that they all had saunas. Running out of a sauna and jumping into the snow is something you have to experience!
Finding a source of water to refill the motorhome's on-board tank wasn't always easy as, not surprisingly, all outside taps and hoses were switched off for winter. We got by using portable containers instead.
When it came to packing for the trip, we needed to ensure we could keep ourselves warm when out and about, and keep the vehicles moving and useable in any conditions. It's meant to be best to wear lots of layers, rather than just heavy jumpers. It was our extremities which felt the cold first, so we got a lot of use out of our warm coats, hats and gloves, plus thick socks and shoes with decent grip.
The winter tyres on the car, caravan and motorhome were a legal requirement for most of the colder countries we visited. They were excellent and gave impressive traction on the snow and ice.
Several other items could have been essential if the weather had dumped more snow on us. We went prepared with windscreen washer fluid for temperatures down to -30, (hired) snow chains and tow ropes, which (thankfully) we didn't need to use, and shovels. As it turned out, there were more fuel stations than we expected, all with well stocked shops, so we could have got more supplies if we'd needed them.
For travelling with a group like this, we found it extremely handy to have walkie-talkies (which we rented) so we could communicate easily without having to worry about network coverage, or the mobile phone bills!
We chose not to travel with lots of cash, but used travel cards instead which we could top-up electronically; however these weren't accepted at a number of petrol stations where you had to 'pre-pay' at the pumps before fuelling, so we were glad we had credit cards as well.
The only thing we wish we could have taken with us was our children as there's so much to see and do in Finland. They would have loved to see Santa in Lapland, experience driving over frozen sea, crossing the Arctic Circle and playing in all the snow. It just shows what amazing memories you can create by using your caravan or motorhome all year round.