In July we were fortunate to be offered the loan of a caravan from Bailey of Bristol to give us the opportunity to test it out, especially for me on the cooking front.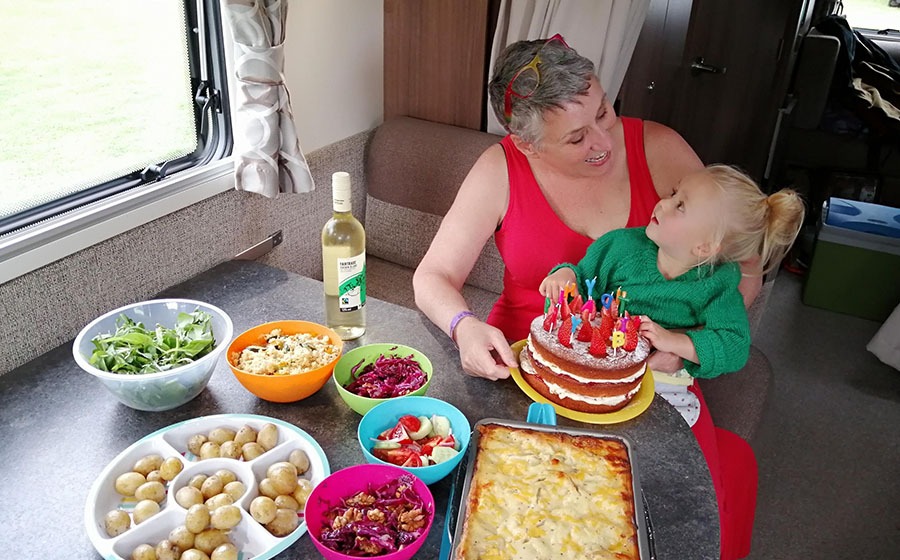 ---
In 2018 I was one of the twelve amateur bakers to be selected as contestants on The Great British Bake Off. As much as I love to bake, I love to cook too, especially when I am away on holiday.
I know lots of people want a complete break from the kitchen at holiday time and go for hotels where the catering is done for them. I on the other hand have always enjoyed the freedom that a caravan or motorhome gives you.
If you want to dine out its there for you. Around and about campsites, there is always a good pub or restaurant to enjoy a meal. If you fancy a take away, you can have one, or if you want to relax making a special meal in the caravan, of course you can. That is the beauty of this style of holiday, "your holiday, your way"
We have a five-berth caravan of our own and use it as often as we can, but I was totally unprepared for the contrast between our caravan and the Bailey Pegasus Grande Palermo that was delivered to our chosen campsite, Bladon Chains in Oxfordshire.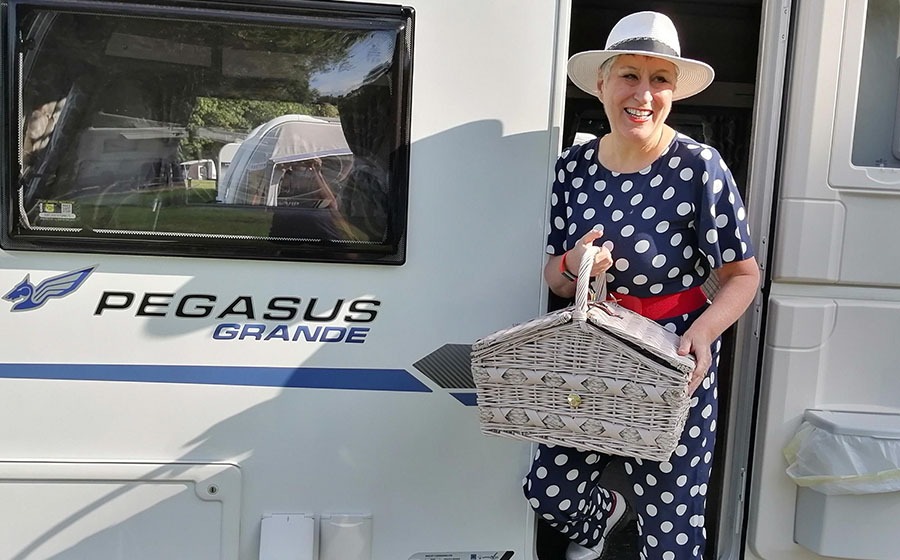 It was so spacious, so chic and very luxurious. It is an 8ft wide caravan and that did seem to add the extra dimension in terms of space. A six-berth unit with fixed bunks to the rear, a side dinette to the middle, which quickly converts to a small double bed and the front lounge area is either twin or a large double arrangement.
Lots and lots of storage space beneath the beds and above too, plus a large wardrobe. The bathroom and shower was so wonderful, I absolutely loved it.
I was on a bit of a culinary work holiday as I am always trying to develop recipes that are good for a camping style holiday. Every day I spent some time working in the kitchen area that came equipped with a fantastic oven, grill and four gas rings. The fridge was huge, with a large freezer section at the top. I normally must take an extra camping fridge along on holidays, but it was not necessary on this trip, there were bags of space in the fridge for all my concoctions.
The side dinette was my most favourite aspect of the caravan. Not only did we have a fantastic place to sit and eat, I had a great work space for pastry making, yes, I did make pastry! Cake mixing, yes, I made a birthday cake and all manner of other delights too.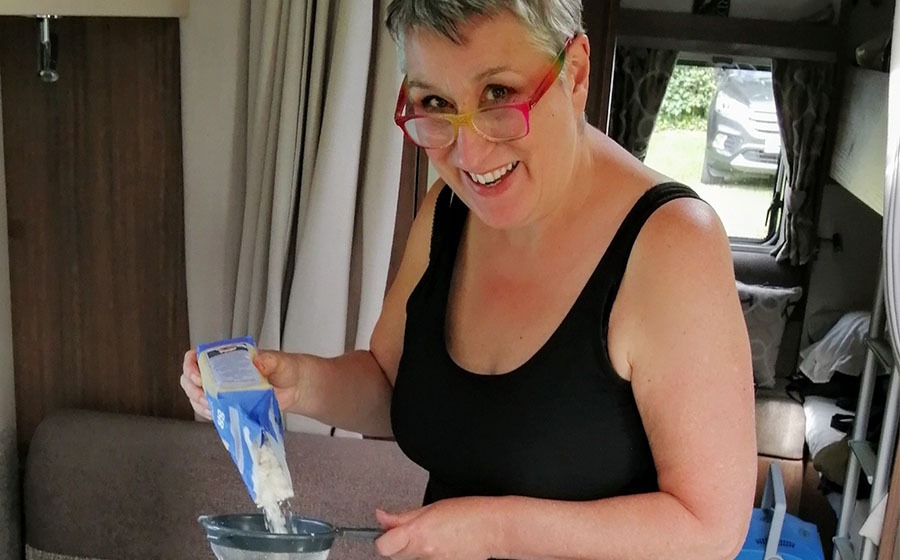 Two days after arriving and moving into the caravan I was booked to appear at Tatton Park in Cheshire, so my first challenge was to prepare "the one I made earlier" in the caravan. It was a Millionaires shortbread. It baked in the oven like a dream, the biscuit base part anyway, the caramel and the chocolate toppings I made on the hob, everything worked spot on, just like being at home.
Cooking outside is part and parcel of this style of holiday and I love a BBQ. We favour the charcoal DIY style, with great plumes of smoke billowing in all directions as it gets going. On this trip I was keen to use a new gadget, like most cooking fans I love a good gadget. This time it was a Dutch Oven. A Dutch oven is just a cast iron pan with a tight-fitting lid that can be used to slow cook on a hob or in a regular oven or in the embers of a fire or BBQ.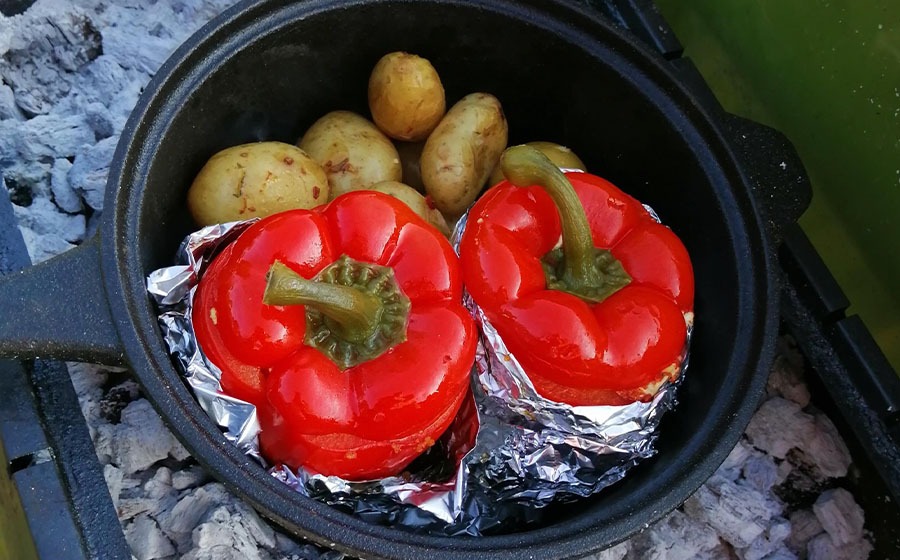 I prepared some stuffed peppers and tomatoes, I wedged those into the pan and popped a few baby potatoes in too and just placed it into the glowing white embers. Time then to sit back and have a glass of something nice and chat to our neighbours Berny and Sue, again part of the holiday experience, making new friends. Half an hour later the vegetables were cooked, soft and succulent and a great side to our sausages and burgers that we cooked alongside.
We had chosen the campsite near Blenheim Palace as it is only twenty minutes away from where our youngest daughter lives. It was her birthday during our trip, so I invited her and her chap, our other daughter and her chap and our little two-year-old granddaughter to join us for a meal in the caravan.
As they are all vegetarians, I carefully chose a dish to cook in the caravan. I picked everyone's favourite, a vegetable lasagne. I prepared a selection of side salads and dips. We sat outside for the first hour or so, catching up on news and enjoying a few glasses of birthday bubbles. It was quite blustery so when it was time to eat, we moved inside, and all six adults and one small wriggle bottom sat comfortably around the main dining table and I utilised the side dinette for a self-service buffet and displaying the star of the show, the birthday cake!
After we had demolished the meal and sang our birthday wishes, we set about playing a board game. It was such a smashing afternoon, all my family together, relaxing in such a superb space, our lovely Pegasus Grande caravan.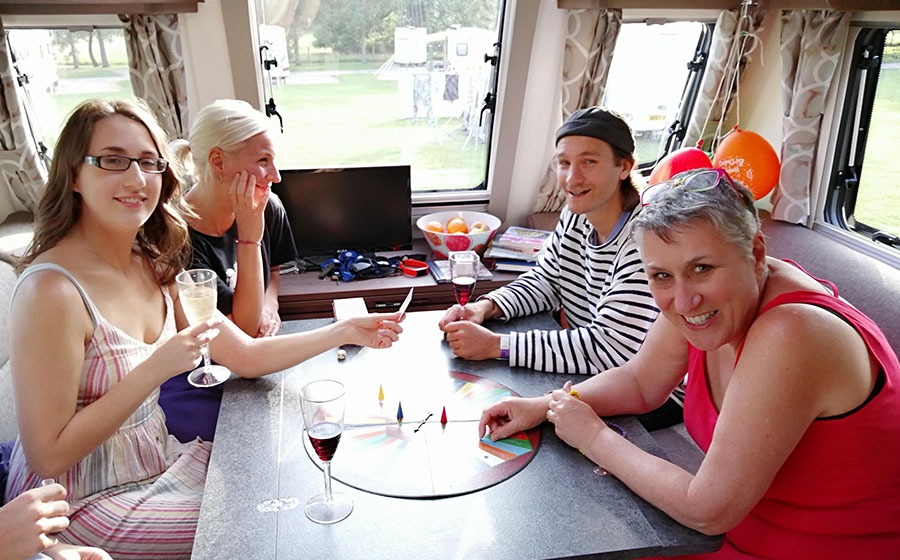 Using the campsite as a base, we had some great trips out. We caught the bus into Oxford to look around the sights and to have a lunch out. We visited an old friend that lives nearby and had a good old catch up and lunch with her. We walked to Blenheim Palace from the campsite, which was spectacular, we also walked to the local church where Winston Churchill is buried. One day we had a ride out to the nearby Cotswolds where I enjoyed buying treats from the local bakeries.
The holiday in the Pegasus Grande flew by and before we knew it, it was time to pack up and head home once more. Every day had been fabulous and I cooked a different dish every night. I think my favourite was a Friday night fakeaway, my play on a takeaway Chinese meal, I made a great sweet and sour chicken. We had chicken in white wine and mushroom cream sauce, sausage and ale casserole with herby dumplings.
In addition to the savoury mains, I made a scrumptious cherry clafoutis and a rhubarb bakewell tart with homemade custard. The only thing we ate at the campsite that was not home made was the fish and chips from the mobile van that visited on Wednesday, we just couldn't resist them.
So, it is clear to see that we had a wonderful holiday using our Bailey caravan as a base and a home from home. We packed such a lot in to the trip, but we came home feeling refreshed and relaxed and already looking forward to our next trip away, now where's the maps and the recipe books.
Where to go? What to cook? Some food for thought.