If you read the Bailey Blog or follow us on social media you may know about our involvement with an independent British film, Golden Years.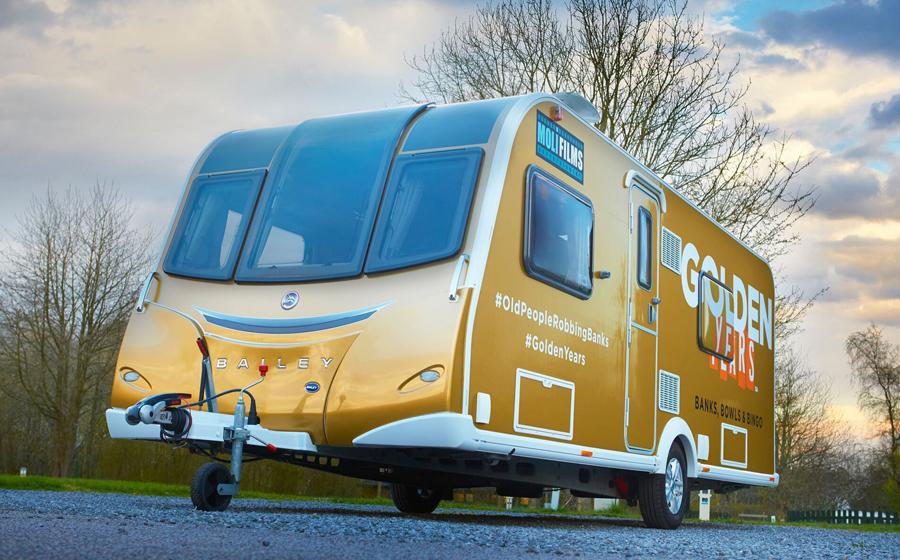 ---
If you haven't heard about our Unicorn Valencia's starting role in the heist film with a comedic core you can catch up by reading our posts Filming Golden Years and Golden Years Premiere.
Now that the film is launching the Bailey Blog wanted to catch up with John Miller the films director, to find out what filming with a caravan was like.
Bailey Blog: When writing the film was the getaway vehicle always going to be a caravan?
John: Yes, I always envisioned the gateway vehicle as a caravan.  We toyed with a motor home but Martha and Arthur are definitely caravan people. There's something quintessentially British about a caravan and we wanted to capture that in Golden Years.
Bailey Blog: What is it that makes a caravan a perfect getaway vehicle? (Caravanners don't start getting any ideas here!)
John: The caravan makes a perfect getaway vehicle. It's the last thing you would expect to get into and drive away in after robbing a bank. It's the perfect disguise.  The Italian Job had their Minis, Steve McQueen had his mustang, we have a Valencia Getaway, Perfect!
Bailey Blog: You used our Bailey Unicorn Valencia, did you have a list of requirements that you needed when choosing the caravan in the film?
John: We needed a caravan that looked fantastic inside and out, after all  this is what Martha has been dreaming about since she retired. It needed to look smart without being too ostentatious.  I wanted it to feel safe and cosy inside when they are sitting and planning the robberies.  When Baileys showed us the Unicorn Valencia we knew straight away that it fitted the bill perfectly.
Bailey Blog: What challenges did you face when filming with the caravan?
John: Filming any scene requires a lot of kit and people. We thought this might be a problem filming the interior scenes but actually it turned out fine. The Valencia was big enough to accommodate the crew and the actors.  The script demand that we see the caravan being driven a lot in the film and in a lot of different locations.  Some of the locations were small villages with incredibly windy roads.  The process  was made much easier as Bailey's gave us a driver who was expert at manoeuvring and turning around for the multiple takes that filming requires.
Bailey Blog: Who chose the caravans name 'Valencia Getaway'?
John: It was one of the composers who came up with the name. He just came out with it and I thought, damn I wish I'd come up with that!  It works on so many levels.
Bailey Blog: Did the stars of the film tow the caravan themselves or were doubles used when filming?
John: Most of the towing of the caravan was done using doubles, including Bailey's own Rachel Lockyer.  It made things much quicker and efficient for us.  Bernard Hill who plays Arthur in the film did get to tow the Valencia, mainly because he wanted to have a go for himself.
Bailey Blog: You took the caravan to some great locations, how were these chosen?
John: We wanted Golden Years to be a postcard to Britain. The locations were chosen with this in mind.  We are lucky that in Bristol we are surrounded by beautiful countryside.  We couldn't get much more picturesque than the village of Castle Coombe.  Bailey's also helped out via the Caravan Club who had some great sites to choose from.
Bailey Blog: Were all of the interior caravan scenes filmed inside the caravan or was a replica set built?
John: We used two caravans throughout the making of the film.  We filmed all of the interior scenes in the actual caravans however the Baileys engineers took a section of the roof off for one particular shot I wanted to achieve where we were looking down into the caravan on Martha and Arthur after their first robbery.
Bailey Blog: Have you now caught the caravanning/motorhoming bug?
John: There was something exciting about just being in the caravan.  All the crew and actors loved been in it.  I was lucky enough to borrow a motor home from Bailey's last year to take my family away in.  It was a fantastic holiday.  It bought us together as a family in a way that staying in a hotel or cottage wouldn't have. I guess it's because you are essentially all in the same room.  It was great, it bought out the child in all of us.  This year the lovely folk at Bailey's are lending us a caravan.  My kids are 20 months, 5 and 12 and all are very excited, but not quite as excited as the parents!
Bailey Blog: Where can caravanners go and see the film for themselves?
John: Golden Years is on general release in Odeon cinemas across the country from April 29th.