Family, fun and freedom… with a three-year-old
As a first-time motorhomer, Charlotte, Retail Category and Marketing Manager at Bailey Parts and Accessories (BPA) was unsure what to expect.
But instead of planning a short trip, not too far from home, she grabbed the bull by the horns and packed up for a long weekend away with a whistlestop tour of Oxford followed by a short stay in Surrey, with husband Miguel and three-year old Johan in tow.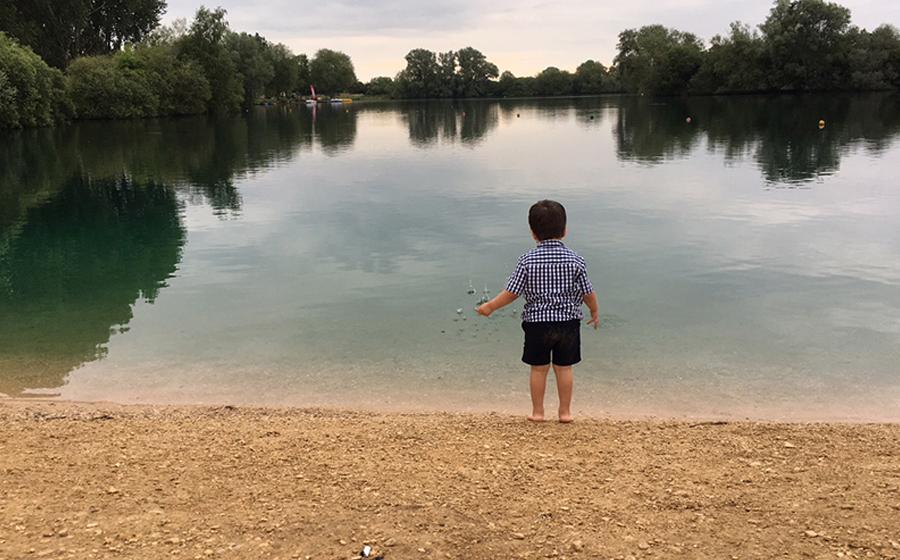 ---
Kicking off the trip at BPA to pick up the last few essentials – a new kettle – and some not so essentials – the Outwell Obsidian Bluetooth speaker – they made their way straight along the M4 to make the stop in Oxford to see Charlotte's uncle, who she hadn't seen in over ten years.
"Seeing my uncle again after ten years was definitely one of the trip highlights", said Charlotte. "After drinks we left the city and made our way to the lovely Hardwick Parks campsite in Whitney. We plugged in and fired up the oven, enjoying dinner under the awning. It was like preparing dinner at home and the oven performed perfectly and the fridge kept everything cold – it was so easy."
Making sure the night didn't end there, Charlotte, Miguel and Johan took a stroll around the site to familiarise themselves with the area, letting their little one indulge in the park before skimming stones on the lake.
"With Johan tired out, we headed back to the motorhome", said Charlotte. "We made up the easy to construct front bed and put Johan to sleep, he was pretty excited so had to be tamed with a couple more books than usual but then quickly settled and enjoyed a comfortable night's sleep."
While Johan was away with the fairies, Miguel and Charlotte continued their night with a couple of cool drinks in the evening air, before settling down to enjoy a movie.
The following morning they treated themselves to a cooked breakfast, "why not" they said, "after all we are on holiday", before heading back to the lake to investigate if they could take part in some of the water sports on offer. Unfortunately, it was all fully booked, which was a particular disappointment to Charlotte, but it has spurred her on to want to return in the future.
With water sports off the agenda, they packed up and headed back into Oxford city centre. Parking for the reasonable charge of £12 for the day for a large vehicle. After parking they headed for the Pitt Rivers museum, ideal for a dinosaur loving boy. To their surprise there was a 'wild fair', #OxFestNature, on the lawn outside, which attracted a number of stalls and attractions, as well as some scrumptious street food.
Not content with seeing enough of Oxford, they took part in the 'tourist-must do' – the open top bus of the city. The hop-on, hop-off, allowed them to explore areas of the city, including the least energetic 'hen-party' they'd ever seen, complete with fluffy pink headbands with antlers and hearts on the end.
Once finished with the city of Oxford, they jumped back in the motorhome and made their way to Chertsey, Surrey. "The Camping and Caravanning Club site at Chertsey was the neatest and tidiest campsite I'd ever visited", said Charlotte. "Again, we arrived at dinnertime and I immediately laid out our dining area under the awning and started to prepare dinner as Miguel and Johan played Lego."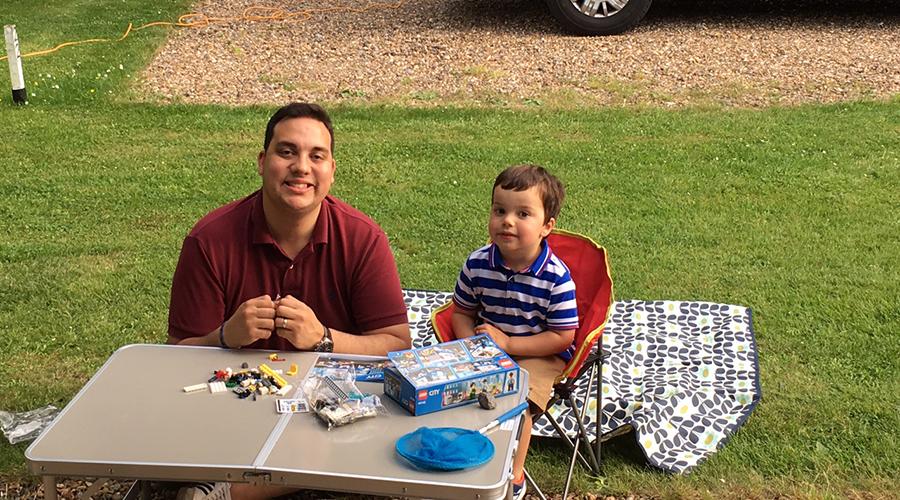 With the chicken taking care of itself in the oven, Charlotte and Miguel had a moment to spare to take in the surroundings and realised something was missing… Johan. "In my panic I ran the perimeter of the motorhome shouting his name, then looked up to see him cycling down the path with two new friends. As much as I love his confident, independent nature, he did receive a good talking to about cycling off without permission!" said Charlotte. Once they knew where Johan was he relished in his freedom, cycling around the block – in this case 5 plots – with Miguel and Charlotte monitoring his whereabouts.
After another great night's sleep, Johan was back out on his bike with his new friends, in their pyjamas before breakfast and with his eagerness to get back on his bike as soon as possible, he even ate his breakfast with his helmet on.
They grabbed a quick shower and pack-up before heading out to Mercedes Benz World, the boys trip highlight. "Now I'm not a car fan in the slightest but even I enjoyed this", said Charlotte. "With free entry and the 'silver arrows' performing at 1pm, what's not to like. As they drifted and spun across the wet rack, all whilst barely missing each other, it really was an artistic masterpiece."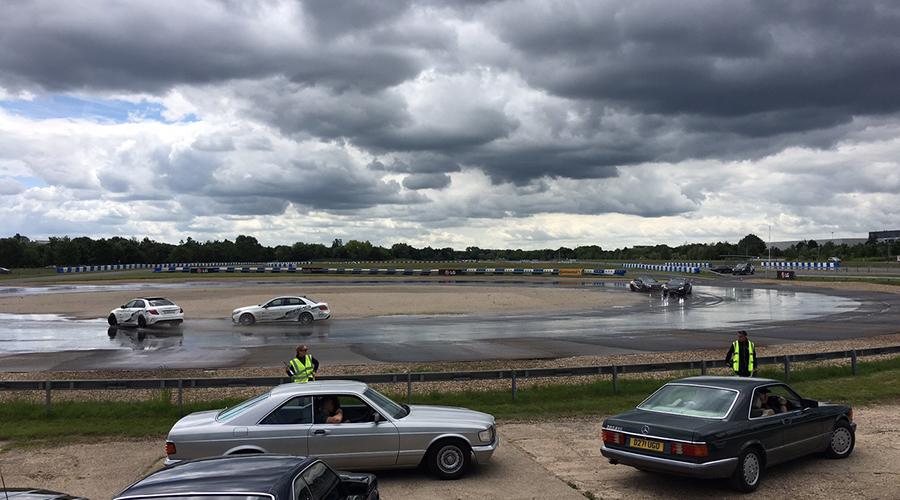 During the visit they also took part in some off-roading, with the car feeling like it could drive up a vertical wall or over boulders. "It was crazy to feel the car's capabilities and good fun to be thrown around as if you were on a rollercoaster", said Charlotte.
As their trip came to an end they made the smooth drive home. As they pulled up outside some neighbours and passers-by stopped to admire the motorhome, with some asking to take a look inside.
Thinking about her first time motorhoming, Charlotte enthusiastically said "It was an awesome weekend away, all thanks to the motorhome. Despite only working for the company for a year,  I wasn't sure that motorhoming was necessarily for me, but it certainly won me over."