Campsites Reopen. But what is the New Normal?
The demand for UK holidays has never been greater, with many caravan and motorhome owners applauding the announcement that campsites would reopen. Tourism bodies in England and Ireland were the first to welcome leisure vehicle owners, with Wales and Scotland following shortly after. To ensure that visitors and local areas remain safe, both of the large UK clubs - The Caravan and Motorhome Club and The Camping and Caravanning Club – implemented a range of procedures. But what has changed, and will this impact your holiday plans?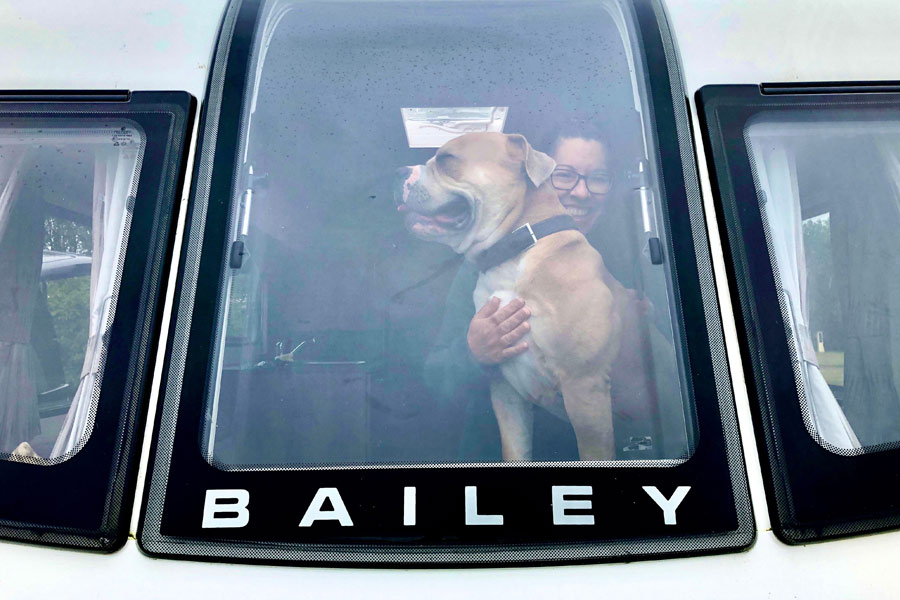 From empty to full: arriving on the first day
With Lockdown putting our 2020 holiday plans on hold, we were eager to book a pitch once July 4th was confirmed as caravanning's Independence Day. Social distancing would be key, so we made a shortlist of sites within easy reach of open spaces and chose The Caravan and Motorhome Club's New Forest Centenary and Black Knowl sites, which are little more than an hour from home.
Contactless check-in is the 'new normal' and with 240 units due to arrive on opening day, we received a call the week before from a member of site staff who took payment and allocated us an arrival window. With so many caravans and motorhomes arriving between 09:00 & 20:00, staggering arrival times was essential, and despite having 27 other members sharing the 12:00-13:00 slot, pre-prepared arrival packs and pre-allocated pitches meant just four units were in the queue when we arrived. Considerable time had been spent preparing everything and as we pulled forward a PPE-equipped member of staff greeted us with an envelope bearing the registration number of our vehicle.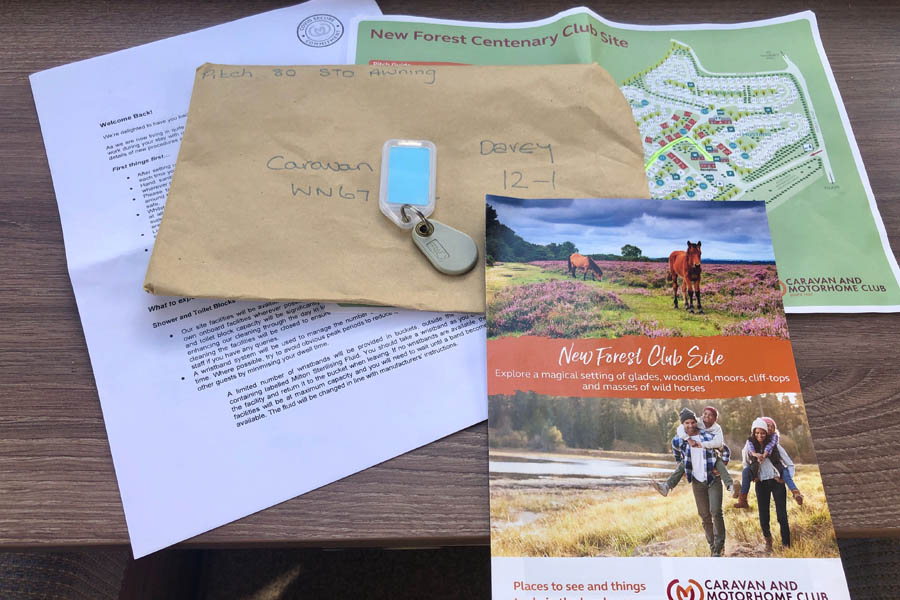 The Welcome Pack
---
What is the 'new normal'?
Although the arrival system for July 4th was unique, elements of it will remain for the foreseeable future. Pre-allocated pitches and arrival time windows may be consigned to the history books, but contactless check-in will be with us for some time.
During our second day, members would pull into the new arrivals lane and call the reception desk using phone numbers displayed on new COVID signage. Thanks to a sizeable – and now screened – reception area, the New Forest team could work in near normality during busier periods, although sites with smaller reception areas may have to conduct things differently.
Unsurprisingly, wash-block use is limited with a one-way system for peak-time queues. Wrist bands (in sterilising fluid) at the entrance grant access, and once inside, every other sink and cubicle is closed to ensure social distancing is maintained. A welcome letter explained all the processes and removed any guesswork.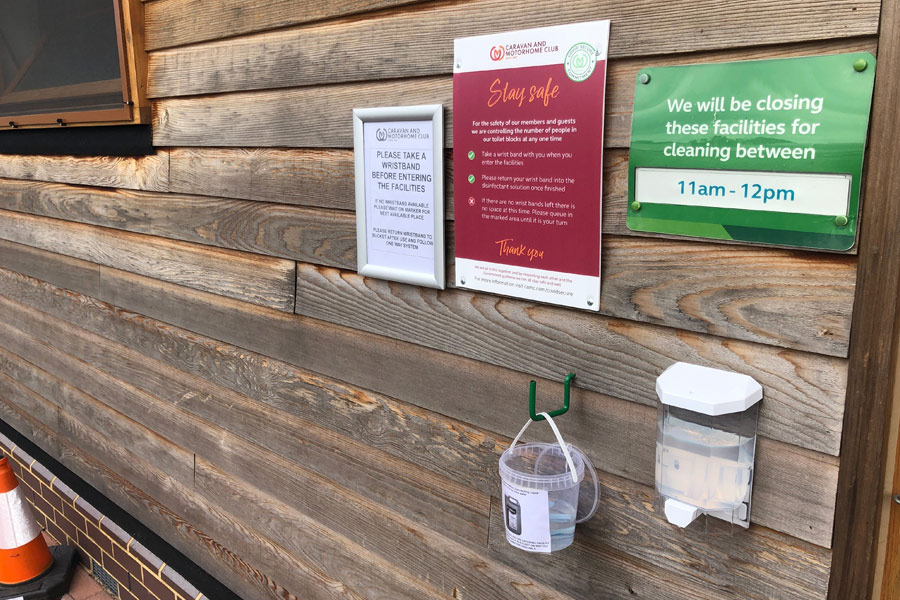 Outside the washblock
---
Will procedures impact holidays?
In a word, no. Following guidance – from the Government as well as campsites – is incredibly important as due diligence will help things return to normal as quickly as possible. Campsite visitors embraced the extra measures and a member of site staff underlined this by saying that 'reopening would not have been possible without help and understanding from members, each of whom followed the guidance given and did so correctly and without question.'
The spacious centre washroom in the Bailey Phoenix 760 means we are self-contained (which helps keep wash-block queues at a minimum for others), but visits to communal areas such as wash-blocks and water points should always be followed by thorough hand-washing. Beyond social distancing and a hygienic approach to objects that may have been touched, our New Forest 'two campsite tour' was one of the most relaxed breaks we've had and was filled with mountain biking and dog walking, something which Max (our American Bulldog) thoroughly enjoyed.
However, it's not just us caravanners and motorhomers who are pleased to be visiting the site network again. A member of the New Forest team greeted everyone at the gate, and with a beaming smile, said 'It's great to have you all back. Having an empty site just didn't feel right'.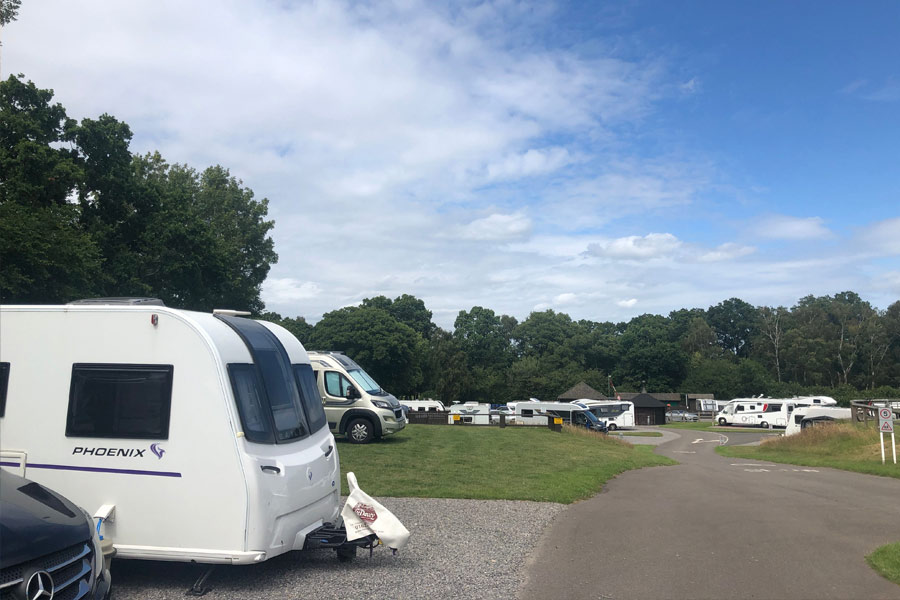 The New Forest Centenary Site reopened
---