Buying a motorhome. Where do I start?
Q: "Which is the best motorhome to buy?"
A: "The one that's right for you."

As they say, different strokes for different folks.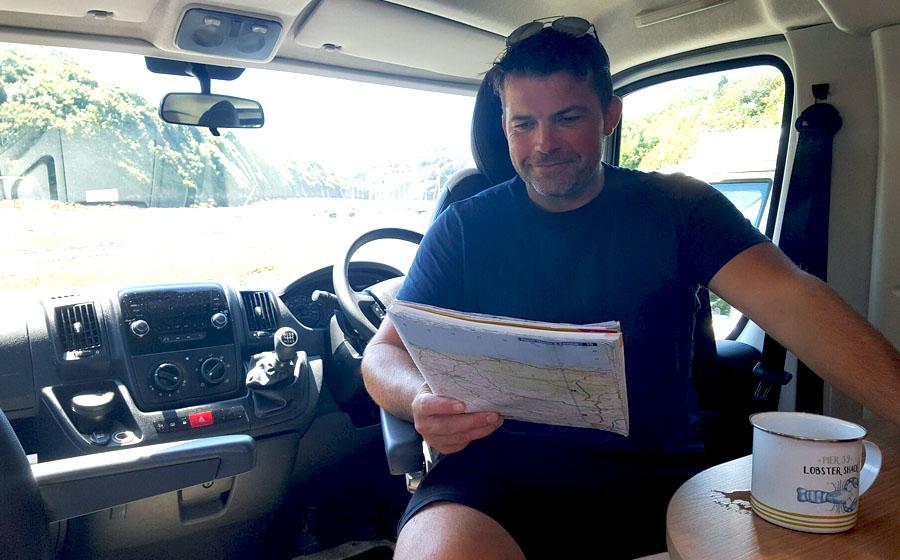 ---
But whether you're buying straight off the production line, good as new or three-decades-old-but-lovingly-kept, there are key factors all first-time van buyers should consider.
After buying a house, your motorhome may be the biggest investment you'll make. You have a wanderlust and love the great outdoors. Choose wisely and #vanlife will be your passport to an enriched soul.
Just the two of you. Two parents and two little ones. One parent and three big ones. Four big ones and a dog. Just yourself. The combinations are endless.
Luckily there is a floorplan to fit every dynamic. There are three of us; me, my wife Mel and our 12-year-old daughter, Lois. We comfortably fit into our four-berth Bailey Autograph with room to spare.
Our island double bed at the back and a convertible double in the dining area for the near-teenager. Perfect.
But this is just one layout option. French beds, fixed singles, drop downs or bunks. The variety of layouts and use of space can be mind boggling. So, it's vital to consider your own preferences.
A fixed side double can be intimate and cosy. But a midnight tinkle will require one of you to clamber over the other. Definitely worth considering if you enjoy a nightcap or two.
Or perhaps one of you is prone to a fidget? If so, twin beds might better suit your nocturnal needs.
This year we are planning a surfing trip to Cornwall, taking Lois' best friend along.
With four belted seats this is no problem. Both girls are under five feet, so they can easily share the converted double at the front. But two strapping teenagers might be more of a squeeze. If so, a six-berth with drop-down bed may work for you. The other option is to just let them camp outside.
'Empty nester' couples may find a two-berth/two seat van meets all their needs. But consider the option of friends or grandchildren joining you for a night or two.
Talking of kids, what about privacy? We have a door between our bedroom and Lois'. But there is still no privacy. Motor-homing isn't really about 'alone time'. If that's what you're after perhaps get a villa. Or leave the kids at home.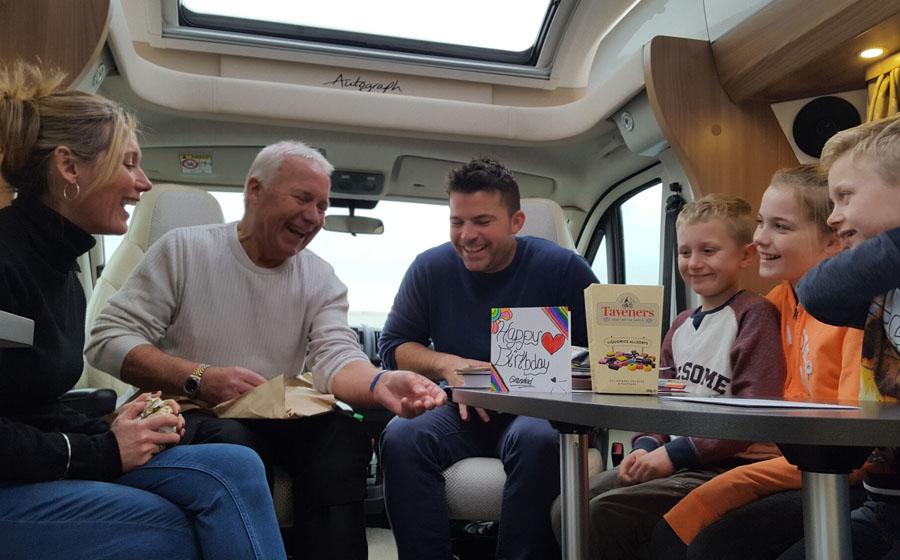 When will you be using it?
If you're planning on using your motorhome in the winter months, a decent central heating system is vital. Our Alde system ensures piping hot showers and a toasty van all-year round. We all know the UK can be chilly, even in August. Unless you always stay on campsites with showers and washing-up facilities, reliable hot water and heating is a must.
Decent storage is vital, yes? Well, not necessarily. A generous 'garage' allows us to store mucky outdoors-y things like barbecues, wellies and windbreaks.
On lengthy breaks our garage has greatly enhanced our experience. Fold up clothes airers, outdoor tables and chairs, the kitchen sink. You name it, it can fit in the garage. But remember, the bigger the garage, the more it eats into your internal space.
In our previous smaller garage-less vans, we crammed the bathroom to bursting point with body boards, cricket bats and beach umbrellas. A small 2-man tent can store the items at the site. And anything that doesn't fit in the tent can go under the van. Just remember to remove it before you drive off for the day (been there, done that).
Talking of cramming in, let's briefly talk about payloads.
Sorry, what?
The payload is the spare weight capacity you need for passengers, equipment and belongings (gas bottles, clothing, water, foodstuff, solar panels, leisure batteries, bike racks, awnings, wind-breaks, etc.) It's worked out by taking the weight of everything that's attached to the motorhome away from the maximum allowed weight of the chassis.
Your motorhome manufacturer will normally supply you with the maximum payload figures but if you are buying a used van, you may need to do a bit of detective work.
The legal weights you need will be displayed somewhere. Perhaps under the bonnet or in a door jam, the Autograph weights are under the sun visor and in the handbook (and on the Bailey website and brochure). Sticking to these limits is extremely important as overloading can have a detrimental effect on handling, performance, stopping distances, and overall safety and stability.  Also if your motorhome is overweight, your insurance will be invalid and should the police stop you, you could have your vehicle impounded. It's best to find out.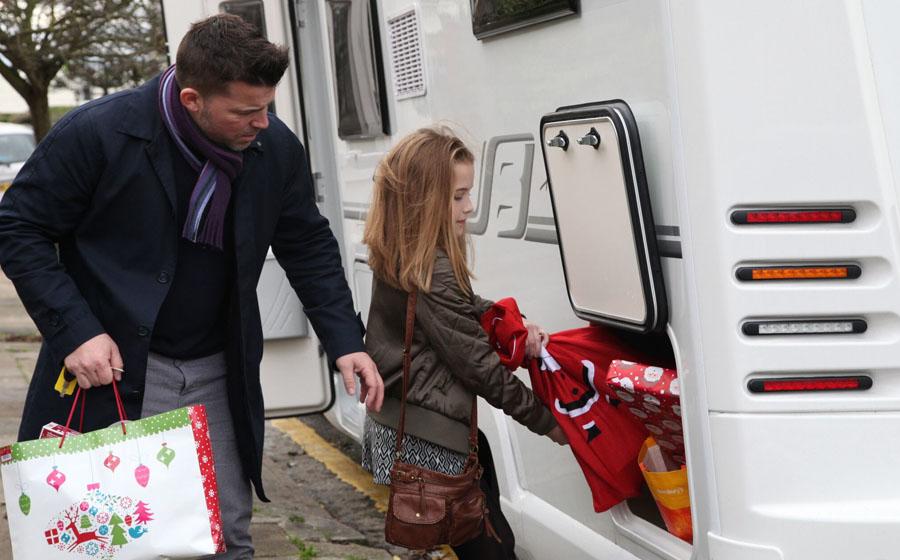 Mixed grills or Bear Grylls?
Good food and drink. A priority for most motorhomers. Buying fresh local produce, cooking up a treat and enjoying it with a glass of something fruity. Happy days. But you need the right space in which to do that.
Consider which kind of cooks you are. Beans on toast and a chunky bacon sandwich or the full Sunday roast with all the trimmings? 4 rings? Microwave? What will you actually use?
If you like to do a 'big shop' en-route, then a capacious fridge will suit you. But this may mean less work surfaces. Does that matter? On a warm day, you'll be outside with your chopping board, watching the sun go down. But what about in the rain? Will you need an awning? Decisions, decisions.
There are limitless design options when it comes to the dining area. Unless you choose a two berth van the dining table generally converts into a bed. The two swivel chairs in the driver cab then double as dining chairs. Generally the most comfortable chairs in the motorhome, these are the plum seats for relaxing post dinner. I like to imagine I'm Captain Kirk when I sit in mine.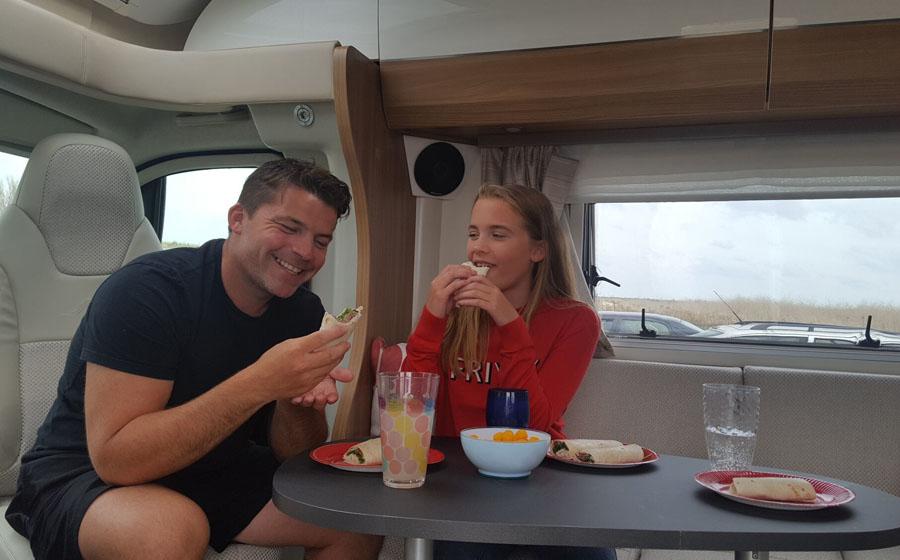 Unless you plan to stay solely on campsites with shower blocks, a decent bathroom is essential. Ingenious bathroom designs utilise the smallest of van spaces. Surprisingly high-pressured showers and flushing toilets really do enhance your travelling experience.
Talking of tinkles, your motorhome will almost certainly have a cassette toilet.  The waste is housed in a removable 'cassette'.  It simply pulls out of the rear of the unit when emptying is required.
But there's one major toilet factor to consider. Does the door shut properly when you sit down? Motorhoming is about shared experiences, but we all need some private 'me time'.
Most motorhomes range in length from just under 6 metres to 8 metres. Compact vans are easy to park, less daunting to drive and are ideal for just the two of you. A 7-metre plus will afford you more beds, greater storage and a larger water tank. Either way, be sure to check out your driving license for the categories you are entitled to drive.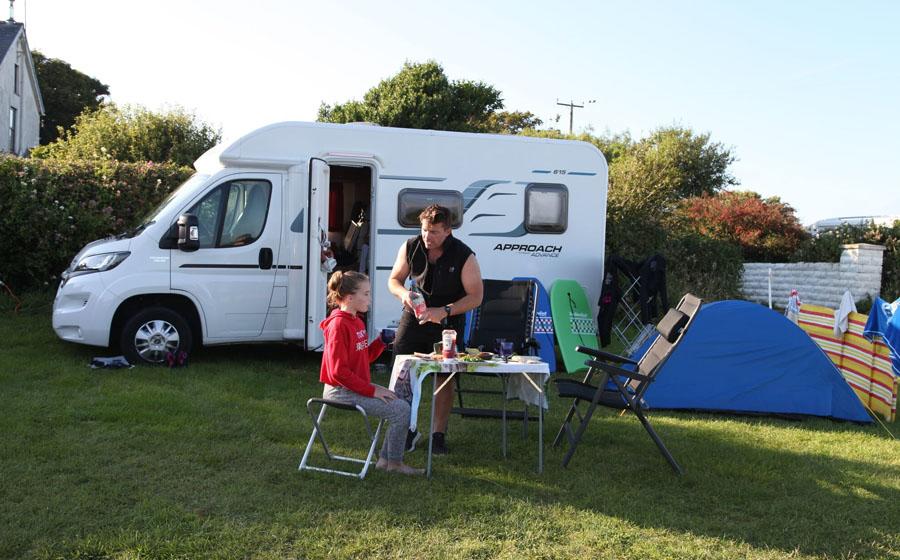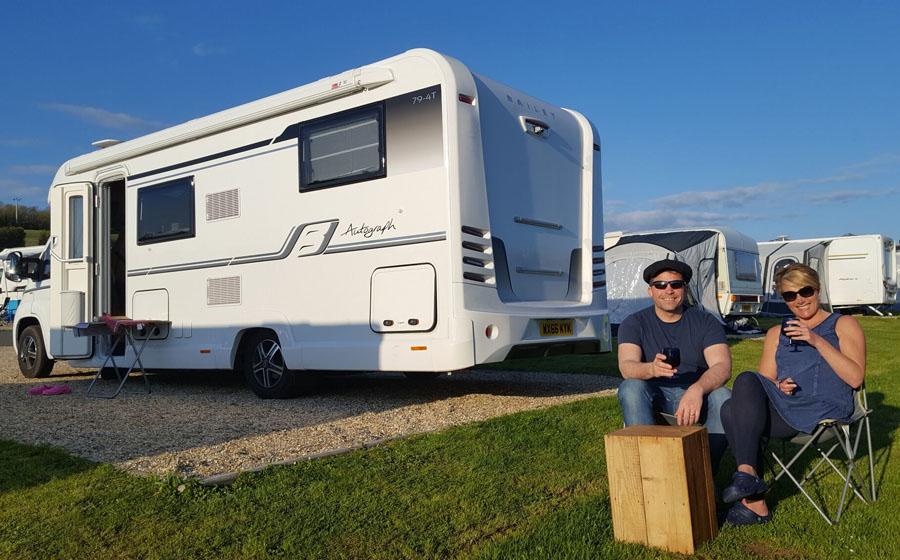 Driver aids and connectivity
This current digital age can be daunting for many of us. But just because we're not 'screenagers' doesn't mean we don't want to be connected.
It's worth giving thought to what you'll be using when parked up and settling down for the evening. On-board Bluetooth allows us to listen to our favourite playlists.
Our teenager uses Wi-Fi for a baffling array of social media. We enjoy watching Netflix, checking Trip Advisor for the best crab sandwich and sharing our adventures on Twitter (@OvernightersUK).
Although in my opinion, nothing beats a good old game of Scrabble.
And don't forget the driver's needs. Parking cameras and sensors, GPS systems and even the positioning of cup holders can make or break the perfect driving experience.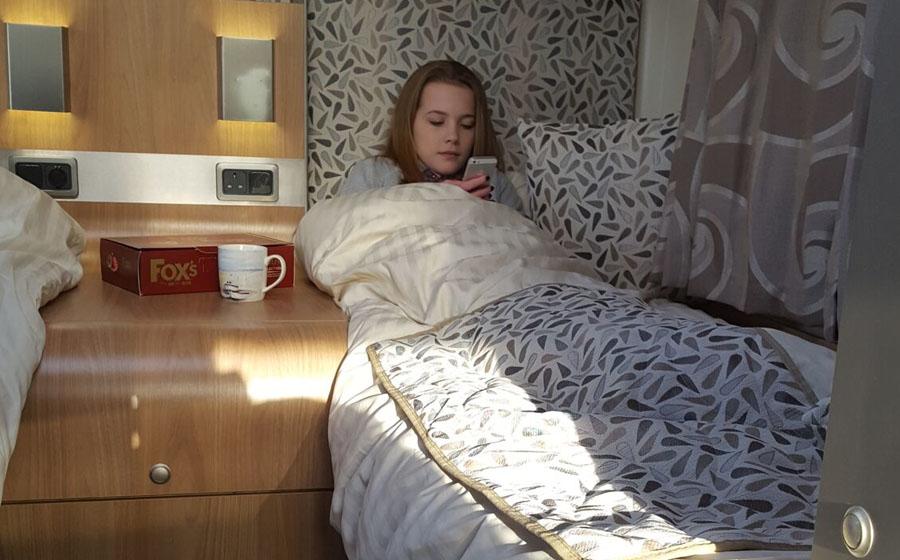 Your perfect van is out there. Visit showrooms, exhibitions, look on line. Try before you buy. Your motorhome destiny is in your hands.
It's time to explore – why not start by looking at the Bailey range of motorhomes…