:
Introducing Endeavour EV, Bailey's electric concept panel van conversion
Endeavour EV is a fully operational panel van conversion developed in partnership with Ford Pro. 
The concept vehicle is based upon Ford's E-Transit platform and has been designed with sustainability in mind. For example, all services and appliances in the Endeavour EV are fully electric, meaning no fossil fuels are required to power the motorhome when in use.
Low carbon recycled materials, particularly in the work surfaces, upholstery fabrics and furniture handles, have also been used throughout its construction.
This concept panel van conversion also features an adaptable living space with working, lounging and sleeping modes plus a voice controlled lighting system.
Inspired by Bailey's first panel van conversion Endeavour, participation in this project is part of Bailey's road map to become a NetZero business by 2050.
Berths 2
Designated Travelling Seats 2
Base Vehicle Ford E-Transit
Engine 68kwh electric drive
Overall Body Length 5.980m / 19′7″
MTPLM 3500kg
MRO 3322kg
Payload 178kg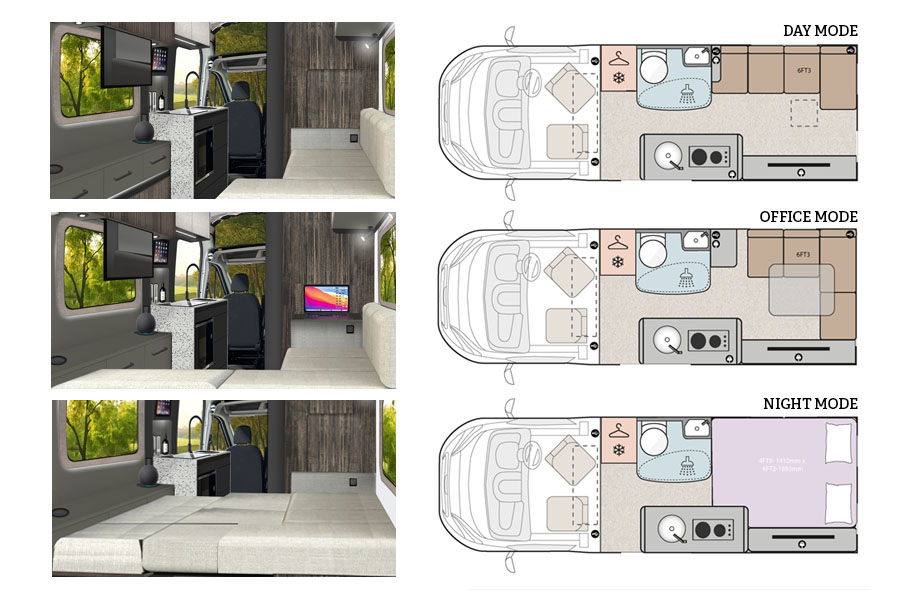 Motorhome Matt
Tour the Bailey Endeavour Electric Campervan with Motorhome Matt 
Explore the prototype setting the stage for the next generation of motorhomes with Motorhome Matt. Take an exclusive tour of the Endeavour EV, Bailey of Bristol's groundbreaking campervan conversion — the first fully electric campervan from a mainstream UK manufacturer.
Developing Endeavour EV
Chloe Bartlett, Lead Designer, is part of the team responsible for creating the EV concept vehicle.
Chloe has been working at Bailey for 4 years now and during that period has worked in a wide variety of new caravan, motorhome and campervan development projects. Her role traditionally covers everything from layout configuration, to product styling and lighting design. However, the Endeavour EV represented a completely new challenge and allowed Chloe to experiment with the use of materials and components outside the normal remit.
Find out more about the development process of this ground-breaking concept vehicle.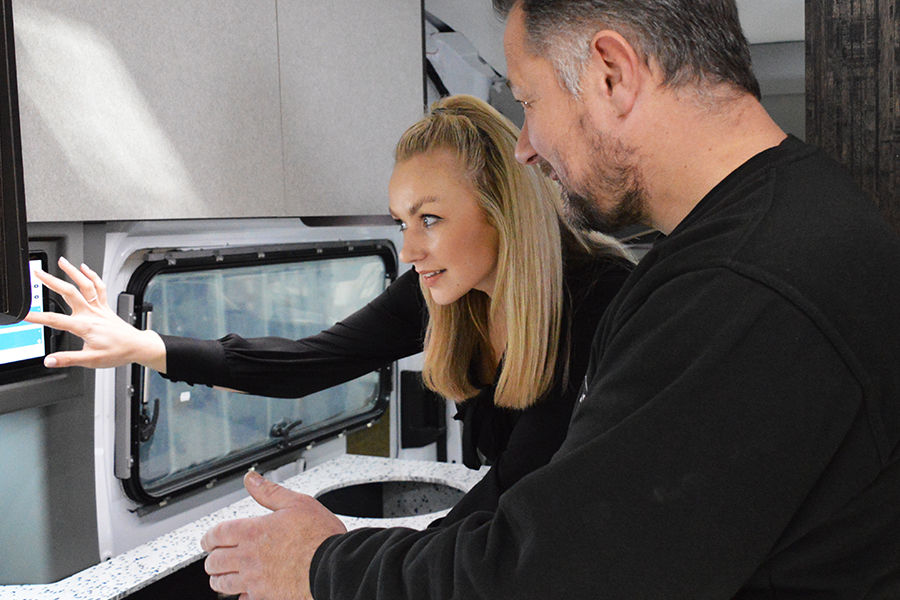 :
What would the RRP of the Endeavour EV be?
The Endeavour EV concept vehicle would be 75% more expensive than the standard Endeavour B62.
A third of the increase would come from the electric base vehicle as opposed to the standard fossil fuel base vehicle.
The rest of the cost increase would come from all the extra specifications added to this concept van conversion (like lighting, drop-down TV screen, Alexa, touch screen control panel, etc), and more costly recycled materials used (like base fabrics, worktop finishes, etc)
 What is the range of the Endeavour EV?
 The real world range of the Endeavour EV is 108 miles depending on driving and road conditions.
*Please refer to ford.co.uk for more information
 How long does it take to charge?
It takes approximately 35 minutes to charge 80% of the battery in the E-Transit using a DC fast charging port and just over 8 hours to charge 100% of the battery using an AC charging port. *
*Charging times may vary depending on local infrastructure. Please refer to ford.co.uk for more information
Do all the components work?
This is a fully functional van conversion with fully operational lighting and water system, appliances, and heating.
How much does it weigh? Could it be driven with a standard driving license?
The MTPLM of both the standard Endeavour and Endeavour EV concept vehicles is 3,500kg, so they can both be driven with a standard driving license without the need for a C1 entitlement.
However, due to the weight of the batteries, the E-Transit base vehicle is 752kg heavier than the standard Ford Transit, meaning the payload available in the Endeavour EV concept panel van conversion is only 178kg.
Therefore, if this vehicle were to go into production it would have to be built on the heavier 3,900kg E-Transit platform in order to offer customers a commercially acceptable payload.
Why has Bailey designed the Endeavour EV?
Bailey's aim is to become a NetZero business by 2050.
Design-wise Bailey can help reduce emissions by manufacturing lighter and more aerodynamic products, but ultimately the largest savings long term will come from the use of alternative power generation sources than the traditional internal combustion engine. The company therefore believes that now is the right time to begin working on projects such as the Endeavour EV.
Is this vehicle for sale? Will Bailey produce these vehicles in the future?
The Endeavour EV is a concept vehicle and there are no short-term plans to produce and sell this fully electric panel van conversion.
However, the Endeavour EV project has helped Bailey get a greater understanding of the specific requirements of converting the next generation base vehicle platforms into motorhomes and campervans.
How is this panel van conversion different to the standard Endeavour?
The main point of difference is that this vehicle is a fully electric van conversion. Not only the base vehicle is fully electric, but also all the appliances and features in the van, meaning there are no fossil fuels required for its operation.
Additionally, the Bailey Design team have introduced other innovative concepts not available in the standard Endeavour, such as:
Use of recycled materials throughout, including recycled fabrics and upholstery seating, worktops made from recycled kitchen appliances and handles made from ocean plastic.
Voice controlled lighting system that allows you to change the colour temperature and light level for optimum customisation.
Adaptable lounge configuration with working, lounging and sleeping modes. Also incorporating an extended kitchen for more preparation space.
Fully electric appliances with electric microwave oven and induction hob.
A full exterior vehicle wrap on the exterior and a trend-led colour scheme on the interior.
Inspired by Endeavour
The Endeavour EV is inspired by Endeavour, Bailey's first ever panel van conversion.
Built on a 3.5 tonne 'Chrome Blue' Ford Transit, under 6 meters long and powered by the latest 2.0 litre 155 bhp engine with 6-speed automatic gearbox, Endeavour is compact in design and immense in performance. There are two models to choose from with two or four travel seats.
Find out more about the new range below.