Socially Distanced Staycation: A 10-Point Guide
The term 'Staycation' has been a media favourite for several years, and for good reason. The UK is blessed with stunning scenery, ancient historic sites, and more adrenalin-fuelled activities than a hard-to-please teen could shake a stick at.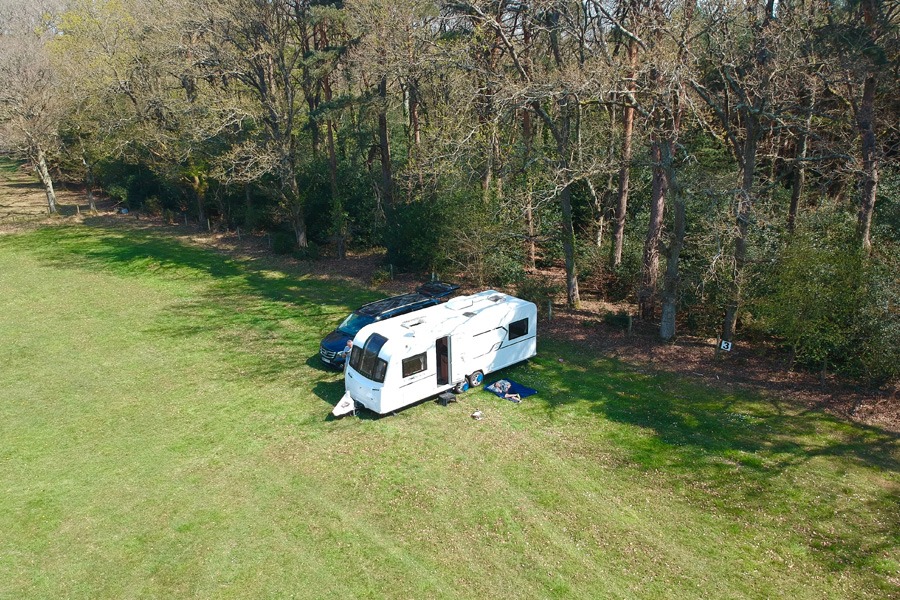 COVID-19 ensures that the phrase 'Staycation' retains its buzzword status, partly due to uncertainty surrounding international flights and the fact that leisure vehicles offer owners the ultimate holiday, not just when campsite lockdown is lifted. Want to know more? Here's our 10-point guide on socially distanced holidays in a caravan or motorhome.
Social distancing is easy when you're self-contained
Sometimes, it would be nice to 'ring down' for room service or have dedicated staff members make the bed in our caravan. A mint on each pillow would also be a welcome addition. However, complete self-reliance by driving your own accommodation to site avoids a possible chain of touch-transmitted infection. When pitched on site, frequently touched areas such as door handles and cupboard doors may benefit from antibacterial cleaning to help combat COVID.
Food glorious food
Most modern caravans and motorhomes are equipped with large fridge/freezers and have plentiful storage for favorite foods. Provisions can be purchased locally before travel, or simply transfer the essentials from your fridge at home to the fridge in your home-from-home.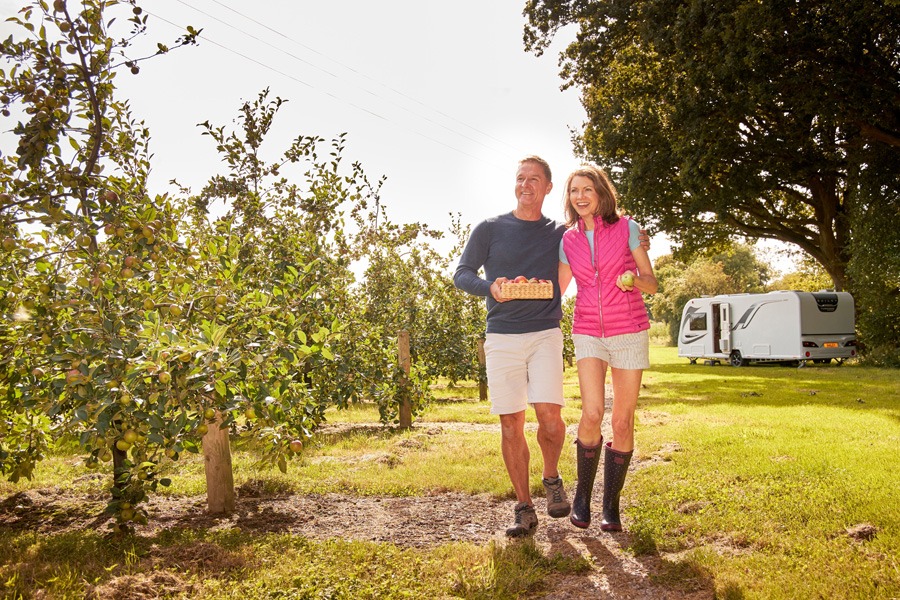 If local produce is available where you stay, try something new
---
No restaurant? No problem
The kitchen in our 1967 Bailey Maestro is incredibly different to the kitchen in our 2019 Bailey Phoenix. The Phoenix is equipped with a 4-burner hob, microwave, and separate grill/oven, which makes home cooking easy even when you're not at home. Would you like a holiday with a little less cooking? There's no better time for the kids to learn a new 'life skill' by cooking a favorite meal. If all else fails, pre-preparing meals can save time and washing up.
Gas
If you've booked a pitch without an electric hook-up point, or plan to cook frequently while away, it's worth checking butane or propane levels. Most seasoned leisure vehicle owners take a spare bottle, or refillable systems such as Gaslow make it easy to fill-up at service station LPG points. If you use a lot of gas, a refillable system is a good investment and can pay for itself.
The loo!
Even if you feel comfortable using campsite loo and washroom facilities, there's a lot of speculation as to whether they will open initially. Caravans and motorhomes are truly self-contained thanks to a cassette toilet, but remember to order enough loo chemicals and toilet paper before you leave.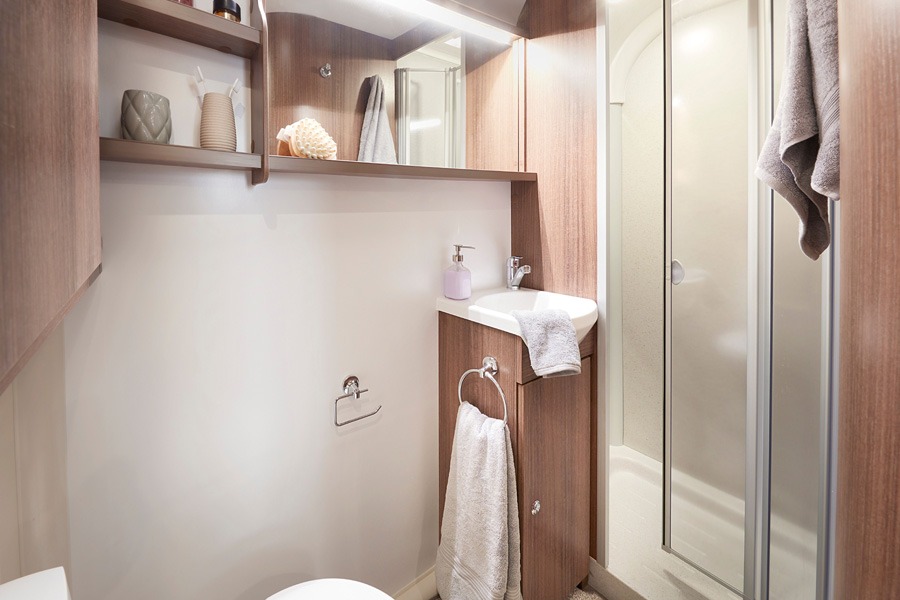 The Phoenix caravan bathroom
---
Keep it clean
We generally use disposable gloves when emptying the loo, but we may adopt this practice when using communal areas such as water points, etc. Disposable rubber gloves and hand sanitizer may have been scarce at the start of the pandemic but supplies (and prices) are gradually returning to normal.  Regular hand washing is important, especially before visiting an area and returning to your caravan or motorhome.
Rubbish
Campsite facilities are likely to be stretched, so why not take your refuse and recycling home if it's possible, and practical, to do so? COVID can be spread by touch and this may limit a possible chain of infection via other people on site, staff members or refuse companies.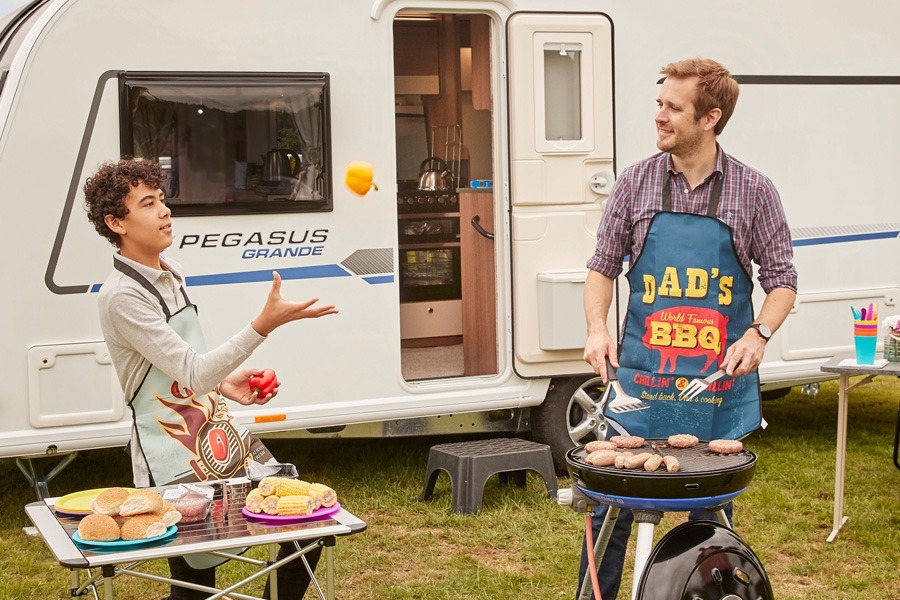 Get the kids to help with a family BBQ and have some fun
---
Must have accessories
Social distancing in your leisure vehicle can be made easier with a few well-chosen accessories. A second Aquaroll (if you haven't already bought one) is a worthwhile investment when using your own shower, and now could be the time to justify that new BBQ as it allows you to adhere to social distancing guidelines while cooking for the family. A 12v cool-box will keep the sausages and burgers fresh and a solar panel makes life a breeze when relaxing on a quiet CL site that doesn't have electric hook-up points.
Making new friends
A caravan or motorhome is a great way to make new friends, especially if you're 12 years-old and always take a football to the ball games area. However, social gatherings will have to wait a little longer and it's worth keeping an eye on the kids as they can find it frustrating when a good game of football is imminent. A return to normality relies on us adhering to the current guidelines.
Camp site procedures
At the time of writing, there's a lot of speculation surrounding camp site procedures and how they are likely to be implemented. Wash-blocks could be closed, contactless check-in could be in operation and areas that attract heavier footfall could adopt new procedures for use and cleaning. We'll keep you updated as soon as things become clear, so be sure to follow us on Facebook, Twitter and Instagram.
New to caravanning? Our Beginners Guide to Caravanning is written in plain English and will have you up-and-running in no time.