Just back from...St Davids
Laydon Kretzmann, Dispatch coordinator at Bailey of Bristol recently returned from a weekend trip to Pembrokeshire in a Pursuit 550-4 caravan.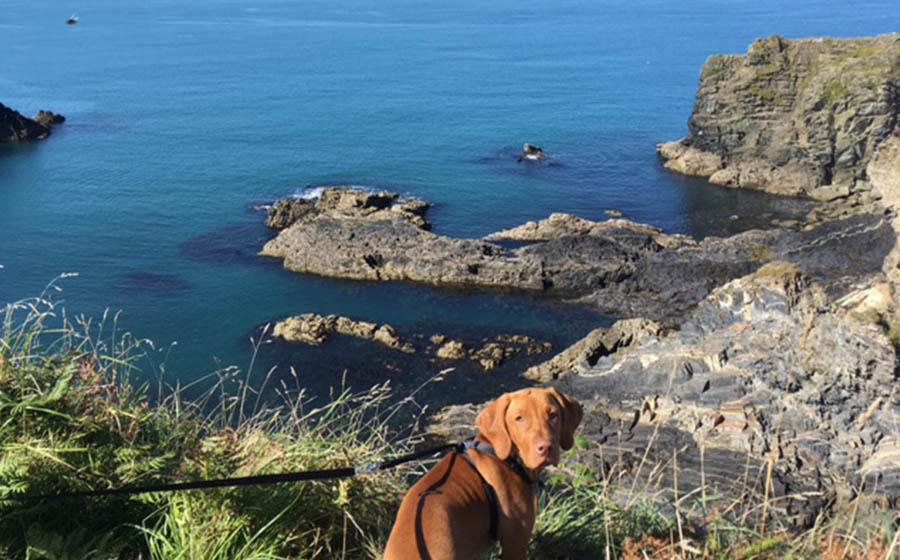 ---
Fill us in on what you got up to… 
I spent five days in Pembrokeshire with my girlfriend Claire and our five-month old puppy Chester. Based on the Pembrokeshire coast between St Davids and Fishguard we took in the highlights of Britain's smallest city and also visited Tenby.
Did you get any recommendations?
When we told friends that we were going to Pembrokeshire and wanted to visit St Davids they said we should stay at Celtic Camping. As we were taking Chester they also told us to take the coastal path, as the access to it was only about 10 minutes from the campsite, and walk to the local pebble beach, Aber Pwll.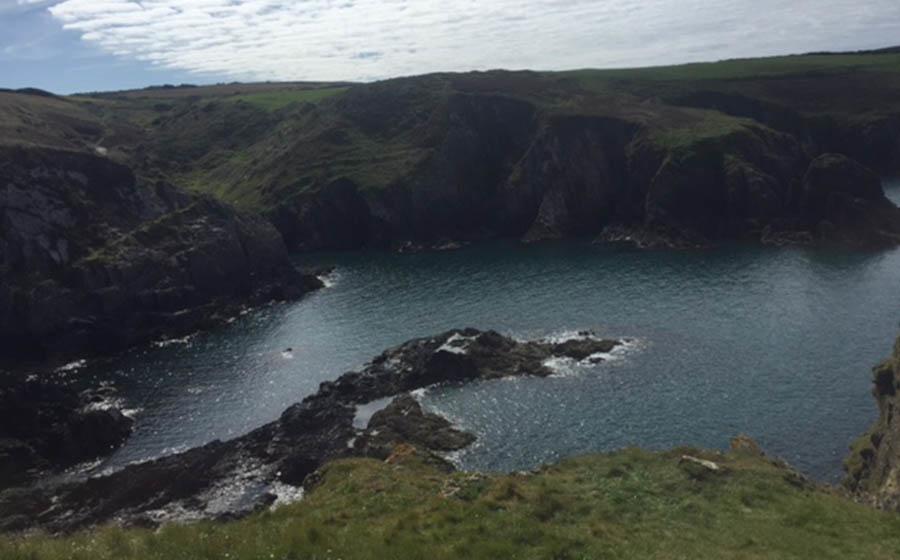 Give us the background info…
I've never been to west Wales and I had heard it was very picturesque. The coastal path went through the campsite and with lots of places to walk the dog I thought it would be great to see that part of the country with lots of places nearby to keep us entertained.
Tell us about the caravan…
The caravan was awesome. It was easy to set-up once we arrived and made for a really comfortable stay in a great location. We even had a Prima Deluxe Air Awning 390.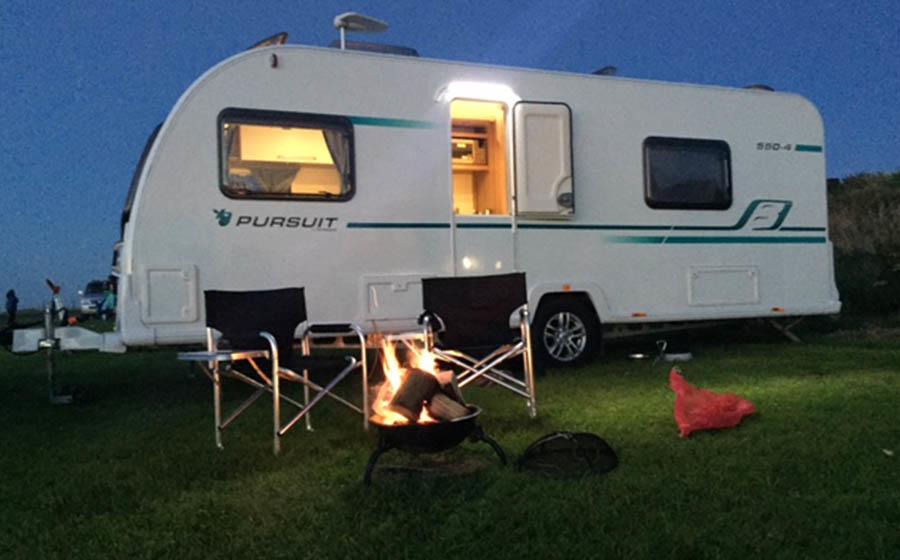 Give us a taste of what the food was like…
After spending the first day wandering around St Davids we purchased some local produce from the butcher. The weather was nice so in the evening we went back to the caravan and enjoyed a BBQ with the food we had bought.
On the Saturday evening we headed to the small town of Solva and then over to St Davids to check out some of the local pubs and Clare was lucky enough to sample some Pembrokeshire cider.
We decided to look for some local food for dinner and stumbled across the Rising Sun Inn, just outside of Haverfordwest. Claire enjoyed some fresh local plaice whilst I had some Welsh ham with egg and chips. The staff were very friendly, the food was great and Chester was very welcome too.
What was the most special moment?
Watching the sunset over the beautiful Welsh landscape from under the awning.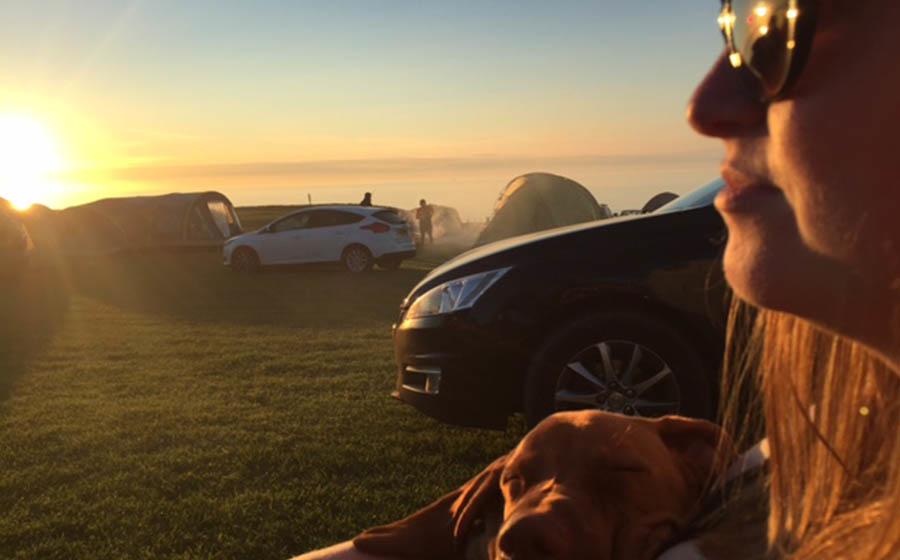 Laydon's top tip for the Pembrokeshire Coast…
On the Saturday afternoon we headed over to Cwm Deri, a Welsh vineyard just outside of Tenby. We took a lovely walk outside in the vineyard and had a browse around the shop and bought some local wines and spirits.
One amazing activity…
The highlight of the weekend was definitely exploring the Welsh coastal path and its stunning views.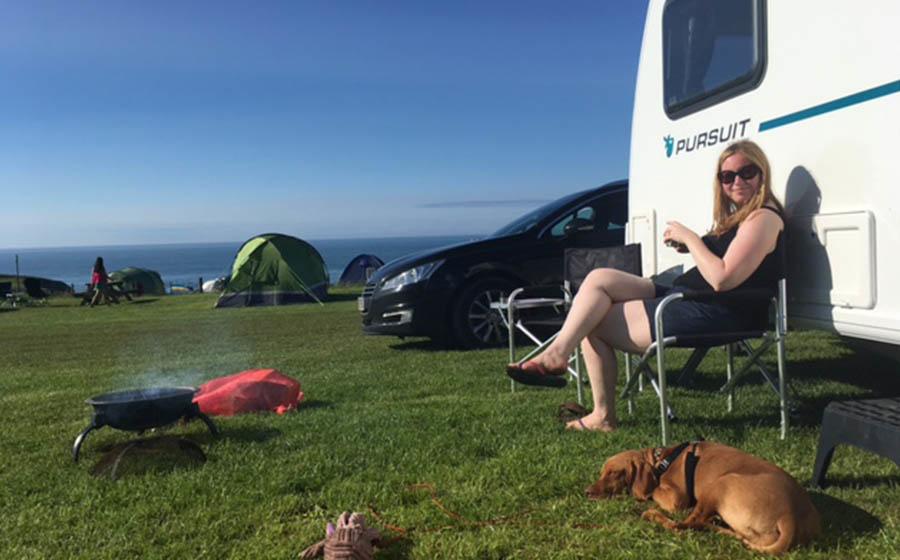 Give us a final thought…
It is definitely somewhere we would go back to, it was stunning and I think next time we'll go closer to Tenby and explore in and around its surrounding area. We've been away twice in a Pursuit caravan and we absolutely love it.